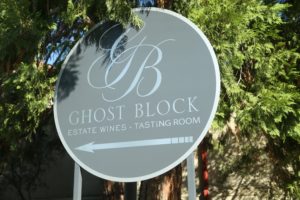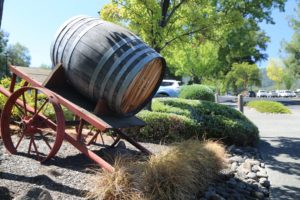 Ghost Block Estate Wines is owned by the Hoxseys, a family with deep roots in the Napa Valley. But before their Napa story begins, it must be traced back to northern Italy – the Liguria region and near Genoa. Joseph Pelissa (born 1869) grew up in a farming family with a father who grew and made wine. Joseph emigrated to the San Francisco Bay Area in 1902 and then with his new wife, Mary moved to the northern part of the Napa Valley and purchased 35 acres just south of Calistoga between the railroad tracks (torn out in the 1970s) and the Napa River near Maple Lane (incidentally still not paved east of the Napa River) for a single $10 gold coin. The family grew grapes and maintained a winery in a barn on the property which they operated until Prohibition. According to the family, the Pelissa's owned one of the first cars in Napa Valley.
Joseph and Mary had two children Anna and Andrew (Andy); Andy took over the family farm when his father died at age 54. He continued to grow grapes, diverting water from the Napa River to water his vineyards. And Andy is the reason the Hoxsey's have such a strong connection to Oakville. After Andy married Veola in 1930, they moved to Oakville where Andy operated a dairy. They owned two cows but but there was no local market for distributing their milk, so Andy would drive it down to Berkeley and sell it there. At the time there was a need for this service, so other farmers gave Andy their dairy products to sell. Realizing this could be a profitable business he began a trucking company which eventually became Golden State Trucking Company (the family sold this in the mid 1940s).
During World War II they used some of the German POW prisoners held in a camp located along the Silverado Trail near Rector Reservoir to help with their dairy operations. Andy and Veola continued to operate the dairy until 1971. In the 1960s into the 1970s Andy served on the Napa County Planning Commission (as the only farmer serving at that time) and was an instrumental figure in the creation of the Williamson Act in 1968, the country's first agricultural preserve.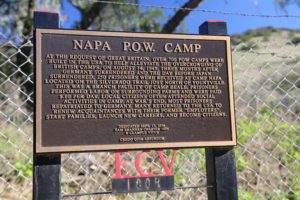 Andy and Veola had two daughters, Dawne and Marilyn. Incidentally Marilyn married Ren Harris, and both founded Paradigm Vineyard in 1975 and Paradigm Winery in 1991. Dawne had two children, David and Andrew – today Andrew oversees the overall operations of the company. His two daughters are actively involved, Kendall and Morgaen.
This family has been an integral part of the Napa Valley over the past 100+ years providing significant contributions to the agricultural community, but still remain under the radar, preferring to let their vineyards and contributions to the valley speak for themselves.
Vineyards
The Hoxsey family are among the largest vineyard growers in Napa County and as a result have numerous vineyard choices from which to source fruit for their own wines. As of our latest update to this review they grow 16 different varietals. Of their total land ownership of approximately 1,000 acres in the Napa Valley, some 650 are planted to vines spread among 9 separate vineyards in both the Oakville and the Yountville appellations. They currently use about 15% of their grapes for their own wines and sell the rest to a variety of premium area producers.
All their vineyard acreage has been farmed organically since 1986 – in 1991 they became CCOF certified organically farmed (one of the earliest vineyards to do so in the Napa Valley – the earliest being Tres Sabores, also in 1991).
And two of their vineyards are on some of Napa's most historical sites – the Block House Vineyard (their largest vineyard holding at 450 acres) is where George Yount (namesake of Yountville) and one of the earliest western settlers in the Napa Valley built a log block house in 1836. This block house is long since gone and the site is currently covered with rows of grapevines. Yount's two-story adobe house also stood nearby, built in 1837. For reference, the first 'western' recorded exploration of the Napa Valley was only 13 years prior in 1823 led by Padre José Altimira, the founder of Mission San Francisco Solano in the town of Sonoma.
While no records remain that show the date of Yount's first non-commercial winemaking – perhaps it was in the early 1840s after his vineyard matured. Records do show that he made some non-commercial wine by the late 1840s. This was the first ever wine produced in the Napa Valley by western settlers.
The Mill Race Vineyard spans both sides of the Napa River and was named for the site of Yount's grist and saw mills – a mill race where he diverted part of the river to power his grist mill. This is also where Napa's first grapes (most likley Mission grapes) were planted by George Yount with cuttings obtained by Mariano Vallejo – in our historical research, we have come across multiple sources indicating varied years when this occurred ranging from the mid to late 1830s – with an 1856 Official Report of the California State Agricultural Society reference to George Yount's vineyard and orchard planted 18 years prior which would have been 1838. Mostly likely the vines went into the ground sometime in the winter of 1838/1839. A historical landmark along Yount Mill Road is the only reminder in this area of this treasured history.
Another notable site is the Ghost Block Vineyard located just north of the George C Yount Pioneer Cemetery (where George Yount is buried) in the northern city limits of Yountville. The Hoxsey family used to refer to this vineyard as the Cemetery Block util they heard a local describe seeing George Yount's ghost wandering through the vines – when deciding on a name of their vineyard and wine label, Ghost Block simply sounded more intriguing than Cemetery Block.
Another notable vineyard includes Rock Cairn, named after rock piles Native Americans, left to often memorialize people, locations, events or to ward off evil spirits. These rock formations used to be found on the hillsides of the Yountville Mounts (which the family also owns) bordering the eastern side of this vineyard (the family has since built a rock cairn in tribute to original cairns that used to be here). These hills are to remain forever as is – IE no development.
Quartz mill stones from Yount's original Star of the Pacific Mill, built in 1843

In addition, the family owns the Lincoln Creek Vineyard (named for the tiny creek that passes through this vineyard), Pelissa Vineyard (named in honor of their original heirs in the Napa Valley and the site of Napa Wine Co) and the MorgaenLee Vineyard, planted entirely to Sauvignon Blanc and named in honor of Andy and Nancy's daughter Morgaen (Lee is her middle name).
One of the Napa Valley's most unique and rare plantings is the wine grape varietal, White Flora, a cross between Sémillon and Gewürztraminer created in 1938 by well-liked and prominent grape-breeder, geneticist and UC Davis Professor, Dr. Harold Olmo (one of a number of new varietals that he created over a long career). A Red Flora also exists, having been created by a cross in the 1850s. The Hoxsey's have 3 acres of White Flora planted in their Blockhouse Vineyard – the only known vineyard of this kind to currently exist in California.
In addition to contemporary Napa Valley's most planted varietals, the family also grows Sémillon, the oldest of these vines date from the 1960s (white wine varietals dating from the 1960s in the Napa Valley or earlier are extremely rare). And they also grow Pinot Meunier (used either in sparkling wines or some area producers are using this varietal for still wines).
And the Hoxsey's operate their own vineyard management team; in what has become a very close partnership over the decades, the Del Bondio family oversees the management of their vines led by Jim Del Bondio. The Del Bondio family have strong historical ties to Napa Valley having first purchased land in the valley in the 1890s and having since built their own physical winery in Rutherford although they are no longer producing wines under their family label.
Napa Wine Co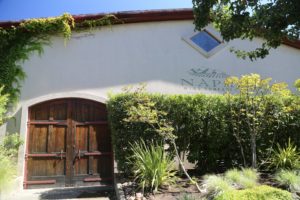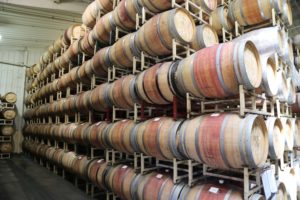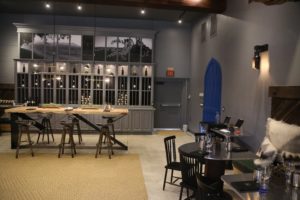 This iconic winery is located at the corner of Highway 29 and the Oakville Crossroad (within walking distance of the opposite corner located Oakville Grocery). This is one of Napa's great wineries in both a historical and influential sense. The original winery on site, Nouveau Medoc dated back to 1877 and was founded by two Frenchman Jean Brun and Jean Chaix as the 9th bonded winery in all of California. Incidentally, several of the Chaix heirs still live in the valley, some of whom are involved in the wine business. In 1892, long time Napa Valley family the Bartoluccis built and owned another winery on site called Madonna Winery – Madonna Winery ultimately moved and has been located in the Carneros region to the south for decades.
Ownership has changed on the property over the years with notables being Louis Stralla, one of the founding members of the Napa Valley Vintners Association (he produced the Betsy Ross label here in the 1940s) and years later, Chardonnay bottled under the famous Inglenook name was produced on site. Another winery founded by Brun & Chaix in 1886 on Howell Mountain – formerly Chateau Woltner, then Ladera and now Cade at 13th Vineyard in the late 1880's even used a large mirror on site during the day and other lights at night to flash signals down to Napa Wine Co that they had just picked the grapes and were going to wagon them down to the production facilities at the Napa Wine Co site.
The Hoxsey family made an offer for what was called Oakville Winery in 1989 (after the property was put on the market by the owners at that time, Heublein, Inc) although the final deed of sale wasn't completed until 1993. By 1995 the Hoxsey family had completed upgrades and renovations to the property opening up the production space to alternating proprietors (APs), brands that do not own their own physical winery. This is now one of largest and oldest custom crush facilities in Napa. Under a variety of programs, winemakers use the Napa Wine Co production facilities to make wine – typically 1000 gallons is the minimum per year – equivalent to about 500 cases.
We have toured the various parts of their production facilities and barrel rooms – their production space is impressive and sizable with special areas separated for both red and white wine making, individual barrel rooms and two bottling lines. Their permit allows them to produce up to 1 million cases of wine per year.
As a result of their reputation for providing state of the art wine making equipment in a cooperative environment a number of wineries made their early vintages here (before they eventually built their own wineries). Some of the more well-known wineries who have made wine here include Bryant Family, Colgin Cellars, Pahlmeyer Wines & Marcassin.
The Hoxsey family produces about 15,000 cases a year under their own three brands: Ghost Block Estate Wines Elizabeth Rose, and Oakville Winery – and they employee an individual winemaker dedicated to each brand.
Ghost Block Estate Wines Tasting Room
For many years the tasting room on site of Napa Wine Co represented up to 20 brands who made their own wines on site. Daily, a sign in front of the winery would change rotating between which producer was being highlighted on that particular day; each winery had their own space at the tasting bar. As of January 1, 2019, the tasting room format has been completely transformed. No longer are other producers represented but now the focus of the tasting room is exclusively on the Hoxsey family's three distinctive brands.
While Napa Wine Co borders the eastern side of Highway 29, access to the tasting room is from Oakville Cross Road (the driveway entrance is about 100 feet in from Highway 29). Park in the shade in the front of the main winery building and make the short walk to the tasting room – crossing over the large truck scale as you do so.
Visitors do not need an appointment here to taste any of the wines – however, several more intimate spaces behind the tasting room can be reserved for private tastings (and for larger groups up to 8 people).
Select wines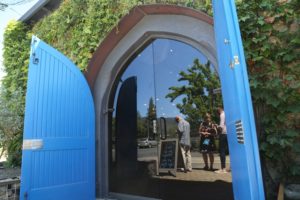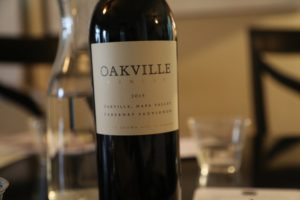 Ghost Block
Napa Wine Co began producing their own wines in 1996 under the Napa Wine Co label. Morgaen recalls in 2004 they bottled the exact same Cabernet Sauvignon as a Napa Wine Co wine and as a Ghost Block wine – the bottles labeled with their respective brands and the price points were completely different. This is an interesting case study; the much higher priced Ghost Block wine sold out, so they ended up scrambling to remove the labels on the Napa Wine Co wine replacing them with Ghost Block labels. The takeaway from this story is that with quality being the same, the visual appeal is an integral part of selling wine.
Ghost Block was founded in 2004 and focuses on four wines, each from single vineyard sites. The 2017 Ghost Block Sauvignon Blanc was aged sur lie for 8 months in neutral oak – straw color in the glass, this wine offers appealing aromatics showing both tropical nuances including pineapple and guava along with citrus aromas. A mineral note shows on the palate – balanced and clean with a little more weight than a 'grassier' style of wine from this varietal. Notes of white peach and pear on the palate with a noticeable zesty and liveliness, especially on the finish.
Oakville grown Zinfandel. No this is not incorrectly written. While today an extremely rare varietal in this appellation, we are only aware of three producers making wine from this varietal in Oakville including Ghost Block, Michael Pozzan and Paradigm. Zinfandel used to be the most planted varietal in the Napa Valley; today much of what remains in Napa County is in Calistoga and to a lesser extent on Howell Mountain. In Oakville the old Zinfandel vines have nearly all been replaced with Cabernet Sauvignon (the economics of the terroir dictate this).
The 2016 Ghost Block Zinfandel was aged for 12 months in barrel of which 50% was in new American oak. Offers aromas of mostly red fruit including raspberry along with red licorice and a white pepper/baking spice component. Still showed a bit young on the bouquet at the time of our tasting – needs time to open and when it does more fruit starts to show. Listed as 15% alcohol although we did not notice the alcohol on the palate. A soft entry with plenty of flavor including blackberry and ripe raspberry. Balanced with a fine yet firm grip of tannins showing more in the front of the palate then the back. Hints of vanilla also show on the finish.
The 2015 Ghost Block Oakville Estate Cabernet Sauvignon, Rock Cairn Vineyard. If a wine is sometimes defined in terms of feminine or masculine, this wine would lean more towards being a feminine wine. This vintage is mostly Cabernet Sauvignon with 6% each of Malbec and Petit Verdot. Mostly red fruit showing on the bouquet tinged slightly with a subtle herbal note. Red cherry, raspberry aromas – very elegant. Very approachable in its youth with flavors of dark cherry, blackberry and a spicy plum. Supple and rounded tannins anchor a pleasing, somewhat savory and slightly tart finish. Excellent acidity.
The 2015 Ghost Block, Ghost Block Vineyard Cabernet Sauvignon is usually 100% varietal, but this vintage was blended with 4% Petit Verdot. A smokiness, notes of leather, blackberry and darker plum along with dark chocolate. Well layered both on the bouquet and on the palate. In the mouth, shows a noticeable density and intensity of fruit (blackberry) without heavy structure. Very nice texture as it plays across the palate. A wine that we commented on, "if we smoked cigars this would be a fun pairing".
Elizabeth Rose
Elizabeth Rose produced their first wine in 2007 – appropriately a rosé. Created in honor of Andy and Nancy's oldest daughter, Kendall for her 21st birthday combining her middle name of Elizabeth. But not wanting to name the wine Elizabeth she added rose. Only in wine country, right?! While they still produce a rosé, and some confusion may stem from this original wine, production has branched out to include other varietals including Chardonnay, Pinot Noir & a Red Blend and the highly unique Flora. These are wines that are very reasonably priced for Napa Valley standards and are often distributed at select restaurants.
The 2022 Elizabeth Rose Flora Yountville (this variety should never be confused with Flora Springs Winery) is deep gold in color; the bright and enticing aromatics offer scents of lemon zest, Golden Delicious apple, baked apple, pineapple, tangelo, honeycomb, honeydew melon and citrus blossom. The texture is light but with a rounded and soft creamy feel which drops off before the finish; this wine offers flavors of Granny Smith apple, green kiwi, peach, under ripe apricot and some lingering citrus-like flavors. It finish bright and vibrant quickly tempting one to take another sip. This wine was aged for 5 months on neutral oak barrels with the lees stirred once ever 2 weeks. It is 12.5% alcohol.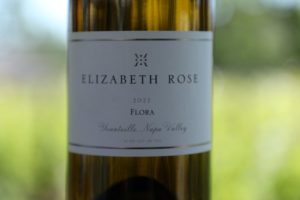 The 2016 Elizabeth Rose Flora is yellow colored in the glass. On the bouquet, shows aromas of dried straw, a sweetness of fruit including nectarine and baked apple and very subtle hints of crushed pine needles. Not necessarily crafted to be a complex white wine, light and a little thin but with a noticeable brightness of fruit across the palate. For wine enthusiasts who enjoy a bit of sweetness in their wine balanced by decent acidity, this would be a very pleasing offering, and perhaps dangerously easy to drink quickly (only 12% alcohol). Flavors of dried peach and apricot – balanced and clean across the palate.
Production is always extremely limited due to the tiny vineyard block; only 100 cases of this wine was made in 2016. The family planted the Flora vines in 2003 and added a second small planting in 2019, both in the Block House Vineyard in Yountville. As of our latest update to this review, a limited amount of Flora grapes are sold to Schramsberg Vineyards and to vintner Steve Matthiasson for his Vermouth.
One doesn't always associate contemporary Yountville vineyards with Pinot Noir or the Napa Valley proper (it is typically grown in Carneros closer to the cooling breezes of the San Pablo Bay). But this is a part of the sub appellation that typically stays fairly cool. Morgaen references a phenomenon similar to the fluid pressure described in the Venturi effect but with wind. The vineyard site lies in part of the valley that experiences afternoon wind flow (even when its warm in the summer), a narrowing gap between the Vaca Mountains and the Yountville Hills.
The 2016 Elizabeth Rose Pinot Noir shows an intriguing bouquet, initially spicy, earthy, with aromas of mushroom and forest floor. As it breathes more red fruit shows including red cherry and raspberry. A sweetness and or brightness of fruit shows on the palate (no sugar) with fine grained well integrated tannins. The finish lingers with notes of darker spices and a dusty or smoky note.
—
The Hoxsey family has kept their prices very reasonable over the years. For more information about their three brands, to schedule a private tasting or to join one of their wine clubs, visit: www.napawineco.com, www.ghostblockwine.com, www.elizabethrosewine.com or www.oakvillewinery.com
Napa Wine Co Exterior

Ghost Block Tasting Room/Napa Wine Co Cellar

Vineyards Photos coming soon

Ghost Block Vineyard

George C Yount Pioneer Cemetery + Yount grave site