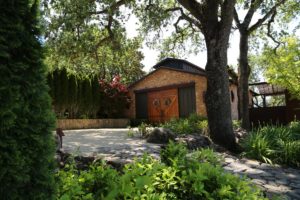 Gemstone Vineyard was founded by Suzie and Paul Frank in 1997 (their first vintage). The Franks built a successful gemstone business (diamonds) in the Los Angeles area (hence the name of the wine) and both have enjoyed wine since college. They met Ren & Marilyn Harris (owners of Napa's Paradigm Winery) who were specializing in vineyard real estate in the 1990s. After looking for property for some time the Frank's purchased their 17-acre vineyard in 1992. The Harris's introduced the Franks to a number of winery owners based in Napa Valley over the years.
Paul has led a successful career; he was a founding director of both the Jewelry Circle of the City of Hope Medical Center and the jewelry panel of the Los Angeles Natural History Museum. More recently he has been director of the Emeril Lagasse Foundation.
In 2008 the Franks sold the vineyard, label and inventory to Carole and Michael Marks (the Franks actually stayed on as consultants for several years). Michael has an impressive resume of managing high tech companies in Silicon Valley. He ran Flextronics Corporation and turned it into one of the largest electronic manufacturers in the world; he was also a former minority owner of the Golden State Warriors basketball team. Later he served as an interim CEO of Tesla and in 2015 co-founded Katerra (no longer in business), a sizable construction company that within only a few years built hundreds of projects and became international in their scope. And he was a founding partner for several investment companies including Riverwood Capital and Celesta Capital.
In support of their generous donation to the Juilliard School in New York, the career services and entrepreneurship center located in the main Juilliard building is named the Alan D. Marks Center for Career Services and Entrepreneurship in honor of Michael's late brother Alan, a 1971 graduate of Juilliard School. Alan's debut was at Carnegie Recital Hall, also in 1971 while still a student at Juilliard. Alan's short career was as an award-winning international pianist with performances given from New York to Los Angles, from London to Israel to Japan. He was based in Germany until his untimely passing at age 46 from cancer in 1995.
Juilliard is generally considered one of the top performing arts schools in the U.S. Many prominent artists have either attended or graduated from Juilliard including Robin Williams, Miles Davis, Aretha Franklin, Philip Glass and Sarah Chang. The college is located in Manhattan, within a short walk of Lincoln Performing Arts Center, Fordham University and Central Park.
Today Carole and Michael's daughter Amy Dornbusch serves as President of Gemstone and oversees all sales and marketing efforts. In addition to her role at Gemstone she is also the General Partner of Willowtree Venture Fund, (an investment fund) and is the co-director of the Marks Family Foundation.
The Gemstone Vineyard is located in a small strip of the Yountville appellation, but for all intents and purposes, this part of the appellation could be either Oakville or the Stags Leap District as both of these sub appellations are located within a short distance of this property. The decision to purchase a vineyard may have been quick but the actual search took some time. The Franks were very particular about the type of vineyard they wanted; it needed to be land that was rocky with bench land soils and western facing exposure.
When the Frank's acquired the 16+ acre vineyard it was planted entirely to Chardonnay – certainly not the variety that quickly comes to mind when discussing this part of Napa Valley. When it was time to re-plant Paul contacted a number of his friends in the valley to receive clones of their Cabernet Sauvignon. As a result, the vineyard is planted to a number of well-regarded Cabernet Sauvignon clones as well as Cabernet Franc, Merlot and Petit Verdot. The best block of Chardonnay was not removed and today it produces enough fruit for merely 50 cases of wine (allocated to mailing list members).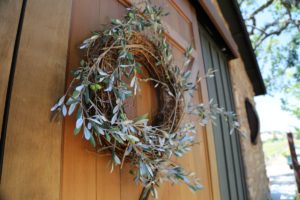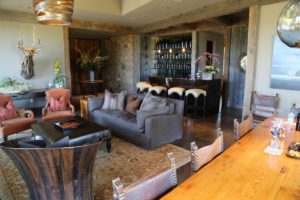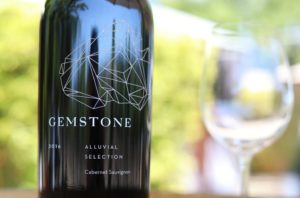 Generally the vineyard is harvested over a span of 4-5 weeks as picking decisions are often made by individual rows and or small blocks. This is of course a very time and labor-intensive process, but their goal has always been to make the best wine possible in small quantities. When optimum maturity is reached the fruit will be picked regardless of how small an area in the vineyard. Once the blocks are harvested, they are fermented and aged separately until much later when the blending decisions are made. The focus of their wine production is on three individual very limited production Cabernet Sauvignon bottlings from the estate: Heritage Selection, Alluvial Selection and Ruby Barrel Selection.
Today highly sought after Thomas Brown is the winemaker (noted winemaker Philippe Melka made the Gemstone wines for a number of years starting in 2005, prior to Thomas). Thomas Brown and his team are one of Napa Valley's most in-demand winemakers, and for good reason. He is a talented artist who works with a number of the finest vineyards in the valley. Over the years his wines have been highly validated in the press with top scores coming from wine critics and accolades from wine writers.
In 2010, Thomas was named Food & Wine Magazine "Winemaker of the Year." He continues to consult and make wine for a number of premium producers in the valley. His personal label, Rivers-Marie interestingly enough focuses on Pinot Noir from neighboring Sonoma County, although the physical winery is located in Calistoga.
Select Wines
The 2019 Facets by Gemstone Cabernet Sauvignon Napa Valley is dark ruby and opaque with purplish tinges along the rim of the glass; the bouquet is opulent and highly aromatic in its youth. It offers a diversity of aromas including ripe blackberry, boysenberry, dark plums, violets, rusted iron and steamed rhubarb. These scents are complemented with underlying secondary aromatics including mocha, cocoa powder, cardamom and clove. The palate is built upon dark fruit including plum, bramble and dark cherry. A lingering mouthwatering acidity gives the finish a noticeable lift. The broadly distributed tannins are dark and earthy and display a gravelly texture which persists for quite some time on the long finish. This wine was barrel aged for 20 months in French oak of which 80% were new barrels including premium coopers such as Tonnellerie Baron, Darnajou, Ermitage and Taransaud. Some wines we classify as overdelivering for the price; this is one of those bottlings.
The 2016 Gemstone Vineyards Cabernet Sauvignon, Alluvial Selection is dark ruby in the glass with purple tinges on the rim; it is almost opaque. The aromatics initially show a dark and meaty note, almost gamey with some nuances of mushroom. Give this wine time to open and these characteristics will dissipate fairly quickly, revealing plenty of fruit including ripe cherries, dark plum, blackberry and a floral note including violets and lavender. It also shows hints of old cedar box. The aromatics are generous and so are the flavors including of black plum and blackberry. This wine finishes savory and dark with earthy and gravelly textured tannins, some darker spices including crushed peppercorn and a light note of dried tobacco leaf much deeper in the finish. The tannins are persistent and long lasting along with a mouthwatering brightness of medium acidity. We tasted this wine 6 years post vintage.
The 2008 Gemstone Facets is a Bordeaux style blend of primarily Cabernet Sauvignon and Merlot with tiny amounts of Cabernet Franc and Petit Verdot. The bouquet on this wine is all about the fruit; it is ripe, rich and opulent. Predominately blackberry with notes of black cherry is complemented by baking spices (hints of white pepper) and brown chocolate. The mouth feel is plush and rounded with pleasing velvety tannins. This wine is certainly drinking well by itself despite being so young at the time of our tasting.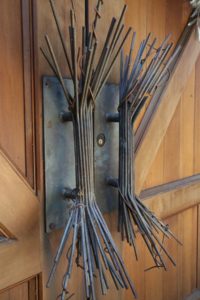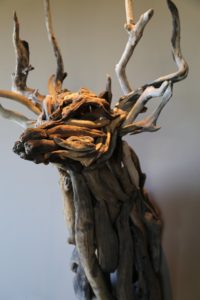 The 2006 Gemstone "Ten" was a special release made for their 10th anniversary vintage. This wine is primarily Cabernet Sauvignon with a small touch of Petit Verdot. Initially the bouquet exhibits pleasing earthy and dusty notes and mineralities which makes way for generous black and blue fruit aromas as the wine evolves in the glass. The entry is soft, smooth and rounded which continues through to the finish. Flavors of chocolate and layers of blue and black fruit show on the palate. Fine-grained tannins anchor the long and smooth finish.
—
The Marks' and Gemstone have long been supporters of V Foundation (helping find a cure for cancer) and the annual wine celebration. In 2020 Gemstone donated a very unique bottling – a one off Cabernet Sauvignon specially bottled, etched and waxed and also lined with real rubies (offered in a 3L Jeroboam bottle). Gemstone partnered with Stephen Silver Fine Jewelry to create this one-of-a-kind offering called the Ruby Barrel Selection.
Total production of their wines is around 2,000 cases per year. In addition to being sold direct to consumer, the wines are selectively distributed nationally in key markets including New York, Chicago, Las Vegas and California. One can also find their wine at any of a number of fine restaurants in Napa Valley or by joining their allocation list.
Visits to the vineyard and the intimate tasting salon are for serious wine enthusiasts and are by appointment. For more information visit: www.gemstonewine.com
Hospitality Space

Gemstone Truck