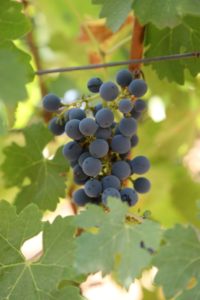 Garric Cellars is owned and operated by two Chicago physicians, Gary Ochwat and Ricardo Cajulis. The winery name comes from combining the first 3 letters of their first names. Both partners have varied backgrounds. Gary grew up in an Italian family in Chicago while Ricardo hails from a very small island in the Philippines. Ricardo arrived in Chicago with nothing more than $500 in his pocket, a medical degree and little knowledge of wine. This eventually changed, and in 1988 they met and discovered their passions for wine; many trips to the Napa Valley soon followed with the culmination of a purchase of property just north of the town of Calistoga.
During their trips to the Napa area they met a number of local winemakers including the very well regarded winemaker, Pam Starr. She has made their wine since the first vintage which was in 2003. Pam is a very active "viticulture" winemaker, and as a result spends a lot of her time in the actual vineyards making sure vineyard blocks are controlled according to her exacting specifications. Garric Cellars focuses on one Cabernet Sauvignon each year.
Both Gary and Ricardo strive to make a first class wine and know the core value of sourcing fruit from superior terroir. Winemaking starts and ends in the vineyards and fortunately with Pam's connections they are able to find such vineyards. Their first few vintages were made from two select vineyards, one in Calistoga and one in Yountville. Future vintages will incorporate additional fruit sources for added complexities.
We tried the 2005 vintage. This is 97% Cabernet Sauvignon with 3% Merlot blended. Three Cabernet clones are blended in this wine and each is fermented and vinified separately until they are ready to make their final blends. Gary and Ricardo are involved with all final blending decisions and not all barrels make the cut.
One year they had 8 extra barrels which didn't make it into the final blend. Other wineries may have bottled this separately, not so with Garric. Such is their commitment to creating one superior wine that these extra barrels were sold off, effectively limiting their final blend to a smaller amount. All their wine is unfined and unfiltered for maximum color and flavor.
The 2005 has a rich fruit driven bouquet with hints of oak, mocha and floral qualities, akin to dried rose petals and violets. The fruit continues to the palate. Rich ripe flavors of blueberry and blackberry combine with lively mouth watering natural acidity. Subtle hints of mocha and espresso carry over from the nose. This wine has a beautiful velvety mouth feel which is supported on the finish by sweet smooth tannins.
The 2006 is one of those vintages where only a small percent of their total wine acually made the "cut" to bottle. In this case they used 25% of their lots. This wine is 100% varietal Cabernet Sauvignon sourced from 4 vineyards and contains a number of clones. This is a complex wine at a young age that will pair well with a variety of foods. The nose is full of luscious fruit showing more dark fruit than red with hints of dark chocolate. The palate is seamless from start to finish and is very much in balance. Again blue and black fruits show including blackberry and blueberry with a very pleasant finish showing fine grained tannins with just a hint of mocha.
Wondering what their logo means? Good guesses include a dolphin, sheep, or even a bunch of wine grapes. However none of these are correct. Look closer and you will see Garric is creatively spelled in a circular pattern. Nice!
You can sometimes find their wine locally at Dean & Deluca in St. Helena. The best way to stay posted regarding updates and releases and or purchase new vintages is to join their mailing list.