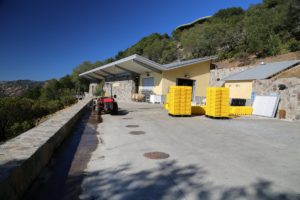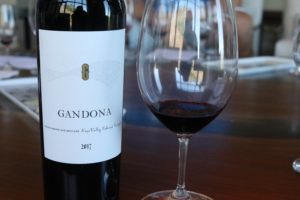 Gandona is a winery built on a property which has a long well-regarded vineyard history in Napa Valley. This is Pritchard Hill, a small hillside part of Napa in the Vaca mountains, characterized by iron rich, rocky and red soils. It was named after Charles Pritchard who homesteaded the top of this knoll and planted vines in the 1880s (where Chappellet's winery is located). Gandona's own property was actually homesteaded even earlier than that – in 1862. Chappellet was the first winery on Pritchard Hill – founded in 1968. However, the footprint for what is now Gandona's vineyard was planted not long after – in the early 1970s by Pritchard Hill winery pioneer, Bob Long. When he planted the first grapes on site, this was well before Napa introduced a county ordinance in the late 1990's prohibiting vineyard plantings on steep hillside slopes and or terracing. Some of the steepest vines on Gandonas's property approach a slope of 40%.
Proprietor, Manuel Pires is from the Douro region in northern Portugal, moved to the United States in 1971. In the early to mid 1980s Manuel and his brother Fernando took over Morse Watchmans Inc., (a company that dates back to 1882) and through a number of innovative micro-processing and electronic key control systems, built this into a successful security systems company with primarily casino clients located worldwide but also numerous others including airports, hospitals, universities, museums, sports arenas, transportation, hotels, private residences and prisons.
Fernando was CEO of this Oxford, Connecticut based company until he and Manuel sold Morse Watchmans Inc to Concordville, PA based TouchPoint, Inc in December 2021. Its headquarters are located on the appropriately named Morse Road in a business park in the middle of the country. The closest landmark is the nearby Waterbury-Oxford Airport. And the company also maintains an office in Notthingham, UK.
Manuel initially visited Napa in 1976. Over time as he describes it, "my visits increased significantly" – he would visit at least once a year in the 1980's and by the 1990's he was visiting every few months from his home in Connecticut. He became more serious about acquiring premium property. He was attracted to the hillsides – perhaps influenced by spending significant time in the hills of northern Portugal.
After searching for hillside locations this property was brought to his attention; he and his wife Cristina purchased it in the Spring of 2006. The property is 120 acres with less then 20 acres planted. It ranges in elevation from about 900 to 1,100 feet and is usually above the fog line.
During his childhood, Manuel spent his summers on his grandfather's farm near the village of Macores in the Douro region, not far from the Spain border; this area is known for its Port wine. His grandfather's farm was called Quinta Fraga do Arco in tribute to a natural rock formation on the property. It was on this farm that he was introduced to farming including the backbone of Mediterranean crops: grapes, almonds, olives and chestnuts. The name Gandona is an honor to heritage – it was his grandfather's nickname. It also translates from Portuguese to English as "humble man".
His grandfather passed away in 1974 and subsequently the property was sold. However, sometimes things come full circle in life. In 2009 he and Cristina purchased the property that held so many memories for him – and they both began restoring it. Their Douro property is approximately 25 acres and contains some vines dating back to the 1920s.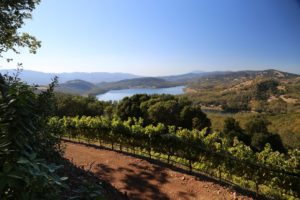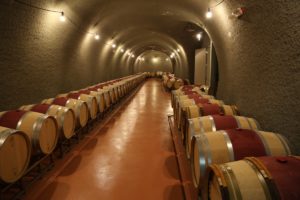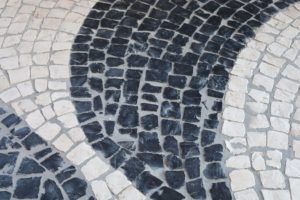 The first Gandona vintage dates from 2007. While there was a winery on site already from the previous owners, the Longs, the first few Gandona vintages were made off site. Manuel oversaw the construction of a state-of-the-art winery and caves built on the hillside; now their estate fruit travels merely minutes away to be processed. Well regarded winemaker, Philippe Melka makes the wines – with a degree in Geology and in wine making, 20 plus years working in Napa and an exceptional palate – his services are much in demand in the valley and beyond.
Philippe has been voted American Winemaker of the year by Robert Parker in Food & Wine Magazine. He is drawn towards working with Napa hillside vineyards. As he mentioned to us several years ago, "hillside vineyards are more of a challenge". It is always a fine line to craft wines with that special elegance and softness ready to be consumed now (especially from mountain sites), while at the same time ensuring the wine has the acidity, fruit and structure to be aged and not lose its own "personality" – in say 10 years.
Nearby vineyard neighbors include Melanson, Colgin and Chappellet. Cult powerhouse, Bryant Family is on the next ridge over. While only about a 20-minute drive from floor of the Napa Valley, this slice of Napa feels worlds removed. The roads and driveways are not much more than narrow cuts in the steep hillsides surrounded by either vineyards or native vegetation. Both roads, homes, and vineyards are perched on the edges of these rocky steep hillsides.
If views alone were indicative of quality, this vineyard certainly would produce top fruit. It has the quintessential Pritchard Hill vistas overlooking rolling hills, beautiful Lake Hennessey and even glimpses of the Napa Valley floor far in the distance. But views alone cannot be factored in for quality; the soils here are rocky and contain a reddish iron oxide produced hue that is well known on Pritchard Hill.
The majority of their vineyard is in a unique bowl which contains much deeper soils than found on the rocky outcrops and knolls in this part of Napa. As a result, Gandona is able to allow much of their vineyard to either be dry farmed or grow with very little water use. The property is 116 acres of which 17 are planted to vines ranging from 900 to 1100 feet in elevation. A number of varieties are planted here including the oldest vines on the property – Cabernet Sauvignon as well as Cabernet Franc, Petit Verdot and even one acre of Chardonnay.
Select Wines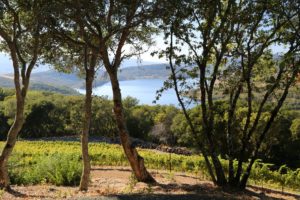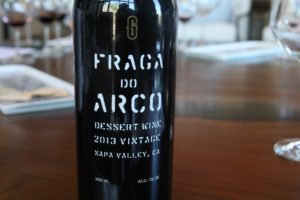 Some of the early well regarded wines from Pritchard Hill where white wines; for example, their Chardonnay and Rieslings of the 1970s became much sought after from the original Long Vineyards on this property. Nearby David Arthur produced award winning Chardonnay. Today it is a different story – the whites on "the hill" have been replaced by reds – primarily Cabernet Sauvignon. However, their small Chardonnay block is inadvertently a historical nod to this variety's original "roots" on Pritchard Hill – Chardonnay certainly is not an economically viable grape to grow in this region but Manuel enjoys having an estate white wine to complement their primary red wines.
The 2018 Gandona Chardonnay is from the Ritchie Vineyard in neighboring Sonoma County. This wine is medium gold in the glass; offers a bouquet that has a lot of depth with aromas of baking spices, Golden Delicious apple and as the wine evolves in the glass, offers some tropical fruit notes including of passionfruit and papaya. The palate offers some light rounded texture, flavors of red apple and pear, along with an appealing brightness from start to finish. This is a beautiful wine.
Encosta in Portuguese translates into English as sloped or hillside land – prime terroir for vines. The 2017 Encosta is 76% Cabernet Sauvignon dark ruby in color; the bouquet offers aromas of petrichor (the smell produced after a long dry period when the first rain hits the dry and parched earth), dried tobacco and as the wine continues to breathe, it shows aromas of dark plum. This wine offers mouthwatering acidity and finishes with dark and gravelly textured tannins along with a hint of dried tobacco leaf.
The 2010 Encosta is sourced from younger vines in the terracing towards the top of their vineyard. This is the first Encosta vintage. The nose is bright and lively showing more red tone fruit aromas rather than darker fruits and as it continues to evolve notes of mocha are revealed. The initial entry is rounded; the palate maintains a tender balance between acidity, fruit and structure. Based on the pedigree of this wine – it is priced quite reasonably.
The 2019 Gandona Meia (meaning middle in Portuguese) is 100% varietal Cabernet Franc sourced from two blocks on the property. This wine is dark ruby in color; initially the bouquet shows aromas of dried tobacco, dried herbs, dark plum and dark baking spices. This wine is very well balanced across the palate, showing flavors of dark plum and cherry with a long-lasting somewhat spice filled finish along with hints of dust. The tannins are well-integrated. This wine is not always Cabernet Franc; in 2017 it was made with Touriga Nacional.
The 2018 Gandona is an exceptional wine; we will clarify that right up front! It is dark ruby in color with purplish tinges on the rim and very opaque. The bouquet offers aromas of dark plum and blackberry. This wine is filled both brightness and longevity across the palate. The finish lingers with flavors of red cherry and red plum along with chewy gripping tannins and a note of dust. This is a classic example of why people gravitate towards big, but balanced Napa Valley mountainside grown Cabernet Sauvignon wines.
The 2010 Gandona is their flagship wine and is made from the oldest Cabernet planting on the property. This wine is dark in the glass, decidedly more so than the Encosta. The bouquet is deep, dark and earthy – you can smell the soils and mineralities of Pritchard Hill in the glass. The fruit is certainly present as well and is focused more on darker fruits, blackberries and black cherries. The nose holds up well as this wine opens – revealing more fruit. It is a complex wine on the palate – rounded initially but quickly gaining in layers from the mid palate to the finish, showing mineralities and darker fruit. There is certainly some power and length on the finish – not necessarily alcohol but big fruit complemented by robust tannins.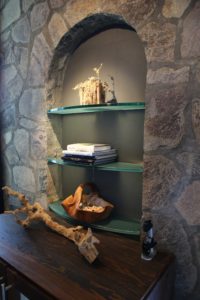 Based on Manuel's heritage, it makes sense that Gandona would produce a Port styled wine. Almost one half an acre was planted to the Portuguese variety, Touriga Nacional. This is a rare variety indeed in Napa – most likely they are the only winery on Pritchard Hill who has ever grown this variety. It is a notoriously difficult variety to grow but is thriving in the rocky red soil of their vineyard. Compared to Cabernet Sauvignon and other traditional varieties in the valley, it is a leafy variety – dense in foliage with large leaves. This wine is fermented in a wooden open top cask.
During our initial visit the blends had just been put together for the 2010 vintage which has now been released (as of 2015). Aromatically this variety is generous – on the palate it exudes structure and viscosity. Based on the components we tried, this will certainly be a wine worth pursuing. And like the other wines produced from the estate, this will also be very limited. Note: we later tried the finished 2010 vintage, the Fraga do Arco named after a unique natural arch rock on Manuel's property in the Douro Valley. The wine has an interesting bouquet including wild oregano intermingled with sweet aromas. This wine has a very nice mouth feel along with an underlying chalky velvet feel.
The 2013 Gandona Fraga do Arco is garnet in color with some brickish color on the edges of the rim in the glass; this wine shows an appealing sweetness on the notes with dried herbs, a subtle hint of mint and assorted sweet baking spices. As it opens, reveals toffee and milk cholate. Shows a supple texture across the palate with a richness of flavor. This wine is hard to put down. It is primarily sold direct but may be available at Napa Wine & Cigar in downtown Napa for tastings.
—
Visits by appointment are for serious wine enthusiasts and collectors. Tours usually include a short walk to a vineyard overlook and a quick walk through the winery. Note the intriguing tile work in the room where the tasting occurs; this is a Portuguese layout referred to as Calçada Portuguesa and was the inspiration for the image that appears on the Gandona wine labels. Often Manuel will stop by to say hi to guests.
Total production of all their wines each year is around 1,500 cases with approximately half of their production the Encosta bottling. For more information and to join their mailing list, please visit www.gandona.com
Winery

Vineyards

Quinta Fraga do Arco, Portugal
Visit and notes coming by 2024 or 2025.