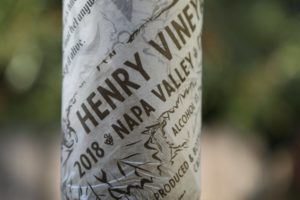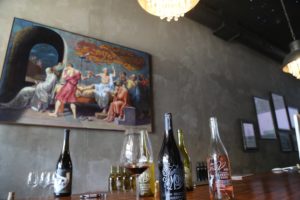 Gamling & McDuck. Twenty years ago, it probably would have been difficult to focus on any sort of plan entailing a move to Napa Valley by Gamling & McDuck founders Adam McClary and Gabrielle Shaffer. Furthermore, it would have been a reach at that time for them to imagine being a Napa based producer focusing almost exclusively on two varieties, neither one of them involving Napa's ubiquitous Cabernet Sauvignon.
Adam and Gabrielle grew up in small town Minnesota, Gabrielle in the center of the state and Adam in the south. Conveniently as often happens with young Minnesotans, both met while working in Minneapolis – he at a restaurant and she as a wine importer/exporter/distributor.
Prior to moving to Napa Valley, Adam and Gabrielle decided they needed to get away and explore the world. With a tiny nest egg saved, they were able to travel and live cheaply abroad including visiting the Loire Valley for 10 days (they both love wines from this region) followed by a 6-month trip to Troncones Beach, a very remote part of western Mexico. Soon after returning to Minnesota, they jointly decided to move to Napa Valley without really knowing anyone in the valley or yet having jobs lined up.
However, both soon found themselves working in the wine industry – Adam worked in the cellar at Mayacamas Winery (when the Travers family still were owners) followed by a job at Harlan Estate. Gabrielle is the viticulturist at Stagecoach Vineyard on Atlas Peak. Both began following their dreams of making wine together almost as soon as they arrived in Napa Valley.
They made their first wine in 2008 (a Cabernet Franc from Oak Knoll but was never released to the public) with the intent to create a style of wine that mimicked what one would find in the Loire Valley while preserving the varietals' typicity. Eventually they learned not to stylistically create these types of wines in the winery, but rather source from specific cooler weather sites and terroir more similar to what one would find in the Loire Valley. As Adam says, "finding vineyards that are more willing to be European in style".
So how does one create a name such as Gamling & McDuck? The answer is somewhat convoluted and certainly esoteric; reaching back far into Gabrielle's childhood, Gamling is a name traced to when she was 5 years old. Creating a childhood spy game, Gamling comes from a similar name her friends gave her as a secret name used during their games. And with Adam's interest in Scrooge McDuck comic books and a last name that begins with Mc, invariably it was only a matter of time before he earned his nickname, McDuck.
Both Adam and Gabrielle share the wine making duties although with Gabrielle's full time viticulture job, Adam often handles more of the wine making. What is highly unique for a Napa Valley based producer is their focus on Chenin Blanc and Cabernet Franc (using both Napa Valley and non-Napa sources). Chenin Blanc is highly challenging to find in Napa Valley; only 7 planted acres of this variety are listed in the 2017 Napa County Crop Report although a limited number of additional acres have since been planted. They have worked with vineyards for this variety from Suisun Valley to Napa Valley. Their Napa Valley Chenin Blanc comes from the historic Henry Vineyard in Pope Valley with probably the oldest Chenin Blanc vines in all of Napa Valley; the original vines date back to the 1940s.
Select Wines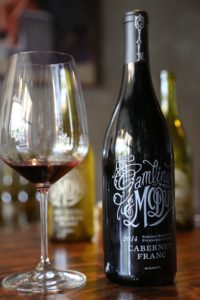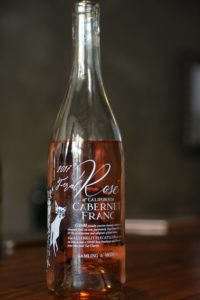 The 2020 Gamling & McDuck Feral Rosé features a sticker label which looks somewhat holographic and features an image of a happy, but feral cat. This wine is is pale copper in color; the highly fragrant bouquet offers scents of ruby grapefruit, gooseberry, orange peel, rose petals, passion fruit, white raspberry and light notes of watermelon Jolly Rancher hard candy. On the palate it shows flavors of wild strawberry, raspberry, lychee, and pineapple with a lingering light fennel like sweetness. This wine offers a rounded and creamy textural mouth feel along with a lingering presence of bright acidity. This is an easy drinking rosé but with plenty of aromatic and flavor complexity.
The 2018 Gamling & McDuck Henry Vineyard Chenin Blanc is arguably their flagship wine; it is deep gold in color. The richly fruited bouquet sports aromas of ripe Crane Melon; one can get these Sonoma County favorites at the Crane Melon Barn near Santa Rosa every September and October. It also offers scents of crème Brule, honey, vanilla, chamomile, lanolin, and as it breathes in the glass becomes dominated by stone and tropical fruits including mango, pineapple and apricot. Its diversity of aromatics is a highly appealing characteristic. Anyone who has tried light or thin wines from this variety will be pleasantly surprised by both its aromas and rich flavors. The palate sports flavors of pineapple, Golden Delicious apple, ripe papaya, apricot and yellow nectarine accompanied by a creamy and rounded mouthfeel. Long finish. This wine is showing extremely well 5 years post vintage at the time of our tasting.
The 2016 Gamling & McDuck Mangels Ranch Chenin Blanc is from a site located in the St. George Range in Suisun Valley; every year they source from the same 4 long rows of vines. Gamling & McDuck tend to pick these grapes earlier than other producers who source from this site. The wine went through 100% malolactic fermentation. One immediately notices the beautiful aromatics showing baking spices, an orange marmalade nuance and notes of lemon lime. Nicely balanced on the palate it offers a pleasing roundness of texture, a waxiness if you will, but is not heavy. Offers intense flavors along with a sweetness of fruit and a minerality note especially towards the finish.
Adam's at the time, 10-year-old niece created a line drawing of a creature 1/2 stag and 1/2 swan. So naturally her drawing made the front of the label and as one would expect, this mythical creature is called a Stwan. And for those who need some creative help writing tasting notes, simply use the customized Mad Libs paragraph listed on the bottle that Adam specifically wrote for this wine.
The 2017 Gamling & McDuck Cabernet Franc Sonoma Mountain Pickberry Vineyard is deep ruby in color; the bouquet is brooding, meaty and savory with a pleasant herbal note, red plum, bramble, crushed peppercorn, violets, and assorted dried herbs. After smelling this wine we immediately wanted to run down the street to one of the neighbors and grab the free BBQ they have put out curbside, because we don't yet have one of our own. And we simultaneously want to use this said BBQ to cook a pepper dry rub covered flank steak medium rare. As the wine breathes the bouquet becomes more fruited along with notes of milk chocolate and mocha. The palate offers flavors of red plum, licorice, a meatiness, cayenne pepper, sage and ends with a savory lightly red fruited tartness accompanied by grainy but rounded tannins. We tried this wine 6 years post vintage date; its freshness continues to be a hallmark character and is in an ideal place right now.
And Adam often assigns a play list to match a particular wines' temperament. Some customers have even informed Adam they follow his playlist exactly, every time they open a bottle of this Cabernet Franc.
Stagecoach Vineyard is some 600 planted acres organized into 200+ blocks; due to Gabrielle's work with this vineyard, she is intimately familiar with this now iconic Napa Valley property. The grapes for their Stagecoach Cabernet Franc are sourced from the smallest block within the entire vineyard complex – block I-5 at only .32 of an acre. Adam loves working with this fruit, as he says, "this wine makes itself" – it comes into the winery in perfect condition. The wine is fermented using non inoculated yeast (indigenous) in a new French oak puncheon. The grapes are fermented cold and slow.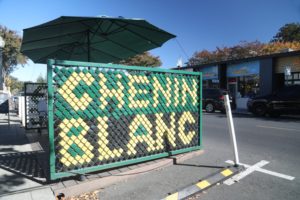 The 2016 Gamling & McDuck Stagecoach Vineyard Cabernet Franc was sourced from the smallest of the 218 blocks in this large vineyard and from the Pritchard Hill (north) side of the property. This wine is dark ruby; the bouquet is sweet and ripe fruited. Between the opulent fruit and the baking spaces, this wine smells like dessert. It sports aromas of raspberry, red licorice, blackberry pie, boysenberry and prune. As the wine evolves further in the glass it reveals aromas of caramel, toffee and milk chocolate. The palate shows flavors of cherry, boysenberry and mulberry. The tannins are very gentle and fine grained; one barely notices their textural feel. This wine lingers with a note of light and some warmth from the alcohol. It is easy drinking. Unfortunately 2018 was last vintage of this wine. We tasted this wine seven years post vintage; in a blind tasting we might have a difficult time identifying this wine as being from a mountain grown site.
The 2012 Gamling & McDuck Stagecoach Vineyard Cabernet Franc immediately offers bright aromatics, red cherry, a hint of rosemary and olive and subtle notes of mocha and cedar. Very balanced across the palate with flavors of red cherry and currant – shows a pleasing acidity and a mouthwatering finish (slightly tart) anchored by slightly course long lasting tannins. Very food friendly. A wine worth seeking out for its limited availability and ageability.
A wine that gives Adam and Gabrielle total flexibility every time they make it (and it's not every year) is the label Hyparxis. It is a red California table wine produced in quantities of no more than 100 cases at a time. Varietally flexible they build and blend this wine based on availability of what is in the cellar. It is a non-vintage wine only identified by the number of each bottling (IE the latest bottling of this wine at the time of our review is the Hyparxis #3).
The 2016 Gamling & McDuck Blanc de Noirs of Cabernet Franc sparkling wine is medium gold color. The bouquet offers some yeasty aromas along with a note of rye bread and dried florals. This wine's texture is noticeably creamy. The palate offers delicate flavors including of apple and kiwi. The acidity is a light character and is not overly crisp. This wine is easy drinking and goes down far too quickly.
And Gamling & McDuck also produces wines bottled under the, "do not sneak this" series, i.e. do not sneak this wine into a movie theatre or a coffee mug before a Zoom meeting. And these bottles feature silk screen labels filled with comic strips.
—
In late June 2018 Gamling & McDuck opened a tasting room in downtown Napa. Tailored to locals previously, the space was most recently home of Cervone & Son Tailors (a local fitter operated by Nick Cervone operating in Napa for more than 60 years before closing in 2016). Upon the opening of Gamling & McDuck's space, the tasting room was sandwiched between a massage parlor and an adult store called Pleasures Unlimited. Both of these neighboring businesses have since closed.
Not able to bring vineyards directly to downtown Napa, they initially opted for an alternative experience and would live stream video camera feed from select source vineyards onto a large screen within the tasting room. The cameras in the vineyard are solar powered. And a conversation piece for sure, is the original painting hanging behind the tasting counter titled the Death of Socrates. Astute visitors will notice Plato is holding a cell phone. Adam commissioned Minnesota artist, Matt Franzen to paint this in conjunction with a graffiti artist simply known as River (who arranged a covert conversation with Adam so as not to reveal his true identify). The painting offers a bit of dark history as Socrates is depicted being poisoned by hemlock – a noticeable contrast to visitors enjoying good wine and conversation at the bar.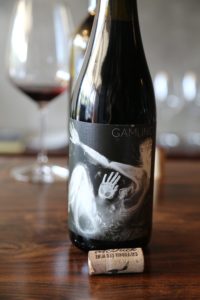 Private tastings with Adam are available upon request – in the evenings the space becomes more of a lounge with wines poured by the glass. Outdoor seating is also available weather permitting in a small parklet.
Note the large cartoon prints hanging on the wall. Adam designed these from scratch. They are a humorous and pictorial way to tell their story including of several vineyards they source grapes from. If you ask about their story in the wine business or how they met, invariably Adam will walk you over to these images.
A visit here is casual, fun, and the furthest from the word pretentious as one can find in Napa Valley. It feels like a bar one might stumble into in a much larger city. From first glance one might think a variety of alcohol is served here but in reality the focus is on wine. The rear lounge can be a little dark, which only adds to the vibe of the place; regardless, this is a great place to hang out with a small number of friends. And the space can be rented out for private parties, up to 25 people.
This part of 2nd Street (between Franklin & School streets, sometimes locally referred to as SoFi – south of First Street) has seen as much of a renaissance as any other part of downtown. Gamling & McDuck were one of the very first businesses part of this burst of energy brought to this part of the city. It's a hip and happening place to hang out, especially on the weekends and features a variety of welcoming shops including tasting rooms. And in the spirit of neighbors having fun Jeffries General next door and Benevolent Neglect carry nerf guns next to their counters for friendly neighborhood fights.
Total production is around 2,000 cases a year. The wines are primarily sold direct to consumer through either the tasting room, the website or one of their wine clubs including: Foundation, Mezzanine or Rooftop Infinity Pool. The wines also have very limited distribution in New York, Minnesota and the Cayman Islands.
For the most unique and eclectic Napa Valley based winery website (no arguments here please), visit: www.gamlingandmcduck.com