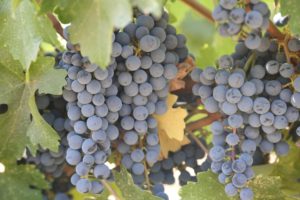 Gallica is an artisanal Napa producer focusing on limited production hand crafted wines, created by long time Napa Valley winemaker, Rosemary Cakebread. Rosemary did not grow up in a winemaking family; she told us that she was introduced to wine later in life. Because of her father's work as a commercial pilot, Rosemary's family moved locations fairly often. She attended school in Tokyo, Japan but then right before high school, her family moved from this thriving metropolis to "sleepy small town" USA, Petaluma.
Early on, she had a strong interest in science, but simultaneously, she has always also been interested in exploring the creative side of her character. And depending on who you talk to in the industry, winemaking combines both art and science.
Fortuitously she was introduced to the Sebastiani family (long time Sonoma County producers) and her first introduction to the wine industry was working on a bottling line for Sebastiani Family Winery while in high school. Intrigued with the wine business she enrolled at the University of California, Davis. Upon graduating in 1979 with a degree in Viticulture and Enology, she took her first position in Napa Valley at Inglenook. This was a special time in Napa Valley; a number of now well-regarded winemakers graduated from UC Davis in the late 1970s and early 1980s and were just starting their careers including Heidi Peterson, Lee Hudson and John Kongsgaard, among others.
After working at Inglenook, through an introduction to the Novak family at Spottswoode from winemaker Tony Soter, Rosemary spent the next 16 years hand crafting wines for Spottswoode Winery. That is where we first discovered her wines many years ago; invariably when we are asked to recommend some of our favorite red wines in the Napa Valley, Spottswoode is always included on our always growing short-list.
What is especially appealing about her winemaking style, is Rosemary has always made wines with restraint, focusing on wines with excellent acidity rooted in ripeness but not over ripeness, resulting in lower alcohol and balanced wines. It is important to note that she sources her grapes from exceptional vineyards – resulting in wines with beautiful aromatics and flavor profiles. One of her goals with winemaking is to make wines that taste like the variety inherent to its DNA – rather than manipulating or masking varietal characteristics.
She is extremely involved in the vineyard side of winemaking; she works closely with vineyard managers and spends a fair amount of time in the specific vineyards where she sources fruit from. All fruit for her wine comes from the same vineyard blocks every year. The first vintage of Gallica was from 2007.
Rosemary is not tied to producing wines just from Napa Valley; she enjoys the creative challenges of working with other regions and other varieties. Gallica continues to produce wines from both Napa Valley and from a limited number of well-pedigreed sites outside of the county. She has worked closely with noted viticulturist Ann Kraemer who manages the Shake Ridge Vineyard (about 1600 feet above sea level) near Sutter Creek (Amador County). This vineyard is planted to a number of varieties and in the past, Rosemary sourced Grenache, Syrah, Viognier and Mourvèdre for her red wine series. Another highly regarded vineyard she works with includes the Rorick Heritage Vineyard in Calaveras County and the historic Rossi Ranch in Sonoma Valley which still has vines planted in the early 1900s.
Gallica acquired a neighboring vineyard next door to where Rosemary lives in St. Helena. Working with Cabernet Sauvignon for all of her professional career, her first impulse was to replant this vineyard with that variety, like what is planted in a number of the neighboring vineyards. But then reflecting on history, she decided to incorporate the old head pruned Petite Sirah and smaller numbers of Alicante Bouche and Carignan vines into a new wine. This remnant block of vines probably dates from when the nearby Hayne Vineyard was planted in the early 1900s (owned by Chase Family Cellars). Incidentally this is a historical and viticulturally rich part of St. Helena including the nearby Edge Hill property and the very historic remarkably still standing, wooden winery Pellet & Carver which dates from the 1870s.
Select Wines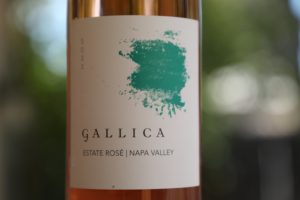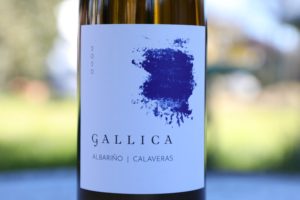 The 2022 Gallica Estate Rosé Napa Valley is medium salmon in color; the bouquet offers a diversity of aromatics including a flinty nuance, raspberry, wild strawberry, and herbal note including of green tea leaf and a hint of mint leaf, orange peel zest, watermelon and ruby grapefruit. From the very first sip, this wine is easy and enjoyable to drink. Its texture is silky smooth and creamy with flavors of raspberry, watermelon and pomegranate. These persistent flavors continue to show on a lengthy and bright finish. This is one of the nicer 2022 Napa Valley rosé bottlings we have tried. This wine is a blend of 85% Petite Sirah and 15% Cabernet Sauvignon from Oakville. The grapes were whole-cluster pressed and then fermented in both stainless steel and neutral oak barrels. This wine is 13% alcohol.
The Gallica Cabernet Sauvignon used to be sourced from the same vineyard blocks each year; Rosemary's "home" vineyard in St. Helena as well as the well-regarded Oakville Ranch Vineyard in the Vaca mountains, directly above Oakville. However, starting in 2015 Gallica began producing a separate bottling from their St. Helena estate.
The 2019 Gallica Oakville Cabernet Sauvignon contains 3% Cabernet Franc; this wine is dark ruby in color; the aromatics are initially savory, but open to a floral note including of violets and darker fruits. The well-layered palate features primarily darker fruit flavors including of blackberry and plum. The light savory note that shows on the bouquet is also found on the palate, especially on the finish showing a slight woodsy note and long-lasting grippy and drying tannins along with an earthy and dusty note. This wine also has a noticeable brightness of acidity. It drinks well now but has the characteristics to be quite age worthy.
The 2010 Gallica is 83% Cabernet Sauvignon, 10% Cabernet Franc and 7% Petit Verdot. This wine shows dark ruby in the glass; aromatically it shows appealing dark fruit and an underlying very subtle herbal component including dried herbs and a dried bay leaf quality. Cabernet Franc and Petit Verdot were blended with the Cabernet Sauvignon; the Petit Verdot lends a somewhat juicy component to the palate. The palate is refined, elegant and soft but with serious flavor. The earthy tannins are well integrated into the finish. 2010 was a cool vintage. With such a small annual production, and sourcing from the same vineyard blocks each year, each vintage certainly varies based on that years' specific growing conditions.
The 2009 Gallica is 90% Cabernet Sauvignon, 6% Petit Verdot and 4% Cabernet Franc. It was aged in approximately 80% new French oak barrels. The wine is dark ruby and almost opaque in the glass. The bouquet offers attractive aromatics including Bing cherry at the peak of its ripeness, coffee, chocolate, ripe blackberry and old leather. The one word we noted to describe its character was seamless. At 14 years post vintage at the time of our tasting, this wine had reached a point in its life of beautiful balance. It offers flavors of darker dessert spices, black licorice, dried berries and a note of soy sauce. The tannins are very much still present and present a gravelly-like texture anchoring a slightly drying finish.
Beginning in 2016 Gallica began producing an Albariño from Calaveras County. The few Napa Valley based producers who produce wine from this variety often source grapes outside of the county. There is not much Albariño in Napa Valley; four sites we are aware of that grow this variety include Stewart Ranch next to Highway 29 just south of the city of Napa, Artesa on the Napa side of the Carneros District, V Sattui's Hibbard Ranch in the deep end of Carneros and Fleury Winery has a small planting at their vineyard on Deer Park (Howell Mountain).
The 2020 Gallica Albariño Calaveras Rorick Heritage Vineyard is medium yellow; the bouquet offers notes of Crane Melon (a local favorite in Sonoma County), lime, ripe and crisp Jonathan apple and honeycomb. As the wine continues to evolve in the glass it becomes slightly more floral offering nuances of citrus blossom and jasmine. The honeyed notes reminded us of when we used to help our grandfather harvest frames of honey/honeycomb from his beehives in San Jose, CA. The rounded texture is supported nicely by its lively acidity, both of which carry this wine through to the finish. It offers flavors of green apple, a lemon/lime zest and some mineralities. This wine went through partial malolactic fermentation. Having just returned from yet another trip to Thailand, we immediately thought of pairing this wine with spicy Yam Tale, a Thai seafood salad.
Napa Valley tends to produce robust Cabernet Sauvignon and Rosemary has certainly spent significant time working with this variety over the years. However, she is also interested in working with different varieties, from non-Napa terroir and creating other styles of wine. The "Red Wine Series" was produced from sites outside of Napa Valley from 2011 through 2015 but is no longer being produced. These wines were made in a Burgundian style with everything made by hand including hand punch downs, co-fermenting the Viognier and Syrah fermenting the other varieties separately. And the final blends were created just prior to bottling. With delicate varieties, Rosemary is careful with how much oak is used and ages the wines in older and neutral barrels as well as using a larger puncheon.
With a nod to her time spent in Japan, she named her red wine, "Suzuri"; this bottling Suzuri in Japanese is a tool for writing calligraphy. The 2011 Suzuri Red Wine shows darker, seductive aromas with an earthy component. Higher toned fruit including red currant show; the nose is bright and lively and the aromatics "jump" from the glass. The entry is rounded and soft with a delicate mouth feel but with bright accompanying acidity. The finish has lingering touch of soft tannins. This wine spent approximately 14 months in oak before being bottled.
—
The name Gallica is named after the European rose Rosa gallica which often displays pink, red or crimson flowers. It was one of the first rose species to be cultivated in Eastern Europe. Oil can be produced from its flowers which are then used in perfumes and candles. And it has other uses – besides being a beautiful flower, extract from its rose petals have been shown to reduce wrinkling in human skin. We ordered a Gallica rose and planted it in our yard in early 2023 with the singular intention to take a photograph of its flowers for this review. Our rose began blooming in May 2023 offering up numerous pinkish purple flowers.
Gallica's annual total production is around 1,000 cases per year; the wine sells out quickly when it is released to the mailing list. Often select library wines are available for purchase through their website. While their team is small, Gallica hosts a limited number of visits next to their estate vineyard in St. Helena. For more information and to join the mailing list, please visit: www.gallicawine.com