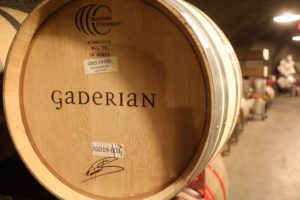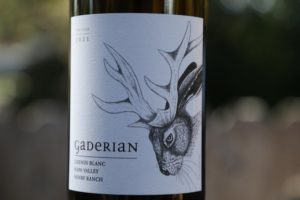 Gaderian Wines was founded by winemaker Shaina Harding and swimmer and 12 time Olympic medalist Natalie Coughlin with their first vintage produced in 2017. Shaina and Natalie first met through their husbands who knew each other from their days at the University of California, Santa Barbara.
Casually mentioning the possibility of starting a wine brand someday to Natalie, the conversation was soon forgotten. Several years later when Shaina reached out via email to Natalie, proposing a partnership in this fledgling wine brand, Nathalie initially thought Shaina's email was meant for someone else. Confusion quickly corrected, both women combined their respective talents to partner in Gaderian. They have no employees and are growing the brand slowly and thoughtfully.
Shaina became interested in wine while working in New York at one of the BR Guest Hospitality restaurants (a New York based company that owns and oversees a number of premium restaurants in select states). The company offered their restaurant employees the chance to further their wine education so Shaina enrolled in wine appreciation classes with Laura Maniec (once the world's youngest female master sommelier) and later with Tyler Colman, aka Dr. Vino at New York University. After moving to California, Shaina worked as an Administrative Assistant at Standard and Poors in San Francisco. During the downturn in the economy around 2008, one day she asked herself, "what is one thing I love?" Realizing it was wine and recognizing her proximity to the Napa Valley, she made what would be a career altering decision and attended a job fair hosted by Domaine Chandon.
Prospective employees were given a sheet of paper to fill out contact information and identify any particular wine interests. Shaina circled the box indicating 'assistant winemaker' perhaps confusing the job title of an assistant winemaker with that of her previous job as an administrative assistant. The cellar master at Domain Chandon at that time, David Junod saw her form and began quizzing her on her level of education, work experience as assistant winemaker etc – by this time Shaina realized her mistake and changed her request to that of a harvest intern. But David soon hired her; her first job in the Napa Valley was a Weighmaster during harvest, keeping track of the tonnage and other measurements relating to grapes coming into the winery. But there was downtime at this job, and she quickly got to know the cellar team and soon was helping with various winery work orders.
She later graduated from the University of California at Davis with a degree in Viticulture and Enology; over the years she has worked at Clos Pegase and Flora Springs and for several years was the associate winemaker at HUNNICUTT Winery in St. Helena where the early vintages of Gaderian wines were produced. This is a premium custom crush winery – allowing other wineries to 'rent' space within their cave to make their own wines. Different somewhat than certain other wineries that rent out space, HUNNICUTT allows the winemakers for the individual brands to closely oversee each of their own brands. Walking through the cave is like being in a candy shop for premium Napa Valley boutique producers, with wine from some of Napa's finest under the radar producers crafted here.
Natalie grew up just south of the Napa Valley; she is actively involved in helping with all aspects of this tiny business including during harvest providing assistance in the cellar. In addition to her swimming accomplishments, she also loves food and cooking and has been a judge on Iron Chef America and also competed in a version of Chopped. And in 2019 she wrote a cookbook called, Cook To Thrive containing a number of mouthwatering recipes including several related to her Filipino heritage.
Wines/Winemaking
Gaderian is producing exciting, balanced, lively and affordable wines built on a Napa Valley portfolio that differs somewhat compared to many of the region's producers. Cabernet Sauvignon is not their focus – rather, arguably their flagship wine is Chenin Blanc.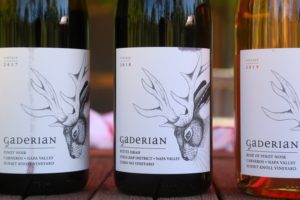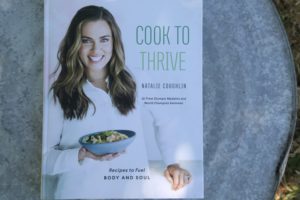 Long enthusiasts of this variety, when they began looking for Napa Valley Chenin Blanc sources, not surprisingly they weren't able to find any and they had to source fruit from Clarksburg for their first vintage. The 2017 Napa County Crop Report lists merely 7 acres, although with several premium producers making and promoting wines from this variety, perhaps the acreage will slowly grow. As recently as the late 1980s Napa Valley used to grow several thousand acres of Chenin Blanc.
Merely two days after the Henry Vineyard in Pope Valley sold containing 50+ year old Chenin Blanc vines, Shaina was on the phone with the new owner and was able to secure fruit from part of the vineyard. The exact age of these vines is unknown since records only date back to the mid 1960s (but they are certainly older than this). This site is in the hills on the eastern side of Howell Mountain and overlooks Pope Valley. The soils are composed of volcanic material, clay and a surface layer of alluvial sediment.
The 2021 Gaderian Henry Ranch Chenin Blanc is medium to deep gold in color; the bouquet is highly expressive immediately upon opening, showing honeyed aromas, caramel, crème Brule, pineapple, ripe melon, Golden Delicious apple, ginger, vanilla pudding, tapioca and stone fruits including apricot and yellow peach. Its aromatics are highly attractive. The consistency of what this vineyard produces is clearly evident in this bottling when comparing it to previous vintages. A suppleness and creamy textural softness flows across the palate gently from the entry through to the finish. This wine offers flavors of pineapple, melon, honeycomb, yellow apple and ginger.
The 2020 Gaderian Henry Ranch Chenin Blanc is medium gold in color; shows sweet floral and tropical fruit aromas including freshly cut ripe pineapple, mango, honeycomb, honeysuckle and dessert spices along with notes of caramel. Offers a creamy and rounded texture across the palate. The flavors are intense and rich and include pineapple, ripe Golden Delicious apple, some mineralities and lingering lemon zest. Finishes bright with good acidity. Simply put, it's delicious.
The 2019 Gaderian Henry Ranch Chenin Blanc was fermented slowly in neutral and once fill barrels; every year the length of the time on the lees varies. We tasted this soon after it was bottled. It is pale gold in color; the bouquet offers attractive aromatics including sweet honeysuckle, citrus blossom and some mineral notes. Rounded and creamy yet retains a crispness across the palate. The texture is an appealing characteristic of this wine. It is not a thin Chenin Blanc, rather it is layered, with flavors of tangerine, baked pear and pineapple. Lingers with a refreshing brightness.
The 2019 Gaderian Rosé of Pinot Noir was produced by saignee (sits about 5 or 6 hours on the skins before the juice is then bled off). Shaina enjoys making this wine; it is still early enough in harvest that the winery is not yet crowded with fermentations and cellar workers, the calm before the storm so to speak. This wine was fermented in stainless steel drums. Salmon colored offers aromas of dried rose petals, raspberry and graphite. Surprisingly rich on the palate with flavors of passion fruit, kiwi and citrus. Mouthwatering acidity. Unlike the other Gaderian wines, this wine is filtered and goes through no secondary fermentation.
The 2018 Gaderian Chardonnay, Invisible Vineyard is appropriately named reflecting the fact that the fruit sources for this wine have changed or may change with future productions. One of the many advantages to making wine at HUNNICUTT – from a winemakers' perspective, is that one is surrounded by extremely talented vintners who all have access to premiere vineyards. A think tank so to speak where one can bounce ideas of others and relationships are cultivated. Through these relationships, Shaina has been able to access fruit from premier vineyards from winemaker friends who for whatever reason sometimes aren't able to use all their fruit. These are from sites which often have wait lists and instant name recognition among serious wine enthusiasts.
In part, the vineyard sources for this wine, came from the contacts that Shaina cultivated here over the years. The 2018 Gaderian Chardonnay offers notes of popcorn, caramel, vanilla and an orange peel zest. The wine sat on its lees during its aging and were often stirred. The resulting texture is creamy or as Shaina calls it, a 'density' or weight on the palate. Finishes rich and long with both lingering fruit and dessert spices.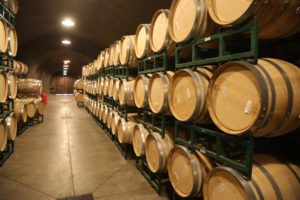 Shaina refers to the Gaderian Pinot Noir as the hipster wine. This wine is fermented in open top t-bins using dry ice layering along with keeping each ferment cool inside the caves to maintain the temperature for a few days (cold soaking period). Moving the t-bins outdoors into the warmer temperatures allows the fermentation to start naturally using indigenous yeast. Shaina let this yeast ferment to about 17 brix before inoculating with commercial yeast to finish out the fermentation. She and Natalie gently mix the cap with the initial fermenting juice using their hands (a most intimate collaboration with their wine – feeling the fermentation as it is happening) – and then later doing traditional punch downs.
The 2017 Gaderian Pinot Noir is from the Sunset Knoll Vineyard in Carneros – Shaina discovered this vineyard while working at Flora Springs. The wine offers an elegant and simultaneous ripeness of aromatics, with raspberry, cigar smoke, hints of cedar and baking spices. As the wine opens, additional aromatics are revealed including brown chocolate and mocha. Shows a sweetness of fruit (no residual sugar) mid palate with additional dessert spices. Rounded and somewhat savory on the palate, especially on the finish. Lingers like velvet with finely nuanced tannins. Balanced and very approachable.
The 2018 Gaderian Petit Sirah is from the Como No Vineyard in the Stags Leap Appellation. This vineyard is owned by Carl Doumani (founder of Stags' Leap Winery, later Quixote and then for a few years, wines produced under the Como No Brand). This wine was made in collaboration with winemaker Aaron Pott. The antithesis of a typical rosé in color – this wine is inky dark red in the glass with purplish tinges on the rim. The bouquet offers aromas of dried rose petals, some floral notes including violets, darker fruits including ripe plum and blackberry, dried herbs, mocha and some dusty nuances. Savory, but not meaty in its aromatic presentation. Juicy, flavorful and superbly balanced despite its youth. Finishes with well-textured somewhat dry tannins – a dustiness. Mouthwatering acidity. Well worth seeking out.
The 2019 Gaderian Henry Ranch Cabernet Sauvignon is deep ruby in color; the bouquet shows initial aromas of sweaty baseball mitt leather and as it opens, offers notes of plum, blackberry, dark licorice, white pepper and old cedar box. Other spices show deeper in the aromatics along with light hints of cardamom. As the wine evolves in the glass, reveals more fruit. This wine is already well-balanced in its youth with a nice integration between fruit, structure and acidity. Shows some toasty oak, juiciness and savory qualities on the finish. This wine spent 21 days on the skins during fermentation followed by barrel aging for 22 months in 75% new American oak barrels and 25% neutral French oak barrels.
The label is immediately eye catching, "fierce but fanciful" as Shaina calls it – a jackelope in tribute to all the jack rabbits that live in one of their source vineyards in Carneros as well as to the deer that roam the hills of Napa Valley. Shaina drew a rudimentary version of their label and then contacted a high school friend to do the final version – her friend's first ever wine label.
And the name Gaderian comes from an old English word meaning "to gather." A description that is intimately tied into the enjoyment of wine. Wine is not necessarily meant to be a beverage enjoyed alone, rather it brings friends and family together – a gathering of personalities.
The wines are primarily sold direct through The Gathering, their wine club membership. Distribution is limited, mainly to select cities within the San Francisco Bay Area, a barber in Sacramento and a few regional wine shops. Those interested in being notified of current releases, should join their Insider's List. Total production is around 500 cases. For more information, visit www.gaderianwines.com