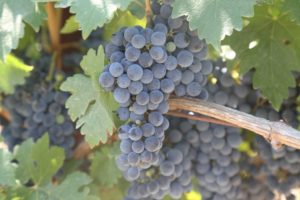 Gabrielle Collection taste +. Proprietors, husband and wife Gabrielle Leonhard & Wayne O'Connell both share a family history woven around food and wine. Gabrielle was born in Rhineland-Palatinate, a western state of Germany near the France border; her mother's European upbringing and interest in using locally grown products made a lasting impression. Her grandfather was a food & wine critic and writer, and her mother was a chemist in wine labs in France (and also studied cooking). For 25 years, Gabrielle operated San Francisco based, Living Interiors, an interior landscaping company who specialized in large scale projects, primarily for corporate clients. She recalls some of their projects involved using helicopters to transport a variety of plants and trees to rooftops.
Wayne's grandfather was a respected farmer in what is now the Silicon Valley and raised cattle and grew grapes back when this slice of the state was actually planted to agricultural crops rather than buildings and freeways. Today Wayne is involved in several real estate projects in Napa and is also the owner of the parking lot across the street from Copia and the adjacent gardens.
In 1988 Gabrielle and Wayne purchased 14 acres of land including their home in what would later become the Oak Knoll sub appellation. Realizing some of their neighboring vineyards were providing grapes to some of Napa's most well recognized wineries, including the Muir-Hannah Vineyard which provided part of the award winning 1973 vintage of Chardonnay from Chateau Montelena in the Paris Tasting of 1976, ultimately, they decided to plant their own vines (the initial planting was in 2000). Today their vineyard is divided into five distinctive blocks encompassing six acres, predominantly planted to Cabernet Sauvignon, but they also have Cabernet Franc and Petite Verdot. The vineyard was certified organic in 2000 and the entire estate is farmed organically and sustainable. Gabrielle is the Director of Winemaking for all their brands. Their first vintage dates from 2003; in 2007 their Oak Knoll Estate Cabernet Sauvignon earned a double gold medal at the San Francisco International Wine Competition.
Wine is not the end of the story here. Their estate certified organic 'farm' produces a wide diversity of products which they have categorized according to culinary, spa, home, and pooch. Several primary labels are produced including Gabrielle Collection (Cabernet Sauvignon focused wines), Gabrielle Limited (small lot red wines), Pietro Family Cellars, a brand founded by Wayne and named after his grandfather featuring well-priced wines from Napa Valley and neighboring Sonoma and Lake Counties (the label features a continuously uninterrupted line drawing of Pietro sitting holding both his cane and his hat) and O'Connell Family Vineyards, featuring highly allocated wines from their Oak Knoll Estate available only for their THE LIST members. Another brand, CE Cellars features wines overseen by their son Preston O'Connell and his wife Casan.
Hospitality
In early 2017 Gabrielle Collection opened a storefront and food + wine tasting salon in downtown Napa, close to the Napa Opera House and within a very short walk of the Napa River; however, this space closed permanently in late summer 2022. Limited visits and tastings are now conducted at their vineyard property in the western reaches of the Oak Knoll District (a short drive from downtown Napa). NOTE: we keep these notes here for historical reference. The auspicious address of their former tasting room was 1000 Main Street. If available, parking was on several blocks of nearby Main Street or in the large open air West Street Parking lot, within a short walk of Gabrielle Collection.
Visitors soon noticed this was a somewhat atypical tasting room. Downtown Napa is filled with plenty of wine tasting and culinary options but the experience here was significantly different enough to warrant attention. A visit here was not only about the wine but as equally important was the variety of culinary options offered with each tasting. Guests could choose from several flights, all of which were prepared with a rich representation of their estate's products. The recipes for the pairings were created in-house and changed seasonally.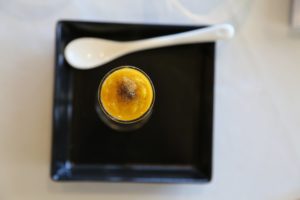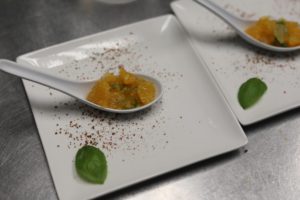 A tasting was a highly personalized experience that lasted a minimum of 60 minutes – and sometimes went 90 minutes (although visitors were certainly welcome to pop in and do some shopping without tasting the wines). Gabrielle was often here to meet guests. With pairings, each wine poured specially accompanied small hand-crafted bites created from in-house recipes. And some of these recipes were quite memorable; for example, the Velvety Butternut soup shot contains sage sea salt and estate rosemary. They admitted that creating this recipe was challenging to perfect the flavors – but the final result is delicious. And their popcorn pairing with select wines was a very unique offering.
In addition to several small bites, tastings were also paired with a variety of their herb seasoned salts, several of their distinctively flavored olive oils and a charcuterie plate which included their house-cured olives.
The tasting room space was filled with many of the organically produced products from their estate (prepared at a kitchen they rent in Berkeley) including bath salts, various hand and body washes, & other spa products, olive oils, olives, dips, herb infused salts, rubs, honey, dog cookies & sprays, natural cleaning sprays for home use and of course plenty of wine. Culinary gift boxes were also sold combining some of these products. We have seen numerous uses for used wine barrels over the years, but never a half barrel created as a bed for a small dog as was displayed in the tasting room.
The tasting room also utilized the nearby outdoor space for select events and tastings. In late 2021 an adjoining space was converted to a barrel room used primarily for private tastings for larger groups. The room was lined with empty barrels and candles are often added to create a homier ambiance. The entrance was not through the tasting room but rather a nearby side door on the 'opera plaza' side of the building.
Reservations were preferred (due to some food preparation with their tiny kitchen on site) but walk-ins were also welcome, subject to availability. A smaller private side room was available for more intimate tastings.
Select Wines
The 2019 Pietro Family Cellars My Angelina White Wine Reserve Napa Valley is a blend of 76% Sémillon and 26% Sauvignon Blanc. This wine is medium to deep yellow in color; the bouquet is extremely aromatic offering aromas of citrus peel zest, warm butter, melon, pineapple, papaya and deeper in the aromas, hints of vanilla. This wine is richly flavored across the palate showing mandarin, lemon, pear and apple, complemented by both brightness of acidity and a textural light creaminess. The finish is long and rich showing both fruit and a slight toasted oak spice note. This wine is named after Wayne's grandmother Angelina who remarkably lived to be 109 years old.
The 2018 Pietro Family Cellars Chardonnay Oak Knoll District, Napa Valley is deep gold in color; the bouquet offers layers of aromas including honeysuckle, citrus blossom, lychee, apricot, mango, ripe papaya along with caramel, warm butter and vanilla. This wine smells like desert in the glass between both its tropical fruit aromas and barrel spice influence. This wine is richly flavored from entry through to the finish including of pear, melon and citrus. It offers a creamy texture and lingers with some toasted oak spice notes along with a final burst of flavor on the finish.
The Pietro Field Blend (tasted mid 2022) is a non-vintage red wine created in homage to Wayne's grandfather Pietro who settled in the San Jose area and in 1906 took cuttings from his neighbor's vineyard and interplanted them on his own land without keeping each variety separate. He made home wine for his friends and family from this 'field blend'. Gabrielle was able to try some of his wines in the 1980s. This wine is a non-Cabernet Sauvignon blend, designated California with grapes sourced from various vineyards in parts of northern and central California. It is medium ruby in color with an engaging bouquet offering aromas of licorice, a sweet core of fruit and various baking spices including cardamom and clove. The fruit component of the bouquet smells very ripe but does not translate into ripeness on the palate. This wine offers flavors of bright red fruits across the length of the palate including cranberry and currant. It's an uncomplicated, yet enjoyable wine which we immediately thought of pairing with pizza or pasta. The tannins show a light gravelly texture, along with a hint of dried tobacco leaf on the bright and savory finish.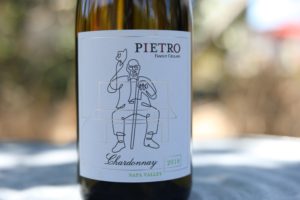 The 2018 Gabrielle Collection Juxtaposition Cabernet Sauvignon Napa County is a blend of 80% Cabernet Sauvignon and 20% Syrah. This wine is dark ruby in color with purple tinges on the rim; the bouquet shows aromas of black plum, dark currant, bramble, and some darker spices including crushed black pepper and old cedar box. The palate is savory with red fruits including currant and cranberry, spicy plum skins and crushed pepper. We can definitely notice the influence of the Syrah in this wine. The palate lingers dark and savory with a medium but not heavy grip of tannins (light gravelly texture and drying in their feel), dried tobacco leaf and a brightness of lasting acidity. We immediately thought of pairing this wine with BBQ ribs or a ribeye. This wine was aged for 31 months in French oak.
The 2018 Gabrielle Collection Equilateral is 100% varietal Cabernet Sauvignon from grapes grown in both the Oak Knoll and Yountville sub appellations. The bouquet offers both darker fruits and spices including black plum, black currant, earthy note, forest floor and old leather. As the wine continues to breath, opens to reveal more fruit aromatics. The medium structured tannins continue to persist for quite some time on the finish accompanied by a brightness of acidity and red fruit tones including cranberry and red cherry. This is a mouthwatering and food friendly bottling. The triangles within the triangle on the label represents the balance they strive for every vintage of this wine. This was also the first wine they produced in 2003.
The 2012 Gabrielle Collection Equilateral is 100% estate Cabernet Sauvignon; while it is 100% varietal was created by blending various vineyard blocks together for additional complexity. The bouquet offers aromas of cedar box and as the wine breathes, the aromatics become spicier. It is a pretty nose. This wine drinks very well with bright acidity along with a red cherry tartness towards the finish. It lingers with well-integrated tannins along with a spice/pepper nuance.
A wine named Cask 321 was the first red blend that Gabrielle produced. At a food and wine event she quickly noticed a chef was pairing chocolate with one of the Cask 321 bottlings. This contrasted dramatically with her belief that this wine should not be paired with something sweet. After she questioned him about his pairing decision, he simply told her to try it. So, she did. And if this was any indication of her change in preference, now they make their own chocolate to pair specifically with this wine!
The 2012 Gabrielle Collection Cask 321 is 75% Cabernet Sauvignon (estate) and 25% Cabernet Franc (Oak Knoll). This wine shows a somewhat earthy nose that is well layered with tobacco, darker fruits and sage perhaps. The palate is well-balanced, very flavorful with good acidity. The tannins linger somewhat but are not harsh. Put some of their chocolate and salt with this wine and you will certainly find yourself reaching for another sip.
—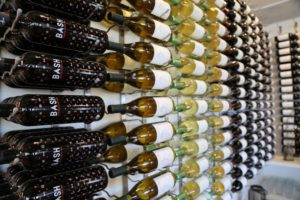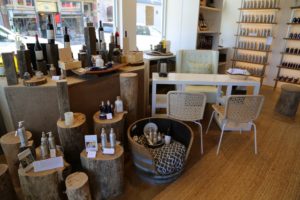 Gabrielle has a strong affinity for olives and related products. She is a certified olive oil taster having completed the UC Davis Olive Oil Taster certification curriculum. The olive trees on their estate were propagated by Gabrielle from the last known original Mission Olive Grove (dates to 1797) near Santa Barbara; she discovered these old trees through personal research on olive oil history in the state of California. And she founded the Olive Oil Culinary Guild, an organization that focuses on training chefs on how to evaluate olive oils. She also founded Mission Olive Preservation Restoration & Education Project, (MOPREP), an organization dedicated to preserving olive trees in California.
Their food and wine club, the Decanter Society allows one access to exclusive wines, provides special pricing and includes invites to wine dinners (held in select US cities).
NOTE: as of mid 2023, select bottlings of the Gabrielle Collection wines are available for tastings and purchase at Feast it Forward, located in downtown Napa. Feast it Forward is a lifestyle space and winery collective featuring a maximum of 16 small producers, primarily but not always Napa Valley based producers.
Napa Yard
Wayne O'Connell owns a 3.5-acre piece of property across from Copia; formerly known as Oxbow Yard it was rebranded to Napa Yard in 2022. O'Connell eventually plans to build housing on site; Napa Yard is scheduled to operate for 3 years. This space features an outdoor restaurant among gardens (showcasing a farm to table approach). It also features a beer garden; wine tasting area and is used as an event space. The overflow Oxbow Public Market parking lot is located directly next to Napa Yard. We will keep a close eye on this space and will update accordingly.
The wines are selectively distributed in Georgia, North Carolina, Ohio, Oklahoma and Texas. For more information or to join the Decanter Society (choose from several shipment options), visit: www.oconnellfamilywines.com