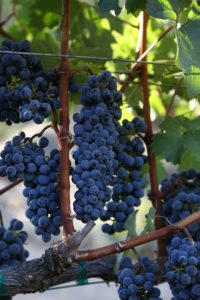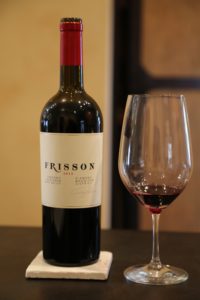 Frisson Wine is a boutique producer sourcing grapes from premium vineyards in both Napa and neighboring Sonoma County. Their first vintage was 2009. Proprietors, Terry (and partners) and his wife Pam are from Houston; both have been passionate about food and wine for decades although Terry admits he was a scotch drinker before he met Pam. After their son was diagnosed with cystic fibrosis in the early 1980's, they began to look at ways they could help support research into fighting this terrible genetic disease. With an appreciation for food and wine they helped organize a charity event for Cystic Fibrosis in 1983 in Houston called 'An Evening with the Masters'. This premier food and wine event attracted top talent from both the culinary and wine worlds.
In the process of organizing this event, Terry and Pam called upon a number of vintners in the Napa Valley to provide wine and also attend the event. Michael Mondavi and Kathleen (Heitz) Myers were several who attended and notable chefs included Wolfgang Puck and Thomas Keller. Through the event, Terry and Pam met a number of people in the industry – and friends soon invited them to come out to the Napa Valley to attend the annual wine auction.
The more they visited the Napa Valley the more the enjoyed the area and the lifestyle it can afford. They purchased a home in Yountville and have since become part time residents.
At a dinner party one night they were randomly seated next to Napa winemaker Wayne Donaldson. Terry recalls by the time the night was through he had convinced Wayne that he wanted to make a great Napa Cabernet. Wayne wasted little time and called Terry within a few days of the party – and Terry soon became the proud owner of three tons of Cabernet Sauvignon from a Diamond Mountain vineyard. Not quite sure how this had transpired so quickly, he reached out to one of his business partners asking him to become an investor (with the caveat that Terry knew little about wine making) and running a wine business.
These three tons of grapes were used to create their first wine in 2009. Wayne was their winemaker through 2015. Winemaker Paul Colantuoni selectively consults for small producers in the valley and took over the wine making in 2016.
When Pam began to search for a name for their wine – she started with how she felt when she first discovered they were going to be making wine. Looking online she began her search in various European languages, ultimately stumbling upon the word Frisson. In French, it refers to a moment of intense excitement a thrill if you will.
They produce wines they both enjoy drinking – they source fruit from Sonoma and Napa County – tending in more recent years to focus on Napa grown grapes. While they own a small piece of Napa (their home in Yountville), they do not own any vineyards, preferring to source grapes from some of region's most well-regarded vines – this includes a Chardonnay from Dutton Ranch in neighboring Sonoma County and a Cabernet Sauvignon from the Beckstoffer managed (and one of their heritage vineyards), Georges III in Rutherford.
The 2012 Diamond Mountain Cabernet Sauvignon is 100% varietal and was aged 18 months in approximately 50% new French oak with the balance being used oak. The source is a vineyard at about 1,100 feet in elevation. Shows bright aromatics on the bouquet, cherry, cola notes, and plum. Fairly supple on the entry with a richer mid palate showing. Quite flavorful and very well balanced. Good acidity, with lingering flavor, a slight tartness and dusty tannins with a slight spice on the finish. Surprisingly balanced – with well integrated mountain tannins.
The 2012 Rutherford Georges III Cabernet Sauvignon shows dark ruby in the glass – with an elegant bouquet (cherries) tinged with some caramel notes, a touch of cedar and floral nuances. As was pointed out to us when we tried this wine – sometimes you associate bigger name vineyards with muscular wines. Not necessarily true with this wine – shows decent acidity and balance with flavors tending to be higher toned rather then darker fruits (red cherry, blueberry). The tannins are not necessarily coarse but they are certainly noticeable and last for some time on the prolonged slightly spicy finish.
In late 2016 Frisson joined the already existing Thorn Hill Vineyards tasting room in downtown St. Helena. This tasting room is centrally located (parking can be found street-side on Main Street or on nearby Railroad Ave). NOTE: they were represented at this tasting room for less then a year – their wines are no longer available here and the original tasting room on this site eventually closed down. However, the wines are available directly via their website.
They produce around 900 cases each year and a certain percentage of their proceeds are donated back to support Cystic Fibrosis research. For more information visit: www.frissonwines.com