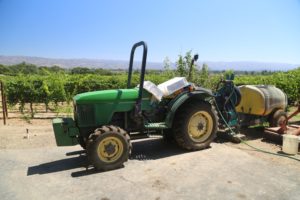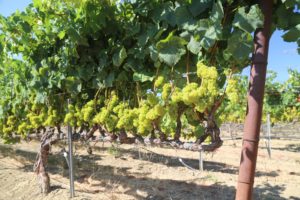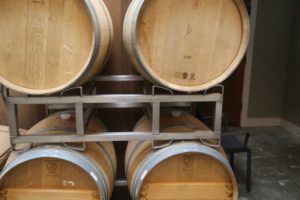 Frisinger Family Vineyard (pronounced fry-singer). The Napa Valley roots of this family-owned producer date back to 1981 when Jim Frisinger Sr and his wife Carin purchased their 20-acre property in what is now the western edge of the Oak Knoll District. Jim was born in Gary, Indiana but eventually settled in Chicago and before he retired in 1986, he was vice president of John Morrell & Co, a company that traces its roots back to 1827 in England.
Jim's son, James, now one of Napa Valley's 'old timers', first visited the valley in the early 1970s. James graduated from Iowa State University with a bachelor's degree in horticulture and later earned his master's degree in viticulture and enology at UC Davis. He enjoyed a 30+ year career at Beringer Vineyards – working in viticulture before eventually retiring in 2009 as Vice President of their North Coast Vineyard Operations (with approximately 4,000 acres under his control).
The property sits slightly above the valley floor and features gentle rolling hills. At the time of their purchase, the site was surrounded by open land; today it is a completely different story. Their property is now surrounded by vineyards; nearby neighbors include both producers and growers including Olney Family Winery, Moulds Family and Padis Vineyard.
Referencing a 1933 United States Geological Survey map to identify a variety of soil types on site (this map is on display in their winery), in 1983 with the urging of his son James, Jim planted the property to Chardonnay and harvested their first crop in 1985. In the early years, both father and son managed the vineyard; James doing all the pruning while Jim did all the tractor work. And Jim was also the winemaker with some consulting help from another winemaker. From 1985 through 1995 the family bottled wines under Frisinger Family vineyards and sold them primarily through distribution. They produced only 300 cases from their inaugural vintage. Jim senior also helped with the sales and marketing of the wines.
This is the definition of a family winery. The family lives on site, farms the property, sells the grapes and produces their own wine. James and his wife Karen built a small winery on the property in the early 1980s (minimally used today for winemaking) along with a small reservoir (which is now used to water vines as needed) and is home to some ducks and other wildlife. A body of water always adds to the ambiance of a property. Fortunately, they built this before county ordinances became more restrictive in the valley. In 2021 this pond was completely dry by the end of summer due to drought conditions but has since filled up again.
The vineyard has supplied grapes to a number of Napa notables over the years including Beringer, Cakebread, Chateau Montelena and Grgich Hills among others. The property was replanted in the early 1990s to replace phylloxera infected vines. Today the site is planted to 14 acres – entirely to 4 clones of Chardonnay (76, 96, 809 and 4).
James and Karen's son Karl grew up on the family property. His early memories of trying wines were of the good stuff including older vintages of Beringer Private Reserve and the first wine he ever tasted from the mid 1980s, a Beringer Howell Mountain Bancroft Vineyard Merlot. He left Napa Valley for college in Minnesota where he met his wife, Rachel. He stayed, eventually studying law and after passing the state bar, practiced law in St. Paul for five years. But he recalls one cold and presumably dreary February morning asking himself why he was still in Minnesota. He moved back to Napa Valley and began to practice law, spending time working for Coombs & Dunlap and currently operating his own private practice – offering compliance services for several small wine producers.
In 2012 he and Karen decided to bottle a tiny amount of Chardonnay and resurrect the Frisinger Family Vineyard label. His father James continues to oversee the vineyard management of their property while the Frisinger brand is owned entirely by Karl and Rachel. Production has grown over the years and currently is around 1,000 cases per year.
Wines/Winemaking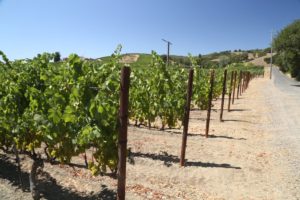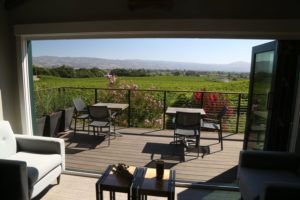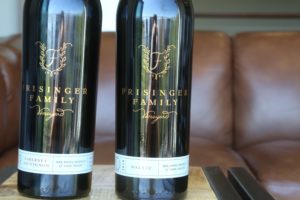 Growing up in Napa Valley, one's circle of friends is usually never very far from the wine industry. While in high school Karl met Grant Long; they became friends and in 2012 (the first new vintage) Grant became their winemaker. He has made every vintage of Frisinger wines since then. Not only is Grant a talented winemaker who works with a variety of clients, but he also has access to premium vineyard sites (which has proven helpful in sourcing grapes for some of the Frisinger wines).
Eventually the plan is to remove small amounts of Chardonnay on the property in favor of several red varieties – showcasing additional estate grown wines. While their vineyard sources often change from year to year; they continue to focus on sites within the Oak Knoll District.
The 2018 Frisinger Chardonnay Estate Reserve was made with two Dijon clones; it was barrel fermented and spent a total of 18-month sur lee aging (the first 6 months in new French oak). The wine is golden in the glass and offers a diversity of aromas including notes of hazelnut, almond, straw, baking spices and vanilla. As the wine opens further, more fruit driven aromatics are revealed. Creamy but not heavy on the palate, this bottling offers flavors of ripe apple and a lingering citrus nuance on the finish. It showcases excellent acidity – this is a very balanced showing with some oak influence but without the buttery characteristics that California style wines from this varietal are often known for.
The contrast between the 2017 and 2018 Malbec bottlings are quite noticeable. Which makes sense considering the vineyard sources for each vintage were completely different. The 2017 Frisinger Family Vineyard Malbec was sourced from a vineyard along the lower to mid part of Soda Canyon Road. This wine is fruit forward with lively aromatics that reach far beyond the rim of the glass, including a sweetness of fruit which shows ripe blackberry and red licorice. This wine is juicy with great acidity accompanied by berry flavors including cranberry and currant.
The 2018 Frisinger Family Vineyard Malbec (from Trefethen Vineyard) is dark purple in color; it offers alluring aromatics of dried herbs, sage, slightly floral (violet), hints of dried tobacco leaf and plum. This wine shows a nice density across the palate with still somewhat tight but finer grained tannins. Lingers with darker fruits, tobacco smoke and notes of peppercorn. This is a wine with some character and distinctiveness. Nicely balanced out of the gate but also quite age worthy.
The 2017 Frisinger Family Vineyard Cabernet Sauvignon was sourced from a vineyard a few minutes' drive from the Frisinger property (still in the Oak Knoll District). It offers a pretty bouquet with aromatics of plum and blackberry and is slightly savory with hints of sage. Both red and darker fruits show on the plate lingering with cherry and some earthy notes. It features very well integrated tannins and a bright burst of acidity on the finish.
—
This is a calm part of Napa Valley that few tourists experience despite being only about a 10-minute drive from downtown Napa; there are few wineries here – as the properties are primarily owned by growers. Visits and tastings are highly personalized and are always hosted by Karl with views overlooking their picturesque pond and vineyards. He is a wealth of wine information, especially relating to viticulture and is happy to share his knowledge with clients.
The wines are nearly all sold direct to consumer although sometimes may show up in select retail outlets like the Wine Connection store and tasting room in Yountville. For more information, to buy wine, to join one of their wine clubs or to arrange a visit to the property, visit: www.frisingerfamilywine.com