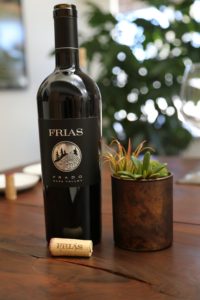 Frias Family Vineyard is owned and operated by Manny (Mexican heritage from Guadalajara) and Maria (Italian heritage) Frias and their family. They were one of the early Hispanic owned wineries within the Napa Valley – although today there are certainly more. Manny grew up in San Francisco and fell in love with Napa Valley during visits in the 1960s when Cabernet Sauvignon was several dollars per bottle (IE Beaulieu Vineyard, Inglenook). Finally in 1977 (along with his father) Manny purchased 100 acres on Spring Mountain above the town of St. Helena, the property bordering and immediately north of Brasswood Village. The timing and circumstances for this purchase were favorable; they sold three properties in San Francisco and paid the prior owner $1,000/acre with the caveat that she could stay on the property as long as she desired.
After the prior owner moved away, Manny's parents moved into the home on site in 1983. Over the years, Manny became interested in the wine business including taking courses at Napa Valley College.
Manny planted 5 acres of vines 1985 (the property was originally planted to walnuts); his first home wine was from 1988 – the first commercial release under the Frias Family label was from the 1991 vintage. They later planted more Cabernet Sauvignon along with small blocks of Merlot and Cabernet Franc. Today their total vine acreage is around 20 acres separated into a lower block next to the highway and several upper blocks. Most of their upper vineyard is in the Spring Mountain District (above 800 feet) while their lower block is in the St. Helena Appellation.
First and foremost, the family are farmers. Wine making starts in the vineyards and they spend significant time in their vineyards micromanaging each vine. Their winemakers and wine making locations have changed several times throughout the years, but one thing remains consistent: cultivating premium grapes from their own vineyard.
Their vineyard neighborhood is certainly in a well-regarded part of the valley; nearby neighbors include Grace Family, Colgin's Tychson Hill and Vineyard 29.
Soil types differ dramatically from one block to the next; parts of their vineyard are extremely rocky. This unique "terroir" contributes to interesting and complex wines.
Second generation, brothers Fernando (Fern) and Manny Jr. have taken over operations from their father and bring a significant enthusiasm and creativity towards promoting the brand. Both have put significant effort into not only helping oversee their vineyards, working on harvest activities but also promoting and selling their wine. To this, Fernando speaks about the great personal satisfaction of seeing his hard work rewarded when he walks into a fine restaurant and sees a bottle of wine on their wine list, or better yet sees a patron enjoying one of their wines.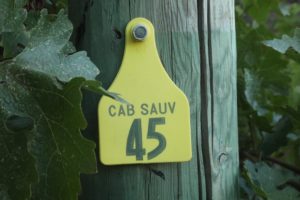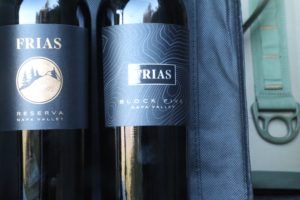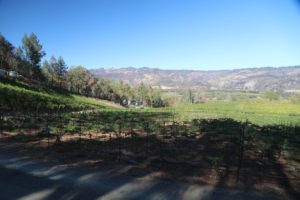 Over the years their wine making has become more detailed – sorting three times in the vineyard and another several times in the winery. Not only this, but they have also upgraded the look and feel of their packaging to represent the time invested into producing premium grapes. Their wine labels now feature an attractive contemporary look. In the early years of producing wines, they primarily used American oak but have long since transitioned to using French oak for aging.
For about 10 years they focused on a single wine – a 100% varietal Cabernet Sauvignon. Today they make two Cabernet Sauvignon wines from their Spring Mountain estate – a Spring Mountain Cabernet Sauvignon (usually blended with small amounts of select other varieties) and their Reserva, a 100% varietal Cabernet Sauvignon. In addition, they source fruit from premiere vineyards in select parts of Napa Valley including Oakville.
Select Wines
Our first introduction to Frias Family Vineyard was a rosé we enjoyed many years ago at a tasting in San Francisco. This was a varietal blend not found anywhere else in Napa as it contained Cabernet Sauvignon, Cabernet Franc and Syrah. Frias Family still produces a rosé each year.
The focus of the Frias Family Vineyard wines is on precision farming, growing the best possible grapes from their hillside vineyard blocks. The wines are crafted to showcase plenty of fruit while simultaneously featuring supple textural profiles which in part allows the wines to be extremely approachable in their youth. Yet, these are also wines that can age.
The 2018 Frias Family Vineyard Reserva is dark ruby with purplish tinges on the rim; the bouquet is lightly savory but quickly opens to a freshness of ripe fruit. It offers an intensity of aromas including a medley of ripe blackberry, plum and boysenberry. Deeper into the aromas are notes of Graham Cracker, mocha and vanilla. This wine is very balanced and highly approachable in its youth. Shows darker fruit flavors including plum and blackberry. Features plush, ripe, rounded and very well integrated tannins, almost silty or chalky in their textural feel. The finish persists for some time and along with fruit, lingers with white pepper and a hint of dried tobacco leaf. This wine was bottled unfiltered and aged for 21 months in French oak barrels.
The 2013 Frias Family Vineyard Spring Mountain Cabernet Sauvignon is very dark in the glass; it features ripe blackberry and an underlying mix of dessert spices (cinnamon) and brown chocolate aromas. Like their other wines, the mouth feel is smooth with bold flavors. Fairly well integrated tannins – a bit chalky which lingers pleasantly. Mostly dark fruit on the finish.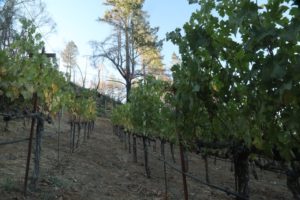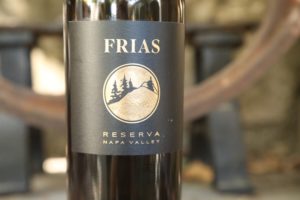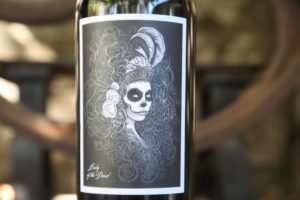 The 2013 Frias Family Vineyard Reserva represents two small blocks from some of the oldest vines in the upper corner of their estate vineyard (100% varietal Cabernet Sauvignon). The wine is very fragrant, perfume like at times including aromas of violets. On the palate the wine is soft and plush with a density of fruit that is well layered – somewhat brambly with flavors of blackberry. The earthy tannins are noticeable – somewhat chewy in nature. The finish is very lively and lingers for quite some time.
The 2014 Frias Family Vineyard Block 5 was sourced from the immediate vicinity of what is arguably Napa's most well-known vineyard, To Kalon (the heart of Oakville). Shows well young, it is 100% varietal Cabernet Sauvignon. Features a voluptuous well-endowed bouquet – showing floral notes and a sweetness of ripe fruit. Layers of flavor dominate, rich at times with dark cherry, blackberry and blueberry. Fairly soft on the palate with a prolonged finish.
The 2014 Frias Family Vineyard Prado was named in tribute to Manny's wife Maria – Prado is her maiden name which means "meadows" in Spanish. This wine was sourced from a premium vineyard in Oakville not far from Screaming Eagle. Shows an initial sweetness of dessert spice on the bouquet along with aromas of fig, blackberry and ripe plum. As it opens deeper darker aromas continue to develop. Well layered aromatics. To be sure, this is a big wine, but it still has balance. Fairly smooth texture. The finish has nice 'oomph' both in flavor and structure. Fernando indicates there is a certain sexy quality about the style of this wine along with several of their other reds.
Lady of the Dead is a Napa Valley red wine featuring an intriguing label, with artwork similar to what is created around Mexico's 'dia de los muertos' celebration every November 1st and 2nd. This wine is strongly weighted towards Cabernet Sauvignon. The 2018 Frias Lady of the Dead is dark ruby in the glass; offers aromatics of ripe blackberry, dark cherry, truffle oil, brown chocolate and mocha. Delivers plenty of flavor for the price point with velvety rounded tannins which glide across the palate effortlessly. This wine is a very good value for the quality.
—
Napa Tasting Room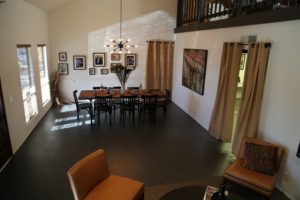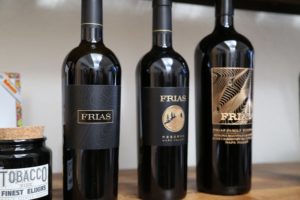 Tastings are for serious enthusiasts and are held in north Napa (by appointment only) in a two-story set of offices appropriately called the Cooperage Square Business Center. The family refer to this tasting room as 'the man cave'. This location is ideal as it is directly next to Highway 29 on the north bound direction.
Tastings are private and are typically held with one of the Frias brothers, Manny or Fernando. At the time of our latest update, this small complex is home to one other Napa producer – although over the years other wine producers or wine related businesses have been tenants for short periods of time.
Frias Family currently produces around 4,000 cases annually with select distribution in a variety of states including New York, Texas and Florida. We have seen select wines by the glass and on the extensive wine list at the legendary and iconic Bern's Steakhouse in Tampa, Florida. Their wines also see some distribution in British Columbia and Alberta as well as in Japan.
Manny often travels around the country visiting client's homes for winemaker dinners. He usually ships out a case of wine in advance of his visit; the homeowner will invite some of their closest wine enthusiast friends over for an intimate gathering. A minimum purchase amount per couple is decided prior to the dinner.
For more information or to become a member of their mailing list, visit: www.friasfamilyvineyard.com