Freemark Abbey Winery
is a significant and historical winery located just north of St. Helena. The winery origins date back to 1881 when Josephine and John Tychson (a Danish immigrant) purchased 147 acres in Napa Valley from a sea captain William J. Sayward. Grapes were already growing on the property at the time of their purchase, most likely planted around 1875. They Tychson's expanded the number of vines on the property. Unfortunately, John committed suicide on April 1, 1886, in a room in the Newland House Hotel in Oakland on the corner of Washington and Seventh Streets. He suffered from tuberculosis and also depression. That same year his widow Josephine took over ownership of their large Napa Valley property and built the original redwood winery on site (appropriately called Tychson Cellars). She became the first woman in the entire state of California to oversee the building of a winery and one of the first few female vintners in the state.
Tychson was described as a resourceful and self-sufficient woman. She raised chickens, a cow and had a vegetable garden on the property. And a never-ending flow of fresh spring water. She was also known for her love of horses and horse riding. She and John had two children, Annette who died young and John Jr who died in his early 90s in 1972 and is buried in the St. Helena Cemetery.
Incidentally the home where Josephine lived in until she passed away in 1939 is on the other side of the highway from Freemark Abbey. Today it is owned by Ann Colgin (of Colgin Cellars) and her husband Joe Wender. Their vineyard is appropriately named Tychson Hill.
Josephine is buried in the San Lorenzo Pioneer Cemetery – the town where she was raised and would eventually marry her husband; see our photographs from our visit to this cemetery below. Although note that despite Tychson being buried here, her tombstone and the ones for other family members are missing probably due to prior vandalism including theft. The only tombstone of the three family plots we saw during our visit was that of Catherine Tychson, Josephine's sister who was John C. Tychson's first wife (a case of sisters marrying the same man). Other prominent era Napa vintners or growers are buried here including Hamilton Crabb, founder of To Kalon Vineyard and John Lewelling, one of Napa Valley's earliest pioneer agricultural families.
Those interested in reading more about Joesphine Tychson can do so in the Gleanings issue of December 1986, the Napa County Historical Society published, Josephine Marline Tychson: The First Woman Winemaker in California, written by Dolly Prchal.
Due to financial difficulties by 1895, Tychson sold the winery, and it was leased to Antonio Forni. It was Forni who removed Josephine's winery and built the existing stone winery over 8 years opening in 1898 and named it Lombarda Cellars in honor of his birthplace in Italy. Boulders were mined from near Glass Mountain (east of the winery), loaded on wagons pulled by horses and then cut into square shapes on site to be used in the construction. Workers were primarily Italian – many descendants of families still living in St. Helena today. The winery operated under this new name until the start of Prohibition (the name Lombarda Cellars can be seen clearly from either direction on the highway).
In early 1933 the winery was sold by Antonio's widow, Mrs. Marianna Forni to Patrick Murphy (President at the time of the First National Bank of Crockett, CA) and James Mahoney. The next few years were financially challenging because of the ownership.
Mahoney was the President of Napa Cantina Wineries which was operating from Lombarda Cellars. By 1934 James Mahoney had already contracted for grapes and was installing additional cooperage, increasing the winery capacity to 500,000 gallons. By 1935, after some litigation against Murphy for 1 million dollars in regard to 100,000 gallons of rare and old wine that may have been purposely undervalued, Mahoney and his family were the sole owners of the winery. Murphy died in 1936. In 1937 Marianna Forni filed suit for funds she was never paid against Mahoney and the estate of Murphy. By 1939 Mahoney and Napa Cantina were in bankruptcy proceedings and Mahoney had been indicted by a federal grand jury for aiding a bank manager in embezzlement.
The name was changed to Freemark Abbey in 1939 when it was purchased by three men (Charles Freeman, Mark Foster and Albert "Abbey" Ahern). The name of the winery was formed by combining parts of their three first names. Incidentally, their first winemaker, was Leon Brendel (who later sold his property to Joe Heitz along Highway 29 just south of St. Helena where Heitz Cellars was founded).
The winery opened a "sampling room" in 1949 – making this one of the first tasting rooms in Napa Valley. Incidentally in the 1950s Freemark Abbey was one of the largest up-valley wine grape jelly producers. An article from the September 10, 1952, issue of the Napa Register references at least twelve different types of jellies produced at the winery that year.
Freemark Abbey was operated and owned by these three individuals until 1959. Then, for 8 years no wine was produced here until new owners, 7 partners purchased the property and name in 1967 including prominent Napa Valley residents, Bill Jaeger, Laurie Wood, Brad Webb, John Bryan and Chuck Carpy. Chuck Carpy had long ties in Napa Valley, his grandfather owned Uncle Sam Cellars in the city of Napa. One of the grower partners was Webb who was the winemaker who made the early Hanzell wines in neighboring Sonoma County. Two limited partners Dick Heggie and St. Helena realtor Jim Warren. The sixth and current owners, Jackson Family Wines purchased the winery in 2006.
Freemark Abbey was one of only 12 American wineries chosen to represent the country in the famed Paris Tasting of 1976 Incidentally they were the only winery with both an entry for Chardonnay and Cabernet Sauvignon. They placed 6th for their Chardonnay (called Pinot Chardonnay as was Chardonnay was commonly called during those days). One of Napa's longest tenured winemakers was Ted Edwards who was Freemark Abbey's winemaker from 1985 to 2020 before finally stepping back from his primary winemaking duties and ultimately retiring in early 2023. And for the first time since Josephine Tychson was winemaker on this property, another woman was hired as winemaker; Freemark Abbey hired Kristy Melton in 2020 after Ted retired.
And Ted is certainly not the only winemaker who has been part of the Freemark Abbey family in the past few decades. Often referenced as the "University of Freemark", the winery has produced a number of vintners who have successful careers in the wine business including Cathy Corison and Tom Rinaldi.
The hospitality center (housed in the old stone winery) is quite photogenic, with older looking stone walls and curved archways outlining large wooden doors. It is worth spending a few minutes admiring this old winery building. Freemark Abbey's main building was used for barrel storage and wine making but both have since been moved off site. All wines are made at Cardinale Estate in Oakville – also owned by Jackson Family Wines.
The property is truly focused on hospitality and offers a variety of experiences for visitors. They make a diversity of wines (including a refreshing and unusual number of white wines – for a Napa based winery) and at the time of this update they currently offer five unique tastings: Red Wine Tasting, Collectors Tastings (usually featuring an older wine), Classic Tasting, Cabernet Comparative Tasting and the Market Cafe Tastings (offered Fridays and weekends and paired with small bites). A Library Tasting (by appointment) offers guests the unique opportunity to try much older vintages as Freemark Abbey maintains an extensive library of their own older wines.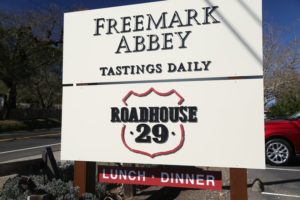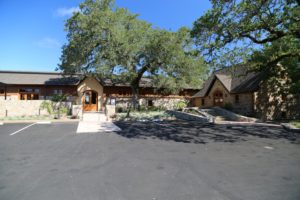 Several tasting areas are located on site – the "newer" general tasting room features a bar near the entrance, a Reserve Room downstairs and the older tasting room called the Partner's Lounge is available for club member use featuring both indoor and outdoor seating. There is plenty of parking on site for both the tasting room and the restaurant.
Their wine making focuses on wines that are food friendly and built to age – and time has shown these wines do age well given proper cellaring. The wine making team does not use a formula when making wines – vineyard sources and blends change from year to year. They tend to hold their smaller production red wines back for at least a year before releasing – so these wines see two years in the bottle.
For a winery with such long history, it is interesting to note that Freemark Abbey does not directly own the vast majority of the vineyards they work with in Napa Valley – rather they purchase fruit from other growers; the exception to this is the tiny vineyard on site of the winery. With that said, they have established long term relationships with select growers in the valley and several of their wines are from vineyards they have been sourcing from for many years. Their total production each year is around 60,000 cases with the majority of that for one wine – their distributed Napa Valley Cabernet Sauvignon.
One such vineyard is the Bosché vineyard in Rutherford; wines from this vineyard have earned acclaim over the years (Freemark Abbey has been sourcing from this particular vineyard since 1970). Wines from this vineyard were being sold to Beaulieu Vineyard and during some vintages were used in their Private Reserve wine. The owner John Bosche wanted to find a winery who would make a vineyard designate of this wine referencing his name on the label. He found a perfect fit with Freemark Abbey, and this is now one of Napa's longest continuously running vineyard/winery partnerships (while John has since passed, this vineyard is still owned by his family).
Select Wines
Over several visits we have enjoyed several vintages of this wine. The 1991 Bosché Cabernet Sauvignon is still very rich in color although with a slight browning around the edges of the glass which is normal in wine this age. There is a density of dark fruit characteristics on the palate with a long soft finish.
The 2012 Freemark Abbey Bosché shows a layered depth of aromatics; sweet fruit complemented by a savory characteristic tinged by notes of chocolate and an earthiness as the wine opens. On the palate there are flavors of red cherry and currant along with very good acidity. The tannins still show young – pair this wine with a good steak. This vintage has the power and elegance of structure and fruit + the acidity to potentially age for many years.
The 2015 Freemark Abbey Sauvignon Blanc shows a depth of aroma on the bouquet not always seen with wines from this varietal including dried apricot, pear, graphite, citrus blossom and green apple. This wine is balanced on the palate; it is lively and refreshing with a lingering orange zesty note on the finish – clean and not overly tart. Drinks very well by itself.
The 2012 Freemark Abbey Napa Valley Cabernet Sauvignon is dark ruby red in the glass; this wine shows bright fruit aromatics showing more red fruit then dark fruit. The bouquet is somewhat savory with touches of toasted oak and hints of cigar smoke as the wine continues to open. There is a nice play of tannins on the front of the palate lingering for some time on the finish. A crisp and refreshing tartness on the finish. Very balanced. Very food friendly. And available by Napa standards at a very friendly price point.
Josephine Tychson plot, San Lorenzo Pioneer Cemetery

The Sycamore Vineyard has formed the backbone for their wine of the same name for many years. This vineyard is located in the southern part of Rutherford nestled against the eastern side of the Mayacamas mountains. The 2011 Freemark Abbey Sycamore Vineyard offers an elegant earthy bouquet with notes of smoke, eucalyptus, mint and a dust character. The palate is lively with notes of blackberry, an oak spice mid palate and reasonably well integrated tannins.
The 2004 Freemark Abbey Sycamore Vineyard shows brick red color in the glass with a sweetness of fruit on the bouquet. Ripe plum complemented with baking spices (clove and cinnamon) show more in the background. As it breathes notes of dark chocolate come forth. This wine has aged very well and perhaps tastes a bit younger than its actual vintage.
For many years they produced a beautiful Edelwein late harvest Riesling and were the first winery to make a late harvest of this varietal in Napa Valley. Their last vintage of this wine was 2011 (sold out) but they may still have older vintages for sale. This wine was made from natural botryis so it is only made during certain years depending on the weather and growth of the Botrytis spores. More recently, they started producing a port-style wine from Petite Sirah (first vintage was released in late 2017).
—
As of June 2016, the old stone winery building (Lombarda Cellars) which dates back to 1899 was completely restored. Some of the redwood from the original winery on site was used in the renovation of this old stone winery. In more recent times, this building housed the Silverado Brewery Restaurant and served as barrel storage for the winery.
The old stone building houses three spaces, the general tasting room and a small retail outlet on the first floor, a reserve room on the lower floor and an event/banquet space (formerly was Roadhouse 29 Restaurant which used to focus on smoked meats and barbecue and a number of salads). And before Roadhouse, this was formerly the site of Two Birds & One Stone restaurant, a yakitori, a Japanese type of skewered chicken.
Inn at the Abbey
The Jackson family owns nearly 14 acres including Freemark Abbey along Highway 29 and on both sides of Lodi Lane including what was the A Dozen Vintners tasting room, the old Brava Terrace Restaurant and what was The Eagle & Rose Inn. They purchased part of their existing property footprint from Norman Alumbaugh in 2013 (just before he died in 2014). Alumbaugh used to own A Dozen Vintners and Eagle & Rose. Plans call for turning part of the property into a small inn. For updates and more details of this Jackson family vision, visit: www.innattheabbey.com
Jackson Family Wines
The remarkable success story of Jackson Family Wines began with Jess Jackson; San Francisco raised, he founded a law firm in the city in the 1950s focusing on real estate and land rights issues. Later, with his first wife Jane in 1974, he bought an old 80-acre pear and walnut orchard near Lakeport, Lake County. They converted this to Chardonnay and began selling the grapes to local wineries. Eventually the market for grapes softened and Jackson had more grapes than he could sell.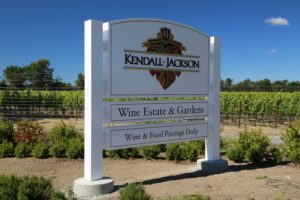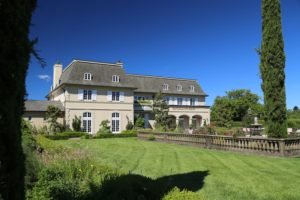 He decided to make Chardonnay – the fermentation on one of the lots ended up not fully completing leaving the resulting wine with a little bit of residual sugar. With the help of Napa Valley vintner, Ric Forman they created the first Chardonnay from a blend of multiple lots from various vineyard sources. The 1982 vintage was the first wine from Jackson Family Wines – called Vintner's Reserve Chardonnay. Priced reasonably, not to cheap and not too expensive, this was a premium made fruit-forward Chardonnay, soon made in large amounts with a flavor profile that appealed to many people.
With the popularity of the Chardonnay, Jackson began expanding to other parts of California and eventually outside of the state including international properties. The Kendall-Jackson Winery and tasting room is located in tiny Fulton, just north of Santa Rosa in Sonoma County. The company headquarters is located in Santa Rosa. Kendall was the maiden name of Jackson's first wife.
In 2003 Jess began involvement with professional horse racing including purchasing horses (some went on to stand-out careers) and establishing Stonestreet Farm (Stonestreet is Jackson's middle name); this horse farm and racing stables is based just outside of the small town of Versailles in Kentucky. This is prime 'horse' country' with numerous thoroughbred horse farms in the region. Stonestreet is also the name of their winery in Alexander Valley (not far from Field Stone Winery). And it should be no surprise that the horse stables are named after grape varieties.
In 2009 Jess was inducted into the Vintners Hall of Fame. He died in 2011; today his wife Barbara Banke oversees the growing company and its operations. For reference, in addition to Freemark Abbey, their Napa Valley owned wineries or brands are the following: Cardinale, Galerie, La Jota Vineyard Co, Lokoya, Mt. Brave and the Spire Collection.
Stonestreet Farms, Kentucky

For more information, to join their wine club or to schedule a tasting, visit: www.freemarkabbey.com
Hospitality Center

Grounds

Roadhouse 29
Now closed, but we keep these photographs here for historical reference.

Old Tasting Room