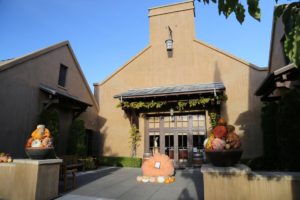 Franciscan Estate was located on the east side of St. Helena Highway just north of the Rutherford Cross Road until closing in October 2017 and reopening in late 2018 as the home for The Prisoner Wine Co. It is rather remarkable how such an established winery went from having their own physical winery and tasting room, to closing the physical property, to then selling and being another brand in a much larger portfolio. This brand was owned by Constellation Brands until selling Franciscan to E&J Gallo Winery in 2019.
NOTE: as of our last and final update to this review in mid 2019, this is now a brand within the E&J Gallo Winery portfolio. This review is NOW ARCHIVED and is NO LONGER being updated.
Franciscan is known for their red wines especially their Cabernet Sauvignon. Several tours and tastings are offered including a vineyard tour, a sensory seminar, and also a tasting of blended only wines – call or see their website for making reservations. The general tasting bar is open to the public and you can walk in without an appointment. The metal topped counter surrounds the main tasting area and like many large Napa Valley wineries, can be quite crowded at certain times of the year. The tasting room staff is quite friendly and as with any large tasting room in the valley, the less people tasting, the more positive the experience.
Franciscan's history in the Napa Valley dates back to 1973 with their first vintage, a Cabernet Sauvignon made by the late Justin Meyer (of Silver Oak Winery fame). The well-known vintner August Huneeus (owner of Quintessa Winery) was instrumental in forming their proprietary Bordeaux blend. As with other hallmark wineries in the valley, Franciscan has a signature Cabernet Sauvignon wine, and this is called Magnificat. Great care goes into the making of their wines. All juice is fermented and then aged separately based on specific lots in the vineyards. The wine is integrated during their blending trials just before bottling which is a fairly time intensive process. Consider the fact they start with approximately 400 small lots and some years only end up with half of this making the cut.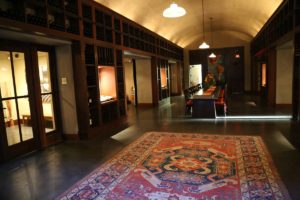 Choose from three flights of tastings – each flight includes a souvenir glass. If you enjoy big red wines try their Altitude flight – these are all wines from their Mt. Veeder collection. Mt. Veeder Winery is part of Franciscan and is located at about 2000 feet in the western Mayacamas mountains. Sit in the gardens at Mondavi winery and look west, you will be looking in the general direction of Mt. Veeder. Mt. Veeder is its own separate winery under the same ownership, and its wine is actually made on site at Franciscan. Their Veeder Reserve is a big wine using only the best grapes from their property. It is a full bodied wine strong in tannins with a long slightly peppery finish.
Franciscan developed Napa Valley's first 100% wild-yeast fermented Chardonnay; this was unusual at the time as the other area wineries were using cultured yeast, rather than the indigenous yeast from the vineyards. Indigenous yeasts are more temperamental than cultured yeasts and require careful observation during their fermentation. Today Franciscan continues to use indigenous yeasts in most of their Chardonnays.
The grounds are nice to walk around on with many olive trees growing on site. The fountain which sits in the middle of the circular driveway is a great spot for taking photos. Ask about joining one their "Expressions of the Vine" wine clubs – membership gives you perks and other benefits to additional wineries in the Constellation portfolio.
For more information, visit: www.franciscan.com
NOTE: we had an appointment for their blending session on October 11th which we dutifully showed up for despite all the evacuations that were happening in the northern part of the Napa Valley on that day and the horrific smoke that was blanketing the valley. The tasting room was closed during the fires of October 2017 (as were most other Napa wineries).
As of October 30th, 2017, after many years, Franciscan Estate has closed their tasting room to accommodate one of their partner wineries, The Prisoner Wine Company. The tasting room reopened in late fall 2018, but no longer offer Franciscan Wines (or Mt. Veeder Estate wines) – the focus now is on wines from The Prisoner Wine Company. The tasting space is called The Makery and features special spaces devoted to boutique artists.
Franciscan and Mt Veeder continues to produce wines – however, they are no longer available for tasting at their old hospitality center. The latest update we have as of 2021 is that Constellation continues to own Mt. Veeder Wines and Franciscan wines are now owned by Gallo Family Winery.
This review is no longer being updated.