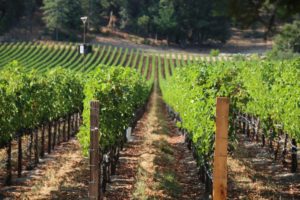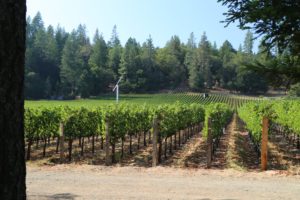 Fourth Leaf Wines is a joint effort between second-cousins and fourth generation winemakers, Rob Mondavi Jr. and Angelina Mondavi. Both have deep roots in the Napa wine world; Rob's grandfather was Robert Mondavi and Angelina's grandfather was Peter Mondavi. The respective sides of the Mondavi families are both well connected in Napa and one could spend several days visiting all the wineries/producers that Robert and Peter's children are involved in as well as their grandchildren.
How often is a nationally known steakhouse responsible for the creation of a small boutique Napa winery? Such is the case with Fourth Leaf Wines. However, first a little history is in order – Robert and Peter Mondavi worked together at Charles Krug often disagreeing on various wine making, vineyard and purchasing decisions. Eventually this came to a head in a massive blowup in the mid 1960's that ultimately led to Robert leaving Charles Krug and founding Robert Mondavi Winery while Peter Mondavi remained at Charles Krug and ran their operations into his late 90s. Peter died in 2016 at age 101. Both sides of the family's were not close after this – although thankfully Robert and Peter reconciled in their much later years. As a result, both sides of the Mondavi family had not worked with each other for decades.
Rob and Angelina's wine making collaboration first began when Morton's Steakhouse in conjunction with Make-A-Wish Foundation approached several sides of the Mondavi Family about making wine together. Rob and Angelina helped craft a 27-liter bottle of wine (equivalent to three cases) which was ultimately auctioned off with the proceeds going to the Make-A-Wish Foundation. This wine was created from grapes from three Mondavi Family owned wineries, Charles Krug Winery, Folio Fine Wine Partners and Continuum Estate and was called Siamo Insieme which means 'we are together' in Italian. After this, both Rob and Angelina realized they enjoyed working with each other.
Angelina (who we met with for this review) grew up in the vineyards of the Napa Valley – but wine as a career didn't hook her immediately. She went to school with the intent on studying forensics but after a few years of this, realized she knew much more about the wine world. She changed career paths and ultimately graduated with a degree from Villanova University in chemistry. She later earned her masters degree in wine-making from the University of Adelaide in South Australia.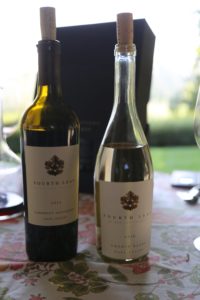 Over the years she has worked at several wineries in the Napa Valley including Hess Collection and with Jayson Woodbridge (proprietor of Hundred Acre, Layer Cake and Cherry Pie Wines among others). As with most younger Napa winemakers these days, she also has some international experience – working for the storied Yalumba Winery in Barossa Valley, Australia for a harvest. Today she has her own consulting company working with small brands that own vineyards in the Napa Valley.
Rob grew up in the vineyards and cellar room of Robert Mondavi and later worked at the winery both in the cellar and in hospitality. Ever the entrepreneur he started a business hosting mountain bike tours in the Napa Valley. Later after returning from a year living in Panama he founded Napa Cigar Company (an importer of select cigars) and then returned to work at Robert Mondavi Winery. In 1999, along with his immediate family, purchased property on Atlas Peak and founded Michael Mondavi Family Estate. Today Rob is President of Winemaking for Michael Mondavi Family Estate and Folio Fine Wine Partners where he is responsible for overseeing a number of wine labels.
Angelina recalls that she and Rob were at a party when someone began telling wine stories – the question was posed to each of them asking which wine they remember from their childhoods. Both answered Chenin Blanc. This variety used to be common in Napa – as of 2016 a mere 49 tons from only 17 acres were reported in the annual Napa County Agricultural Report for that year's harvest. With the price of Cabernet Sauvignon and the higher popularity of other white wines in Napa (including Chardonnay and Sauvignon Blanc) unfortunately there isn't much room for Chenin Blanc.
A small section of a Cabernet Sauvignon vineyard in the hills (below Howell Mountain) but just north of Lake Hennessy was ultimately not conducive to growing Cabernet so it was grafted over to Chenin Blanc. Through Angela's connections she and Rob were able to source fruit from this tiny vineyard block in 2016. If they continue producing wines from this variety – it will have to be from another Chenin Blanc vineyard in Napa as the fruit from this vineyard was only available one time (due to higher yields then expected in 2016).
The 2016 Fourth Leaf Chenin Blanc is dark golden in the glass; it reveals bright aromatics, lemon, lime, mineralities and as it continues to open shows floral notes and becomes a bit more tropical including citrus blossom. On the palate shows bright acidity which is complemented nicely with a noticeable weight. It shows good viscosity. Citrus flavors including hints of lemongrass show on the palate with a richness of fruit that lingers nicely on the finish.
This wine was fermented in stainless steel tanks and then aged in neutral barrels on the lees for 3 months. This is rare wine indeed, only 25 cases were produced.
The first vintage of their Cabernet Sauvignon was from 2011. This is always made from Cabernet Sauvignon grapes from Rob's family property on Atlas Peak and Angelina's parent's (Marc and Janice Mondavi) 20-acre family property on Howell Mountain called Rocky Ridge Vineyard. There is no formula for making this wine each year – however they have found that roughly 50% from each vineyard is in the final blend. Rob makes the wine from his vineyard separately and Angelina does the same. Prior to bottling they blend the wines from each of the family property's to create the final product.
The 2013 Fourth Leaf Cabernet Sauvignon reveals dark fruit aromatics including mushroom, truffles, ripe blackberry and toasted cedar. The wine shows excellent depth of flavor with a noticeable intensity of fruit. The wine has excellent acidity; there is a current of red fruit running through the palate including raspberry and red cherry. Perhaps some flavors of plum. Broad shouldered, somewhat dusty tannins last on a very long finish. Somewhat savory. In its youth, it is ready for a nicely marbled piece of steak.
—
Sojourn Cellars Connection
Angelina co-owns Sonoma based Soujourn Cellars (known for their Pinot Noir) with partners and also owns the property that was the site of the old Ravenswood Winery. Sojourn Cellars currently maintains a tasting room on the square in Sonoma and will base its operations at the Ravenswood property (18701 Gehricke Road). Angelina also owns Harrow Cellars (15 acres of historic Zinfandel vines) and wines from both producers will be made at this winery and will also be available for tastings.
We will update our notes here once we have have more details and after we have visited the winery and tasting room.
—
Production is small each year – often in the 100 case range. The wine is selectively distributed in Texas, Georgia and South Carolina and sold direct via their member's allocation list. For more information visit: www.fourthleafwines.com
Video, WineOhtv