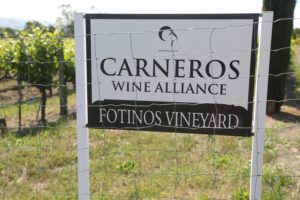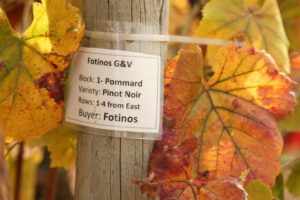 Fotinos Vineyard. A vineyard under at least fifty years of family ownership is fairly rare in Napa Valley; two brothers, George and Tom Fotinos purchased property in Carneros in 1969 (formerly a prune orchard) and soon after planted grapes. In the early 1970s Carneros was not known for its grapes rather it was home to a number of sheep and cattle ranching operations (dairy cattle). Several factors long discouraged farmers from growing grapes in this part of Napa – often making generalizations for all Carneros: it's too cold here to ripen grapes, soils are thin and clay and do not retain moisture and the groundwater is salty from the nearby San Pablo Bay. Over the years perceptions have changed, hurdles overcome and now the Carneros region is home to some of Napa Valley's best Pinot Noir and Chardonnay grapes. And this sub appellation is one of only two in the Napa Valley to cross county lines (Sonoma), the other being Wild Horse Valley – crossing into Solano County.
This site is 26 acres of which 20 are planted entirely to multiple clones of Pinot Noir including Pomard, Calera, Dijon and a UC Davis released clone, number 23 (now known as the Mariafeld clone – known for its darkness of color, texture and tannins). The property is organized into 7 separate blocks (based on the clone type). For a time in the 1980s a small section of the property was planted to Chardonnay. Over the years they have sold to a variety of Napa Valley producers including Robert Mondavi Winery, Saintsbury and Domain Carneros. Today they sell off of their Pinot Noir to Mumm Napa Valley for use in their sparkling wine program. The vineyard is managed by Jesus Romero Jr, who along with his father, Jesus Romero Sr. operates a small vineyard management company providing management services in both Napa and Sonoma counties.
The family heritage traces back to Lefkada, Greece where George and Tom's father, Christos was born. He made home wine for friends and family in Greece. He came to California and operated a small grocery store in the Mission Dolores neighborhood in San Francisco. George graduated from Santa Clara University with a degree in Civil Engineering and early in his career served in the U.S. Army Corps of Engineers – later his work was related to building bridges and other water related structures both in the San Francisco Bay Area and a number of international projects.
George helped lay out the vineyards, put in a small reservoir (supplies all the water for the vines from rainwater) and was often working in the vineyard. He died in 2014 – up until that point two parcels of the property were under dual family ownership – Tom's sons Tom and Chris operated their own wine brand before selling their portion of the family property in 2014. Today Fotinos Vineyard is led by three sisters – a partnership with their husbands, Ted & Angela Koros, Margaret Fotinos & Mike Morearty and Elaine & Jim Burrell and George's wife Vivian.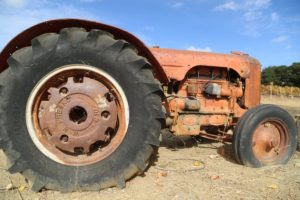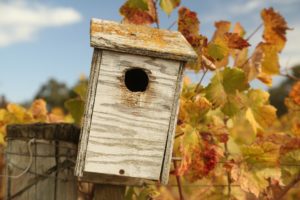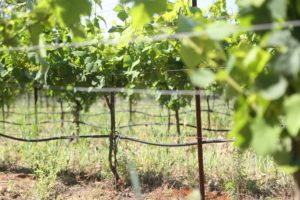 All play an integral role in their operations – the oldest daughter Angela with Ted coordinate the winemaking, Margaret oversees the vineyard operations and her husband helps with any technical needs while the youngest sister Elaine works on their website and her husband helps maintain the farm equipment. Margaret recalls she and her sisters grew up working and playing among the vines. And today their children have been introduced to the vineyard and help out during harvest (the 4th generation)
The soils are fairly uniform across the property – sandy loam. A defining characteristic of Carneros are the breezes and this property is no exception. Margaret always tells people they could never hold weddings here – everything would simply blow away! Over the years a number of neighboring vineyards have been developed including nearby vineyards owned by Beaulieu Vineyards, Clos du Val and Robert Sinskey.
Their label is simple yet reflects their Greek heritage and their land. A coin dating back to 480 B.C depicts Artemis, the twin sister of Apollo and the Greek goddess of forests and the moon – representing the natural world.
Stylistically, wines from this vineyard feature smooth silky texture with excellent acidity. A special vintage is their 2018 Pinot Noir – this is the 50th anniversary of when the family acquired the property in 1969. The fruit for this wine was harvested on September 18, 2018, and then fermented in small open top tanks followed by aging in French oak barrels for about 10 months. Only 160 cases of this beauty were produced.
The 2018 Fotinos Vineyard Pinot Noir is lighter ruby color in the glass; aromas redolent of wild strawberries and raspberries immediately show with very subtle nuances in the background of toasted oak, mocha and vanilla. As the wine breathes reveals additional notes of mint/wintergreen/pine branch. These specific aromatics bring us back to times hiking in the Sierra Nevada at about 4,000 feet and pinching off young pine needles to smell, although the aromatics in this wine are not as pronounced. A textural lightness if you will flows across the palate from start to finish without any harsh edges – a seamless feel of fruit, acid and texture. Offers flavors of strawberry, cherry and cranberry with a slight tartness. Very balanced already, especially in its youth.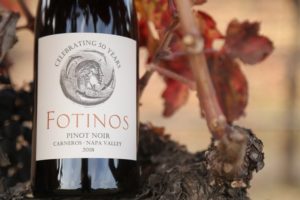 The first commercial release of Fotinos Vineyard was in 2003. For a number of years, they produced their wines at Saintsbury – today their wines are produced at the Wine Foundry in the city of Napa overseeing by winemaker Patrick Saboe. Interestingly, they produce wines every other year – and production is extremely limited usually between 100 and 300 cases. Most of their wines are sold direct to consumer through their website and select wine release events. However, they do have limited distribution in parts of Southern California. For more information or to join their mailing list, visit: www.fotinos.com