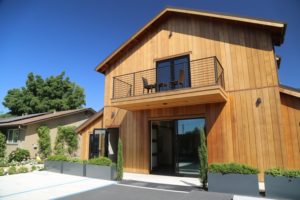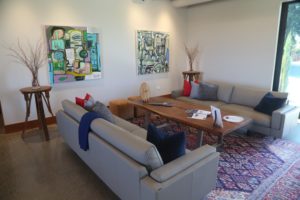 Fortunati Vineyards is a small producer owned by husband and wife Ellen and Gary Luchtel. Ellen and Gary met at San Francisco State where both were majoring in business – at the time Gary was already a "wine geek" as Ellen told us, long before this term was widely used. Both started coming up on the weekends to Napa and Sonoma – meeting with winery owners, visiting tasting rooms and vineyards and furthering their wine education.
They traveled as far north as Mendocino County where they entered the California State Wine Tasting Championship – at the time, this tasting featured several levels. Gary entered himself in as a novice taster, soon he was moved up to the amateur category and then ultimately it was decided his level of expertise would be better suited for the professional category. Remarkably he quickly found himself in a "sudden death" taste off with five accomplished wine professionals – at this point he realized his palate was fairly well developed including just as importantly, being able to articulate each of the wine's various characteristics.
In the 1990s when Ellen and Gary were living in the San Francisco Bay Area, Gary made home wine in the garage of a family friend and also at their own home. Taking his hobby to the professional level, Gary and a friend started Sur Luchtel in 1999, a winery which focused on Pinot Noir & Cabernet Sauvignon (Gary has not been involved with this brand for years).
He and Ellen were living in a high rise in San Francisco; space was at a premium and looking to make a change in lifestyle they began a multiyear search for property in Napa Valley. Oak Knoll was not yet designated one of Napa Valley's sub appellations; a vineyard manager friend of Gary's (Doug Hill) told them about a ten-acre site in the southern part of Napa Valley.
They purchased this property in 2003. It had never been planted to vines and was covered with brush at the time. After clearing the land, they planted Syrah, Viognier, Cabernet Franc and Malbec. And later they planted a small amount of Cabernet Sauvignon on one section of the property which is slightly rockier. Their vineyard is farmed without the use of herbicides or pesticides. They produced their first wines under the Fortunati label in 2009 – an estate Syrah and also a rosé of Syrah. In addition to producing their own wines from the property they also sell a bit of fruit.
Looking to increase their international wine perspectives, both Gary and Ellen would travel overseas during the slowest months of the year in the wine business – typically in January and February. They traveled to Australia, specifically to visit the Barossa Valley to discover how Australian vintners were growing and making Shiraz as well to wine regions in New Zealand and South America. Some of these trips resulted in the style and types of wines they make today.
Ellen compares their vineyard and their winemaking to the symbiotic relationship found in high tech between software and hardware; both do not function without the other. Not only does Gary make the wine but he also spends significant time overseeing the management of their vineyard (in conjunction with their vineyard management company).
These are truly handcrafted wines from vine to bottle. Over the years one of our common descriptors for their wines is 'balance'. And they continue to fly under the radar – over delivering a diversity of beautiful wines at reasonable prices. Part of the reason they are able to keep their prices lower is none of their wines are distributed – all are sold direct to consumer. And these are not large quantity productions; each wine is usually only 100 to 300 cases.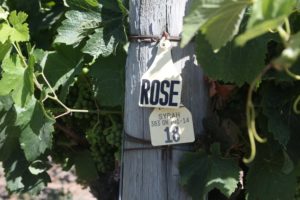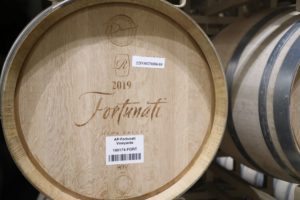 For a small producer they make a surprisingly diverse amount of limited-production wines. And this is partly because Gary and Ellen enjoy drinking a wide variety of wines. As Ellen says, "we enjoy having different go to options – for different occasions, times of the year, locations and weather conditions". And while they source grapes from non-estate locations, climatically, Oak Knoll is one of the most versatile sub appellations within Napa Valley and as a result, is planted to a wide range of varieties (both reds and whites).
In late summer 2019, Fortunati built a small winery and hospitality space next to their vineyards. While it is not currently being used for the vast majority of their own winemaking it is fully bonded as a winery; the majority of their power comes from solar cellars. They produce their wines at a nearby state-of-the-art winery, also located in the Oak Knoll District. Besides being a cozy space for enjoying great wines and company, it also serves as a space for the Fortunati's to display select works of art from some of their favorite artists.
And note the planter boxes located directly in front of the main entrance to the hospitality space. These are from Spokane, WA based PureModern – the same company that also provided the planter boxes which line the sides and center of the grand staircase up to the Ovation Hollywood Shopping Center along Hollywood Blvd (the same space that houses the Dolby Theatre and the historic TCL Chinese 6 Theatre). This company has been involved in numerous other high-profile projects including at Rockefeller Center in New York, NY. Click here to see the Fortunati Vineyards project page on PureModern, along with several of our photographs.
Select Wines
The 2021 Fortunati Vineyards Pranzo (meaning lunch in Italian) Rosé of Syrah is made from estate grown grapes which were whole cluster pressed. This wine is deep pink in color (no light rose here); the bouquet offers fruit-driven aromatics of strawberries, raspberries and watermelon (including slight similarities to 'watermelon snow, we sometimes find while clambering about at high elevations in the Sierra Nevada mountains) along with a lemon/lime citrusy nuance. Richly concentrated with the flavor echoing to some extent the aromas, balanced and full of mineralities, this wine goes down very easily! Lingers with a liveliness of mouthwatering acid. 12.8% alcohol. Shows a bit 'more' of everything than some of the earlier Fortunati Vineyards Syrah Rosé's we have tried. If we were to assign one more adjective to describe its character, we might just choose the word, flirtatious.
The 2018 Fortunati Vineyards Estate Viognier is pale gold in the glass with aromas of comice pear, kiwi and guava. Also floral with notes of citrus blossom and jasmine. A tropical fruit zing to the aromas, especially as the wine opens further. Not a light Viognier, it is richly flavored across the palate with mango and pineapple and a sweetness of fruit and some lingering spices on the finish. Not viscous but texturally shows a slight roundness. We don't drink a lot of Viognier from Napa Valley, but this is one of the finer ones (and we have enjoyed several vintages of this bottling over the years) and is a wine that drinks far too easily 🙂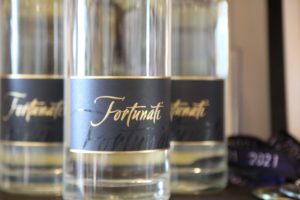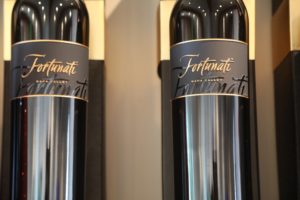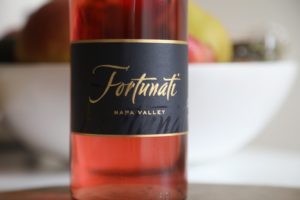 Every year Fortunati has access to a tiny block of nearly 100-year-old Zinfandel vines growing on the southern slopes of Mt. Veeder. The 2017 Fortunati Vineyards Zinfandel is medium ruby in color; offers aromas of raspberry, black licorice, dried herbs (sage) and pepper, leather and a hint of dried tobacco. As the bouquet opens, notes of mocha and espresso are revealed. The palate is more restrained compared to some of the showier Zinfandels being produced in Napa Valley – very balanced without any sharp edges. Juicy with decent acidity. Looking for a jammy sweeter style of Zinfandel? Despite the 15.1% alcohol, this is not it. Shows flavors of blackberry, plum and brown chocolate. It is a youthful wine that is very approachable. Lingers with refined and well-integrated tannins along with darker spicy note. Only 125 cases produced.
Their Mt. Veeder source vineyard is only an acre; Gary told us that production has dropped so much he will be sourcing from Dry Creek Valley in neighboring Sonoma County for future vintages.
The 2013 Fortunati Vineyards Chardonnay was aged in all neutral oak barrels; they prefer to showcase the variety and its characteristics rather than overpower this wine with oak. The wine was allowed to fully go through the secondary/malolactic fermentation. The bouquet initially shows notes of tropical fruit and as it opens the aromas become more citrus oriented with aromas of lemon and line. This wine is surprisingly crisp on the palate – with good acidity and a rounded mouth feel.
The 2014 Fortunati Vineyards Rosé is of Syrah. This wine shows very delicate aromas in the glass of gooseberry, watermelon and raspberry. As the wine breathes further, shows a minerality component. The palate is also delicate with notes of white strawberry, red grapefruit and a refreshingly light finish. Good acidity.
The 2013 Fortunati Vineyards Vinto Syrah Red Rhone is a proprietary name that roughly means "to be a winner" in Italian. Incidentally this wine took best in show at the San Francisco Chronicle Wine Competition Tasting. Their Viognier ripens earlier than the Syrah. As a result, they pick this variety and keep it chilled in a warehouse in Napa until the Syrah is harvested. Then the Viognier is warmed up and co-fermented with the Syrah.
This wine shows a dark purple color with pink tinges in the glass. It is floral on the nose, with hints of cedar and mushroom. The wine is juicy on the palate; pleasing layers of flavor show including darker cherry and blueberry. The finish lasts for quite some time while the tannins linger more on the front of the palate rather than the back.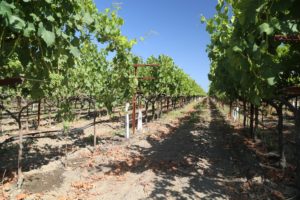 The 2012 Fortunati Vineyards Signature Cabernet Sauvignon reveals a bouquet with plenty of aromatic depth; it is a mix of spices, black pepper, black cherry and tobacco smoke. The wine is in balance – with more red fruit showing on the palate than darker. Notes of raspberry, red plum show – it has very nice acidity. The tannins are slightly chalky and long lingering, especially on the back of the palate.
The 2012 Fortunati Vineyards Porto Fino Dessert Wine is from estate grown Syrah that was harvested when all their Syrah was picked (it is not a late harvest wine). It was fortified with brandy. The aromas are rather delicate and floral with hints of red licorice. The palate shows a nice mix of sweetness, acidity and alcohol with flavors of fig and blackberry. This wine features a soft and rounded mouth feel. It is very balanced – a delicious dessert wine that sweet wine enthusiasts will enjoy.
And Fortunati Vineyards bottles a limited production Grappa made from Viognier.
—
The name Fortunati reflects the personality and heritage of both Ellen and Gary. Gary's nickname for years has been lucky, a play on his last name of Luchtel. And Ellen is first generation American and is partly Italian; she grew up speaking Italian in her family. Fortunati means "lucky" in Italian.
Fortunati Private Wine Lounge
This is closed and they moved out many years ago. We keep this here for historical reference only. For a short while, tastings were held in north Napa (by appointment only) in a two-story set of offices appropriately called the Cooperage Square Business Center. At the time of our latest update, this small complex is home to one other Napa producer – although over the years other wine producers or wine related businesses have been tenants for short periods of time.
—
Fortunati Vineyards continues to show extremely well at the annual San Francisco Chronicle Wine Tasting Competition, often being awarded double gold, gold and silver medals and sometimes best of class. This particular competition is the largest competition of American wines, with usually around 7,000 entries each year.
Sometimes European river cruises are offered for spring and summer trips to wine club members and friends of Fortunati. These cruises offer select on-board events showcasing Fortunati wines.
Visits are for club members or serious wine enthusiasts. For more information and to join one of the levels in their Friends of Fortunati membership program, visit: www.fortunativineyards.com