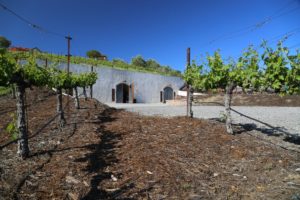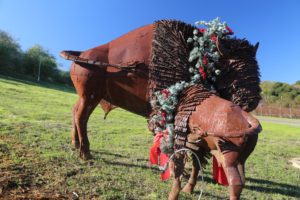 Forthright Wines was founded by four partners including Patrick McEvoy and Rafer Caudil who share the winemaking duties and Ed Stritch who lives in Chicago and Sel Fich who resides in London. Rather than simply being business partners, all four individuals are friends having known each other for many years – whose paths have crossed at various times in their careers including at the Celtic Crossings Irish Pub in Chicago.
Patrick moved around often due to his father's work in the steel industry, perhaps an early influence on his love of travel – later in life he lived in Europe for 20 years. It was during his time in Europe that he fell in love with the wine culture – using home base to often visit wine regions around the continent and as he admits, "spending a lot of time in wine cafes". He moved back to the USA in the early 2000s – his first connection to Napa Valley was through a friend who had attended a Grateful Dead Concert at Red Rocks in Colorado and had met Kevin Duncan (whose family owns Silver Oak Cellars).
Kevin who lives in Colorado told his friend that he and his family owned a winery in the Napa Valley and if they ever came to Napa, they should visit Silver Oak. Patrick took him up on his offer and in 2006 visited Napa Valley for the first time. He soon invested in a small winery brand which was focused on Merlot (Bolen Cellars); his time at Bolen gave him the opportunity to learn winemaking and make valuable winemaking and vineyard connections within the Napa Valley.
The name forthright refers to being direct, up front and honest. In old English it means to move straight forward. And it is a subtle poke at the film Sideways. A blackbird is perched on top of the F on all their wine labels and branding. "Merlot" in patois (a French dialect) means blackbird.
Patrick and Rafer create wines that are bright, fresh and lively with distinguished acidity and often lower pH. These are wines built to age and in several cases, Forthright has done the aging for their consumers – up to 4 and 5 years post vintage date before release.
Select Wines
The 2016 Forthright Sauvignon Blanc was sourced from the Gamble Ranch in Yountville (a noted producer of this varietal who also makes Sauvignon Blanc under the Gamble Family Wine label). Roughly 50% of this wine was fermented in concrete egg and 50% in French oak. After one year of aging, the wine was then placed in neutral French oak for another year of aging prior to bottling. They treat their Sauvignon Blanc like all their other wines – thoughtfully made with plenty of time to age before being released – with the intent to produce a wine that can be enjoyed all year round.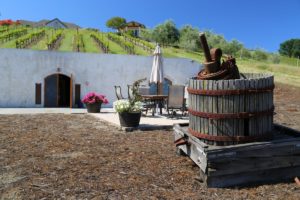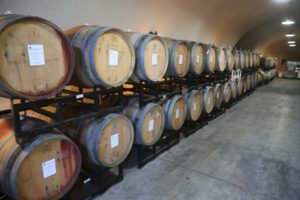 The bouquet is appealing with a great diversity of aromatics – sweet notes including peach, ripe pear and hints of apricot. As the wine breathes picks up a caramelized sugar note, Crème brûlée along with aromas of fresh papaya. Offers more weight on the palate then many Sauvignon Blanc wines – especially those from cooler climates such as New Zealand which can be greener and grassier with higher acidity. Creamy, oily almost saline in its texture. Flavorful but balanced – shows acidity but is not tart. Lingers with flavors of red apple and mandarin with a noticeable intensity of fruit on the finish.
The story of how Forthright began to produce Pinot Noir is an intriguing one. Partner Ed Stritch visited the Napa Valley to taste through some current release Forthright wines. He remarked that he wished they produced a Pinot Noir and Patrick gently reminded him, "we are a Napa Valley producer not a Sonoma County producer and we don't do Pinot Noir". The conversation ended and Ed returned to Chicago. However, his request stimulated a search for a Pinot Noir vineyard in Sonoma County. Patrick and Rafer located a 10 acre privately owned vineyard off of Occidental Road not far from Dutton Ranch in the Green Valley of the Russian River Valley Appellation (AVA).
Patrick and Rafer began sourcing Pinot Noir from this vineyard and produced their first Pinot Noir in 2016. When Ed returned to Napa, they took him out to dinner and presented a number of bottles on their table including the appropriately named, The Stritch Forthright Pinot Noir. It took a few moments before Ed noticed this bottle dedicated to him and he was certainly honored that they followed through on his request.
The 2016 Forthright Pinot Noir. Offers pretty aromatics including raspberry jam, strawberries and dried cranberries. An aromatic thread of sweetness runs throughout the bouquet along with dessert spice notes (cloves) and hint of chocolate. Terrifically balanced the palate is supple from start to finish showing mostly red fruit tones. A clean finish that is mostly about the fruit with just a kiss of old cedar box lingering.
The 2015 Noble BDX Blend Mt Veeder. This wine is made from grapes from a tiny 1-acre hillside vineyard just to the north of the winery. Forthright has full control over this vineyard – it is managed by both Patrick and Rafer. A true field blend (harvested all at once and co-fermented together) they never know the exact percentages of each variety in the wine every year other than this wine is always a majority Cabernet Sauvignon. In 2015 it was 70% Cabernet Sauvignon, 20% Merlot and the remainder 10% Petite Verdot, Cabernet Franc and Malbec. An alluring bouquet – showing baking spices with darker spice and fruit notes. Also notes of tobacco leaf, chocolate and clove. Flavors of plum and red cherry. Very balanced, mouthwatering – juicy especially on the finish. Well integrated and fine-grained tannins with noticeably bright acidity.
Merlot has been much maligned in the USA (but not abroad) over the years perhaps due to the reason it grows in sites it should not be planted in and of course from the reaction caused by Sideways. The team at Forthwright are producing captivating wines from this varietal – created from a passion to show consumers that when thoughtfully made, wines from Napa Valley produced Merlot have depth, complexities and are very age worthy.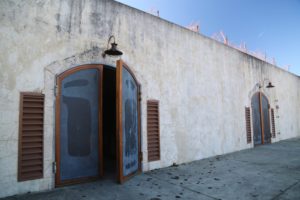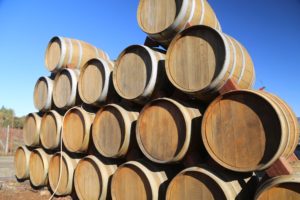 The 2014 Forthright Oak Knoll Merlot is from a Beckstoffer owned vineyard located within a short drive of the winery. Offers flavors of red cherry, cranberry and rhubarb along with earth notes mid palate. Even five years after vintage, shows tannins still wound tightly with a firm textural grip along with a darker nuance on the finish. Lingers with notes of dark spices, white pepper and tobacco leaf. Shows younger than its vintage date – this wine has plenty of life ahead of it.
The 2013 Long Barrel Reserve – has nothing to do with the length of the barrels, however it is a barrel selection of their best lots of Merlot from Beckstoffer's Oak Knoll vineyard. Sweet aromas of dried prunes, baking/holiday spices including mocha and vanilla. A hint of menthol. Savory, meaty. Wonderfully balanced across the palate showing mostly red fruit including cranberry and red cherry. Also, spicy plum. The mature tannins are slightly chewy and dusty with a pleasing texture – not course but with a noticeable firm grip. The finish is persistent and long lasting.
—
The wines are made in a 6,000 square foot cave winery in Oak Knoll – on the far west side of the Oak Knoll District against the foothills of the Mayacamas mountains – backing up to the edge of the Mt. Veeder sub appellation. While only about 15 minutes from downtown Napa the surrounding landscape is anything but urban – small family-owned vineyards are neighbors with few physical wineries in this part of the valley.
In 2019 Patrick and Rafer made small lots of a rosé from Cabernet Sauvignon and also a fortified wine from Cabernet Sauvignon.
Total production varies between vintages but is usually between 1,000 to 2,000 cases per year. The earliest vintage bottled under Forthright was in 2013. All visits are by appointment and hosted with either Rafer or Patrick or both if the group is of a larger size. For more information or to become a member, visit: www.forthrightwinery.com