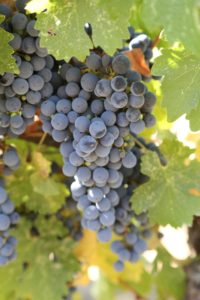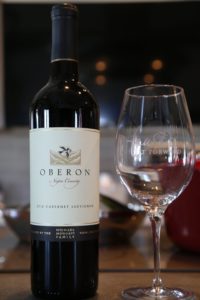 Folio Fine Wine Partners represents a wide selection of wines from select producers in top wine regions around the world to the American market. As of our latest update to this review they represent more than 40 wineries from eight countries. And the wines produced under Folio Wine Partners (also owned by Michael Mondavi) are Hangtime, Oberon and Spellbound. The company was founded by Michael Mondavi in 2004; he is the eldest son of Robert Mondavi.
Additional brands are produced by Michael Mondavi Family Estate including Animo, Emblem and M by Michael Mondavi Family.
Michael's roots run extremely deep in Napa Valley. His grandparents Cesare and Rosa Mondavi purchased Charles Krug Winery in 1943. Along with his father Robert, he co-founded Robert Mondavi Winery in 1966 and was winemaker for their first 8 harvests until 1974. He remained at Robert Mondavi Winery until the winery sold to Constellation Brands in 2004. During his long career at the winery, he worked in a variety of positions including vice president of sales, president and CEO and later as chairman of the winery.
The focus of wines produced by Folio Fine Wine Partners and Michael Mondavi Family Estate are on creating wines that people can relate to; these are well-crafted wines from premium vineyard sites and are priced reasonably. Michael sometimes quotes his grandmother, Rosa Mondavi who said, "create wines that invite people in for another glass".
Master Winemaker for Folio Fine Wine Partners, Tony Coltrin (who we originally met with) grew up in St. Helena and has been involved in the wine industry in a professional capacity since 1973. A childhood was spent around agriculture, he remembers when the vineyards in Napa Valley were not trellised, and one could easily walk through them. It was a time when one could ride a horse into St. Helena for a softball game and one would not wonder why one was riding a horse through town. Tony spent his early years playing and working in vineyards, often on a tractor.
Leaning towards a career in veterinary medicine, the grandfather of one of his closest friends took him under his wing especially after Tony began asking questions relating to vineyards and winemaking. This individual was none other than André Tchelistcheff. Tony recalls sometimes camping with André in vineyards and experiencing firsthand the dramatic diurnal temperature differences between night and day that parts of the Napa Valley are known for. And it was André who clarified and answered numerous questions Tony had about vines.
After finishing high school Tony enrolled at Napa Junior College, taking pre veterinarian course work with the intent to transfer to UC Davis. He was getting ready to transfer to Davis when André turned his career path on end and suggested Tony work at a winery. Tony was already friends with the Mondavi family and André suggested he go talk to Robert Mondavi.
So, Tony did, and without an appointment he showed up at Robert Mondavi Winery in 1973, merely 6 years after his iconic winery had opened – and asked to see Robert himself. The secretary obliged his request and Robert asked, "so you want a job" and during their conversation offered him a job in the cellar with the caveat that Tony start at 1pm that same day. Tony ended up working 83 days straight that harvest – he enjoyed the work recalling in contrast to 100-degree days out in the vineyards, he was in the cool confines of the winery. And it was his work in the cellar that gave him perspective; his prior work in the vineyard began to make sense after he spent some time working among the tanks and barrels.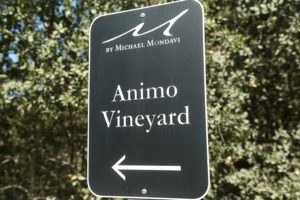 Robert and Michael built a little tasting section next to the lab room – using tables that would rotate and a surface that one could easily write on. Bob, Michael and several other early employees including Cellar master Brad Warner and winemaker Zelma Long (who was hired in 1973) would sit around these tables tasting samples from barrel and tank and writing their notes on the table.
After working all day in the winery, Tony would often walk upstairs, find their samples still sitting on the table and read their corresponding notes. One day he walked into the lab and spotted Robert Mondavi still sitting by himself at one of the tables. Apologizing for walking in unannounced and addressing him as "Mr. Mondavi", Robert quickly told him to just call him Bob. He said, "I understand you've been coming in here and tasting the wines every night" and he continued with, "if more people were as interested in wines as you are, imagine what we would accomplish"!
Tony was eventually offered a job as cellar master and worked at Robert Mondavi Winery in a variety of positions until they sold to Constellation Brands in 2004. After the sale, Michael and Rob asked Tony to continue working with them.
Vineyards
Michael Mondavi owns the Animo Vineyard on Atlas Peak which he purchased in 1999. While specifically looking to acquire hillside property, he visited this site with his immediate family. At the time it was covered in chaparral and had never been planted to vineyards. His daughter Dina who had studied in Florence mentioned the Italian word, "animo" after seeing the property for the first time – referring to its soul or its life. The name stuck and the site (15 acres) was eventually planted to primarily Cabernet Sauvignon
In 2006 Michael Mondavi Family Estate purchased the Oso Vineyard (Oso meaning bear in Spanish) on the back side of Howell Mountain, facing mostly east – overlooking Pope Valley. This 129-acre site was an existing vineyard at the time of their purchase, although over the years they replanted a number of the vines including a head pruned block of Cabernet Franc and removed Chardonnay in favor of more suitable red varieties. In 2022 they sold this vineyard to Plumpjack.
Oberon Wines
While at Robert Mondavi Winery, Michael had begun several wine projects including the labels, Oberon and Hangtime. After the sale of Robert Mondavi Winery to Constellation Brands, Constellation decided to sell off several brands including Oberon and Hangtime, and Michael purchased them back. 2001 was the first vintage of Oberon Wines – a Cabernet Sauvignon Merlot blend. Oberon would become the first of several labels eventually launched by Michael Mondavi Family Estate.
A few names were originally in the running including Larkspur and Red Square, but ultimately Oberon was the most popular choice. The name refers to the 'king of all the fairies' in William Shakespeare's A Midsummer Night's Dream.
The 2017 Oberon Napa Valley Sauvignon Blanc was sourced from vineyards in Pope Valley and in Carneros. During the winemaking Tony looks for what he calls, "the finishing touch" – and texture – both created from the wine being fermented in both stainless steel and oak (stirred weekly while in barrel). He also blends in another clone of Sauvignon Blanc, Sauvignon Musqué (during this vintage 18% of Sauvignon Musqué was blended).
This wine offers notes of citrus including citrus blossom on the bouquet, lemon zest and lemon grass. This wine has some weight yet shows plenty of liveliness across the palate due to its refreshing acidity. A thread of minerality runs the length of the palate with flavors that include notes of apple and kiwi. It is very balanced with a lively and persistent finish.
Prior to labeling this wine, Tony was struggling to come up with the appropriate packaging and color scheme. During breakfast one day at the winery, Tony was eating a cup of yogurt, he vividly remembers it being Yoplait Orange Crème. A lightbulb went off in his head and he grabbed the cup of yogurt and raced over to the company that the Mondavi's used for their capsules. He dumped the yogurt out on a plate and declared, 'see, this is the color we will use for the Sauvignon Blanc!"
Tony has learned over the years that Merlot is a very site-specific variety; it doesn't always do well in hot conditions, crashing as he calls it when the vines are subjected to long periods of little water and low humidity. It does best when it has access to deep soils and some moisture – for instance closer to the Napa River or in parts of the valley where dew forms at night (versus growing on the dryer eastern slopes of the Vaca mountain range).
The 2016 Oberon Napa Valley Merlot was sourced from Oakville with smaller amounts of Syrah and Zinfandel in the blend. Noticeably dark in the glass this wine reveals aromas of old cedar box, mushroom, cigar smoke and an earthiness including hints of dry rock. There is also a subtle sage nuance to the aromatics. There is plenty of fruit on this approachable offering including plum and darker cherry. It is juicy and ripe but not overripe. The fine tannins are well integrated on the finish.
The 2017 Oberon Napa County Cabernet Sauvignon is blended slightly with Syrah and Merlot. It is fairly dark ruby in the glass. It presents bright aromatics including floral notes and red licorice and as the wine breathes, notes of mocha and tobacco. Features more red fruit than darker fruits on the palate including cherry and currant with just a kiss of a darker chocolate flavor. The tannins are still a bit tightly wound in its youth – although are not harsh or coarse. Food friendly.
Tony has extensive experience working with Chardonnay including for Grand Archer/Arrowood in Sonoma County and while working in Chile. He prefers a wine from this varietal that stays away from the over-oaked and buttery style of this wine, what he calls the '1980s style of Chardonnay'.
The 2017 Oberon Los Carneros Chardonnay was fermented and aged in up to 30% new French oak and both the primary fermentation and secondary fermentation occurred simultaneously. A kiss of Muscat was blended into the wine. It is pale straw in color; the bouquet is immediatley engaging with aromas of pineapple, caramel, almond and citrus. Four things on the palate stand out; a richness of flavor, a texture that is creamy, complemented by bright acidity and an overall balance. This bottling drinks very well by itself.
Feast it Forward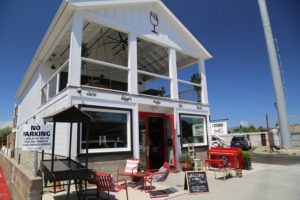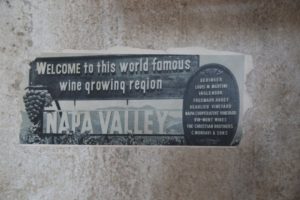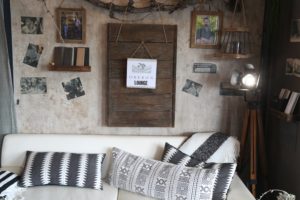 Oberon is one of up to eighteen vintners featured in The Studio by Feast it Forward (opened in June 2018) located directly across from the Oxbow Public Market in downtown Napa. This two-story building houses an "experiential showroom", as founder Katie Hamilton Shaffer calls it – with a focus on wine, food and music.
Each vintner represented offers several wines; several of the showroom's sponsors have prominent placement including guitars from Gibson Brands, Inc. and furniture from Crosley. A Chocolate tasting is also offered oddly enough sponsored by Sherman Williams and a vinyl station if offered for playing a variety of old records. Upstairs features a demo kitchen – when shows are being filmed here, televisions downstairs broadcast the live feed. This kitchen can also be used for guest chefs to offer culinary classes.
The site can be used for a number of events – they have plenty of space in the back of the building. The Ultimate Airstream Film Lounge trailer is often be parked in the back – they use this trailer when they are on the road hosting unique lifestyle events, and it also serves for private tastings on site or for special events. One such event at the showroom might be the "Terrible Tuesdays" in which bad films with cult like followings are shown.
The second floor features a sizable surround building deck – and a swinging 'bed'. This is an ideal perch to watch passerbys going to Oxbow Public Market or those enjoying the park next to the Napa River. These are also some of the best seats in the area to watch live performances at the nearby green. The Oberon Lounge is located upstairs, a dedicated space for showcasing their wines.
Michael Mondavi Family Tastings
Private tastings by appointment are held in one of several spaces at Brasswood Winery located just north of St. Helena. Brasswood is a comfortable place to hang out and an hour can quickly turn into two with good friends and excellent wines. Formerly the St. Helena Factory Outlets, the property now features a number of tasting rooms, the physical winery, an art gallery and a restaurant and a gourmet deli.
This is a very unique Napa property. It is approximately 50 acres and straddles two sub appellations including Spring Mountain and St. Helena. While no grapes are currently planted on the property for commercial use, they have up to 20 acres to develop in the future. The property also comes with a variety of valuable permits – one being the extremely rare Napa permit to allow weddings on site.
This "campus" if you will, features four tasting rooms including the main tasting room where most walk-in visitors will taste wines), The Winemaker's Den, an appointment only room across from the main tasting room, the Vintner's Den just outside of the wine cave and one within the winery.
The property allows a number of their custom crush wineries to host visitors. Guests interested in tasting the limited production wines from Michel Mondavi can reserve several visit options including a sit-down tasting or a longer experience in which their wines are paired with a several course lunch from Brasswood Bar + Kitchen.
Food is an integral part of the property. Brasswood Bar + Kitchen is a Gastro Pub; the large window behind the bar looks north towards the actual winery facility; you can watch harvest activities on the crush pad during September and October from your bar-stool seat! Their founding chef has Michelin three-star experience; he joined them previously from The Restaurant at Meadowood, also located in St. Helena. The sizable commercial kitchen easily has enough space to accommodate both the restaurant and the cafe's needs. Weather permitting, guests can eat outside on the patio overlooking the grounds, a great place to see and be seen, inside in the booths or at the bar.
Some of the fresh ingredients used by chef are sourced directly from the property – from a culinary garden growing on the south side of the property.
This experience typically lasts a minimum of 90 minutes up to 2.5 hours for a more leisurely lunch and occurs outside on the Brasswood patio (weather permitting) or inside the restaurant. The Michael Mondavi Family wines are poured in between each course.
We always recommend guests coming to Brasswood Estate to arrive early to spend some time browsing the grounds including The Shop at Brasswood + Mercantile. This small store offers a collection of hand selected products from around the globe – it is a unique shopping experience for this part of Napa Valley. Both men and women's fashion, home décor, artisan jewelry, culinary tools, fine textiles, ceramics, hand-blown glass, specialty cosmetics and even a few electronics are available.
And this shop also contains wines from Brasswood wine partners as well as products from Brasswood Spirits, American whiskey, gin and vodka.
—
For more information, visit: www.foliowine.com (parent website), www.michaelmondavifamilyestate.com (winery tasting website), and www.noblemerchants.com (online merchant – selling their wines exclusively).
Folio Winery, Carneros

NOTE: We keep these notes for historical reference. In 2006 Michael, Isabel, Dina and Rob Mondavi purchased the old Carneros Creek Winery on the Napa side of Carneros originally built by France Mahoney; this housed their own production as well as served as a custom crush facility for a number of other wineries.
Never fully utilizing the amount of space at their disposal, in 2014, the Mondavi's sold the physical winery and surrounding 13 acres of vineyards to Kieu Hoang, a Vietnamese born businessman (US citizen). The sale in no way involved any of the Michael Mondavi Family Estate wines. This winery has since been sold again and is now called Ru Vango.