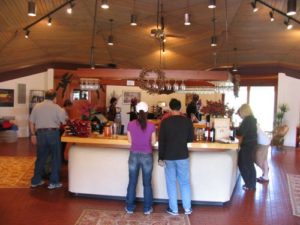 Folie à Deux dates from 1981 and used to be located just north of St. Helena, but after it was purchased by the Trinchero Family in 2004 (also owners of Sutter Home), it was moved into the Napa Cellars winery. Foliex a Deux in French means "shared fantasies" – which if you keep in mind when trying their wine, adds a subtle exotic sensual feel to the tasting experience especially if you are tasting with someone you are attracted to. In order to taste their wine you have to visit Napa Cellars (see our description of Napa Cellars here).
Folie à Deux is one of the first few wineries located next to Highway 29 as you drive north from Napa. As a result they often see first time visitors to the valley who have no planned itinerary. The tasting counter is located in a non-descript building right next to St. Helena Highway and the wine tasting is casual & relaxed. Their tasting room in fact used to be the original barrel room on site. In mid 2008 some minor building restoration, updating and general improvements to the facility were implemented.
Folie à Deux makes two whites, a Chardonnay & Sauvignon Blanc and a larger selection of reds all reasonably priced for Napa standards between $12 and $30 per bottle. All of their wines are from Napa County with the exception of their Amador County Zinfandel. Amador county in the summer is generally warmer than Napa and is acquiring its own excellent reputation on the "zinfandel wine stage". We tried the 2005 vintage; this has a great fruity classic Zinfandel nose with lots of concentration on the palate mixed in with some subtle spices including cloves and anise.
Their Napa Valley Cabernet Sauvignon is a big wine with lots of fruit on the front end and healthy tannins on the back end. They also make light fun Menage a Trois wines. Menage a Trois literally means "blending of three" and their three wines, a white, Rose & red, are a blend of three varietals. The winemaker here is also the winemaker for Napa Cellars. A tasting is either Folie à Deux wines or Napa Cellars but you can certainly do both. Several complimentary tastes are also given. There are also nice picnic grounds on the side of the winery next to their small 3/4 of an estate planted vineyard. Visit: www.folieadeux.com
NOTE: This review has been archived.
REASON: Only producing Non Napa wines