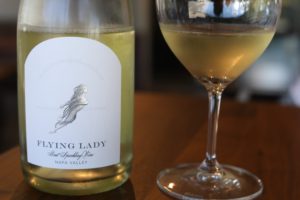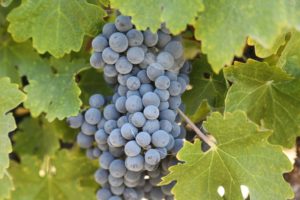 Flying Lady Winery was founded by Colorado based father and son David and Zachary Nassar. David is the founder of Erie, Colorado based Nassar Development, known for their custom homes, resort properties, private ranches, and commercial spaces in communities along the 25-freeway including Fort Collins, Denver and and Colorado Springs.
The winery sits on 13 acres on a site that previously housed OnThEdge Winery which was founded by winemaker Paul Smith. Paul was the founding partner and winemaker with football coach, Dick Vermeil in Vermeil wines. The name of this original winery was chosen because it was located right on "the edge" of the Napa / Sonoma County line on top of the spine of the Mayacamas mountain range separating both counties. While geographically not far from the town of St. Helena, it can take 20 minutes to reach the property due to narrow, windy and at times, steep roads. There aren't many wineries in this part of Spring Mountain; neighbors including Cain Vineyard and York Creek Vineyard (no longer producing wines but still selling grapes).
2020 was a horrific fire season in Napa Valley. We remember helping clear brush on the lower part of Spring Mountain Vineyards property the early morning of Sunday August 16th and being rained on while watching lightning strikes around the valley. Little did we know 6 weeks later we would be helping in any way we could on Spring Mountain during a subsequent and much worse fire.
The Flying Lady property had been completely renovated prior to the 2020 Glass Fire – overseen by Nassar Development. Then tragedy struck. The fire started on the other side of Napa Valley on the slopes above North Fork Crystal Springs Road in the Vaca mountains in the early morning hours of Sunday September 27, 2020. That day we had just arrived back in California from French Polynesia and even before we stepped off the plane, we were receiving texts from friends concerned about various properties in the vicinity of the flames. That night we drove up to Calistoga and spent the next week with friends helping deliver water on several flatbed trucks, armed with plenty of resolve, 8 plastic totes, a fire hydrant hookup and gas pumps to a number of properties in the northern part of the valley including on Spring Mountain. Unfortunately, some of the worst damage was on Spring Mountain; this fire destroyed Flying Lady Winery and also their 2015, 2016 and most of their 2017 vintages. The 2018 and 2019 vintages were fortunately stored at Hunnicutt Winery where the Flying Lady wines are made.
Select Wines
The Flying Lady Brut Sparkling Wine, York Creek Vineyard is very rare Spring Mountain produced sparkling wine. This bottling is medium yellow in color; the aromas are diverse and include notes of yeast, bruised apple, pear, gooseberry, a grapefruit zest and as it evolves in the glass, some stone fruit including white peach. The bouquet also shows floral notes including jasmine and a hint of citrus blossom. Its balance is a lovely hallmark, offering a light creamy texture, bright acidity and flavors of lemon/lime and crisp green apple. This wine is great by itself but is also an ideal palate cleanser after tasting big Napa Cabs.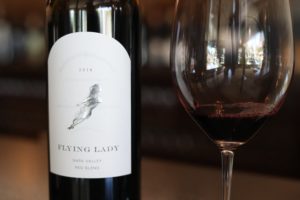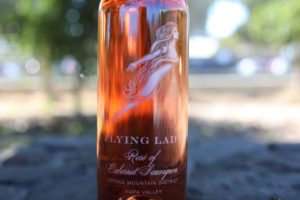 The 2021 Flying Lady Rosé of Cabernet Sauvignon, Spring Mountain District was sourced from York Creek Vineyard and was made by saignèe. This process involves bleeding off the juice after a short contact with the skins right before fermentation starts. This bottling is deep salmon in color; the bouquet offers elegant and lightly fruited aromatics of wild strawberry and raspberry along with rhubarb, a flinty minerality and notes of watermelon jolly rancher candy. The palate is supple and soft accompanied by rich flavors of watermelon, strawberry and ruby grapefruit. The finish is refreshing and lingers with a brightness brought on by its mouthwatering acidity. This bottling is a nicely balanced between texture, flavor and acidity and offers more complexity and character than 'light weight' rosé wines.
The 2018 Flying Lady Napa Valley Red Blend is 85% Cabernet Sauvignon from the York Creek Vineyard and 15% Cabernet Franc from the Oak Knoll District; this wine is dark ruby in the glass. Its bouquet is initially dominated by secondary aromas of Graham cracker, cardamom, nutmeg, chocolate brownie, milk chocolate, butterscotch, espresso and caramel. As the wine evolves in the glass these secondary aromas dissipate somewhat revealing more fruit including dark plum, boysenberry and blackberry. Simply stated, this bottling smells like dessert. The palate offers flavors of dark plum, roasted meats and red and black currant. The finish is savory and dark, offering notes of crushed black pepper, toasted oak and chewy, persistent, drying and extremely robust tannins. We tasted this wine 4 years post vintage on several occasions and it is incredibly energetic and still 'bouncing' around palate with no slowing down in sight.
The 2018 Flying Lady York Creek Vineyard Cabernet Sauvignon (100% varietal) is dark ruby in color; the initial aromatics we noted as soon as we smelled the bouquet were the smell of an old cedar jewelry box after opening it for the first time in a long time. The bouquet broods for a bit, showing scents of old leather and white pepper along with dark plums. On the palate it shows bright acidity and higher-toned fruit flavors including of red cherry, currant, cranberry and red plum. The tannins were still tightly woven at the time of our tasting, four years post vintage. Texturally they are not dense but show a noticeable and noteworthy persistent drying grip. The mouthwatering finish also lingers with a woodsy spice and notes of dried tobacco leaf. This wine is clearly built to age.
The Wine Thief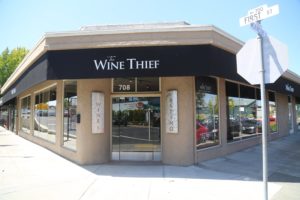 In mid 2022 Flying Lady Wines joined the portfolio of small brands represented in a tasting room called The Wine Thief. This tasting room is located on the highly visible corner of First and McKinstry Streets directly across from Gott's Roadside Hamburgers and the Oxbow Public Market. Several other tasting rooms are located on this block and or within a short walking distance and one can easily spend a couple of hours exploring this part of downtown Napa. Parking is curbside (difficult to find on weekend afternoons) or in the overflow Oxbow Market parking lot located within a short walk of The Wine Thief.
Wines are available for tasting by walk-in at the tasting counter or at one of several tables in the main room. Appointments can also be made to try current releases of the Flying Lady Wines in one of two private rooms on site with one of the wine educators. And for the private tastings, cheese and charcuterie are served from The Fatted Calf, located at the nearby Oxbow Public Market.
—
Flying Lady Winery supports Santa Monica based Angel Flight West. This nonprofit organization is supported by a network of volunteer pilots arranging free non-emergency flights for those with serious medical conditions. Its geographical range is within 13 western U.S. states with access to more than 1,400 volunteer pilots. The Nassars are part of this network of pilots; in addition, they donate $1 to Angel Flight West for every bottle sold and also support their annual fundraising event, The Endeavor Awards.
For more information, to join their 6 or 12 bottle wine club, titled the Flight Club and or to purchase wines, visit: www.flyinglady.com