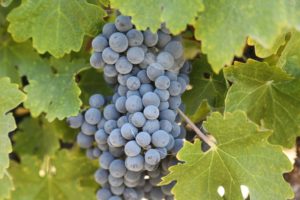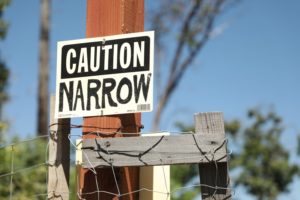 Flying Lady Winery was founded by Colorado based father and son David and Zachary Nassar (Lebanese heritage). David is the founder of Erie, Colorado based Nassar Development, known for their custom homes, resort properties, private ranches, and commercial spaces in communities along the 25-freeway including Fort Collins, Denver and and Colorado Springs.
The Nassars were originally interested in producing limited production wines they could give to some of their clients in Colorado. They were introduced to real estate agent Robyn Bentley of Wine Country Consultants who showed them several properties for sale in Napa Valley. When she heard about their interest in making wine she introduced them to her son Ross Bentley who crafted their first few vintages. And it was Robyn who first showed them their Spring Mountain property. Winemaker Leigh Meyering (who also operates an enology lab in the city of Napa called myEnologist) has made the Flying Lady wines since 2017.
The Nassars purchased the 13-acre hillside property in 2018 (no grapes grow on the property). Zach recalled the winery came with a 600 bottle collection in the cellar of which most of the wines were shiners but some were labeled from the 1980s including some older Robert Mondavi bottlings and early Vermeil wines which were made here.
This site previously housed OnThEdge Winery which was founded by winemaker Paul Smith. Paul was the founding partner and winemaker with football coach, Dick Vermeil in Vermeil wines. The name of this original winery was chosen because it was located right on "the edge" of the Napa / Sonoma County line on top of the spine of the Mayacamas mountain range separating both counties. While geographically not far from the town of St. Helena, it can take 20 minutes to reach the property due to narrow, windy and at times, steep roads. There aren't many wineries in this part of Spring Mountain; neighbors including Cain Vineyard and York Creek Vineyard (no longer producing wines but still selling grapes).
The winery needed significant upgrades. The existing foundation was in decent shape; the Nassars took the building down to the studs and by late summer of 2020 had completely rebuilt/renovated the existing structure. 2020 was a horrific fire season in Napa Valley. We remember helping clear brush on the lower part of Spring Mountain Vineyards property the early morning of Sunday August 16th and being rained on while watching lightning strikes around the valley. Zach was also in town that day and recalls watching a plume of smoke start across the valley near Howell Mountain. Little did we know 6 weeks later we would be helping in any way we could on Spring Mountain during a subsequent and much worse fire.
The Flying Lady property had been completely renovated prior to the 2020 Glass Fire – overseen by Nassar Development. Then tragedy struck. The fire started on the other side of Napa Valley on the slopes above North Fork Crystal Springs Road in the Vaca mountains in the early morning hours of Sunday September 27, 2020. That day we had just arrived back in California from French Polynesia and even before we stepped off the plane, we were receiving texts from friends concerned about various properties in the vicinity of the flames.
That night we drove up to Calistoga and spent the next week with friends helping deliver water on several flatbed trucks, armed with plenty of resolve, 8 plastic totes, a fire hydrant hookup and gas pumps to a number of properties in the northern part of the valley including on Spring Mountain. Unfortunately, some of the worst damage was on Spring Mountain; this fire destroyed Flying Lady Winery and also their 2015, 2016 and most of their 2017 vintages which they had transferred to their Spring Mountain winery just prior to the Glass Fire. The 2018 and 2019 vintages were fortunately stored at Hunnicutt Winery where the Flying Lady wines were made at the time.
Despite having previously cut and cleared nearly all trees and bushes within about 200 feet of the winery, the fire burned all around their property and destroyed everything but their deck (with the metal rails built by Zach's brother Weston). A nearby neighbor's home survived unscathed. A favorite oak tree close to the winery was left and it was perhaps this tree that the fire jumped from onto the winery building. A water tank located on a nearby hill used to serve as a blending tank at Robert Mondavi Winery. It was located on tracks which burned during the fire and subsequently caused the tank to roll down the hill denting one side of it. This water tank is still on the property for nostalgia sake but has since been replaced with a much larger modern metal water tank.
Zach told us they were ready to call it quits after losing their home and winery to the Glass Fire. But then friend and businessman Ted Bryce offered to buy the property if they would rebuilt the house and winery and he would lease it back to them in exchange for an ownership in the winery. They took him up on his offer and in mid 2022 began the rebuilding process with Zach working as the principal builder on the project. This time they constructed the home completely separate from the winery and used materials focused on fire resistant qualities including a metal roof and an exterior built from rock. They kept the existing deck and a massive metal beam which retained its structural integrity but was visibly bowed from the heat of the fire.
The winery building will include separate rooms for both barrel aging and winemaking along with a small hospitality space which will take full advantage of the surrounding breathtaking views by utilizing plenty of windows, being located on the second floor and featuring a 'green deck'. It is permitted to produce 3,000 cases each year and should be completed by mid 2024. We will revisit at that time and update our notes and photographs here.
Select Wines
The Flying Lady Brut Sparkling Wine, York Creek Vineyard is very rare Spring Mountain produced sparkling wine. They purchase the grapes for this wine from nearby neighbor Fritz Maytag's York Creek Vineyard. It is made from Pinot Blanc and they are perhaps the only Spring Mountain producer of sparkling wine from Spring Mountain grown grapes. These grapes were planted for Fritz's wife who enjoyed Pinot Blanc. There are only a couple of rows of this variety in this particular section of the vineyard (Springhouse block) surrounded by Cabernet Sauvignon. This particular block is planted to approximately 7 acres of vines. When the Nassar's were considering purchasing grapes from this block, Fritz told them they needed to also purchase the Pinot Blanc. This block is easily seen from the winery and conveniently is located only a short drive away.
So they did and initially planned to make an under-the-radar welcome wine for visitors to the winery. But then they noticed how much their customers enjoyed drinking this wine so they continued producing it. The first several years were actually vintage productions but were not labeled with the vintage. In 2023 they produced their first vintage dated sparkling wine from this variety.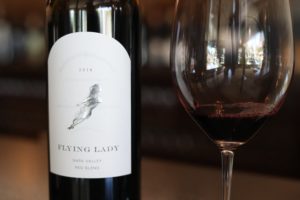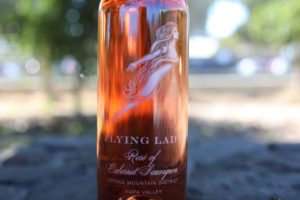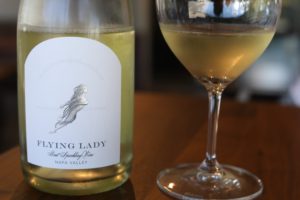 The Flying Lady Non Vintage Brut Sparkling Wine Spring Mountain (2019 vintage from Pinot Blanc) is medium yellow in color; the aromas are diverse and include notes of yeast, bruised apple, pear, gooseberry, a grapefruit zest and as it evolves in the glass, some stone fruit including white peach. The bouquet also shows floral notes including jasmine and a hint of citrus blossom. Its balance is a lovely hallmark, offering a light creamy texture, bright acidity and flavors of lemon/lime and crisp green apple. This wine is great by itself but is also an ideal palate cleanser after tasting big Napa Cabs.
The Flying Lady Non Vintage Brut Sparkling Wine Spring Mountain (2020 vintage from Pinot Blanc) is pale to medium yellow in color; this wine smells fresh with aromas of citrus including of lemon and green apple. It is bright, energetic and refreshing across the palate offering flavors of apple, pear, kumquat and lemongrass. It finishes on a high note with mouth watering acidity. Considering the variety, the location and limited production, this is a wine well-worth seeking out.
The 2021 Flying Lady Rosé of Cabernet Sauvignon, Spring Mountain District was sourced from York Creek Vineyard and was made by saignèe. This process involves bleeding off the juice after a short contact with the skins right before fermentation starts. This bottling is deep salmon in color; the bouquet offers elegant and lightly fruited aromatics of wild strawberry and raspberry along with rhubarb, a flinty minerality and notes of watermelon jolly rancher candy. The palate is supple and soft accompanied by rich flavors of watermelon, strawberry and ruby grapefruit. The finish is refreshing and lingers with a brightness brought on by its mouthwatering acidity. This bottling is a nicely balanced between texture, flavor and acidity and offers more complexity and character than 'light weight' rosé wines.
The 2022 Flying Lady Rosé of Cabernet Sauvignon, Spring Mountain District is equally as dark in color as the previous vintage. Flying Lady does not make light styled rosé wines. This bottling offers both rich aromas which need time in the glass to fully express themselves (including of dried orange peel) and an intensity of flavor including of cherry, currant and raspberry. Its texture is rounded and slightly creamy. This rosé has depth, structure and character.
The 2018 Flying Lady Napa Valley Red Blend is 85% Cabernet Sauvignon from the York Creek Vineyard and 15% Cabernet Franc from the Oak Knoll District; this wine is dark ruby in the glass. Its bouquet is initially dominated by secondary aromas of Graham cracker, cardamom, nutmeg, chocolate brownie, milk chocolate, butterscotch, espresso and caramel. As the wine evolves in the glass these secondary aromas dissipate somewhat revealing more fruit including dark plum, boysenberry and blackberry. Simply stated, this bottling smells like dessert. The palate offers flavors of dark plum, roasted meats and red and black currant. The finish is savory and dark, offering notes of crushed black pepper, toasted oak and chewy, persistent, drying and robust somewhat still tightly woven tannins. We tasted this wine 4 years post vintage on several occasions and it is incredibly energetic and still 'bouncing' around palate with no slowing down in sight.
The 2018 Flying Lady York Creek Vineyard Cabernet Sauvignon (100% varietal) is dark ruby in color; the initial aromatics we noted as soon as we smelled the bouquet were the smell of an old cedar jewelry box after opening it for the first time in a long time. The bouquet broods for a bit, showing scents of old leather and white pepper along with dark plums. On the palate it shows bright acidity and higher-toned fruit flavors including of red cherry, currant, cranberry and red plum. The tannins were still tightly woven at the time of our tasting, four years post vintage. Texturally they are not dense but show a noticeable and noteworthy persistent drying grip. The mouthwatering finish also lingers with a woodsy spice and notes of dried tobacco leaf. This wine is clearly built to age.
The 2019 Flying Lady Napa Valley Cabernet Sauvignon is 100% varietal with 85% of this wine sourced from York Creek's Springhouse block and 15% from the Oak Knoll District. It is dark ruby in color; the bouquet is somewhat brambly with notes of blackberry, boysenberry, violets and other ripe fruits including fig. It also offers scents of milk chocolate. Aromatically, this is not a shy bottling. The palate is primarily red fruited including of cherry and plum. This is an easy drinking Cabernet Sauvignon but with accompanying complexity and freshness brought on by its lively acid profile. It lingers with a light dryness, medium structured tannins, dried herbs and a note of dried tobacco leaf. This is their most produced bottling.
A reserve bottling is 100% Cabernet Sauvignon from the Springhouse block at York Creek Vineyards. And for the first time, in 2022 Flying Lady produced a Pinot Noir from a small family owned hillside vineyard in Bennett Valley (near Santa Rosa in neighboring Sonoma County).
The Wine Thief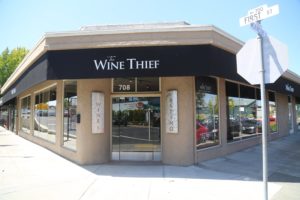 In mid 2022 Flying Lady Wines joined the portfolio of small brands represented in a tasting room called The Wine Thief. This tasting room is located on the highly visible corner of First and McKinstry Streets directly across from Gott's Roadside Hamburgers and the Oxbow Public Market. Several other tasting rooms are located on this block and or within a short walking distance and one can easily spend a couple of hours exploring this part of downtown Napa. Parking is curbside (difficult to find on weekend afternoons) or in the overflow Oxbow Market parking lot located within a short walk of The Wine Thief.
Wines are available for tasting by walk-in at the tasting counter or at one of several tables in the main room. Appointments can also be made to try current releases of the Flying Lady Wines in one of two private rooms on site with one of the wine educators. And for the private tastings, cheese and charcuterie are served from The Fatted Calf, located at the nearby Oxbow Public Market.
—
The name Flying Lady used to be trademarked by Rolls Royce, after they gave up the rights Callaway Golf began using the name for a short while and produced a line of pink golf balls. But then during their search for suitable names for wine brands, the Nassars discovered that the name Flying Lady was remarkably available again. The name is associated as a figurehead with adventure, luxury and good fortune. It was commonly used by the British Navy and later the British air force. Rolls Royce adapted it as the sculpture figurehead on the front of their vehicles and called it the Spirit of Ecstasy. Its perception of adventure and elegance is directly tied into their own story. Both Zach and his father are private pilots. And in regard to their own production, they strive to produce wines that are more elegant and softer in style.
Flying Lady Winery supports Santa Monica based Angel Flight West. This nonprofit organization is supported by a network of volunteer pilots arranging free non-emergency flights for those with serious medical conditions. Its geographical range is within 13 western U.S. states with access to more than 1,400 volunteer pilots. The Nassars are part of this network of pilots; in addition, they donate $1 to Angel Flight West for every bottle sold and also support their annual fundraising event, The Endeavor Awards.
In addition to traditional distribution, the Flying Lady wines are being promoted through several 'Ambassadors of Adventure' individuals. These include prominent sports celebrities such as aerobatic aviator Sean Tucker, golfer Ernie Els and skateboarder Tony Hawk. These individuals promote the Flying Lady wines are a variety of events.
The wines are primarily sold direct to consumer but are also selectively distributed in both Colorado and California (primarily Napa Valley). Sometimes one can find select bottlings at Backroom Wines in downtown Napa, V Wine Cellars in Yountville or Gary's in St. Helena. Total production at the time of our latest update to this review is around 1,000 cases per year. For more information, to join their 6 or 12 bottle wine club, titled the Flight Club and or to purchase wines, visit: www.flyinglady.com