Flying Horse Winery Flying Horse Winery is owned and operated by the Smeding Family.
The Smeding family been in the Napa Valley for four generations – always with a hand close to the earth. The grandparents of the current owners, Lettie, came to Napa in the 1920's from Scandanavia and started farming prune orchards (back when stone fruit orchards outnumbered vineyards). a four generation history of working in agriculture in the Napa Valley. However Lettie's grandfather was also involved with grapes – helping during harvest in September and October.
Their love of horses ties in well with the image on their wine label. The family members enjoy riding Quarter Horses and Arabians.
There has been some change in ownership and winery homes since their first vintage was released in 2003. The original owner Bryant Morris sold Aetna Springs Resort started Flying Horse and then purchased a beautiful stone ghost winery north of St. Helena where their wine operations were centered – but in 2010 sold this winery to Luc Morlet Vineyards. Today you can taste the wine at Napa Wine Co in Oakville.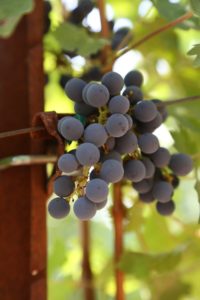 We started our tasting with the 2007 Sauvignon Blanc which unlike many Napa produced Sauvignon Blancs that only see stainless tanks during aging, was aged in oak. It is not an overly fruit driven wine rather is crisp and clean with good body and rich mouth feel. The nose has notes of dusty stone, nuances of flint with pleasant honeysuckle aromas. As this wine opens up more, the nose acquires some aromatic pineapple notes. The palate has hints of kiwi, melon and dried apricot. The finish is clean with just a note of citrus flavor that lingers.
The 2003 and 2004 Cabernet Sauvignons are both 100% varietal wines made from several clones. Only the highest quality free run juice is used. Our favorite is the 2003. This is a dark deep purple wine that has a very fruit forward component both in the nose and on the palate. The bouquet shows ripe black cherry and blackberry which follows through to the palate. There are neat earthy nuances with saddle leather and tobacco towards the finish. This is a wine that has shown well with another year in the bottle and will continue to age gracefully. It has a nice structured backbone.
The 2004 is slightly more restrained with earthy dusty aromas mixed with blackberry and plum. The blackberry continues to the palate, picking up some blueberry notes with also chocolate and hints of mocha. Both wines have the acidity and backbone to age for a number of years.
The Flying Horse label was developed based on the founder Bryant's passion with old carousels. He has restored a number of these over the years, most notably for Seaport Village in San Diego and Shoreline Village in Long Beach as well as a number of shopping centers. He has several beautifully restored horses in the actual ghost winery. All their wines are priced very decently. They do maintain ave a wine club. For more information, visit: www.flyinghorsewines.com
NOTE: possibly no longer making wine – we will keep a close eye on this producer over the next few years.