Flora Springs Winery traces its original winery heritage back to 1885 (their former winery at the end of West Zinfandel Lane which they sold in 2020). Two brothers, James and William Rennie immigrated from Scotland via Australia to Napa Valley, planted 60 acres of grapes and began construction on their stone gravity flow winery in 1888. The brothers hired Hamden McIntyre who was in part responsible for the Greystone building currently occupied by the Culinary Institute of America and Eschol Winery – now owned by Trefethen Family Vineyards. Hamden was the Howard Backen of the times (Howard is a well-respected contemporary architect responsible for some of Napa's most creative and innovative wineries).
While certainly not the first winery in the valley, their operations were notable because they were the first winery in the state to use a gasoline powered engine to crush the grapes. The Rennie Brothers Winery was completed in 1900. But then two unfortunate situations befuddled the brothers. Soon after finishing the winery, a fire broke out later that year burning their press and all their barrels of wine. This was a total disaster and coupled with the fact that phylloxera was making its way throughout the Napa Valley – the brothers soon found themselves out of business.
Napa County was once known as "the county of stone bridges" with the majority of these bridges constructed between 1894 and 1981; the Rennie brothers played a significant role in this. R. H. Pithie, a Scottish stonemason was responsible for building a number of these bridges and worked closely with the Rennie brothers for their financial backing of many local bridges including the replacement and current Pope Street stone bridge in St. Helena constructed between 1894 and early 1895.
The property changed hands several times, closed down during Prohibition and was eventually purchased in 1933, by Louis M Martini and his wife Assunta – the same year he founded Martini Winery in St. Helena. While Martini never used the old winery for wine making (rather it was used for storage and aging wines) he sourced some of the grapes growing on the property at the time for use at Martini Winery. In 1977, the Komes family (Jerry – a former President of Bechtel Corporation and his wife Flora) purchased 325 acres of land from the Martini estate (Louis and Assunta had died several years earlier) including the stone Rennie Brothers Winery and the old Brokehoff Winery (1885) and a home built in 1946 which was at one point was lived in by Louis M. Martini and his family.
The site of Flora Springs almost would have been in a different location in the valley; the Komes were close to purchasing another winery and property on the Silverado Trail before that deal went through. Incidentally Elton John also put a bid on what is now the Flora Springs Estate at the same time as the Komes.
Jerry and Flora planned to use the site as a retirement property and grow and sell grapes. However, their children, John and Julie soon became interested in resurrecting the old winery and producing their own wine. In 1977, the buildings were in bad shape; the Rennie Brothers Winery still had burn marks from the devastating fire 77 years prior and John recalls the roof was falling apart and the floor was still dirt (common in wineries of this era and earlier). John was involved in construction at the time, focusing on building mausoleums in the San Francisco Bay Area. Eventually he moved his construction business to the Napa Valley and over the years built or remodeled some of Napa's most prominent wineries including Far Niente – along with restoring the stone winery on the Flora Springs property.
Perhaps there were plans for caves dating from the original winery – in the late 1800's an archway was built in the winery next to the hillside indicating potential plans for drilling caves. Those plans didn't come to fruition until 100+ years later when 13,000 square feet of caves were drilled at various intervals in the late 1990's.
Each tunnel bore is named including the longest tunnel – called Route 66. The cave floor differs in elevation slightly – this is conducive for air flow.
Those lucky enough to meet John will quickly warm to his engaging and personable character. He is one of the best story tellers in the valley. Despite most likely having told the same stories hundreds of times – he loves watching visitors react to his engaging and usually humorous tales.
John remembers the first vintage of Flora Springs was merely 100 cases of Cabernet Sauvignon and 100 cases of Chardonnay from 1978. Perhaps for nostalgia's sake, John still keeps his first stainless steel fermentation tank from 1978 – a piece of equipment he refers to as R2D2. Old timers may remember Tripoli Market south of St. Helena incidentally one of nearby Sutter Home's first retail outlets and later the footprint occupied by Dean & Deluca (now home to Gary's Fine Wine). In 1978 John did not yet have his permits to produce wine on the Flora Springs property – so he ended up storing the wine grapes in freezers at Tripoli Market until he secured the required wine making permits.
John was the winemaker in 1978; 40 years later he doesn't speak very highly of his efforts. In 1979 along with consulting help from MaryAnn Graf, the first woman to graduate from the viticulture and enology department at UC Davis, Flora Springs produced their next vintage – growing to some 800 cases. They entered the 1979 Flora Springs Chardonnay in the Los Angeles County Fair where it won a gold medal. Gold medals meant more in those days before the equivalent 90+ point scoring system became widely used – at one point their Rutherford Hillside Reserve Cabernet Sauvignon took 7 gold medals from 8 competitions.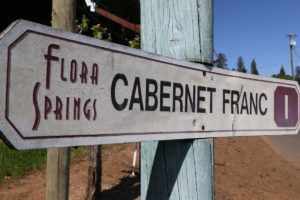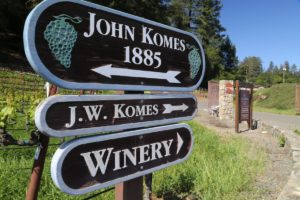 When the Komes purchased the site, the vineyards were planted to varieties not often seen in the Napa Valley today – including Gewürztraminer and Chenin Blanc. While the Komes family no longer owns their original winery and surrounding estate property, they still own around 50 acres in select parts of the valley including the Cross Creek Ranch which borders the Silver Oak Cellars driveway in the heart of Oakville.
The family named the winery in tribute to Flora (she died a week before her 101st birthday in 2012) and homage to the natural springs found on the property.
—
In January 2020, Flora Springs winery and estate was sold to Daniel and Florence Cathiard of France. Not included in the sale were the Flora Springs brand or The Room, the winery tasting room on Highway 29 or other vineyard property owned by the family.
The Cathiards are also owners of Bordeaux's Chateau Smith-Haut-Lafitte and several other winery properties including Château Le Thil, Château Cantelys, Château Beauregard and Château Bastor-Lamontagne. Both Daniel and Florence are champion downhill skiers and were on the French Olympic ski team. Both have had other careers outside of the wine industry including in advertising and supermarket stores. And they also own several hotels and spas and a ski chalet. See our separate review on this site of Cathiard Family Estate for more details.
—
And in 2020 in conjunction with the sale of the winery property, the third generation of the Komes family took over leadership at Flora Springs. This includes Nat Komes, John and Carrie's son and several of his cousins and their families and Sean Garvey, son of co-founders Pat and Julie Garvey.
Their other wine brand, Jon Nathaniel is housed in a physical winery built just for its wines near John's house in Rutherford. Reference our separate review of Jon Nathanial on this website.
Wilfred's Lounge, downtown Napa
A month or so later after the sale of the estate was announced, the Komes family purchased the 3,500 square foot former Burger Fi space on the Napa River, in downtown Napa on 1st Street. The plan was originally to turn this space into a tasting room (not that downtown Napa needs another one of those) and call it Lavender Hill Restaurant (in honor of their Carneros Vineyard). However, it was later decided to turn the space into Wilford's Lounge, a tiki bar with a Hawaiian theme with both indoor and outdoor seating to also showcase Jon Nathaniel wines and possibly other brands under the family ownership including, Trilogy and Soliloquy. Wilfred is named after the family matriarch Flora's brother Wilfred (both grew up in Hawaii).
Nat found inspiration for the tiki bar from his friend Michael Cobb who runs the High Roller Tiki Bar in Solvang, California. Both men met years ago when Michael was working as a chef, sommelier, and restaurant manager at Disneyland. Eventually he managed wines for a number of spaces in various Disneyland properties and it was through working with various wine brands that he first met Nat. Michael also started the popular California Food & Wine Festival, held every spring at Disney's California Adventure.
Michael opened his tiki lounge in 2017 – it is a cozy space with a tiki bar downstairs and an intimate lounge upstairs dedicated to his own wine brand, Sort This Out Cellars. Several tables are located outside the lounge. Besides serving his own wines, he also serves select wines from Flora Springs – and a variety of other drinks including a number of tropical tiki themed concoctions along with presumably the crowd favorite, the descriptively titled, "This Drink Will Get You Lei'd". And Michael helped consult and create the initial décor for Wilford's Lounge.
Significant effort and thought went into the interior design of Wilfred's Lounge – artist Billy Crud created a number of the hand carved items inside including a prominent wooden mural. Both upstairs and downstairs lounge space including the outdoor 'Captain's deck' on the roof, complete with a steering wheel where if one is in the mood, they can grab a margarita in one hand, the captain's wheel in the other and yell out at the Napa River below.
In addition to plenty of drinks they serve food including outdoor and indoor seating, both on the first floor. One can also sit at the Tiki Bar and order food and drink. We recommend the Tuna Poke. For more information, visit: www.wilfredslounge.com
Wilford's Lounge, Napa

High Roller Tiki Lounge, Solvang

Select Wines
The extensive array of tools the wine making team has at their disposal is impressive – from a variety of coopers, types of oak, toast levels and tank types.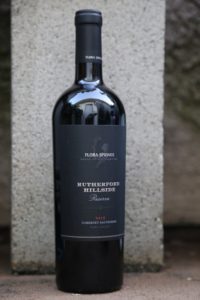 When Flora Springs acquired their property in Oakville, they discovered a unique three-acre block planted to Sauvignon Blanc. Most wineries would remove this variety in favor of Cabernet Sauvignon which is the variety currently most associated with the Oakville Appellation. But Flora Springs noticed gapes from this block made an exceptional wine (without the vegetal characteristics that this variety is most often known for). However, they were unable to genetically identify the clone – and neither was UC Davis. They isolated genetic material from some of the vines in the late 1980s to clean up clone (remove viruses) which was done at UC Davis. This proprietary clone is called Soliloqy (Flora Springs is the only winery in the world to make wine from this particular clone). They also renamed the vineyard to Soliloquy in order to honor this particular clone.
For a number of years, they produced Soliloquy as its own wine, a 100% varietal Sauvignon Blanc. Starting in 2017 they altered the varietal composition of Soliloquy creating a blend of Soliloquy Sauvignon Blanc, Malvasia Bianca (from Sonoma County) and Chardonnay.
The 2017 Flora Springs Soliloqy (tasted 35 minutes after bottling) shows golden in the glass; it is very aromatic with notes of pineapple and baking spices – as the wine breathes becomes more floral – almost tropical with aromas of honeysuckle and jasmine. One immediately notices the beautiful texture – rounded and slightly creamy but without being heavy. The palate is balanced with an intensity of flavor that lingers for a long-time including notes of mandarin and subtle spices on the finish. Excellent acidity. This wine has become the white counterpart to their flagship Trilogy.
John calls their Napa Valley Merlot the "mothers' wine" referring to a wine they made for his mother for many years and a wine they continue to produce. When Flora was in her 80's she developed a blood condition requiring a hospital visit every 6 to 8 weeks for platelet work. Feeling great after the hospital visit her condition always worsened in the weeks following. Finally, she sat down with her doctor who without knowing her involvement with Flora Springs recommended she take a glass of red wine with her meal every night. Despite being in the wine business, she and Jerry had always enjoyed their nightly martinis.
Jerry came to winery and asked John for a recommendation on what wine Flora should try per the doctor's recommendation. John sent him home with a case of Merlot – choosing a variety that would be fairly smooth on the palate for his non-wine drinking mother. The results were surprisingly effective – for the next 4 years Flora no longer needed to go to the hospital for treatments. At one point she switched to drinking Sangiovese and the old symptoms returned. She was hooked on Merlot!
The 2015 Napa Valley Merlot is immediately intriguing with its pretty aromas – it has an elegant yet somewhat showy bouquet with notes of blackberry, dark cherry and hints of cedar box. More red fruit shows on the palate then dark – one quickly notices the fine texture of the tannins – they are seamless on the finish lingering softly with notes of baking spices and dust. A very approachable wine young.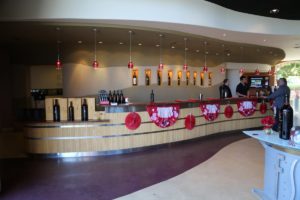 After a trip to Saint-Émilion in Bordeaux, John was inspired to produce a Bordeaux styled red blend. Their first vintage was 1984, a blend of Cabernet Sauvignon, Cabernet Franc and Merlot. No longer focusing on just these three varieties, today they produce each vintage of Trilogy from the best possible lots each year.
Their original philosophy of making this wine was to use equal parts of Cabernet Sauvignon, Cabernet Franc and Merlot. Over the years they realized they could make a better by embracing flexibility. Today this wine is made from no set varietal percentage but from whatever the best lots are from a diversity of vineyard sources (always focusing on using Bordeaux red varieties).
The 2015 Flora Springs Trilogy shows a lot of depth on the bouquet with a perceptible sweetness on the bouquet, boysenberry jam, baking spices, bittersweet chocolate and notes of black fig and hints of cedar. Slightly savory. Feels nice on the palate with somewhat dusty well-integrated tannins lingering softy on a pleasing finish. Winemaker Paul Steinauer calls this a "fun wine to make" referring to being able to source from the best blocks in their vineyards and using all the tools he has at his disposal to hand craft this wine.
And every early February Flora Springs holds a Trilogy release party – an epic event featuring this wine plus food and music. A gathering of Trilogy enthusiasts if you will.
One of John's stories involved a friend who called him many years ago from nearby Pope Valley very excited as he saw a huge pig on site. He asked John's permission to kill the animal and John finally relented so his friend drove all the way back to Napa to get his gun and then back up to the property where the big pig was still in the same spot. His friend then killed the animal. About an hour later John received a phone call from one of his neighbors who said "John, what the hell is going on up here, someone just shot my pet pig". So, one of their wines is now named the Wild Boar Cabernet!
In 2022 Flora Springs produced their first and a very rare bottling from Napa Valley, a 100% varietal Vermentino from Neal Family Vineyard's Rutherford Dust Vineyard in Rutherford. There is very little of this variety planted in Napa Valley; as of the latest update to this review, we are aware of only three vineyard sites in Napa Valley including two on the Napa side of Carneros (Mahoney) and Steve Matthiasson's Cressida Vineyard and in Rutherford (Neal Family). The very few Napa Valley producers that make wines from Vermentino usually source grapes from outside of the county. Winemaker Julien Fayard told us he will plant some Vermentino in Oak Knoll District in 2024.
Flora Springs The Room
First time visitors first impression of Flora Springs is their tasting room along Highway 29 just south of St. Helena – simply called "The Room". This tasting room certainly stands out for its riveting curvilinear architecture somewhat resembling a cave entrance – and its often seasonally themed exterior decorations. Located only 5 minutes by car from their estate property to the west (Jon Nathaniel) – visitors to the space do not need appointments.
Flora Springs is one of the few wineries up valley (not in one of the towns) that operates a tasting room in part of a shopping center. This is certainly one of the most unique architecturally designed tasting rooms in the valley. It's not easily missed, and it simply goes by the mysterious name, "The Room". Tell people are you going to "The Room" and they will wonder what you are talking about. From the outside it almost looks like what was to be the proposed "mini–Hall Winery" with its undulating roof (which was to have been designed by architect Frank Geary).
Auspiciously this tasting room opened on 8/8/8 which is a fairly lucky day in some cultures. The tasting room shares part of the parking lot next to Gary's wine shop and Press Restaurant.
—
Total production over the years has been as high as 50,000 cases. Today they produced around 40,000 cases with more of their wine being sold direct to consumer. For more information, took book a visit to the estate and or to join one of their wine clubs, visit: www.florasprings.com
Old Winery/Estate Property (Sold in 2020)