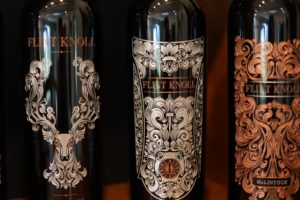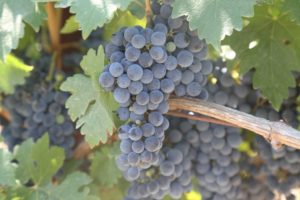 Flint Knoll. Proprietor Aaron Michaelis fell in love with wine while working at Chateau Cigar Shop at age 18 in Wichita, Kansas. At the time, Jacob's Wine Store was located next door to the cigar shop. Aaron would walk over and look at their wine selection, his interest piqued by their portfolio of wines from around the world. At age 24 he began a local wine tasting group called The Young Vines focusing on wine education. At age 28 he moved to Kansas City and worked for a wine distributor, in the process continuing to expand his own wine knowledge and equally as importantly make valuable wine related networking connections.
Aaron was offered a job to work at Revana Winery in Napa Valley where he spent two years as their Director of Sales. This move and subsequent winery position played an integral role in the early pre-development of Flint Knoll including making valuable vineyard and winemaking connections and is where he met his wife Meredith when she came for a wine tasting. And through various connections Aaron was offered a variety of wine related jobs; he has since become an independent wine consultant including label design, wine marketing, managing vineyards and working with individuals to develop private label wines. Aaron founded Flint Knoll in 2016.
And honoring his roots, the name Flint Knoll is an homage to the Flint Hills in eastern Kansas near where Aaron was born and raised. Aaron is relentless about his pursuit of quality, striving to make each year's bottlings better than the last. He doesn't cut corners with his vineyard sources or in the cellar. The focus of Flint Knoll is on producing primarily hillside grown Cabernet Sauvignon wines showcasing the pedigree of place. The Flint Knoll bottlings are site expressions true to their terroir. And with that philosophy in mind, including in the cellar, the wines are complemented by a judicious use of premium French oak barrels.
Select Wines
Access to vineyard sites continues to change and evolve as Flint Knoll builds the brand. Regardless of site, Aaron hand picks sections within vineyards, even row by row. According to Aaron, it is important to be inspired by wines from around the world but be true to terroir and make a wine that represents a particular region rather than trying to emulate another location.
The 2019 Commonwealth Chardonnay was sourced from the UV in neighboring Sonoma County (owned by the Ulises Valdez family). It is a blend of two distinctive clones, Wente and Calera. The wine was aged in 17% new French oak on the lees with no racking until just prior to bottling. This wine is medium golden in color with a blend of aromas including apple and hints of honeysuckle. The bouquet evolves to show hints of lemongrass and lime and as the wine breathes further, opens to aromas of vanilla. Its texture shows a light creamy character without being viscous or heavy. This is a very balanced mineral laden showing from start to finish featuring bright fruit including flavors of mandarin and lively acidity. Its focus is on the purity of the fruit rather than cellar manipulation.
Commonwealth is a companion label to Flint Knoll – future bottlings will focus on Cabernet Sauvignon from Sonoma County.
The 2019 Flint Knoll Silver Eagle Vineyard Sonoma Coast Pinot Noir was produced from the Vosne-Romanée clone. This wine is medium ruby in color; it offers an intriguing bouquet that is deeply layered including initial aromas of dried tobacco, mushroom, leading to notes of bright raspberry, cherry cola and red licorice. Its texture is smooth and feels like velvet over the breadth of the palate. Shows plenty of flavor yet is delicate with a simultaneous elegance. Lingers with a brightness of youthful fruit, acidity and flavors of red cherry, and raspberry.
The 2019 Noble Right is an ode to Bordeaux's Right Bank where the wines are primarily Merlot based. This bottling is 65% Merlot and 34% Cabernet Sauvignon and 1% Petit Verdot (to add some weight). It is dark ruby in color; the bouquet shows both a ripeness and a simultaneous elegance along with a variety of delicate baking spice aromas, violets, and dust. This is a balanced bottling showing light gravelly textured tannins along with a darker spice note lingering on the lengthy finish.
Aaron describes the The 2019 Flint Knoll Royal Appointment as a big but elegant wine that only gets prettier over time and brings a certain energy to the table. We simply describe it as a crowd pleaser. It is dark ruby color and noticeably opaque; the aromatics are generous and opulent featuring ripe fruit including blackberry and boysenberry. It also shows notes of chocolate and mocha and a hint of dried tobacco leaf as the wine evolves in the glass. It is energetic, juicy and mouthwatering. The tannins are dusty, dry and silty and almost chalk-like. The label of the Royal Appointment is an homage to Kansas featuring a white-tailed stag whose eyes are two wild sunflowers (the Kansas state flower). This is Flint Knoll's most produced wine; the 2019 bottling was approximately 370 cases.
Flint Knoll produces two exceptional 100% varietal Cabernet Sauvignon wines from Keenan Vineyard on Spring Mountain, from vineyard blocks growing right next to each other but from different clones. The vines are located at about 1,850 feet in a specific block referred to as "Big K" – referencing their last name, the highest block in their vineyard and also the site that has produced numerous wines earning top scores over the years.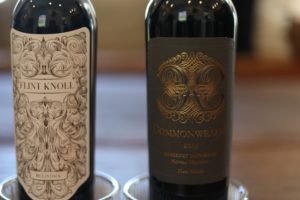 The 2019 Flint Knoll Spring Mountain Cabernet Sauvignon (is made from Bordeaux clone 15, a rare clone in Napa Valley but more common in southern France). This 100% varietal wine is dark ruby in the glass with purplish tinges and is opaque; the aromas are dark with an appealing union between both fruit and barrel influence. It offers aromas of dark plum, blackberry, boysenberry and bramble along with notes of tobacco smoke. It is generous in flavor across the palate with a noticeable density of tannins featuring a long lasting and slightly dry grip anchoring the finish. This wine also lingers with notes of dried tobacco leaf. One quickly notices it's lively acidity – especially on the finish.
The 2018 Flint Knoll Spring Mountain is 100% varietal Cabernet Sauvignon. One can initially smell the varietal characteristics including a rose stem like aroma, dust and deeper into the aromatics, hints of chocolate. Mouthwatering, it offers flavors of plum and darker cherry with drying tannins of a medium grip. The finish is slightly chewy and savory with notes of pepper; it is very long lasting. This is a very youthful wine at the time of our tasting, three years post vintage and certainly has years of life ahead.
And the 2019 McLintock Cabernet Sauvignon is made from clone 7 (Spring Mountain, Keenan Vineyard). The first vintage of this wine was in 2018, a year that both of Aaron's grandfathers passed away. Remarkably both men considered the 1963 western/comedy McLintock starring John Wayne and Maureen O'Hara among their favorite films; this wine is an homage to them. This wine is dark ruby in color with primarily darker fruits on the bouquet along with notes of dust, licorice and as the wine opens in the glass, reveals aromas of darker baking spices. Generous in flavor and serious in structure – this is robust meat lovers Cabernet Sauvignon. It is deeply layered across the palate and carries a noticeable weight of dense long-lasting tannins along with notes of crushed peppercorn lingering on the finish.
Las Posadas Vineyard (owned by vintner David Abreu) is located on Howell Mountain, just below the Angwin Airport at about 2,000 feet. The 2019 Commonwealth Cabernet Sauvignon Las Posadas Vineyard (100% varietal, clone 4) is noticeably dark ruby in color; the bouquet shows aromas of earth, cedar, spicy plum and dried herbs. The palate offers juicy and mouth filling fruit, featuring expansive flavors including of ripe blackberry, plum, dark cherry and cloves. The gravelly textured tannins are dry and dusty yet are well integrated among the intensity of the fruit, but perhaps are not as robust as one would expect from a mountain located site. Our overall impression of this wine is its beautiful balance.
In regard to the ageability of his wines, Aaron's ideal conversation when someone is trying one of his Cabernet Sauvignon wines some 20 years post vintage date would be, "what did they do to make this wine" referring to how well the wine has aged, and his older self would simply reply, "it is all about the fruit".
—
The Flint Knoll labels are among some of the most ornate and visually intriguing in the valley especially the etched larger format bottles. The details were inspired by the designs on the barrels of several family heirloom shotguns.
In late 2022 Aaron is releasing his own limited producing cigar brand through a partnership with Macanudo Cigars.
Aaron spends a significant amount of time on the road showing the wines to select clients across the country at vintner dinners and other special events. He is building his brand organically, getting to know each customer at a time. Total annual production is around 1,300 cases per year with most of their wines sold direct to consumer through referrals. Flint Knoll has limited distribution in Texas and Kansas. Collectors and serious wine enthusiasts can make an appointment with Aaron to taste the wines at Mending Wall Winery where the Flint Knoll wines are produced.
To join their mailing list and or for more information, visit: www.flintknoll.com