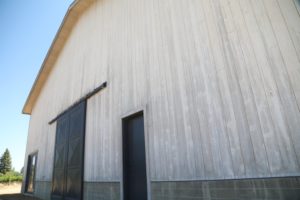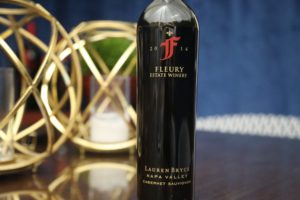 Fleury Estate Winery sees serious wine enthusiasts and collectors by appointment only. The winery is located mere minutes from the often very busy "wine strip" off of Highway 29, a section of Napa Valley between approximately Yountville and St. Helena which houses some of the larger and most historic wineries.
There are no signs directing one to this winery from Highway 29 – just a small copper colored sign above their mailbox next to their driveway entrance. Despite being mere minutes from the often-incessant traffic of Highway 29, when one reaches this property their heart rate will invariably drop a few octaves. There is no traffic, it is quiet here and one is surrounded by fields of vineyards. A gravel driveway passes through rows of vines and ends at a small dirt parking space in the shade of a large walnut tree next to an old cottage house.
Founder and owner Brian Fleury began this winery from the ground up in 1996 when he and his wife Claudia purchased this property in Rutherford. Brian was a successful businessman in the San Francisco Bay Area who was involved with various software related businesses including packaging and various work with Microsoft. It was Brian's love of wines, his friendship with Dave Del Dotto and his passion for collecting fine wines that ultimately brought him to the Napa Valley.
However, there is a big difference between collecting fine wine and purchasing vineyards and building a winery in Napa Valley. Often those who come to Napa Valley from other disciplines who become winery owners, usually play a "background" role. Not so with Brian. He is completely self-taught and worked with a number of vintners and wine educators over the years. Today with the help of another winemaker – he oversees the Fleury winemaking.
This is both a passion and a family business; while they do employ one or two people, Brian is often on-site greeting visitors for the tastings. Claudia operates a successful interior decorating business and has provided her services to a number of well-known Napa wineries including Piazza del Dotto. Sometimes she will conduct tastings as will their son, Connor.
After their initial purchase in Rutherford (site of the winery), Fleury acquired additional acreage and vineyards in St. Helena and on Deer Park near Howell Mountain. Today they own some 50 acres; 11 acres in Rutherford, 30 acres in St. Helena and 6 acres in Deer Park. With three very unique sites under their ownership, Fleury focuses on terroir and vineyard specific wines. Their Rutherford winery estate is planted to a number of Bordeaux red varieties along with some Sauvignon Blanc.
For many years tastings have been conducted inside their barrel room (the building with the bright red doors). Individual tasting spaces have been created inside this room – so even if other groups are tasting simultaneously, one will still be enjoying their wines in a private space. A tasting here combines the rustic feel of a working winery with a subtle elegance and Claudia's interior décor within the curtained off tasting spaces. Connor is an artist and several of his paintings are available for sale inside the winery.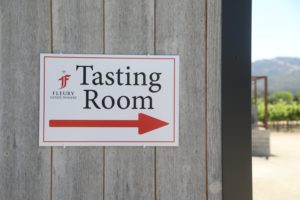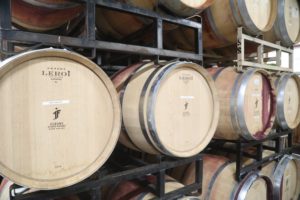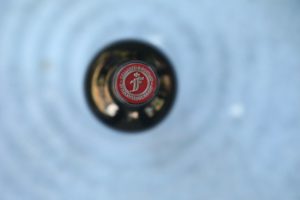 Visitors years ago may recall the Fleury bathrooms located inside giant wine barrels. Unfortunately, these have since been removed in favor of conventional restrooms. Since the original winery building was constructed, a much larger winery building was built. Plans are to move both production and hospitality into this building – perhaps sometime by late 2021.
Besides tasting current vintages, one rarely leaves Fleury without trying a few barrel samples of future releases. And somewhat unusual is a number of their current releases are older wines.
Brian offers a "barrel blending" seminar in which guests can create their own red blend by tasting through a variety of red components before creating a final blend.
Guests participating in this will keep bottles of any blends they create.
Select Wines
Albariño is an extremely rare white variety grown in Napa Valley and is a grape that is better known in parts of Spain and Portugal. Out of some 1075+ Napa Valley wineries or producers we have personally met with – we are only aware of several other Napa wineries producing wine from this variety from grapes grown in Napa Valley. And the Fleury Albariño may be the only mountain planting of this variety in all of Napa Valley. The grapes are grown on their Deer Park property located off of Mund Road on the way up to Howell Mountain. 2015 was their first vintage.
This wine is called Fleurty – a cute 'play' on the family last name. The 2019 Fleury Estate Winery Fleurty Albarino is medium gold in color; shows aromas of ripe Golden delicious apple, honeysuckle and as the bouquet breathes further, hints of grapefruit. Creamy and rounded. Soft is the word we immediately chose to describe the wine's texture. Flavors of mandarin, lime, kiwi and green apple. Shows good acid balance but not a bracing acidity that we have noticed in wines of this variety growing in cooler regions. No tartness.
The Fleury Sauvignon Blanc is not crafted in a New Zealand style – often associated with grassy or green characteristics, i.e., wines of this variety that often showcase bracing acidity. Rather their Sauvignon Blanc is grown in Rutherford, a fairly warm part of the valley, and tends to be fairly complex with noticeable weight on the palate.
The 2018 Fleury Estate Winery The F in Red Proprietary Red Wine Blend is medium to deep purple in color; offers a showy bouquet with aromatics of dark fruit and dark cedar. Savory with notes of pepper and some meatiness. Spicy plum. Blackberry. As the wine opens the bouquet reveals notes of brown chocolate, mocha and espresso. The acid clearly shows on the palate, lingering, especially on the finish with a berry and red cherry tartness. The tannins offer a medium grip and are well integrated – there are no sharp edges here. Features a juicy, dark and savory finish with notes of cedar plank. Offers plenty of oak both on the bouquet and the palate – which dissipates somewhat given time in the glass. Still has some years ahead of it. If we had to guess the dominant variety in this wine based on the initial aromatics, we would say it is Syrah, but we know that they do not grow this variety.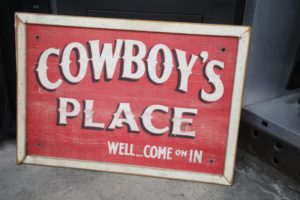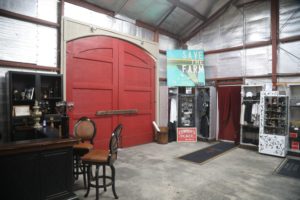 The F in Red label is covered with various font types of the letter F. The story goes that the family could not decide on which font worked best for this wine, so Brian simply decided to showcase all their efforts by silk screening numerous fonts around the entire bottle. And they chose a careful spelling of the name – a play on a name with much a more profane connotation.
The Howell Mountain BDX (their play on the word Bordeaux) is a red blend in which Cabernet Sauvignon is the dominant variety. The 2010 Fleury Estate Winery Howell Mountain BDX shows warm and inviting aromas including blackberry, mocha and dessert spices on the bouquet. On the palate offers notes of plum and cherry along with higher fruit tones. Firm (but not grippy) tannins anchor a very long finish. Big but balanced, this is a good steak wine. Only 200 cases were produced. This wine has been on the wine list at the 3-star Michelin rated French Laundry in Yountville.
The 2010 Fleury Estate Winery Rocket Juice (not to be confused with Caldwell Vineyard's Rocket Science bottling) initially shows earthy and mushroom notes on the bouquet – but these are fairly fleeting as the wine opens. Shows mostly dark fruit on the bouquet with blackberry and ripe plum. Fairly fruit forward on the bouquet. As the wine continues to breath offers notes of mocha, desert spices and hints of old cedar box. This wine is a pleasure to drink and texturally feels nice with its rounded integrated tannins.
During select years, Fleury sets aside barrels of wine to make into brandy; these are wines that don't fit into their portfolio for whatever reason. They use some of this brandy to fortify their Zinfandel Port-styled wine. Dessert wine lovers take note: their 2005 Zinfandel Port is an exceptional wine delivering a richness of flavor, aroma and sugar.
—
Total annual production is roughly around 2,500 cases per year but has been as high as 4,000 cases per year. Membership to their allocation list offers a number of unique perks and benefits including access to their various vineyard properties. Pop a cork on a Fleury bottle – one will see the line, "100% good juice"! For more information, or to schedule a tasting, please visit: www.fleurywinery.com