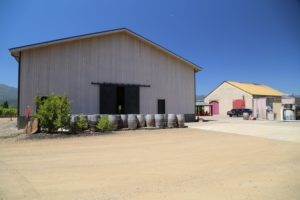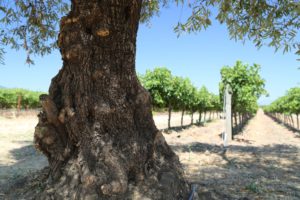 Fleury Estate Winery is an appointment only winery for serious wine enthusiasts and collectors, located mere minutes from the often very busy "wine strip" off of Highway 29. There is no sign directing one to this winery from the main highway – just a small copper colored sign above their mailbox. Despite being mere minutes from the traffic of the highway, a visit here is a much quieter part of Napa. Their gravel driveway leads through rows of vines ending at their two barrel rooms. Parking is in the shade of an large walnut tree next to the old cottage house.
Founder and owner Brian Fleury began this winery from the ground up in 1996 when he and his wife Claudia purchased this Rutherford property. Brian was a successful businessman in the San Francisco Bay Area who was involved with various software related businesses. It was Brian's love of wines and his passion for collecting fine wines that ultimately brought him to the Napa Valley.
However, there is a big difference between collecting fine wine and taking the next step in purchasing vineyards and building a winery. Often those who come to the Napa Valley from other disciplines – who become winery owners usually play a "background" role. Not so with Brian. He is completely self taught – he worked along side a number of vintners and wine educators – and now oversees the Fleury wine making operations.
This is truly a passion and a family business; while they do employ several staff and a General Manager, Brian is often on site greeting visitors for the tastings. Claudia (who has a successful interior decorating business including providing her services to a number of well-known Napa wineries) sometimes will conduct tastings.
After their initial purchase, Fleury acquired additional acreage and vineyards in St. Helena and on Howell Mountain. Today they own some 50 acres spread over 3 vineyards in 3 Napa appellations – Rutherford, St. Helena and Howell Mountain. With a variety of unique sources that remain constant year after year, Fleury can focus on very terroir and vineyard specific driven wines. Their Rutherford winery estate is planted to a number of Bordeaux red varieties – they also grow some Sauvignon Blanc on site.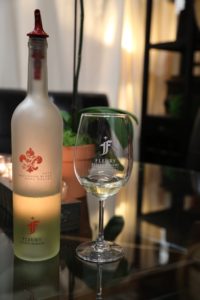 For many years tastings have been conducted inside their barrel room (the building with the bright red doors). Individual tasting spaces have been created inside the barrel room – so even if other groups are tasting simultaneously you are still tasting in a private space. A tasting here combines the rustic feel of a working winery with a subtle elegance of the curtained off tasting spaces.
The bathrooms are fairly unique – they are made from giant wine barrels and sometimes visitors get 'stuck' inside taking photographs.
NOTE: a much larger winery building has been constructed on site and was open by mid 2018. This has dedicated space for hospitality/tastings – separate from the workings of the winery.
Besides current vintages you rarely leave a tasting here without trying a few barrel samples of future releases. A number of their current releases are older wines (fairly unusual for a Napa winery to be pouring older vintages like this).
A "cottage" tasting is held in a small restored historic house on site – note the beautiful lavender garden in front of this cottage. Brian's son is an artist and several of his paintings are available for sale inside the winery.
Ask Brian about his "barrel blending" seminars; these are pricey but you are tasting extremely high quality wines and you get to keep the final blends when you are finished.
Select Wines
The Howell Mountain BDX (their play on the word Bordeaux) is a red blend (Cabernet Sauvignon is the dominant variety). The 2010 Fleury Howell Mountain BDX shows warm and inviting aromas including blackberry, mocha and dessert spices on the bouquet. On the palate shows notes of plum and cherry along with higher fruit tones. Firm (but not grippy) tannins anchor a very long finish. Big but balanced – a good steak wine. Only some 200 cases were produced. This wine is generally on the wine list at the French Laundry in Yountville.
Their Sauvignon blanc is not a New Zealand style wine (grassy or green in nature, wines that often have bracing acidity). Rather their Sauvignon Blanc is grown in Rutherford (can be a fairly warm part of the valley) and tends to be fairly complex with weight on the palate. Brian makes a delicious Zinfandel/Cabernet blend simply called the Z Cab.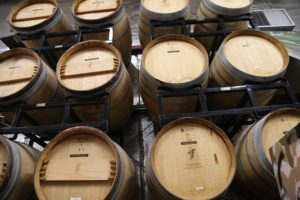 The 2010 Rocket Juice initially shows earthy and mushroom notes on the bouquet – but these are fairly fleeting as this wine opens. Shows mostly dark fruit on the bouquet with blackberry and ripe plum. Fairly fruit forward on the nose. As the wine continues to breath shows some mocha, desert spices and a tinge of cedar box aroma. A pleasure on the palate with fairly well ingrained tannins.
Some years, Fleury sets aside barrels of wine to make into brandy (wines that don't fit into their portfolio for whatever reason). They use some of this brandy to fortify their Zinfandel Port-styled wine. Dessert wine lovers take note: their 2005 Zinfandel Port is an exceptional wine delivering a richness of flavor, aroma and sugar.
Albariño is an extremely rare variety grown in Napa (a grape that is grown in parts of Spain and Portugal). Out of some 1000+ Napa producers we have met with – we are only aware of several other Napa wineries producing wine from this variety (from grapes grown in the Napa Valley). Theirs grows in their St. Helena vineyard. 2015 was their first vintage of this variety.
—
Their total annual production is roughly between 3,000 and 4,000 cases. Membership to their wine club has a number of unique perks and benefits including access to their various vineyard properties. For more information, visit: www.fleurywinery.com
NOTE: this review has been identified as needing an update.