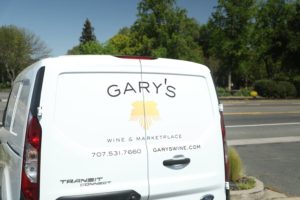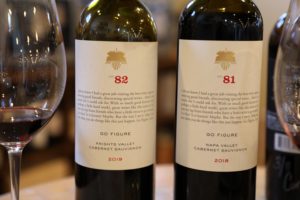 Fisch Family Wines. Founder and owner, Gary Fisch is from New Jersey; he began his career in wine after graduating from Rider College with a B.S. in Political Science as a sales associate at New Jersey based Fedway Associates, Inc. This is a wholesale wine and spirits supplier which was founded right after the repeal of Prohibition. They continue to serve the New Jersey market, delivering wine and spirits from their nearly 640,000 square foot warehouse in New Jersey to over 7,000 restaurants, clubs, retail shops. Gary was in his early 20s when he started working here, as he admits, he was raw and didn't know much about the business. His initial role was to sell wine and spirits to retail stores. He recalls a case of Dewars Scotch was $100 and a case of Louis Martini wine was $15. Commission was 5%. Its no wonder the salespeople focused on selling spirits.
During his first trip to Napa Valley in the summer of 1979, his first winery visit was to Louis Martini Winery. He met Louis Martini on this trip and remembers being impressed by a wine maker who owned his own property. He continued to sell product for Fedway, eventually becoming more interested and educated on wine. Louis Martini became his only Napa Valley client along with other California wineries including Wente in Livermore and Paul Masson Winery (now known as The Mountain Winery). As his focus shifted to wine, so did his accounts – becoming primarily restaurants. The company offered wine trips to California to top performing salespeople. By the time Gary was in his mid 20s he had participated on several of these trips.
When he was 29 years of age, one of his clients approached him about wanting to sell one of his liquor shops. In 1987 Gary and his brother purchased the store and continued to operate it as, Shoppers Discount Liquor Wine Warehouse (it's original name). This 1,200 square foot shop was in Madison, New Jersey. They outgrew this space, moved to a 4,000 square foot space which was formerly a Chinese restaurant, then outgrew that space and moved into a 13,000 square foot former car dealership. As they grew they added more products including a selection of cheeses, charcuteries and other specialty items. The old name quickly became dated and customers became confused.
In polling his customers as to what they referred to the store as, many simply said we come here to see Gary. And hence the name Gary's Wine & Marketplace was chosen. In 2001 Gary opened his second Gary's in Bernardsville (13,000 square feet), followed by Wayne (24,000 square feet) and in 2017 Closter (9,500 square feet). Two of these openings were amidst significant economic downturns (1987 and 2007) so by the time Gary's in St. Helena opened, Gary thought for sure he would finally open a store without any significant interruptions. He was wrong. And as he told us in mid 2023, its like he's only been open a year despite the store actually being open since 2019.
Gary's Wine & Marketplace
St. Helena, CA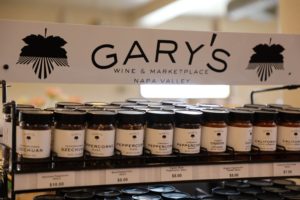 This Gary's opened on October 3, 2019 and permanently closed in late July 2023. We keep our notes here for historical purposes. This space was housed in the former Dean & Deluca wine shop which opened in 1997 and operated for more than 20 years. Old timers may remember Tripoli Market which was here prior to Dean & Deluca or perhaps The Spot Restaurant next door and or the bowling alley, both of which were in the same location as the current Press Restaurant.
Prior to opening this Gary's, Gary would visit Napa Valley several times a year. During his trips he always stopped at Dean & Deluca, often for a coffee or espresso. He began to notice that the product selection at Dean & Deluca had significantly fallen off and by July of 2019 it appeared the store needed an infusion of energy and creativity. A friend connected him to the landlord of the building, the Rudd family (Ruddy Winery) and a deal was soon reached to take over the occupancy.
This was the first Gary's to open outside of New Jersey. Its location was a central one in the valley attracting both visitors and locals. We very often would see winemakers and winery owners stopping in for either food, wine or for a friendly chat with Gary when he was here. You never know who you wouold bump shoulders with inside the store. And the location tied in with Gary's own early history in the valley; Louis Martini, located on the other side of the highway was the first winery Gary visited during his first trip to Napa Valley.
This location in particular was known for their excellent selection of Napa Valley wines including numerous bottlings from small producers. A special section within the wine portion of the shop was dedicated to great value wines. And some of Napa's most coveted and exclusive bottlings are often available. A gourmet deli was located to the rear of the shop with a limited amount of indoor seating and weather permitting, several tables for outdoor dining. The variety of culinary related products (both domestic and international) sold was impressive including a large cheese selection. And Gary's also sells durable wine suitcases, great for those visiting the valley who have racked up a case or more of purchases and want to safely get their wine home.
A limited number of automatic wine dispensing stations were available for customers who want to sample available bottlings. Visitors could choose between various sized pours and enjoy at the tables next to the wine stations or bring glasses with them to enjoy with food from Gary's either at the tables in the back of the store next to the deli or outside on the patio.
On a regular basis, Gary's would host winemaker and other wine related tastings including a local's night.
And perhaps not as well known are Gary's event planning services including for parties, weddings and corporate gatherings.
Gary's offers two wine clubs (Sommelier Society and Connoisseur) differing in the number of bottle's shipped each quarter (6 or 12) and for Napa Valley wine enthusiasts a third option, the Napa Valley Select (6 bottles of Napa Valley Cabernet Sauvignon shipped every quarter).
Madison
Visit coming soon.
Bernardsville
Visit coming soon.
Wayne
Visit coming soon.
Closter, NJ

All of the Gary's offer a wide range of wines from as Gary told us, "from box wines to Petrus". And each Gary's is a contributor to their local community and are active in supporting a variety of charities in both Napa Valley and New Jersey.
Select Wines
The inception for Gary's own wines began sometime around 2008. He met a winemaker at Bouchon Restaurant in Yountville who wanted to bounce some ideas off of him in regard to starting her own wine brand. At the end of their meal she asked Gary something like, "What can I and or the Napa Valley community do to help you?" They discussed the possibility of Gary purchasing finished wine each harvest from various wineries and bottling them under his own brand.
Soon he was introduced to graphic designer who provided him with several sheets of names and ideas for a wine brand. One page caught his eye; the designer had written a number of two word names using Gary's initials of GF. These included Go Figure, Good Friends and Gourmet Food among many others. These all resonated with him, but Go Figure stood out in particular.
He visited what was Hartwell Winery (now Realm Cellars) and met with winemaker Benoit Touquette with the intention of purchasing Cabernet Sauvignon already in barrel. He left the property with an agreement to purchase a Sauvignon Blanc instead. This wine was already in barrel and there were no plans yet to bottle it. And it was excellent wine. This was the first vintage of Go Figure; the brand has evolved over the years but is typically reserved for one-off bottlings. Today Gary operates four wine brands.
– Go Figure are one-off very limited production bottlings that Gary and his team source from winemakers at premium wineries who for whatever reason have additional wine after their own bottling. These wines are always listed with a lot number on the bottle. And the wines are not all from Napa Valley but also include neighboring Sonoma County.
– Fisch Family includes a Sauvignon Blanc and a Cabernet Sauvignon
– Gary's Napa Collection was rooted in a desire to produce a Cabernet Sauvignon from the same sub appellation that Gary's store is located in, St. Helena.
– Grand Finale is typically a single barrel production or less and is rooted in lots offered at Premiere Napa Valley every winter. This event offers wine tastings and a grand auction for wine trade in which special winery lots are sold.
The 2018 Go Figure Lot 72 Barrel Fermented Chardonnay was sourced from Napa Valley's cooler Carneros region. This wine is medium yellow in color; one quickly notices the floral and sweetly-fruited immediacy of the aromatics. Its open knitted and expressive of honeysuckle, jasmine and a honeyed note including honeycomb. It also offers scents of ripe stone and tropical fruits including of apricot, yellow peach and mango. To some extent the flavors mirror the bouquet offering red apple, peach, apricot, pear and vanilla. Its texture is creamy and rounded and holds nicely up to the richness of the fruit and also the brightness of the long finish. We tasted this wine 5 years post vintage date and its showing very well and still has more time ahead of it.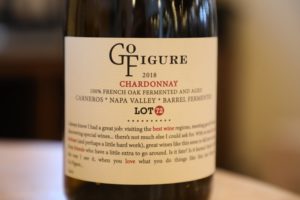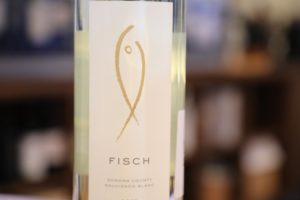 The 2019 Go Figure Rutherford Lot 88 Cabernet Sauvignon is 96% Cabernet Sauvignon, 3% Petit Verdot and 1% Merlot. This wine is deep ruby in color; the initial burst from the bouquet is somewhat spicy including dark tobacco intertwined with lovely aromas of violets, plum, and a red vine licorice. But hidden below these initial aromatics and revealed with more air, are sweetly fruited notes. As it opens the scents reminded us of very ripe Santa Rosa plums which have fallen on the ground naturally and then left to heat up in the warm summer sun for a day or two. Still edible but almost too ripe. This bottling is lighter styled on the palate and easy drinking. It offers flavors of plum and boysenberry along with cherry. It finishes very smooth with supple, rounded and fine-grained tannins. There is a light dessert spice plus a hint of pepper lingers on the finish. It was aged 20 months in 70% new French oak.
The 2018 Go Figure Napa Valley Lot No. 81 Cabernet Sauvignon was bottled by Jean Edwards Cellars, friends of Gary's who are also from New Jersey and own and operate their own Napa Valley wine brand. This bottling is deep ruby and garnet in color; the bouquet initially offers some lighter notes of dessert spices including nutmeg and clove along with a hint of chocolate and a light cedar spice. The fruit shows as aromas of blackberry and dark plum and as it evolves in the glass, it reveals scents of dried rose petals. It is also somewhat briary/brambly. The palate shows a textural softness right at the entry. A noticeable brightness, juiciness and lingering mouthwatering sensation is due to its higher acidity. The palate offers primarily red-fruited flavors including cherry and currant. The lightly grainy tannins are nicely integrated and are dusty with a very subtle persisting dry character.
The 2019 Go Figure Knights Valley Lot No. 82 Cabernet Sauvignon is 75% Cabernet Sauvignon, 6% Merlot, 4% Cabernet Franc and 15% Petit Verdot. This wine is deep ruby in the glass; the bouquet offers an appealing union of both fruit and some spices including of dried herbs, a hint of basil (we rarely note this in red wines from Napa Valley or Sonoma), some earthy characteristics and black raspberry. The tannins feel cushiony, like a soft mattress that has lots of give when you lie down on it. They are very well integrated into the finish with a polished, ripe and almost plump texture. This wine lingers with a light dryness, a hint of chocolate and a layer of cigar spice. One could almost call the finish slightly savory.
And as expected the Fisch Family Wines are sold at all 5 of the Gary's locations.
For more information, to purchase wine or to join one of their wine clubs, visit: www.garyswine.com