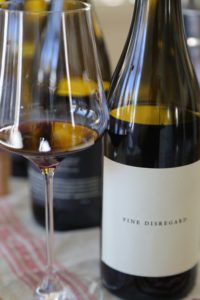 Fine Disregard Wine Co was founded by Mike Schieffer and Kara Maraden – both came to the Napa Valley drawn to wine from previous careers, Mike from Texas and Kara from Pennsylvania. Mike graduated from American University in Washington, DC – worked for the Discovery Channel – exploring a possible career in law – but then was bitten by the wine bug. His introduction to wine making came through a Rugby coach who connected him with several wineries in Bordeaux – Mike worked in Bordeaux in 2008 and later in the Hunter Valley in Australia where he was introduced to Sémillon – an introduction that would later influence his decision to work with Sémillon in the Napa Valley.
Mike has worked at a number of premium Napa wineries including Beaulieu, Keever and at Turley (where he works with a diversity of vineyards from select parts of the state).
Kara graduated from Penn State University with a Bachelor's degree in Horticulture and Master's in Plant Pathology. Trying to determine a career – she initially helped managed large estate gardens in Pennsylvania, sold beer for a stint before moving to California in 2010. Initially seeking a job in a tasting room, she soon discovered viticulture was a better match to her interests and background. She has been a viticulturist for Clos Du Val, Regusci and Foley Family of Wines.
When deciding upon a name for the wine – friends advised Mike to make it personal but refrain from naming the wine after himself. Reflecting on his two passions, wine and rugby he borrowed a line from a famous quote on a plaque erected in 1895 in front of the Rugby School in the town of Rugby, United Kingdom (about a two hour drive from London).
"This stone commemorates the exploit of William Webb Ellis, who with a fine disregard for the rules of football as played in his time, first took the ball in his arms and ran with it, thus originating the distinctive feature of the Rugby game, A.D. 1823."
Mike's philosophy of wine making is fairly minimalist as far as intervention – he does not inoculate with commercial yeast, rather uses indigenous yeasts.
He describes truly great Napa wines as more textural driven rather then aromatic. His wines capture the essence of Napa – the abundance of sunshine but crafted in a style that promotes the vibrancy of fruit and freshness – in part tied into natural acidity.

In a refreshing decision tempered by the challenging environment of sourcing and maintaining Napa vineyard sources, Mike and Kara decided to focus their production on varieties that are much more difficult to find in the Napa Valley – Sémillon and Syrah.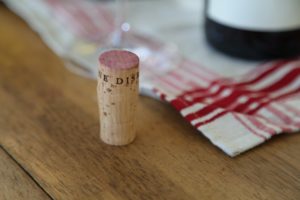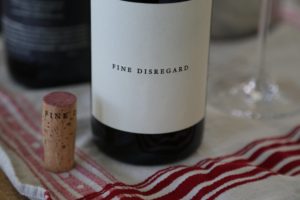 It can be difficult to locate great Sémillon vineyards in California much less in the Napa Valley where the varieties tend to be more homogeneous (with the focus on primary Bordeaux varieties and to a lesser extent in the southern part of the valley on select Burgundian varieties). Sémillon has presumably been priced out of the valley based on the cost compared to other more popular varieties. And it is not always the easiest variety to work with – Mike eloquently describes its susceptibility to noble rot, "it has a committed relationship with Botrytis" – certainly not what you want when producing a dry Sémillon. They tend to pick their Sémillon early (certainly helpful in regards to avoiding Botrytis).
The 2016 Napa Valley Sémillon is a blend of three Sémillon vineyards including fruit from the coveted Yount Mill Vineyard (most likely one of the oldest Sémillon vineyards in all of Napa Valley with original vines dating back to the 1960's). The wine is straw yellow in the glass – shows aromas of lemon zest, citrus blossom and as the wines breathes, aromas reminiscent of wild gooseberry (we always enjoy the challenges and taste of eating these in California's Sierra Nevada mountains when they ripen in late summer). Shows a pleasing roundness on the palate – carrying some weight but not heavy. Excellent acidity with a clean finish.
The Milhouse Vineyard is located in Napa's Oak Knoll District – this Sémillon comes from a 1/2 acre block which also contains a mutation of Sémillon, a pinkish/gray skinned Madeira clone) which tends to add a textural and spice component to the wine. The 2016 Milhouse Sémillon is golden in the glass (slightly darker then the Napa Valley Sémillon) – bright aromatics including floral notes (citrus), melon, baking spices and a lemon zest. Seamless throughout. Sémillon is a variety that can handle oak which adds to the textural qualities on the palate. Shows vibrant acidity.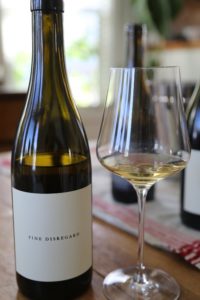 The first vintage of Fine Disregard Wine was a Syrah in 2014 – 40 cases for friends and family that was never commercially released. Kara and Mike recalled bottling and labeling this wine all by hand. Normally when one sources fruit for small production wines it is from a vineyard block – however through her vineyard contacts, Kara located simply one row of Syrah in a vineyard in the Stags Leap District. The row is approximately 120 vines – farmed by Kara and Mike. Rather then Syrah cuttings taken from France this Syrah was brought as cuttings from old vine Shiraz vines growing in the Barossa Valley in Australia. They were able to produce several vintages of this wine before having to change the vineyard source.
A small section of nearby Sémillon ripens at the same time as the Syrah – they co-ferment both varieties together. The 2016 Los Row Syrah saw 4% Sémillon. The wine shows pretty aromatics – fruit forward and well-layered. Aromas of dried rose petal, violets and higher toned fruits (raspberry and red cherry). As Mike mentions, this wine shows "an aromatic lift". A sweetness of darker fruits threads its way through the palate from start to finish framed by excellent acidity. Slightly dusty and well-integrated tannins linger softly.
Mike and Kara were introduced to the Altas Piedras Vineyard in Alexander Valley (neighboring Sonoma County). This site "ticked all the boxes" as Mike puts it for what they were looking in a quality Grenache Vineyard. The vines are head trained, the site is dry farmed, and farmed organically and it sits up at elevation in soils that are extremely rocky. Literally Altas Piedras translates to 'high rocks'. Mike calls his efforts crafting this wine "lazy winemaking" – taking a hands off approach letting all the hard work done in the vineyard show in the winery.
The 2016 Altas Piedras Grenache shows dessert spices on the bouquet including clove and cinnamon, rhubarb and a hint of mocha (very subtle). Balanced and with restraint, the wine shows no harsh edges from front to finish. Well managed tannins are dry, dusty and fine grained. This wine drinks very well by itself.
Production has been around 500 cases per year mostly sold through their mailing list but with some distribution in California, New York, Washington DC and Pennsylvania. For more information and or to acquire wine, please visit: www.finedisregardwine.com