FiftyRow Vineyards was founded by Paul and Marion Johnson. Both grew up around wine, Marion was born and raised in the Rheingau part of Germany – later in his life, Paul spent some twenty years living and working in parts of Europe including Sweden and Spain. Wine was often a part of family meals.
While in college, unlike many of his friends who drank beer, Paul became interested in wine. His friends would often kid him about his interest in wines – later in life he would joke that he would be the one making wine before age 50. That became a reality when in 2003, Paul at the age 44 became a winemaker for the first time in his life. His first commercial vintage of Fifty Row was from 2003.
Paul began collecting wines; while living in San Diego in the late 1990s he would often frequent a wine shop in the north county, called Wine Street located in Carlsbad. One day while stopping in the store he casually said, 'see you next week' and the reply was something like 'no you will not, we are closing permanently'. Paul went home, thought about the void this would leave for the community and his own interest in buying wines locally – and the next day visited a nearby bank and paid off the store's debt and became the new owner. He changed the inventory, opened up the shop for special tastings including winemaker events and it was during his ownership that he met Napa winemaker Gary Galleron. Paul sold the shop in 2001; today it is still in business, known as La Costa Wine Company.
Paul visited Napa Valley a number of times and became friends with Gary. When Paul decided to create a wine brand, he contacted Gary who was instrumental in crafting the early vintages of Fifty Row. Initially Paul told Gary, "Do not only make my wine, but teach me how to make the wine." Over the years Gary has become less involved in the winemaking and today Paul oversees the winemaking for both Fifty Row and Smokescreen, his larger production wines mostly sold via restaurants.
Smokescreen wines are crafted with both quality and reasonable price points in mind – which in the world of wine doesn't always go hand in hand. Initially Paul sourced the grapes for this label from the Napa Valley but over the years in order to continue to create these reasonably priced wines, with the exception of his Cabernet Sauvignon, he now sources fruit from outside of the Napa Valley. And he admits, this was a good decision – he is making better wines these days with the wider variety of fruit sources.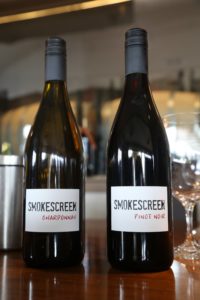 The impetus for the Smokescreen wines was because of the recession of 2008. While making sales trips, he was often told "we can't sell anything for more than $30." Paul began thinking of wines he would introduce to the market at this price point – so he called Gary and tapped into his Napa Valley network of vineyard sources – finding a premium Chardonnay winery who because of the economic downturn had not bottled all of their wines. They sold Paul some of their premium Chardonnay.
Needing a label design and not yet deciding upon a name – he approached Marion. She soon created a very simple and contemporary easy to read label merely listing the name of the brand and the variety as their front label.
Select Wines
The 2016 Smokescreen Chardonnay is a blend of grapes from Monterey, Napa and Sonoma counties. Paul always serves this wine at room temperature – he can remember taking a tour with Dennis Zablosky, Frank Family's legendary former tasting room manager. Dennis said something like, "we serve our Chardonnay at room temperature – because we can" referring to the quality of their wine standing on its own and not being an inferior Chardonnay in which any faults would be hidden by a cooler temperature.
The 2016 Smokescreen Chardonnay was fermented entirely in barrel and aged sur lie. Golden in the glass one can immediately tell from the aromas that this wine has some complexity with bright and intense aromatics including citrus blossom, melon, and apricot. The texture is quickly noticeable, creamy and oily but without the heavy-handed influence of oak and or popcorn buttery flavors that are representative of certain styles of this variety. Golden apple, vanilla and a hint of desert spice shows on the finish. A pleasure to drink by itself.
The 2016 Smokescreen Napa Valley Cabernet Sauvignon is sourced from a variety of vineyards in the Napa Valley including in Rutherford and a number of what Paul calls, "backyard vineyards" – tiny vineyards Paul and Gary located through personal relationships. It is extremely difficult to find a Napa Valley produced Cabernet Sauvignon at this price point. Offers aromas of red cherry, pomegranate and a hint of chocolate and cedar box on the bouquet. Also, a bit floral. Shows more red fruit then dark fruit on the palate – with a tartness and slightly tight tannins on the finish. Needs some time to open in its youth.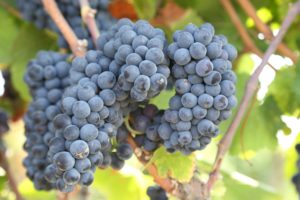 Over the years, Paul has worked with several fine Napa Valley vineyards including Morisoli and Lewelling. Today he sources Cabernet Sauvignon from a Galleron family-owned vineyard on Galleron Lane in Rutherford. Gary's Aunt Alice lives on the property and this wine is named in her honor.
The 2016 Fifty Row Rutherford Cabernet Sauvignon, Alice Block spends two years in 60% French oak. Crimson dark in the glass it offers a pretty bouquet with opulent fruit including spicy plum and ripe blackberry complemented by aromas of tobacco, darker spices (cloves), dry cedar, mocha and chocolate undertones. But given time to open, this bouquet is mostly about the aromatic layers of fruit. Shows all the hallmarks of being an age worthy wine with plenty of fruit, acidity and well textured tannins with a firm grip, lingering with both oak and fruit tannins.
—
In 2018 Fifty Row Wines became one of the vintners represented at Silenus Winery located just south of Yountville. Silenus is a "collection of artisan winemakers" – this is a custom crush facility for a number of small wineries (the number varies depending on the year). What separates Silenus from other area collectives is not only do these wineries taste their wine here, but they also make it on site as well. The brands represented do not own physical wineries.
Silenus has a coveted permit to allow guests to bring food on site and picnic (provided you do a tasting either before or after your lunch). Guests who picnic but do not do a tasting must order at least a bottle of wine. The lower grounds are quiet and a very relaxing space to enjoy part of your day (weather permitting). Several picnic tables are located in this shady grotto next to a bocce ball court.
Total production of both Smokescreen and Fifty Row is around 8,000 cases per year – much of it distributed to select restaurants across more then 20 states. For more information and or to join the mailing list, visit: www.fiftyrow.com
La Costa Wine Shop, Carlsbad