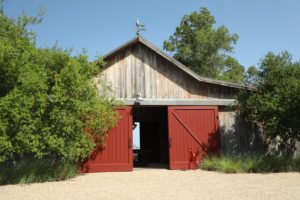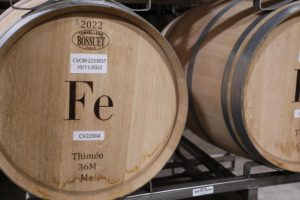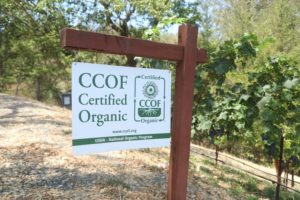 Fe Wines. Sometimes properties speak to you for a variety of reasons. Take the seventeen-acre FE Wines site located on the lower slopes of Spring Mountain District. It feels and looks remote yet at the same time it is not – as driving distance to either Calistoga or St. Helena is under 15 minutes. One doesn't need to be far above the valley floor for exceptional views; the vistas from this property are expansive and stunning.
FE Wines was founded by Jon and Joanne Goldstein. Jon was raised in Sacramento; one of his earliest wine memories is of his mother shopping for Heitz vintage bottles from the late 1960s, ultimately finding these wines at a Longs Drug Store. It's always surprising the retail outlets that carried Napa wines decades ago. We have also seen reference in old newspaper ads to Heitz and Martini wines being sold in early Trader Joe's stores. Later Jon began collecting wine, first storing bottles in a public air-conditioned warehouse in San Francisco and then later building a wine cellar. He and Joanne would often take weekend trips to Napa Valley, exploring the diversity of wineries. Eventually they decided to begin looking for property; the site of Fe Wines was the third piece of land they looked at.
At the time of their purchase in 2012 the property had never been farmed or planted to grapes. The previous owner had already received approval from the county of Napa to develop a section of the property to vineyards, certainly a coveted permit. A huge unknown at the time was whether there would be enough water to support a small vineyard. The Goldsteins hired a water-witcher (dowsing) and ultimately dug a deep well even prior to the purchase and discovered there was plenty of water available for their vineyard plans.
Winemaker Aaron Pott has been an integral part of this project since the beginning. Vineyard real estate agent, Sid Greer first introduced him to the site. Aaron recalls driving through all the brush in Sid's new vehicle at the time and quickly decided it would be better to walk the property. He dug a few shallow soil pits during that visit and soon realized the site would be well suited to vineyards. The soils are extremely rocky; the property features several soil and rock types including Aiken loam, some alluvial influence and basalt. And what is a defining character of their property, are the iron rich volcanic soils.
In 2013 with the help of Pina Vineyard Management, Aaron designed and developed the vineyards. 4.72 hillside acres are under vine, separated into 6 distinctive vineyard blocks. The majority of the vines are Cabernet Sauvignon but there also about 1/3 acre each of Malbec, Cabernet Franc and Petit Verdot. When hiring someone of Aaron's stature and experience, one simply doesn't hire him for his winemaking efforts but also for his perspective and access to a variety of vineyards for clonal material. Some of the varieties planted were from cuttings Aaron sourced from other vineyard sites in the valley he already worked with.
A permanent cover crop grows between rows of vines and is mowed in the spring. Because of their elevated perch, frost has not been an issue. Each vine is managed individually – if a vine reaches the first catch wire in the trellis a single cluster of grapes will be allowed to develop; if it reaches the second catch wire a second cluster of grapes will be left to mature. Fruit is dropped accordingly to maintain a desired canopy/crop load balance. The site produces grapes with desired pH each year and over ripeness and dehydration are not issues. Balanced vines equal balanced wines.
The property is bordered on several sides by Bothe State Park, featuring rugged forested land that will never be developed. The vineyard is farmed organically and is CCOF certified.
The first grapes harvested off of the property were in 2016. Aaron used some of this fruit that year and in subsequent years in his Pott Wines. He soon approached the Goldsteins and encouraged them to start their own brand.
Select Wines/Winemaking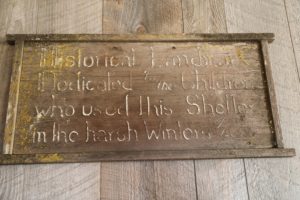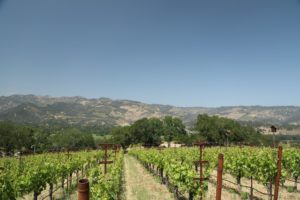 The wines are fermented entirely in stainless steel tanks using indigenous yeast. Each tank has its own dedicated pump for pump-overs allowing the winemaking team to carefully control extraction with pump-overs operating 5 minutes each hour continuously for 24 hours until further into the alcoholic fermentation when they operate less regularly. After the primary fermentation is complete, the wine is drained into barrel and is kept at 75 degrees Fahrenheit for an extended maceration lasting approximately 30 days.
Regardless of complementary winemaking techniques, the brightness and freshness of this particular site clearly shows through on both of the wines. Aaron works with a variety of sites up and down Napa Valley including hillside locations on both the Vaca and Mayacamas mountain ranges. But he is drawn in particular to the generally eastern facing sites in the Mayacamas range. These areas experience less sun exposure than on the western facing Vaca mountain range and also generally higher rainfall totals. As a result, the vegetation differs dramatically between the two sides. Instead of the drier slopes and sparser vegetation found in the Vaca mountains, this western side is heavily forested.
The 2019 Fe Spring Mountain Napa Valley is a blend of 84% Cabernet Sauvignon, 6% Malbec, 5% Petit Verdot and 5% Cabernet Franc. It aged in 95% new French oak barrels for 19 months before being bottled. It is deep ruby and opaque in the glass; the youthful and open-knitted bouquet offers a variety of aromatics including of blackberry, dark cherry, blackberry jam, dark licorice, chocolate and toffee. The oak is a complementary character here with its contributions showing more in the background. This wine sports flavors of blackberry, boysenberry, dark plum, black cherry and chocolate. Its a wine that makes you want to return for another sip and that is about the highest praise one can bestow upon a bottling. The chalky tannins coat the palate and linger for quite some time with a moderate and lightly drying grip. This bottling delivers plenty of pleasure early in its life, but also has the characteristic to age well.
During our first visit to the estate we tasted the inaugural releases from the 2018 vintage. While both wines are stylistically similar, these are clearly two different wines. And according to Aaron, during their early blending he realized the site was going to produce two wines, rather than just a singular expression (which was their original intent). And as Aaron simply states, 'these are wines you want to drink'; they are wines that are balanced, show some restraint, are food friendly and offer an elegance that is often missing in riper more fruit forward Napa Valley bottlings.
The 2018 Fe Wines 26 Red Wine Blend, Spring Mountain District (with the number 26 designated as the atomic number for iron) is composed of 59% Cabernet Sauvignon, 25% Cabernet Franc, 11% Petit Verdot and 5% Malbec. Medium ruby in color the bouquet is elegant offering bright aromas of red cherry, currant and red licorice. Its youthful freshness, which will certainly carry this wine for a long time in the bottle, is its defining hallmark. Offers flavors of currant, cranberry and a rose stem like quality across the palate. Very food friendly. Skillfully balanced. The tannins are lighter to medium bodied with a slightly dry grip.
The 2018 Fe Cabernet Sauvignon, Spring Mountain District is composed of 91% Cabernet Sauvignon, 5.2% Petit Verdot, 3.6% Malbec and 0.2% Cabernet Franc. The wine is dark ruby in color; initially offers a diversity of aromatics including tobacco smoke, dried herbs and sage but as the bouquet evolves, offers more red fruits including cherry and currant. There is also a hint of cardamom and nutmeg deeper into the aromatics. It is well layered on the palate with flavors of red and darker cherries and notes of plum. Lingers with a noticeable density of tannins but without any heaviness. The finish is long and persistent showcasing both fruit and a dustiness of tannins. The lovely texture is slightly chalk/earthy like in its feel. This wine is built to be enjoyed now but has loads of life ahead of it.
—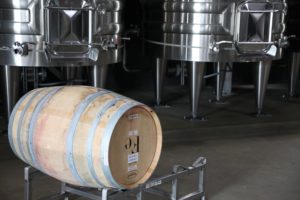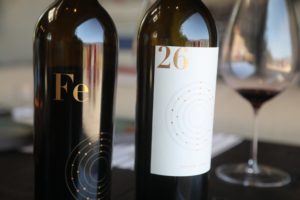 Many years ago, Jon read about Susan Roach Pate of San Francisco based, Pate International Design. The company has produced memorable labels for numerous wineries, especially in the Napa Valley, including Harlan Estate, Opus One, Merryvale, Quintessa and Robert Mondavi among numerous others. He remembers thinking that if he ever produced wine, he would call her. Once that day came, he invited her up to the property and she spent time walking the landscape and getting a feel for the particular site. Aaron suggested Fe to describe the iron rich soils. Susan created 16 different iterations on potential labels and presented it to Jon and Joanne. Jon asked those present to pick out their top three choices; ultimately 'Fe' was in everyone's top three list.
The wines are distributed locally in select restaurants including the French Laundry, PRESS Restaurant and Goose and Gander and at several premium retail locations including K. Laz tasting salon in Yountville and ACME Fine Wines in St. Helena. Through Aaron's connections, limited distribution is also available in parts of North Carolina. Current vintages are released once a year. For more information, to purchase wine and related merchandise or to join their mailing list, visit: www.fewines.com