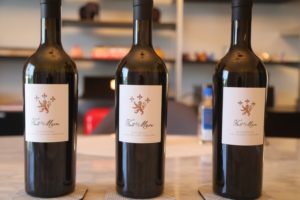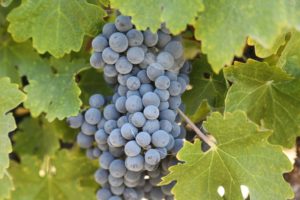 Fait-Main is pronounced (fay-ma). In French it simply means, handmade. And these two words succinctly summarize winemaker Benoit Touquette's dedication to his craft and winemaking philosophy. It starts in the vineyards he works with, special sites within Napa Valley of distinguished provenance, which are meticulously farmed by hand. It also encompasses the details of winemaking in the cellar and all the touch points one needs to make to create a premium bottle of wine.
Fait-Main is highly personal; it is Benoit's own way of connecting his French roots with his efforts in Napa Valley.
He was born and raised in Lyon, France and during his late teen years moved to Bordeaux (his mother was living in the region). His first wine related job was working a bottling line. His interest piqued, he simultaneously attended the University of Bordeaux and worked for several wineries in their cellars. He graduated with a master's degree of Enology and Chemistry. Through Michel Rolland, he was introduced to winemaker Andy Erickson and visited Napa Valley for the first time in 2004 helping Andy make wine for a number of notable wineries including Screaming Eagle. In 2006 Benoit moved to South Africa, hired by Rolland to be winemaker at Remhoogte Estate.
Benoit is most associated with Realm Cellars, having helped blend their 2009 vintage and later joining their team in 2011 as winemaker. Benoit is still the winemaker at Realm Cellars and is also a partner in that winery. In addition to his own wines, Fait-Main and Teeter-Totter, he also consults for several small brands within the valley.
University of Bordeaux today

Select Wines
Missouri Hopper is one of Napa's oldest continuously farmed vineyards. It is located next to and west of Highway 29 slightly north of Yountville and only about a mile south of its more famous neighbor to the north, To Kalon. Despite its proximity to To Kalon Vineyard, Missouri Hopper tends to be a cooler site. The vineyard is 45 acres owned and farmed by Andy Beckstoffer. It is named Missouri after one of its early owners, Charles Hopper who gifted the site to his daughter, Missouri. It is one of Beckstoffer's six heritage vineyards, the most prized Napa Valley vineyards in their portfolio due to their historical significance, pedigree of the site and proven exceptional quality of wines.
The 2019 Fait-Main Missouri Hopper is sourced from Block B and C, sections of the vineyard in its western reaches, closer to the edge of the Mayacamas mountains. Benoit was first introduced to this vineyard when he produced a wine from its vines for a charity auction. The wine is dark ruby in the glass with purple tinges on the rim. The aromatics are elegant and showcase the fruit rather than oak. Offers floral notes including of violets with some hints of tobacco smoke. As the wine breathes, offers aromas of clove, cardamom and brown chocolate. This is extremely balanced and approachable for a wine that was just two years post vintage date at the time of our tasting. There are no sharp edges. Reveals flavors of plum and blackberry, anchored by fine-grained ripe, dusty and chalk-like tannins.
Benoit is among the first to vineyard designate a wine from Sleeping Lady. His first vintage from this vineyard was in 2011. Sleeping Lady is noted for its diversity of Cabernet Sauvignon clones; this wine incorporates seven clones of this variety. The 2019 Fait-Main Sleeping Lady is dark ruby in the glass; the bouquet definitely needs some time to open in its youth but when it does, offers aromas of cardamom, clove and darker baking spices along with black licorice, dust, a hint of Graham Cracker and some floral notes. The tannins are dense in their textural feel, broadly distributed and long lasting. It is mouthwatering with a juicy and lively finish. According to Benoit, this is the best vintage he has produced from the Sleeping Lady Vineyard. This is a wine with complexity, character and completeness. The entire package.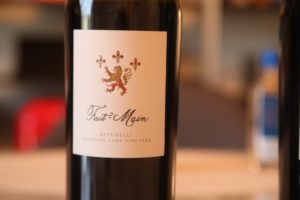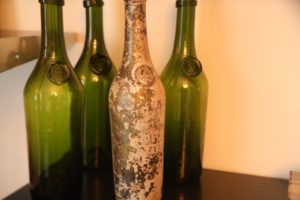 The 2017 Las Piedras Vineyard was made from clones 4 and 337, picked two nights before the October 2017 fires (several cooler weather vineyard sites were not harvested this year). This wine is dark ruby in color; offers sweet fruit aromatics including ripe mulberry, blackberry jelly, boysenberry and fig, complemented nicely with a dusty note. Offers various berry fruit flavors on the palate including boysenberry. Lingers with a noticeable brightness and a minerality. This wine is very balanced with long lasting earthy tannins offering a medium grip. It was showing very well when we tasted, 4 years post vintage date.
The vineyard sites for these Cabernet Sauvignon wines are all located on the western side of the valley floor, close to the lower slopes of the Mayacamas mountains. There is no formula on any of these wines in the cellar. With that said, the wines generally they see about 85% new French oak during their aging (primarily Taransaud and Darnajou barrels). The wines are unfiltered and unfined. The SO₂ input is kept fairly low with minimal racking during 16-18 months of aging.
—
The crest on every bottle is a stylized version of the Coat of arms of Lyon, France – in homage to the city that Benoit grew up in. And the calligraphy font was inspired by fonts found on old Burgundy bottles. Initially Benoit tried to have bottles recreated from a 17th century Pauillac wine bottle he purchased that was found in a shipwreck; ultimately it was too challenging and expensive to recreate these bottles in any volume. Future bottlings may include several different shaped bottles to be included as three packs.
Teeter Totter is primarily a distributed brand. The focus is on one wine each year a red blend that is dominated by Cabernet Sauvignon but also includes Charbono, Petite Sirah and Zinfandel. Production is much larger than Fait-Main – often between 5,000 and 10,000 cases.
Total production of Fait-Main continues to grow. Typically, only 200-300 cases are produced of each wine and in addition to the Napa Valley bottlings, Fait-Main also produces a wine from Paso Robles and Bordeaux. The wines are selectively distributed in about 10 international markets and are available direct to consumer in almost all U.S. states. For more information and to join their mailing list, visit: www.faitmainwines.com
Chateau Le Châtelet
Out of all our travels around the planet pursuing places and spaces strongly connected to wineries or brands based in Napa Valley, Bordeaux has by far the most connections to Napa Valley – through ownership, education, types of varieties planted in both regions and winemakers. In 2018 Benoit entered a a partnership with Chateau Le Châtelet in Saint-Émilion to produce a Bordeaux grown and bottled wine (from the Le Châtelet Vineyard) but branded under the Fait-Main label.
The vineyard associated with the winery is very small – just over 3 hectares planted to about 80% Merlot; and 20% Cabernet Franc. And with the judicious sorting every vintage, ultimately yields are quite low. Once the grapes are in the cellar, they are fermented in new French oak (highly unusual for this part of Bordeaux). Total production is small – usually no more than 1200 cases.
One of the more accessible chateaus on the Saint-Émilion plateau, the cellar welcomes visitors by appointment and often can accommodate walk-ins. The property is ideally located, within only about a 15-minute walk from the center of Saint-Émilion and the iconic Eglise Collegiale (cathedral). It has been family owned (the Berjals) for five generations. The tasting room is directly next to the cellar and is chiseled into solid rock below ground. Unlike nearly all wineries in Napa Valley who store bottled product off site in warehouses, the bottles here are stacked up in rows within the rock 'cave'.
The 2018 Fait-Main Le Châtelet Vineyard (is primarily Merlot but with a small amount of Cabernet Franc) is dark ruby in color; offers plenty of aromatic power on the bouquet; we initially were hard pressed to identify this as a Bordeaux wine rather than from Napa Valley on smell alone. Shows notes of violets, dark licorice, plum and blackberry. A subtle hint of mocha and brown chocolate are hidden deep in the bouquet. The bouquet quickly becomes more savory as the wine evolves in the glass – the aromas land on the darker fruit side of the spectrum. However, the palate is definitely Bordeaux-esque; as soon as we tasted this wine, we said, "this is not from Napa". Offers dark spices from the attack through to the finish along with mouthwatering acid with flavors of red fruits – primarily cranberry, red cherry and currant. Shows a very bright finish. The tannins are earthy, dark and spicy, lingering with a long-lasting medium textured grip.