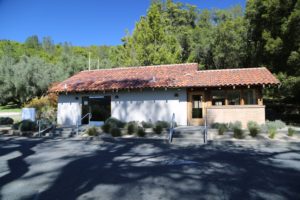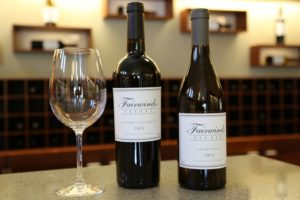 Fairwinds Estate Winery, not to be confused with FairWinds Winery in Port Townsend, Washington is located a few minute drive south of Calistoga on the east side of Silverado Trail. In 2015, proprietors Brandon Chaney and Anthony Zabit purchased the old Cuvaison Winery site (Calistoga location) and renamed it to Fairwinds Estate Winery. They opened their tasting room with limited hours in January 2016.
NOTE: the Fairwinds Estate Winery tasting room burned to the ground in the devastating Glass Fire of 2020. As of our latest update to this review, this tasting room has not yet been reconstructed and tastings are currently being conducted outside under umbrellas in their olive garden weather permitting or inside the wine cave.
The rest of the property sustained major damage. A number of other producers stored and made wine here and unfortunately their products were also destroyed in the fire. Following the fire Fairwinds Estate rented a small warehouse in downtown Calistoga which they ultimately purchased in 2021. This space is their fulfillment center for storing, packing and shipping wines. We will update our notes here once we have more information on the rebuild.
—
Life paths can certainly lead to some interesting endeavors. Take Brandon and Anthony for example; they met as college roommates when both were attending Indiana University. Later in life they both became partners in various tech and real estate businesses. Brandon (who we met with and is a serial entrepreneur) runs the day-to-day operations of Fairwinds Estate and spends time commuting between his home in Incline Village, Nevada to Napa Valley.
The name Fairwinds Estate is directly tied to a historic property built in 1934 on Lake Tahoe's north shore that Brandon and Anthony purchased; the former owner of that property used to call it "Fairwinds", perhaps inspired by a warm August day up at "the lake" enjoying the afternoon breezes blowing through the pine trees while enjoying panoramic and picturesque lakefront views.
Brandon's parents were in academia; during his youth, the family moved to Wales. While in Wales, they purchased a VW bus and Brandon fondly remembers his family driving around Germany and staying at numerous B&B's and visiting wineries. This was his first introduction to hospitality and the world of wine. Wine to him has always been important and an enjoyable part of life but it wasn't until he and Anthony purchased this property that it became a part of their business world.
And their timing on finding this property was impeccable. Brandon drove over to see the property once or twice and then immediately decided it was worth purchasing. He did not know at the time the extent of this properties' grandfathered permits and or its history within Napa Valley (several now prominent wineries in the Napa Valley made their first vintages here) – or perhaps the pull that some visitors to the valley have with this particular property. Guests have already told Brandon about celebrating highly personal special occasions in their life while picnicking on site or visiting the property.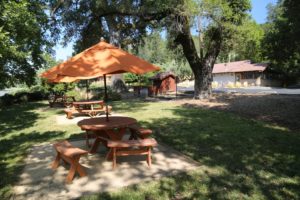 Interestingly, the founders of this winery location in 1969 came from a tech background in Silicon Valley. The roots of Cuvaison began when Silicon Valley based engineer Thomas Parkhall began making home wine in the early to mid 1960s. He came to the Napa Valley in 1967 looking to purchase premium grapes. In 1969 he partnered with Tom Cotrell (a Silicon Valley based laser physicist who would go on to become Pine Ridge's founding winemaker) to start Cuvaison. They built a basic building on site in 1970 which was replaced by a larger winery four years later; they sold the property and brand in 1974 and was sold again in 1979 to Dr. Stefan Schmidheiny and his brother Alexander. Brandon and Anthony purchased the property from the Schmidheiney family.
For reference, in 1969 from our own count and research there were approximately twenty wineries located within Napa Valley that are still in business and producing wine. For comparison, today according to an often-updated list we personally maintain, there are over 1,000 unique active wine producers in Napa Valley.
Because this was an existing well established winery, permits allow guests to picnic on site (a rarity among open to the public wineries in the county) and the winery is allowed to host food and wine events in their cave.
Driving by one has no idea the extent of the production facilities here. The winery and related facilities are sizable including two barrel rooms, the cave and their own bottling line. The cave is spacious; at 22,000 square feet it is a functioning wine cave along with several enlarged tunnels reserved for hospitality and private tastings. They have nearly 50,000 square feet of potential wine making area.
Despite the transition in ownership, the staff has remained. The average tenure among employees is something like 15 years. Upwards of 30 custom crush clients used to make their wine here and these clients also remained after the transition.
In addition to their own wines, Fairwind Estate plans to selectively allow some of their custom crush clients to pour their wines on site. These will be brands that do not have their own tasting room, make very limited production wines and are hard to find in the marketplace.
The property is 15 acres – most of which is rugged forested hillside land that extends up the ridge behind the winery. However, there is a small piece of their property (less steep) just north of where the tasting room used to be located that was historically planted to grapes. They hope to plant a small vineyard here in the future.
The first vintages of bottled under Fairwinds were appropriately a Chardonnay and a Cabernet Sauvignon. They chose these varieties for several reasons; it was Chardonnay and Cabernet Sauvignon that helped put the region on the "international wine map" so to speak as a result of the Paris Tasting of 1976 and they have since become the two most produced varieties in Napa Valley. According to the Napa Vintners, Cabernet Sauvignon comprises 40% of the entire AVA's production. And winemaker Todd Heth (who stayed after the ownership change) had several wines made already and aging in barrel; it was his contacts in the valley that helped secure the fruit for these two initial Fairwinds Estate wines.
Select Wines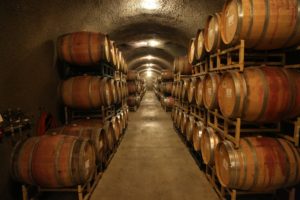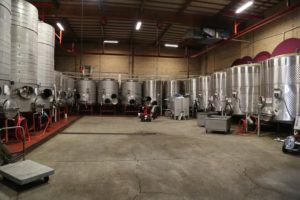 Since their inaugural vintage, Fairwinds Estate has produced additional wines and added other varieties to their wine making portfolio. They also have a permit to produce wine from grapes outside of the county and have produced a Sonoma Coast Chardonnay and a Russian River Pinot Noir.
The 2014 Fairwinds Estate Chardonnay was sourced from Carneros. This wine shows a nice golden color in the glass with pronounced citrus aromas including lemon zest, lime and a slight nutty component. The palate is rounded with a sweetness of fruit; it finishes clean.
The 2013 Fairwinds Estate Cabernet Sauvignon was sourced from several vineyards including Stagecoach, a prominent vineyard used by a number of winemakers in Napa located high on the slopes of Atlas Peak. This wine was also blended with small amounts of Cabernet Franc, Merlot and Petit Verdot. It is dark garnet in the glass with bright aromatics; the bouquet offers both red and darker fruits with hints of cedar box aromas and cigar smoke. It is a young wine and will need time to open; the tannins are youthful, still a bit tight but not overpowering. This bottling shows very good acidity accompanied by a juicy mouthwatering finish. It will be interesting to try this wine again after a few years bottle age.
The ownership of Fairwinds Estate has been very open to smaller mostly Calistoga based producers who do not have a winery and a tasting room of their own. In the tradition of the prior ownership, Fairwinds Estate has continued to allow other producers to make their wine here. And as a very valuable service for small producers who make their wine here, who don't necessarily have the needed permits to host tastings, Fairwinds Estate has allowed them to host tastings on this property.
Fairwinds Brands
Since the partners took ownership of the property, they created the Fairwinds Brand program, curating private labels and helping create club membership options for numerous high profile clients including universities, film, music and sports teams.
Some of their more prominent clients have been Yellowstone (a TV series starring Kevin Costner), singer Barry Manilow, at least 10 NFL teams and several NHL teams. And some of their most successful brand clients have been Greek fraternities and sororities at various universities across the country.
Valley Floor Vineyard
In 2016 Fairwinds Estate purchased the Valley Floor Vineyard brand (but not the property). Grapes for Valley Floor Vineyard are no longer being used from the original vineyard; the last vintage from the original property was in 2016. As of our latest update to this review, they continue to produce a limited number of wines under this brand each year including a Pinot Noir and a Cabernet Sauvignon.
Original founders of Valley Floor Vineyard, Ellen Bucchianeri and Mark Duane were both born and raised in San Francisco. Ellen spent many summers in Calistoga, staying with her grandmother who was a resident of the town. Ellen grew up around wine – her grandfather made wine in his basement in San Francisco.
Ellen used to say she would never move out of San Francisco, preferring the city to the country and all it offers as far as restaurants and cultural activities. But after coming to Calistoga year after year in the summers and her husband needing to commute, they decided to swap the urban life for the quieter rural life.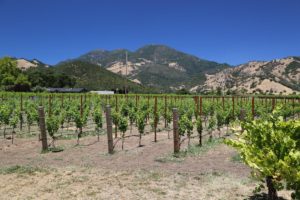 Ellen and Mark moved here in 2008. They were introduced to the property by a realtor with connections to another wine family in the valley, the Truchards. Both were sold on the property almost immediately as soon as they saw the gorgeous view of the rocky Palisades in the Vaca Mountain range from the living room window.
Ellen was a schoolteacher in San Francisco and upon moving to Calistoga she found the only school teaching position of personal interest was down in Vallejo (a significant commute from Calistoga). A friend mentioned a winery that she had never heard of (Araujo Estate, now Eisele Vineyard) and encouraged her to apply for a position there.
She did and was immediately accepted after interviewing with the owners at that time, Bart and Daphne Araujo. Ellen had no prior wine experienced at this point (2011) and in the subsequent years her wine knowledge from the vineyard to wine making to sales has been because of her time at Eisele Vineyard.
When Ellen and Mark purchased this Calistoga property, sixty-year-old Sauvignon Blanc vines were growing around the house but were diseased and were producing very small quantities of fruit. They initially produced a tiny amount of Sauvignon Blanc and then removed the vines.
When deciding whether they wanted to get into the wine business personally – they sat down with John Truchard, a local vintner and vineyard manager. He helped them lay out all of their costs and was an invaluable resource by providing them with numerous details for laying out and planning a vineyard, making wine and as well as having the important connections and exposure for selling it. They took his advice and planted a vineyard in the front of their home in 2009. The 2012 vintage was their first commercial release.
The 2012 Valley Floor Vineyard Cabernet Sauvignon is very dark in the glass. It shows deep dark notes of black fruit on the bouquet. There is a rich complexity of aroma that continues to evolve nicely as the wine opens including cedar box, notes of graphite, black licorice, black liqueur and some perfume notes (violets). The palate shows ripe plum (which also lingers on the finish), black cherry and flavors of brown chocolate. The dusty, slightly chalky tannins are well integrated and anchor a pleasing finish (also some earth notes on the finish). For a young wine from very young vines – this wine is already mature beyond its years.
The 2014 Valley Floor Vineyard Rosé is dark salmon color in the glass, with a pretty bouquet showing notes of citrus, watermelon rind and raspberry. As the wine opens the aromas become more elegant, the citrus aromas become more muted and aromas of Jolly Rancher watermelon and freshly cut grass are revealed. The wine is soft and rounded on the palate with clean flavors. Easy to drink. Hints of graphite on the finish. Good acidity.
when Ellen owned Valley Floor Vineyard, she entered her wine in their first competition in 2014, the Toast of the Coast in San Diego and received a Double Gold. ACME Fine Wine Shop in St. Helena also featured one of the Valley Floor Vineyard wines in their 2015 newsletter highlighting the top 10 wines from Napa Valley that year.
—
For more information about Fairwinds Estate, to join one of three membership options offered through their wine club, or to schedule a tasting appointment, visit: www.fewinery.com and for more information about Fairwinds Brands, visit: www.fairwindsbrands.com