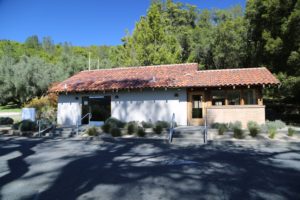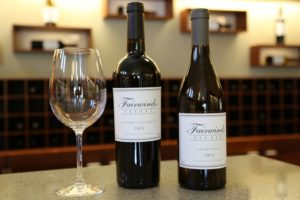 Fairwinds Estate Winery. In 2015, proprietors Brandon Chaney and Anthony Zabit purchased the old Cuvaison Winery site (Calistoga location) and renamed it to Fairwinds Estate Winery. They opened their tasting room with limited hours in January 2016.
NOTE: the Fairwinds Estate Winery tasting room burned to the ground in the devastating Glass Fire of 2020. As of our latest update to this review, this tasting room has not yet been reconstructed and tastings are currently being conducted outside under umbrellas in their olive garden or inside the wine cave.
The rest of the property sustained major damage. A number of other producers stored and made wine here and unfortunately their products were also destroyed in the fire. We will update our notes here once we have more information on reconstruction.
—
Life paths can certainly lead to some interesting endeavors. Take Brandon and Anthony for example – they met as college roommates when both were attending Indiana University. Later in life they both became partners in various tech and real estate businesses. Brandon runs the day to day operations of Fairwinds Estate and spends time commuting between his home in Incline Village, Nevada to the Napa Valley.
The name Fairwinds Estate is directly tied to a historic property on Lake Tahoe's north shore that Brandon and Anthony purchased – the former owner of that property used to call it "Fairwinds" – perhaps inspired by a warm August day up at "the lake" enjoying the afternoon breezes blowing through the pine trees.
Brandon's parents were in academia – and when Brandon was growing up the family moved to Wales. During their time in Wales they purchased a VW Bus and Brandon fondly remembers his family driving around Germany and staying at numerous B&B's and visiting wineries. This was his first introduction to hospitality and the world of wine. Wine to him has always been important and an enjoyable part of life but it wasn't until he and Anthony purchased this property that it became a part of their business world.
And their timing on finding this property was impeccable. Brandon drove over to see the property once or twice and then immediately decided it was worth purchasing. He did not know at the time the extent of this properties' grandfathered permits and or it's history within the Napa Valley (several now prominent wineries in the Napa Valley made their first vintages here) – or perhaps the pull that some visitors to the valley have with this particular property. Visitors have already told Brandon about celebrating highly personal special occasions in their life while picnicking on site or visiting the property.
Interestingly, the founders of this winery location in 1969 came from a tech background in Silicon Valley. The roots of Cuvaison began when Silicon Valley based engineer Thomas Parkhall began making home wine in the early to mid 1960's. He came to the Napa Valley in 1967 looking to purchase premium grapes. In 1969 he partnered with Tom Cotrell (a Silicon Valley based laser physicist who would go on to become Pine Ridge's founding winemaker) to start Cuvaison. They built a basic building on site in 1970 which was replaced by a larger winery four years later; they sold the property and brand in 1974 and was sold again in 1979 to Dr. Stefan Schmidheiny and his brother Alexander. Brandon and Anthony purchased the property from the Schmidheiney family.
For reference, in 1969 from our own count and research there were approximately twenty wineries located within the Napa Valley that are still in business – for comparison, we maintain a list of over 1,100 unique active wine producers in the Napa Valley.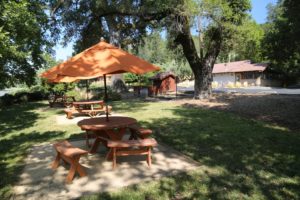 Because this was an existing well established winery, permits allow guests to picnic on site (a rarity among open to the public wineries in the county) and the winery is allowed to host food and wine events in their cave.
Driving by one has no idea the extent of the production facilities here. While the tasting room is cozy in size, the winery and related facilities are sizable – with two barrel rooms, the cave and their own bottling line. The cave is spacious – at 22,000 square feet it is a functioning wine cave along with several enlarged tunnels reserved for hospitality and private tastings. They have nearly 50,000 square feet of potential wine making area.
Despite the transition in ownership, the staff has remained. The average tenure among employees is something like 15 years. Upwards of 30 custom crush clients make their wine here and these clients also remained after the transition.
In addition to their own wines, Fairwind Estate plans to selectively allow some of their custom crush clients to pour their wines on site and in the tasting room. These will be brands that do not have their own tasting room, make very limited production wines and are hard to find in the marketplace.
The property is 15 acres – most of which is rugged forested hillside land that extends up the the ridge behind the winery and tasting room. However there is a small piece of their property (less steep) just north of the tasting room that was historically planted to grapes. They hope to plant a small vineyard here.
The first vintages of Fairwinds are appropriately a Chardonnay and a Cabernet Sauvignon. They chose these varieties for several reasons – it was Chardonnay and Cabernet Sauvignon that helped put Napa on the "International wine map" so to speak as a result of the Paris Tasting of 1976 and have since become the two most produced varieties in the Napa Valley (with according to the Napa Vintners, Cabernet Sauvignon comprising of 40% of the entire AVA's production). And winemaker Todd Heth (who stayed after the ownership change) had several wines made already; it was his contacts in the valley that helped secure the fruit for these two initial Fairwinds Estate wines.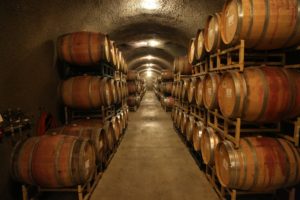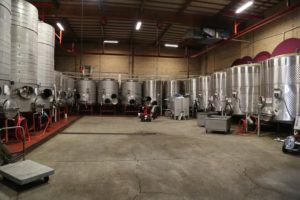 Fairwinds Estate will be producing additional wines and adding additional varieties to their wine making portfolio. They also have a permit to produce wine from grapes outside of the county and may produce a Sonoma Coast Chardonnay and or Russian River Pinot Noir in the future.
The 2014 Fairwinds Estate Chardonnay was sourced from Carneros. This wine shows a nice golden color in the glass with pronounced citrus aromas including lemon zest, lime and a slight nutty component. The palate is rounded with a sweetness of fruit – it finishes clean.
The 2013 Fairwinds Estate Cabernet Sauvignon was sourced from several vineyards including Stagecoach – a prominent vineyard (used by a number of winemakers in Napa) located high on the slopes of Atlas Peak. This wine was also blended with small amounts of Cabernet Franc, Merlot and Petit Verdot. It is dark garnet in the glass with bright aromatics – both red and darker fruits with hints of cedar box aromas and cigar smoke. It is a young wine and will need time to open – the tannins are young, still a bit tight but not over powering. Very good acidity – with a juicy mouth watering finish. It will be interesting to try this wine again after a few years bottle age.
The new ownership of Fairwinds Estate have been very open to smaller mostly Calistoga based producers who do not have a winery and a tasting room of their own. In the tradition of the prior ownership Fairwinds Estate has continued to allow other producers to make their wine here – but in a boon for small producers who make their wine here, who don't necessarily have the needed permits to host tastings, Fairwinds Estate has allowed them to host tastings on this property.
For more information visit: www.fairwindsestatewinery.com