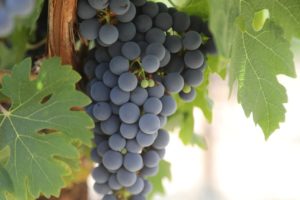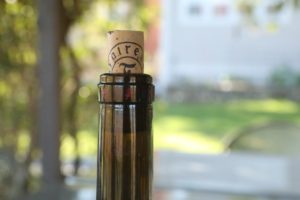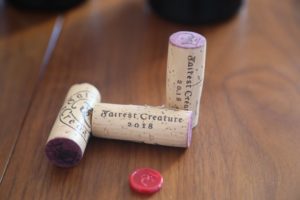 Fairest Creature. Proprietor Jayson Hu was born in Nanjing, China and moved to the San Francisco Bay Area in his youth. He graduated from University of California Berkeley with a degree in Electrical Engineering. He discovered wine through his proximity to Napa Valley and over time realized that premium wines from Napa Valley could hold up against any of the top wines on the planet, including from Bordeaux. He began importing wines from select producers in Napa Valley to parts of China, and in a number of cases provided the first exposure for these particular brands in the China fine wine market.
Taking a winemaker first approach to premium wine, Jayson decided to focus on winemaker styles, backed by a portfolio of noteworthy Napa Valley vineyard sites including from St. Helena, Pritchard Hill, Oakville, Rutherford, Coombsville and Howell Mountain. Fairest Creature produces high octane yet deftly balanced wines carefully crafted by three of the most prominent Napa Valley winemakers including Philippe Melka, Benoit Touquette and Thomas Brown. Jayson was already familiar with and attracted to the wines of each of these winemakers through his wine distribution company; Melka from Dana Estate, Touquette from Realm and Brown from Schrader Cellars. Three singular and distinctive wines are produced each year, referred to as the "mono winemaker" series. 2018 was the inaugural vintage of Fairest Creature.
And a fourth extremely rare wine is also produced annually, a barrel selection chosen from all three of the winemakers lots, with the final assemblage crafted by Bordeaux-based Michel Rolland. Rolland also suggests what should be included in the individual bottlings, but each winemaker makes their own final decisions.
The name Fairest Creature was inspired from the first line in Shakespeare's Sonnet 1, where he writes, "From fairest creatures we desire increase,.."
Ricardo Martinez, an exceptionally talented scratchboard artist and writer was chosen to create each of the labels for the four wines. Ricardo was born in Chile, worked in the U.S. in Miami for several publications including the Miami Herald and is based in Spain. He works are coveted by collectors around the world and some of his pieces are displayed in museums. He is also a comic strip artist having produced political comics and also co-created Goomer, which was syndicated in newspapers around the world beginning in the early 1990s.
Select Wines

The 2018 Fairest Creature, Polyspline by Philippe Melka is 92% Cabernet Sauvignon and 8% Petit Verdot. This is the only Fairest Creature non 100% varietal Cabernet Sauvignon from the 2018 vintage. The wine is dark ruby in the glass with purple tinges; the aromatic brightness and freshness are highly appealing characteristics on the bouquet. Opens with aromas of plum, dust covered ripe blackberry and evolves into notes of blueberry and cassis. The bouquet also offers hints of toasted cedar, Graham cracker, soy sauce and leather. As the wine continues to open, the fruit becomes more front and center. Offers flavors of dark cherry, blackberry and mulberry with some complementing dessert spices including clove and cardamom. A freshness of bright fruit continues to linger on the finish along with firm but fine-grained tannins. This wine's balance and its texture are its hallmarks. Of the four bottlings, this is the most polished and approachable in its youth, yet it is also clearly crafted with longevity in mind.
Every bottle of Fairest creature includes a poem written in Chinese, wrapped around the collar of the bottle. The words on the Polyspline bottling roughly translate to when the moon on the river first shines on humans – a prose that binds concepts relating to time, history and the universe. Jayson has long been attracted to the 'pure, precise and elegant' wines crafted by Melka. The word spline relates to adding lines/curves together to make a continuous and irregular curvilinear shape; poly means many. The name correlates to the elegance of Melka's wines, synonymous in character to the feel of a gentle long curve.
And the depiction of a fox on the label relates to a Chinese myth (called jiuweihú in Chinese) – with this image in Asian culture representing luck and good fortune.
The 2018 Fairest Creature, Sine Fine by Benoit Touquette is 100% varietal Cabernet Sauvignon. Dark garnet with purplish tinges on the rim, this wine offers a beautiful darker fruit driven bouquet including ripe plum and blackberry along with dark licorice, cassis and violets. Also shows notes of an old cigar box with the cigars recently removed, leaving the remnant aromas of dried tobacco leaf. A subtle hint of anis and nutmeg show deeper into the aromatics. The flavor profile offers a core of lively fruit including of dark cherry, plum and mulberry. The tension between the fruit and tannins is a highlight, showcasing a palate that is both richly flavored yet with a simultaneous balance. The finish lingers for quite some time with a noticeable density of rounded and slightly dusty youthful tannins featuring a structure that alternates between a silty and chalk-like textural feel. Finishes slightly savory with darker fruits.
The beautiful label is their own interpretation of a Chinese myth involving love birds. These birds fell so deeply in love their bodies morphed into each other, never to be separated, an endless love if you will. And the poem on this bottle is a well-known love-poem in China and roughly translates to: "there is an end for the heaven and earth." With the second line well known but not written on the bottle, "but our love has no end".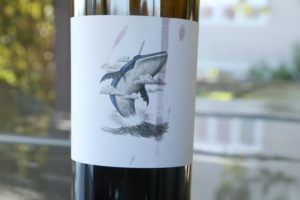 The 2018 Fairest Creature Perihelios by Thomas Brown is dark ruby; the aromatics are dark, forward and deeply layered including of plum, blackberry pie, old leather, hints of mint, parchment paper and ripe pipe tobacco smoke. A note of old cedar box shows deeper in the bouquet. The palate is rich and extremely well layered with flavors of dark cherry, spicy skin of a Santa Rosa plum, boysenberry and darker chocolate. Of the three single winemaker bottlings, we found this wine benefited from the most from time in the glass. The dense tannins are gravely in their textural feel continuing to persist for some time on the finish along with a slight dryness. This wine offers the most savory finish of the three wines; lingers with darker fruit, hints of crushed peppercorn and dried tobacco leaf. Mouthwatering. Absolutely delicious.
The riveting label is a depiction of a whale, a legend in China that ties into a famous work by Chinese Taoist philosopher Zhuang called The Zhuangzi in which he describes a massive sea creature called K'un who develops wings, leaves the sea and becomes a huge bird known as Peng. The related poem etched onto the collar of the bottle translates to going up into the sky 90,000 miles high.
The name Perihelios is derived from Perihelion, the closest distance between the orbit of a planet and the sun.
The 2019 Triniceros (not yet released at the time of our tasting) initially shows mineralities on the bouquet along with a meaty or iron like quality. As the wine breathes it evolves to darker fruits including plum and blackberry, with a hint of sage and dried herbs. This wine keeps opening and also shows notes of mocha, dark chocolate, old cedar box and an Asian 5-star spice. This wine's texture is one of its hallmarks showcasing broadly distributed, dense, ripe and slightly drying tannins. Its rounded and grainy texture rolls over the palate without any course edges. Lingers with a ripeness of fruit on the finish. This wine is the pinnacle of Fairest Creature, a rare and exceptional masterpiece Cabernet Sauvignon created from a careful barrel selection.
The poem etched onto the collar of the bottle translates to: a good man would not bother himself with unimportant tiny details. This wine is primarily bottled as a magnum; each bottle is etched with an individual bottle number. Only 532 bottles were produced in 2018. Several Methuselah (6L) and Salmanazar (9L) wines were also bottled.
The name Triniceros is taken from the Latin word trini (three) combined with ceros (horns) and reflects the three winemakers who crafted this wine (note the three horns on the label). And it ties in well with a mythical animal in Chinese culture called Quilin which has the head of a dragon, the body of a tiger or deer and an ox's tail. In attempting to create an image that defined a different perspective of this creature, artist Martinez remarkably created twenty-nine different renditions before the team at Fairest Creature chose his 30th piece to represent this wine.
Nanjing, Wine Club
Jayson operates a wine club located in a three-story house in downtown Nanjing. In the early 20th century, the house was formerly owned by a Nationalist Party general called Lin Wei. Jayson made some interior renovations to the space while preserving the original brick walls and wooden floors. We will visit this wine club sometime between 2023-2026.
—
Total annual production varies but is typically around 250 cases of each of the 750ml bottlings and 550 magnums of Triniceros. The wine is available through an allocation list with a six-bottle buy in. Six bottles are contained in a handsome custom-designed acrylic box. A purchase of this box allows one access to a magnum of Triniceros.
Distribution is currently primarily in parts of China with also select locations within certain markets in the U.S. and Japan. Locally the wines are available in St. Helena at Press Restaurant and Goose and Gander and at Niku Steakhouse in San Francisco. For more information and to join the mailing list for allocation access, please visit: www.fairestcreature.com