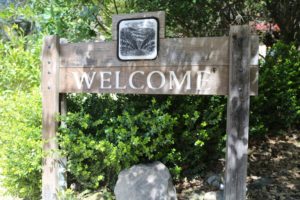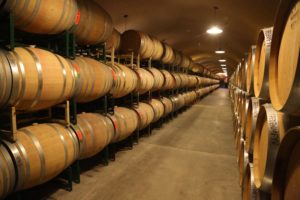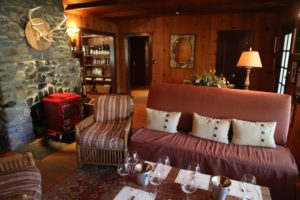 Failla Wines was founded by winemaker Ehren Jordan and Anne-Marie Failla; the winery is named after the middle name of Ehren's eldest daughter. Today, Ehren is the sole proprietor of Failla Wines. Ehren's wine making career has been one of learning by doing. Rather than graduating from UC Davis with a degree in Enology and Viticulture, he graduated from George Washington University in Washington DC with a major in Art History and a minor in Classical Archaeology.
While in college one of his fraternity brothers told him about a job working at what he described as a liquor store – this store was actaully Bell's Wine Shop where Erin took a job in the back of the shop stocking wine shipments. Soon he was promoted to the front of the shop where he was introduced to a number of fine wines around the world.
After graduating from college, he moved to Colorado where he skied during the day and worked in restaurants at night furthering his wine education. His introduction to Napa Valley was through one of the restaurants he worked at when he accompanied some of the employees on a trip to Napa. His first job in the valley was as a tour guide at Joseph Phelps Winery – while at Phelps, he also worked in their cellar and helped with sales.
Ehren is often associated with Turley Wine Cellars – that is because he spent 18 years at Turley helping create some of their well-regarded Zinfandels and other wines as their General Manager and Director of Winemaking.
The first Failla Wine was from the 1998 vintage, a tiny amount of Viognier and Syrah bottled under the label Failla-Jordan. With part of their name conflicting with Jordan Winery in Sonoma County, they soon dropped Jordan from the name. They opened their tasting room along the Silverado Trail in October of 2006 (our first visit was the following year).
Until they purchased this property in 2004, they were a "virtual" winery without a tasting room or winery of their own and made their wines at other wineries including Turley and Neyers. The winery is located almost directly across from the popular Rombauer Winery (look for the large U.S. flag). The only signage from Silverado Trail is their painted mailbox with the address listed.
Jordan offers a number of tasting experiences held on various parts of the property including inside the wine cave, weather permitting outside on tables under the redwoods or inside what is referred to as The Lodge. Because of the various tasting spaces, often several tastings will be going at any one time and during our latest visit guests from multiple parties were combined in one tasting. The interior of the lodge feels like a mountain cabin with knotty pine and a stone fireplace – one could almost be tasting up at Lake Tahoe rather than in the hills of Napa Valley. A side room with a thick piece of wood sitting on top of two wine barrels serves as the tasting counter or for a more personal tasting (small groups only) you can sit down with your host.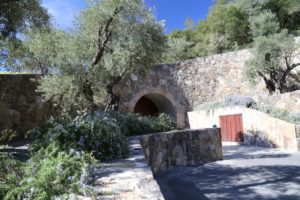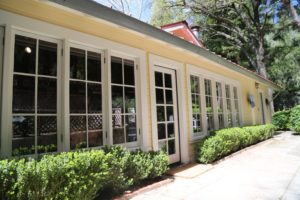 This is a historic property. The Silverado Trail was originally built in 1852 and was the first permanent north south road in Napa Valley. You can even see parts of the old Silverado Trail which used to run through the property. We were told the famous stagecoach robber, "Black Bart" was actually apprehended on site in 1883.
Visitors may see apple trees planted on one of the slopes; these were left from previous owners who planned on producing apple cider (using the small wooden building next to the entrance to the cave). Ehren is originally from Pittsburg, and it is obvious from the sign on this building that he personally hung here that this is "Steelers country".
The 12,000 square foot wine cave was used for the first time during the 2008 harvest. Ehren uses a variety of different sized fermentation vessels including concrete (eggs); a number of these are located throughout the various parts of the cave, oak barrels and stainless-steel tanks. He also uses larger wooden casks (not often seen in Napa wineries).
Visitors to the 10-acre property might be surprised the site is not covered in vineyards. There are two reasons why grapes are not planted here: the property is mostly steep hillside land and Napa County prohibits new vineyards from being planted on slopes greater then 30% and the grapes that grow here best are Bordeaux red varietals – and are varieties that Failla does not make wine from.
With that said, a tiny old-school dry-farmed head-pruned hillside Zinfandel vineyard that Ehren planted in 2011 is located above the cave. With its small footprint and wide spacing, this vineyard only produces a small amount of wine each year. It is a part of Ehren's Day Collection, a portfolio focusing primarily on cooler weather Zinfandel sites with wines sold through retailers and restaurants.
Ehren creates wines with several philosophies in mind; one is to make wines that make you salivate upon the first taste, and another is to source from cold climate vineyards which tend to have strong marine influences. These types of wines have lively acidity and are not robust fruit driven wines. As a result, they tend to pair very well with food and are highly age worthy.
Typically, their wines are un-fined and unfiltered for maximum color and flavor and fermentation is done using indigenous yeast (rather than inoculated yeasts). The Chardonnays tend to go through malolactic fermentation. The reds see a varying number of stems, including during fermentation based on the quality/ripeness of the fruit and the variety.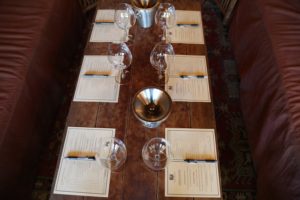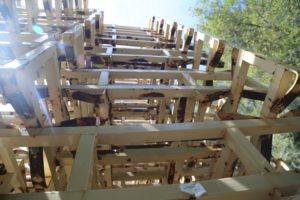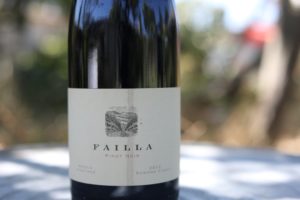 Failla specializes in three wines, Chardonnay, Pinot Noir, and Syrah all sourced from very cool weather vineyards ranging from Sonoma, Napa, Mendocino counties all the way up to Oregon's Willamette Valley. Arguably Failla is most known for their Pinot Noir -; as of our latest visit, they were producing 17 different wines from this variety (some made only for their wine club members). Failla used to source from one of our favorites far western Sonoma County coastal sites, Whistler Vineyards. If you can find some of these older bottlings, purchase them.
Ehren purchased 40 acres in what is now the Fort Ross-Seaview appellation in Sonoma County in 1995. Helen Turley, a prominent winemaker told Ehren about land that was for sale near her Marcassin Vineyard. At the time part of the property was being used for growing marijuana. Ehren eventually had the site planted to grapes and later purchased more land. Today Failla owns 82 acres here of which 11 acres are planted.
This part of Sonoma County is above 1000 feet, typically above much of the fog line which hovers much lower to the coast. Some of the California's closest vineyards to the coastline are planted here. While the climate is generally cool here (ideal for growing Pinot Noir), their vineyard actually receives quite a bit of sunshine throughout the growing season due to its elevation.
Select Wines
The wines that guest's taste will typically be from non-Napa Valley vineyards. For a relatively small winery they produce a large number of wines. As a result, we focus on a select few that we enjoyed during several visits to the property.
Keefer Ranch in the Russian River Valley of neighboring Sonoma County has a special significance to Failla; this vineyard produced the first Pinot Noir that Ehren made bottled under Failla wines – and he continues to make wine from here every year. The vineyard owners originally were planning to grow vegetables on the property and sell to local farmer's markets but when Dr. Robert Keefer took classes on grape growing, he realized the value of their location and decided to grow grapes and sell the fruit (planted in 1988).
The 2015 Failla Keefer Ranch Russian River Valley Pinot Noir shows elegant fruit on the bouquet – it is a pretty nose that offers floral notes (dried rose petals) with hints of dust. Bright on the palate, this wine reveals red cherry, currants and a gravelly nuance. Lively acidity along with seamless tannins linger on the supple finish.
The 2012 Failla Pinot Noir Hirsch Vineyard Sonoma Coast (tasted 10 years post vintage date) is pale ruby in color with noticeable brickish color influences. The bouquet shows some bottle bouquet and offers brooding aromas after all this time including earthy smells including of leaves on a forest floor in late fall, mushrooms and barnyard (gamey). Also shows notes of rose petal, violets and dried herbs as the wine evolves in the glass. Let it continue to open – it will transform and reveal additional fruit aromatics. The palate is elegant and still bright with flavors of cranberry, pomegranate and red cherry. This wine is seamless from start to finish with supple tannins which are very well integrated into the finish. This wine still has life ahead of it although it is tasting very well 10 years post vintage date.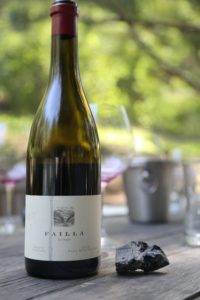 The 2006 Failla Sonoma Coast Chardonnay has a wonderful fruit driven nose, slightly flinty with hints of melon, pineapple and honeysuckle. The fruit follows onto the palate with lively acidity and a nice clean finish. The 2006 Failla Viogner is sourced from Edna Valley in San Luis Obispo County. This wine has big aromatics including herbs and jasmine with a palate hinting of stone fruit (white peach, nectarine) and even a little citrusy marmalade flavor.
Syrah lovers take note – this variety rounds out Failla's repertoire and is their "biggest" wine. The 2015 Failla Estate Vineyard Fort Ross-Seaview Syrah is one of the more 'elegant' Syrah's we have tasted (not a word we typically use with wines made from this variety). The bouquet shows bittersweet dark chocolate aromas, with darker fruits along with being slightly savory. Shows bright fruit both on the bouquet and on the palate – the focus of this wine is on the fruit rather than any influence from oak. With great acidity and good structure, should be quite age worthy.
Failla Wines, Oregon
In May of 2018 Failla Wines opened a small tasting room at Zenith Vineyard in the Eola-Amity Hills appellation in Oregon's Willamette Valley. Failla uses the sizable winery on site through a multi-year lease – while Zenith Vineyard uses the large space on site to host a number of events. Failla sources fruit from both the Zenith Vineyard (on site) as well as from select other vineyards in this part of the Willamette Valley. Failla also owns 80 acres within a short drive of the tasting room and winery – as of 2019 this has not yet been planted although there are plans to eventually plant part of this property to vines. Their property is in the Van Duzer Corridor AVA (granted its AVA status in December of 2018).
Tastings focus on their Oregon grown and produced wines although a number of other wines are also offered for sampling including from both their Napa and Sonoma County vineyard sources. No appointments are needed to visit the tasting room – guests can also request by appointment the Failla Farm to Failla Tasting, Tour & Lunch (enjoyed at one of the tables inside the tasting room).
In addition to their Oregon Pinot Noir wines, one intriguing wine Failla produces is Grüner Veltliner – a dry white wine most known for being grown and produced in Austria. This wine is sourced from grapes first planted in 1968 and the 2017 vintage we tried, offered a very distinctive bouquet.
For more information or to join one of their wine clubs, visit: www.faillawines.com
Exterior/Vineyard Napa Valley

Cave/Winery, Napa Valley

Hospitality House, Napa Valley

Failla Wines, Oregon