Introduction
For many years the city of Napa was just a place you passed as you entered the Napa Valley – the city center is not on the main highway (Highway 29) and it was lacking in restaurants, hotels and tasting rooms. When you told people you were visiting the Napa Valley, the city of Napa was not mentioned as your final destination, rather you would have been referring to the wineries up valley; it was those wineries that long attracted the majority of the visitors to the valley. They still do, however there is now an additional reason to visit the Napa Valley and that is the city itself.
Since 1862 Napa's downtown has flooded 22 times and local businesses were rightfully tired of having to deal with the repercussions of the flood waters during years of heavy rainfall. The latest was in 2005 when much of downtown Napa was under water. Napa decided to finally do something about this – and in 1998 residents narrowly voted to improve and focus their attention, and feature the Napa River more prominently in their downtown.
A levy created a 900 acre wetland/overflow region south of the city, twelve new bridges were constructed, undesirable buildings were razed along the river front and parts of a "new" downtown began to emerge. Work was completed on the actual Napa River and the Napa Creek to help prevent and control devastating flood waters.
Today Napa has attracted both fine restaurants and top hotels. While the "river and re-development" plans continue to progress (slated to complete in mid 2012) – in a relatively short amount of time, downtown Napa has been reborn as a culinary and wine tasting mecca. Since 1996 nearly 1 billion dollars has been invested in downtown Napa from both private and public sectors.
Today the river front retail space commands some of the highest prices per square foot in the entire city. Restauranteurs such as Masaharu Morimoto has set up shop here and a state of the art visitor's center is open. Just east of the river – the food and wine center, Copia (currently closed) was the magnet that drew the Oxbow Public Market and a number of tasting rooms to the Oxbow District.
Lodging
River Front Terrace is a handsome three-story hotel which sits on the banks of the Napa River. The central part of downtown Napa is about a 10-15 minute walk away while the Wine Train depot and the Oxbow Public Market are located even closer. There are a number of reasons that make a stay here appealing including free WiFi (a rare thing at a number of hotels these days), heated outdoor pool, a gym and a winebar on the first floor that features a well stocked collection of Napa wines. Breakfast is also served on the first floor.
The rooms are spacious and include private balconies overlooking part of the Napa River. The hotel also boasts 3000 square feet of event and meeting facilities. The fine dining restaurant Cuvee anchors the entrance to the hotel and is merely a sixty second walk from the lobby. This is not a bad location at all, especially if you've had a few late night drinks at their bar. Visit: www.riverterraceinn.com
For a more intimate stay choose Churchill Manor, certainly one of Napa's most beautiful and largest B&B's. This mansion was built in 1889 by Edward Seward Churchill. Unfortunately Edward met a rather nasty death – trying to recover from the flu in 1903 he reached for his medicine – he took a bottle of carbolic acid instead and once the mistake had been realized, it was too late. He died from heart failure while rushing to the local hospital.
This was the first residence in the Napa Valley to be listed on the National Register of Historic Places. It is gorgeous – both inside and outside. The interior is a living work of art and features almost 10,000 square feet of space spanning three floors. Old growth redwood is featured prominently from the fireplace mantels, moldings, solid redwood doors that slide out of the walls to impressive solid Corinthian wood columns. The rooms are appropriately named after a number of Napa's sub appellations (Oakville, Stag's Leap, etc). Joanna Guidotti and Brian Jensen have been the innkeepers since the late 1980's. Visit: www.churchillmanor.com
The Culinary Scene
With over 60 restaurants located in and around downtown, Napa is a culinary lovers dream destination. We highlight a few below.
Napa Joes is a Napa institution for breakfast having been established in 1993. This is also a brewery but the beer is best saved for lunch! This family run restaurant is very central and located within easy walking distance of many hotels and businesses. It overlooks the Napa River and on warm days dining is also served outside on their adjoining patio. Visit: www.downtownjoes.com
Cuvee Napa is located on the same property as the Napa Terrace Inn just north of downtown. Good things are happening here – the culinary focus is on "farm to table" with a modern approach. They source from local farmers markets, a mushroom forager visits every week in season to bring them wild mushrooms and plans are in place to change the surrounding landscaping to mostly edible vegetation.
The restaurant has a "name your own" corkage fee with the proceeds raised from this donated to the Connolly Ranch – a non profit based in Napa that educates school children about farm life, agriculture and the benefits of sustainable and organic gardening. Wine is a big part of a visit here – they received the the "Award of Excellence" by Wine Spectator Magazine and feature more than 150 wines (both larger and smaller mainly Napa producers). Desserts are also a big part of the dining experience – so much so that after 930pm Cuvee opens the dining room for dessert-only reservations. The restaurant has its own pastry chef which is somewhat rare for a small restaurant. Visit: www.cuveenapa.com
Eiko's specializes in authentic Japanese cuisine including seasonal dishes and fresh fish. There is a nice vibe here that feels more like a big city – somewhere in Los Angeles or San Francisco rather than Napa. That's not a bad thing. A specialty are their liquid nitrogen hand crafted cocktails – created table-side. We enjoyed one of the best Capiranhas we've had outside of Brazil – it was blended rather than on the rocks. Quality sashimi. Visit: www.eikosnapa.com
Oenotri is located almost across the street from Eikos. The focus here is on inspired Italian and fusion cuisine that changes daily (up to 40% of the menu changes every day or two). It is Napa after all and wine is never far from a meal; the wine list is 25+ pages and features both Napa and Italian wines. Oenotri even maintains a wine club! While the main meals are outstanding the deserts take it to the next level. The highlight of a recent culinary experience here was the Ricotta Panna Cotta with Mandarins and Napa Honeycomb. Visit: www.oenotri.com
Oxbow Public Market (named after the Oxbow shape of the nearby Napa River) is home to a number of vendors, a gourmet grocer and small eateries. This is an ideal place to pop in for lunch – frequented by both locals and tourists alike. Highlights include the Hog Island Oyster Co (choose from several delicious half shell options and their steaming shell in clam chowder) and Kitchen Door (gourmet foods at reasonable prices). Gotts Roadside boasts what is probably the best wine list at a hamburger joint anywhere for miles (not counting the original Gotts in St. Helena up valley). Model Bakery and Three Twins Ice Cream both make excellent after lunch stops. visit: www.oxbowpublicmarket.com
Others
Carpe Diem – large selection of small dishes, charcuterie and wines – carpediemnapa.com/a>
La Toque – Ken Frank's Michelin starred restaurant – www.latoque.com
Uva – a well established Italian restaurant – www.uvatrattoria.com
The Tasting Scene
With well over twenty tasting rooms open to the public in and around downtown – one does not need a car to wine taste in the city of Napa. Legally tasting rooms have to charge for their tastings – but if you pick up a Napa Taste Card you can taste at a collection of 12 tasting rooms for only 10 cents per taste. Visit: or view Buzz Napa , an association of 15 downtown tasting rooms.
Need more insights into the Napa tasting room scene? We have personally visited, tasted with and reviewed all the tasting rooms in downtown Napa. Visit: www.napawineproject.com/napa-valley-tasting-rooms.asp
A few recommended stops are the following:
Backroom Wines is owned and operated by Dan Dawson and is one of the oldest wine shops/tasting rooms in downtown Napa. They have a very good selection of wine, carrying smaller Napa producers and International wines as well. Along with the wine store, Backroom offers a tasting bar which features "off the grid wines" – local wines that you probably won't find outside of the Napa Valley. The store also offers a number of special tastings popular with locals and visitors alike. Backroom even features their own label – Corsair, a very limited production wine made for the store and only available here. Visit: www.backroomwines.com
Olibisi / Trahan is a shared tasting room run by two friends to showcase each of their own wines. A visit here is personal one – Chuck Custodio is the co-owner and winemaker for Trahan and Ted Osborne is the winemaker and owner for Olibisi. You can taste a wide range of wines ranging from the cooler weather varietals of nearby Carneros (Pinot Noir and Chardonnay) to more "up valley" wines such as Cabernet Sauvignon, Merlot and a somewhat unusual 100% varietal Petit Verdot. Their production is small – and other than a few select restaurants you can only find their wines at this tasting room. Visit: www.olabisiwines.com and www.trahanwinery.com
Entertainment
The historic Napa Valley Opera House opened in 1880 and over the years has featured performers such as John Philips Souza and author Jack London. While Opera is part of the name this genre actually composes a small percentage of performances. More recently Steve Martin, Willie Nelson and Robin Williams performed here. A major renovation was done in the 1990s.
Uptown Theater – this iconic art deco theater opened in 1937 and for many years was the "name in town" for movies. Slowly it declined and by 2000 the grand theater had been divided into four sections. That year a group headed by local real estate magnate George Altamura took ownership and started restoration. The theater re-opened 10 years later and has been superbly resurrected. Uptown is now setup for live performances – a decent amount of seats were removed leaving more space for the current seating. Already name acts such as Rosanne Cash and Cyndi Lauper have performed here. Visit: www.uptowntheatrenapa.com
Art
Internationally recognized Gordon Huether is a man on a mission both artistically and politically. This long time Napa artist maintains a gallery downtown which contains both his artwork as well as rotating guest pieces. Gordon has been commissioned to create large public works of art worldwide. His 15,000 square foot working studio is about 10 minutes from downtown (open to the public M-F). Gordon is also a member of the Napa Planning Commission helping contribute his "eye for aesthetics" and design to Napa's redevelopment.
Gordon has finished creating a Napa 9/11 Memorial – he took a trip to New York to pick out steel beams from the World Trade Center to use in the memorial. He was given a choice of steel to select from – and immediately told them he would take them all! Visit: www.napa911memorial.org and his gallery: www.gordonhuether.com
The Napa Art Walk is a collection of public pieces of art that are placed in select locations in downtown – focusing along First and Main Streets. The works are on display for a full calendar year and are open to public voting (a prize given to the winner).
Wine Train
The Napa Valley Wine Train provides a memorable and relaxing 36 mile round trip, 3 hour train ride from the city of Napa to the city of St. Helena. The historical track was laid out in the 1860's to bring guests up to the small resort town of Calistoga. Much of the journey parallels the main road (Highway 29). While on the train, you are certainly not driving, you can drink, you are not dealing with traffic especially the line-up that invariably develops around the town of St. Helena especially on the summer weekends and you can enjoy a gourmet lunch or dinner. Train versus car in this situation: advantage train!
A visit to wine country in and of itself can be a romantic one but when you throw in a historical train ride you have a recipe that appeals to honeymooners, those celebrating anniversaries and other special occasions. Taking "love" to the next step is the train's "Love-Lock" bridge – the main boarding platform. Guests are encouraged to bring a lock and fasten it to the chain link fence like hundreds of others have done. Visually, visitors often get into the spirit of the ride – wearing red bandannas or other train apparel.
Some visitors have obviously enjoyed wine to start their day even before arriving at the Wine Train Depot in the city of Napa. During a recent visit a host gave an introduction about the journey, described the wines available and mentioned their on board wine educator. She asked if there were any questions. A young woman queried, "is the wine educator, hot" sending waves of humor and applause through the audience.
A more relevant question might be about the actual wine that is served on board. It is Napa after all and the Wine Train has two well stocked wine bars which not only offer wine from larger producers but also smaller family owned wineries.
The actual Pullman train cars are historical ranging in age from 1915 to the late 1950's. It is posh inside, elegant, and a trip back in time. Visitors are greeted by original red leaded glass windows, Honduran mahogany paneling, brass accents, and velveteen fabric armchairs.
The gourmet meals are a highlight of the wine train experience. Choose from a variety of starters, entrees and desserts. To get your salivary glands working, a recent lunch featured local caviar on sauteed baby carrots and kale with salmon, chicken with a peppercorn cognac demi and baby arugula – among others.
The train's furthest stop up valley is in the town of St. Helena where the locomotive is changed and the train reverses directions. This is as far as the track runs – in the 1970's the track from St. Helena to Calistoga was unfortunately removed. Be sure to walk out on the "deck" in the last car to watch the locomotive re-attached to what becomes the "front" of the train.
Looking to combine the train ride with a winery stop? The Wine Train has partnered with Domain Chandon, Grgich Hills, Raymond vineyards and ZD Winery to offer additional wine tasting (by prior reservation). The Wine Train also offers seasonal and ongoing special events. For more information on this uniquely Napa experience, visit: www.winetrain.com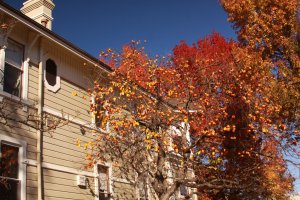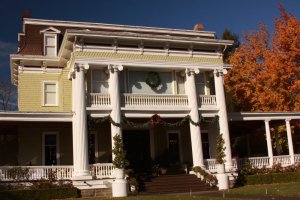 Transportation
There are four airports within driving distance of downtown Napa. San Francisco has the most daily national flights, followed by Oakland and Sacramento. Horizon Air is the only commercial airline to service Santa Rosa. Major rental car companies are available at each of these airports. Note that driving times may vary dramatically during busy times (weekday afternoons) especially from Oakland or San Francisco airports.
Oakland (OAK) to downtown Napa: 70 minutes.
Sacramento (SMF) to downtown Napa: 60 minutes.
San Francisco (SFO) to downtown Napa: 90-120 minutes depending on traffic, most flights of any of the airports.
Santa Rosa (STS) to downtown Napa: 60 minutes.
Ditch the Car
– Evans Transportation offers daily bus service to their terminal in Napa from both San Francisco and Oakland airports. They also offer pickup and drop off service at a number of Napa city hotels. Visit: www.evanstransportation.com
More Information
Visit Napa Valley – www.visitnapavalley.com
Napa Valley Wine Train – www.winetrain.com
Napa Vintners – www.napavintners.com
Napa Downtown Association – www.napadowntown.com
The Napa Wine Project – www.napawineproject.com