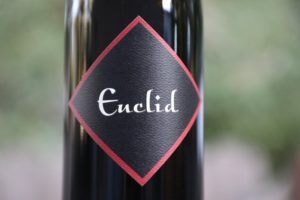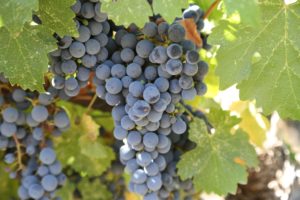 Euclid Wines was founded by father-son Mike and Lucas Farmer with their first release of a Cabernet Sauvignon from the 2009 vintage. However, their story begins much earlier than this. Mike grew up in El Sobrante (San Francisco Bay Area) and has a background in chemical engineering; prior to his work in the wine industry he was working in the plastics industry. Soon the wheels were in motion to what would lead to a move to Napa Valley (1978).
His wife Sarah wanted to move closer to her parents and Mike's brother-in-law had already moved to Napa Valley. For a year Mike commuted back and forth between his job for the plastics company and his new home in Napa. Quickly tiring of this he applied for a temporary job at Robert Mondavi Winery and was pleasantly surprised to discover several of his high school classmates were already working there. He started working at Mondavi in 1979 as a cellar worker and by the time he left in 1993 he was the cellar supervisor. His new job did not take him far from Robert Mondavi Winery – literally almost across the road (Highway 29) to Opus One where he spent 21 years before retiring in 2014 (was Cellar master and Assistant Winemaker).
During his time at Opus One Mike became very knowledgeable about various coopers and how the types of barrels will influence a wine. He estimates he has personally overseen more than 300-barrel tastings over the years including evaluating various toast levels, flavor profiles and textural contributions among other factors. As a result of his extensive experience, he has learned to carefully select certain barrels for Euclid's Wines – paying close attention to qualities from the barrels that will create balanced wines. He says, "it is a sin to over oak and a sin to under oak".
Despite growing up in Napa Valley and being surrounded by his father's work – wineries for Lucas were always a part of the 'background' during his formative years. He recalls his first memories of Opus One were spent shooting basketballs into a portable hoop for the employees while his father worked in the cellar.
In 2003 Lucas took an extended trip to New Zealand focusing on outdoor adventure activities that this country is so well known for. Visiting wineries was the furthest thing on his mind during this trip but when a friend suggested they visit a winery Lucas went with him. Interestingly enough, he had to travel halfway around the world to be inspired by a winery. The winery they visited was for sale and Lucas soon had visions of he and his father purchasing it and starting an international wine business. At the time this winery was listed for approximately $110,000 USA dollars – and the price didn't seem so bad.
Upon returning to Napa Valley his father soon talked Lucas out of this idea, but the seed of producing their own wine was sown. It also helped that Mike had been making home wine since 1990. Then the recession of 2008 hit, and the price of grapes dropped significantly. Lucas realized the timing wouldn't get any better than this and he approached his father about starting their own wine brand. This time, financially it made more sense.
The focus is on a limited production Cabernet Sauvignon each year with other small production red wines offered based on vineyard availability and sources which vary each year. They source the Cabernet Sauvignon each year from the Clark-Claudon Vineyard, a small family-owned hillside property located on the backside (northeast) of Howell Mountain.
Mike strongly valued the collaborative and team efforts of wine making during his time at Opus One; he encouraged different perspectives and creativity among his team members. This collective sharing of ideas by talented winemakers helped elevate their overall excellence of wine making. Today while making Euclid wines himself, he does not have a team to consult with, however he and Lucas bring in others in the industry to help with certain decisions such as blending.
Mike is a big believer in blending – adding additional nuances as needed to the wine, whether it is for mouth feel (textural), tannins or flavor among other components not to mention the added benefit of additional components to work with during a challenging year such as 2011 (with rain and cool temperatures late in the spring and early rain during harvest).
Mike wants his wines to be seductive; there is no greater complement to be had from one of his customers when they simply say, "wow" after enjoying one of his bottles. We have noticed these are always distinctive bottlings representative of the vintage. One gets a lot out of the Euclid wines in terms of diversity of aromas and depth of flavors.
Select Wines
Whites
The 2021 Euclid Chardonnay Carneros was fermented in about 1/3 new French oak barrels, 1/3 once used and 1/3 neutral. It is medium to dark in color; the aromatics are not shy and offer scents of citrus blossom, pineapple, a citrus zesty note, butterscotch, caramel, pineapple, honeysuckle and become more stone fruited as this wine evolves in the glass including of apricot and yellow peach along with a note of ripe mango. This is a rich expression of the variety without being oaky or buttery. The palate offers flavors of peach, apricot, nectarine, melon, comice pear and mandarin orange. Its texture is rounded and creamy without crossing into the territory of being too viscous. Bright and refreshing. This limited production club member only wine is typically produced in quantities of under 100 cases.
Reds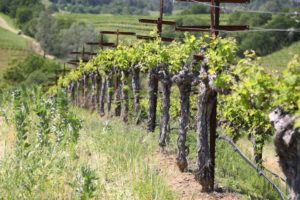 The 2019 Euclid Merlot Carneros Ghisletta Vineyard was aged in 50% new French oak barrels and 50% once used French oak barrels for 26 months. This wine is deep ruby; its bouquet is sweetly fruited and focused on its fruit characteristics including of dark plum, licorice, violets, cinnamon stick, cardamom and chocolate. Like all the Euclid wines, this bottling showcases Mike's careful and thoughtful barrel regiment, complementing the wines but never overpowering. Or as Mike likes to say, his judicious use of oak is, "the fingerprint of the Euclid wines". This wine is brightly lit across the palate offering red fruited flavors including of cherry, currant, cranberry and red licorice. A tartness of these resulting red fruits lingers on the mouth watering finish. This is a balanced, yet complex Merlot with both texture and depth of flavor. The grainy tannins parallel the fruit, both persistent features on the long finish.
The 2018 Euclid Cabernet Sauvignon Napa Valley (Clark Claudon Vineyard) was aged in 70% new French oak and 30% once-used French oak barrels for 24 months. This wine is deep ruby in color; the bouquet shows a persistent note of sweaty baseball mitt leather along with a dark tobacco spice. It shows additional scents of dark plum and crushed black pepper. Some of the spice notes are also mirrored as flavors including tobacco spice and plum along with blackberry and dark licorice. This wine shows some appealing character on both the bouquet and palate. It is savory, especially so on the finish with lingering light notes of pepper and other darker spices. The tannins feel grainy. A dustiness or dryness continues to persist. This superbly balanced wine is hard to put down.
The 2018 Euclid Tandem Cabernet Sauvignon Napa Valley (Carneros) was aged in 80% new French oak and 20% once used French oak barrels for 24 months. This wine is deep ruby in color; the bouquet offers scents of jalapeno (subtle), petrichor, white pepper, old cedar wood, suede, dried tobacco leaf, bramble, red plum and a hint of mocha deeper in the aromatics. This bottling shows some of the inherent characteristics to the variety almost always lost in riper more fruit forward expressions. The palate is savory and mouth watering showcasing what we call an 'herbal freshness' where there are some herbal and perhaps even some citrus notes tasted including of dried herbs but also a bright acidity. This bottling offers flavors of red cherry, plum and currant. Both grape and wood tannins show on the dark spice filled finish; their texture is grainy and they linger with a persistent drying character.
The 2016 Euclid Cabernet Sauvignon Clark Claudon Vineyard is deep ruby and opaque in the glass; this wine shows very youthful still, both on the bouquet and palate 7 years post vintage at the time of our tasting. The aromatics highlight a freshness of fruit including of Santa Rosa plum, cherry, raspberry, assorted red berry fruits and a note of chocolate. There is also a dried herb note. This wine shows flavors of plum, dark cherry, boysenberry and mulberry. The vivacious palate shows no sign of slowing down anytime soon. The tannins are firm, well textured with a gravelly pixelated character. They are broadly distributed across the palate and linger on the finish with a drying character. This bottling in particular is well worth seeking out. This wine was aged in 70% new French oak and once used French oak barrels.
The 2014 Euclid Cabernet Sauvignon Clark Claudon Vineyard is deep ruby; the bouquet offers a diversity of aromatics including of cherry, raspberry, old cedar and another layer of a light woodsy spice, mocha, expresso, coffee grinds and a blood orange nuance. As the bouquet evolves it opens to more of this wine's core fruit and the other aromatics start to dissipate. The palate offers flavors of plum and cherry and the lively and juicy finish lingers with red fruits along with a light herbal note. Mike always notices a flavor similar to the jelly filled center of orange sticks. Balance is this wine's middle name, a similar descriptor for approachability which was one of the features of this particular vintage in Napa Valley right out of the gate. The tannins fit together like the pieces of a puzzle and are well integrated into the finish.
The 2011 Euclid Cabernet Sauvignon is a blend of 85% Cabernet Sauvignon, 7% Cabernet Franc and the remainder being Malbec. The wine shows a nice balance on the bouquet; it is elegant and displays aromas of dust, herbal notes and smokiness as well as aromas of earth and dust watered by a recent rain. This bouquet has character that continues to evolve as the wine opens. On the palate more red fruit shows than darker with a unique tropical nuance on the finish including notes of papaya (from the oak) framed by fine-grained dry tannins. At the time of our tasting, the 2011 perhaps has more character but the 2010 may have a broader palate appeal.
The 2010 Euclid Cabernet Sauvignon (nearly 100% varietal) is an approachable extremely well-balanced wine in its youth. Aromatically it shows notes of black fig, darker cherry and vanilla. The wine is well-rounded with no sharp edges and is seamless across the palate. The tannins are slightly earthy and are very well integrated on the finish. Notes of tobacco, chocolate, toasted oak and darker cherry linger.
With access to several vineyards in the Sierra Foothills, Euclid Wines also produces several limited production 100% Syrah wines. Like other wineries, Opus One would sell their used barrels to various producers. One of the buyers, Jim Dalton founded Dalton Vineyard in 2001 in San Andreas (Calavaras County). When Jim heard Mike and Lucas were starting their own brand he asked them to come take a look at his vineyard. They now purchase Syrah each year for their 100% varietal Syrah bottling.
The 2019 Euclid Syrah, Sierra Foothills (Dalton Vineyard) is deep ruby; the bouquet offers a pleasing union of both primary and secondary aromatics. These include notes of dark plum, black cherry, blackberry and blood orange along with dark chocolate, mocha, bacon fat, a floral note including violets and a light but persistent woodsy/peppery spice. Dark fruited across the palate, there are flavors of freshly picked plum at the peak of its ripeness and blackberry jam; this latter flavor reminds us of our college days frequenting the Apple Farm restaurant on upper Monterey Street when the parents were in town and enjoying their famous blackberry jams. The palate also sports notes of boysenberry and Pakistani mulberry. The grainy tannins are well integrated into the long lasting fruit filled finish. There is plenty of crowd pleasing appeal here; those who dislike a more spicy/peppery Syrah will do well to try this particular bottling. Delicious. 15.6 alcohol.
The 2011 Euclid Syrah shows a bouquet that is ripe and appealing; it reveals layers of highly aromatic fruits including black cherry, blackberry and is complemented by toasted oak spices including clove and vanilla. It smells like dessert in a glass. The mouth feel is rounded with plenty of flavor; the finish is lively with firm yet well integrated tannins. This Syrah took Best of Class in the 2015 San Francisco Chronicle wine competition.
—
The name Euclid was chosen to honor Mike's step grandfather Euclid Farmer, a man who married his grandmother and inherited 8 children. Mike never met Euclid but looked up to him for his hard work and integrity – attributes they want to be known for in producing the Euclid Wines. And Euclid also happens to be his own middle name.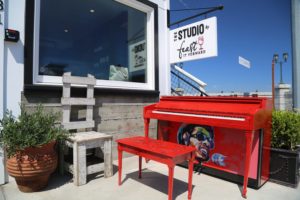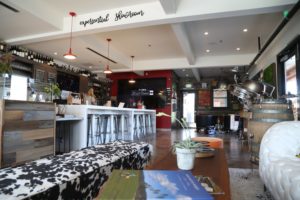 For several years, Euclid was one of up to sixteen vintners featured in the The Studio by Feast it Forward (opened in June 2018). This showroom is located directly across from the Oxbow Public Market and packs in numerous experiences in a small space. This two-story building houses an "experiential showroom" as founder Katie Hamilton Shaffer calls it with a focus on wine, food and music.
Each vintner represented offers several wines and several of the showroom's sponsors have prominent placement including the Gibson Guitar Lounge. A Chocolate tasting is also offered and there is a vinyl station for playing a variety of old records. Upstairs features a demo kitchen – when shows are being filmed here, televisions downstairs will broadcast the live feed. This kitchen can also be used for guest chefs to offer culinary classes.
As of 2023 Euclid hosts private tastings in the Parlour House by reservation only on the grounds of Feast it Forward, located in the Yard at Feast it Forward. Tastings are always hosted by Mike or Lucas.
—
Nearly all their wine is sold direct to consumer with some select restaurant distribution in Napa Valley including at Mustards Grill, Brix and the FARM at The Carneros Resort. A very limited number of their wines are selectively distributed in Florida. Their wines are made in small quantities, typically less than 250 cases per wine. And cases of each wine are set aside for the library every vintage – as a result, a limited number of older bottlings are for sale.
For more information, to schedule a visit and tasting and to join their mailing list or allocation program (with shipments twice a year, once in spring and once in fall), visit: www.euclidwines.com