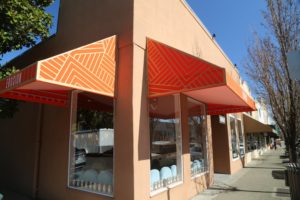 Erosion Wine Co. The beauty of Napa Valley is it attracts creative people from all walks of life including those with no background in winemaking. Take Patrick Rue for example; he graduated from Santa Clara University with a degree in Sociology and later he graduated from Chapman University's School of Law Program but ultimately did not pass his Bar exam. During his first year of law school, his wife Rachel encouraged him to take up a hobby and Patrick discovered home brewing. Not satisfied to be only a home brewer, along with his father he purchased a cheese and wine shop in Old Towne Orange, California and named it The Bruery Provisions. He also co-founded The Bruery in 2007, a craft brewer with two tasting rooms in Orange County and a shop in Washington DC. Patrick and his father closed The Bruery Provisions in 2013 and have since sold the majority of The Bruery to a private equity firm (it continues to operate in Southern California).
Patrick recalls his first trip to Napa was conveniently on his 21st birthday as part of a family trip to pick up his younger brother who was attending a culinary camp at the Culinary Institute of America in St. Helena. Later he fell in love with a number of wines in the valley including one of his favorites, Lewis Cellars. He recalls first making wines in 2010 with grapes sourced from Santa Barbara County. He began experimenting from the beginning – creating beer and wine hybrids. Eventually he and his wife Rachel moved to the valley and started Erosion Wine Co with their first ever release in 2020 from wines crafted in 2019.
Patrick brings a very unique perspective to winemaking in Napa Valley. None of his wines are vintage dated (they are usually made from a blend of several recent vintages), vineyard designated, varietal specific or appellation designated. All the wines are one-off productions some produced in quantities of less than 15 cases (the draft releases), with a large production being several hundred cases bottled in cans.
And some of the wines are infused with a variety of spices. This brings us back to a tour we took years ago at Robert Mondavi Winery in which one of the guests asked the host if the winery puts spices and other fruit flavors into their wines. We inwardly laughed at the simplicity of this question at the time – while the host patiently and thoughtfully answered the question and informed the guests they do not put any external ingredients for flavor into their wines. But looking back now with much more perspective on the wine industry, that guests' question certainly had some validity.
All of Patrick's wines are from Napa Valley. However, due to labeling laws, the infused wines legally cannot be labeled Napa Valley but rather are labeled as Napa County. He works with numerous growers and vineyard sites spanning at last count, 10 of the Napa Valley's sub appellations. Patrick's focus on winemaking is flavor first, offering a variety of diverse and unconventional wines (including blended with some varieties rarely seen in contemporary Napa Valley such as Alicante Bousche). And he remains humble in this star-studded industry where there is always more information to learn, the tagline on his business card simply reads, "winemaker in training". While he continues to build his winemaking resume, he is already an accomplished brew-master – as one of only a handful of people on the planet to hold the title of Master Cicerone, the beer equivalent to a Master Sommelier (he was the 8th to earn this coveted title).
Erosion Tap House: Winery & Brewery + Creamery St. Helena

The previous iteration of this space was dated and felt a bit tired – with Erosion Wine Company moving in, in early 2020, the space has been energized and has received a complete make over. No longer only a taproom, the space has since been partially converted over to the Erosion Creamery, focusing on a fine selection of ice cream and frozen yogurts. One ice cream freezer contains homemade ice cream by Patrick and the other freezer contains ice cream by neighboring Sonoma County based, Straus Family Creamery. During a recent visit we heard the best comments one could hear by several nearby happy customers. "This is so good", we heard one exclaim, referring to Patrick's Matcha ice cream, followed by, "this place is really cool".
A large flip board is located behind the tasting counter – a product of Philadelphia based Oat Foundry whose motto is "we build cool stuff". Certainly. Looking like one of the sign boards one may see at a train station somewhere in Europe, this flip board rotates a variety of messages. Guests can create their own message using a provided iPad.
And the Tap House opened directly next door in mid 2021. Casual yet contemporary the space is inviting and setup for guests to have fun and learn about beer and wine. Rather than offering only beer, a number of small production wines are available from 24 different taps. Guests can hang out at the bar or at several tables near the bar.
A tasting flight is presented in small beakers which can then be poured individually into glasses. Wines are also available for sale in "Crowlers", recyclable and re-sealable 750 mL aluminum cans and in 8 oz. cans as a three-pack.
A small gift area greets visitors upon entering the tasting room. Upon close examination one can quickly see the products for sale are as diverse as their wines. An eclectic assortment of temporary tattoos, various board games, Erosion branded clothing and adult humor coloring books are just a few of the items we spotted during a recent visit. A small, enclosed patio behind the tap room can be used by a limited number of guests.
In mid 2023 Patrick sold the business and moved back to southern California. The new owners include Erwin Thomas (Erosion's first general manager and a co-founder of the business with Patrick) and his two brothers-in-law Eloy Garcia and Jesus Delgado. details.
Select Wines
What happens when you let your 8-year-old daughter at the time name your wines? The results are some of the more creatively named wines in the Napa Valley. The wines will change – so will the names. A couple of intriguing names from their first release included Afraid of Clowns, Secret Handshake, the Floor is Lava and Large Marge.
These are certainly not cookie cutter wines – each one is hand crafted, and all are unique from each other with different flavor and aromatic profiles.
The Floor is Lava (Cabernet Sauvignon based) offers an earthy, mushroom driven aromatic profile. Savory with notes of smoked meat and bacon fat along with darker spices. Shows a sweetness of fruit on the palate including notes of ripe plum. Also, cardamom and other baking spices. Dusty tannins persist on a long mouthwatering slightly tart finish.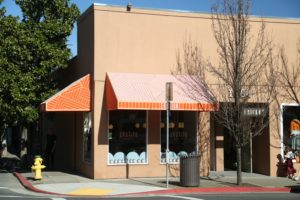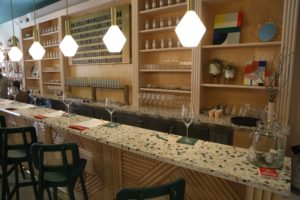 It is remarkable how much an infusion of spices can change a wine's profile – especially the aromas. We tasted the Secret Handshake and the Secret Handshakes (plural) next to each other – both are Merlot based wines. The Secret Handshakes was infused with vanilla and cacao – both spices immediately were evident on the bouquet. And structurally this wine felt more rounded than the non-infused offering.
Large Marge was partially inspired by a recent version of a Caymus Special Select – Patrick noticed the fruit forward characteristics and the appealing desert spices from its barrel aging. This wine is Cabernet Sauvignon based but was infused with nutmeg, vanilla and allspice. For his infused wines, Patrick adds the infusions post fermentation and aging, usually 5 to 7 days before bottling.
A ringer for a holiday wine, (with characteristics reminiscent of a mulled wine) this wine is dark in the glass with a bouquet featuring desert spices including cinnamon and vanilla. Has an egg nogg aromatic quality to it. The dessert spices immediately show on the palate including nutmeg and cinnamon. Mouthwatering acidity lingers with dry and dusty still tightly woven tannins. Firmly gripping but not course in texture, they persist for some time. This wine feels slightly chalky and features lingering flavors.
THE BRUERYS
The Tasting Room at the Bruery, Placentia
This space is conveniently located directly next to the 57 freeway off of Orangethorpe Avenue about a 10-minute drive from downtown Anaheim. The brewery and tasting room are located in an industrial park – the Bruery Fulfillment offices are located on the other side of the parking lot. Plenty of open-air parking is available within a short walk of the brewery entrance.
Seating is either inside or outside underneath a spacious tent (weather permitting). During our visit, no food was sold but the Bruery allows guests who order beer to bring in outside food. Food trucks are often parked outside or there are several restaurants within a mile or two drive to the west down E. Orangethorpe Ave.
The theme of their bottlings is diversity; in addition to ordering bottles or half pours guests can choose from pre-existing flights or create their own flight. At any one time there are approximately 40 beers on tap. Some of the experimental bottlings can be hit or miss as far as matching one's palate preferences. We tried a variety of samples with dominant flavors as diverse as mango, cucumber, chocolate and lemon.
The Bruery Terreux, Anaheim
NOTE: this space permanently closed since our visit. We keep our notes here for historical reference. This originally was used as a tasting room but has since been converted into an event space and is no longer open to the public.
The Bruery Store at Union Market, Washington D.C.
NOTE: this store permanently closed on May 1, 2023. We keep our notes here for historical reference. This east coast outpost of the Bruery (first location outside of California) is located in a neighborhood that has undergone a significant upgrade and revitalization in the past few years. Visitors to this block would hardly recognize it anymore. Located only about a 10-minute drive from the center of Washington D.C. and a three-minute leisurely stroll from Union Market.
Like at Erosion Wines, creativity is clearly on tap here. Their inventory is a wide variety of small production beers including sours, lagers, IPAs, stouts, ales and almost anything else you can imagine related to beer. And a number of their beers are only available at this store. Visitors who are familiar with Erosion Wines will see some familiar products here as several of the Erosion Wines are sold in the store. After a visit here, we can strongly vouch for one of their taglines, "like nothing you have ever tasted before".
Several membership options are available including their entry level, Preservation Society, Reserve Society (with access to very limited productions) and Hoarders (an invite only membership). And of note, the Black Tuesday release is an annual October 30th offering with a number of products branded as such going on sale for a very limited time.
—
The name Erosion was chosen for several reasons including the fact that the soil profiles of the Napa Valley would not exist without erosion, over the eon's soils continue to be eroded by water and wind. And Patrick is creating wines that he hopes will broaden people's palate, or as he puts it, "eroding preconceived notions people have about wine while at the same time respecting existing wine culture".
Erosion Wine Co works with several select distributors, but the wines are mostly sold direct through their St. Helena based tasting room and online. Friends With Benefits is their monthly membership subscription offering with several tiers available. For more information visit: www.erosion.buzz