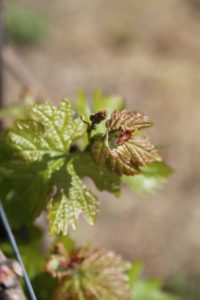 Erba Mountainside Vineyards is a 20 acre vineyard located on the back of Atlas Peak. The property was purchased in the late 90's, planted to several Bordeaux varietals including Cabernet Sauvignon, Merlot and Cabernet Franc. Erba is owned by Paul Erba an Oklahoma based Physician who has a passion for wine. He helped select the specific clones based on the specific soil types in his vineyard. Part of the vineyard is so steep that it can only be hand farmed as it is not suitable for machines.
There are great views of Wooden Valley on the backside and the shimmering Suisun Bay to the southwest. The vineyard sits at about 1500 feet and as a result is above the fog which often covers the valley floor far below. This ensures a long ripening period. The vineyard is separated into 14 unique blocks each of which is harvested separate from the other based on when the grapes are ready to pick.
Their first vintage was a 2003 Cabernet Sauvignon and in addition they make Syrah, Merlot and one of the owner's favorites, a Proprietary Blend. A variety of new French Oak is used on all the wines, in varying amounts depending on the wine. The winemaker is the well regarded Kristophe Anderson who trained under Nils Venge at Saddleback and currently also makes the wine for Gargiulo Winery. All the wines we tried were 2004 vintage. All had great color and are very dark and inky representative of probably extended maceration and the hillside vineyard from which they were sourced. Their Merlot is a big full-bodied wine full of dense fruit flavors including mouthwatering cherry and red currant. The 2004 Cabernet Sauvignon is a rich very dark wine with many layers of flavor.
The winemaker and vineyard management work together to discover the sweet spots in their vineyards and find out which clones work best when blended together. One of their earlier Cabernet Sauvignons was already very highly rated at the trade only event, Napa Valley Premiere.
The wines are available for tasting at the tasting room at Napa Wine Co.
Note: Possibly no longer making wines commercially. This review has been identified as needing a *major* update.