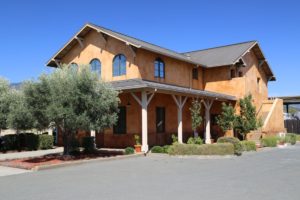 Envy Wines is located on the site of the old Calistoga Cellars winery north of the town of Calistoga. In this part of the valley, physical wineries begin to thin out, as does the traffic and as a result wine tasting is often less crowded then at some of the busier wineries to the south. For a tasting experience with the fewest people, come on a winter weekday in the morning. Envy Wines purchased the site in 2006; the acquisition included existing vineyards, a winery and tasting room. The 17-acre estate is planted to 11 acres of vines; they also source fruit from various vineyards throughout parts of the Napa Valley with a focus on vineyards in Calistoga. Production is generally limited to only several hundred cases for most of their wines.
From the driveway in front of the tasting room or from the patio one can see the location of Old Faithful Geyser (a local natural geyser) and if timing is such, it will be spouting off its white spray high into the air. There are also excellent views of the nearby Vaca mountain range including the tallest mountain in the vicinity, Mt. St. Helena (sometimes capped with snow on its upper reaches during the winter).
Well-known winemaker & co-owner of Envy, Nils Venge, used to work at Groth Winery and his Cabernet Sauvignon many years ago was awarded the first 100 point Cabernet Sauvignon by the famed American wine critic Robert E. Parker. Nils also owns Saddleback Cellars in Oakville and Cougar's Leap located in the Red Hills of Lake County to the north (although Cougar's Leap was for sale as of our latest update to this review in late 2021). Nils son Kirk is a well-known winemaker and runs Venge Cellars (located slightly south of Calistoga) and Croix Estate in neighboring Sonoma County.
Incidentally, this is one of the more creative winery names in all of the Napa Valley – Nil's initials are NV – NV also stands for Napa Valley, one can make the argument that one can be envious of others drinking Envy wines and as of yet, an untapped play on words as perhaps someday they will create an NV wine -IE, a non vintage.
During our first visit many years ago, we had the privilege of barrel tasting what was Envy's first vintage of several wines including a nice Syrah. During a later visit we sampled the final version (big nose, great flavor, full bodied) but by this time it had already sold out. Fortunately, larger productions of future releases were offered.
Visitors can either taste indoors at the long tasting counter or relax on their patio surrounding the tasting room. Weather permitting, the patio is often site to small bike groups who use Envy Wines as their lunch stop. Having fun tasting? If its not to busy, ask to check out their barrel room and maybe they will thieve a barrel sample or two. A tasting includes both white and red wines from Envy's portfolio.
Select Wines
The 2016 Envy Fortuna Vineyard Petite Sirah (Oakville) – roll this wine on its side in the glass and try to see your fingers underneath. You won't. Seriously dark and savory – the bouquet offers up meaty aromatics including mushroom, along with pronounced floral tones including violets. Also blackberry, fig and sweet black licorice. Big aromatics. Intensely flavored but without muscular tannins. A certain chewiness on the finish with dark fruit, dark spice and darker grainy yet well-integrated tannins. Lovely texture and easily enjoyed by itself. Very long finish.
The 2007 Envy Sauvignon Blanc is an ideal wine to complement seafood or even drink before dinner on a warm night. A diversity of fruit flavors show on the palate including pineapple, pear and green apple. The 2004 Envy Vine Haven Merlot features an exotic nose showing characteristics of a sweeter port-styled wine. However all resemblances to a port stop with the aromas as this is a dry very dark wine that is fruit driven, but not sweet – notes of chocolate round out the finish.
For many years Envy focused on estate wines only – however starting in the 2012 vintage they began offing single vineyard wines. The first release of this was a 2012 Petite Sirah from the Fortuna Vineyard in Oakville. The vineyard management team and winemaker have done a good job on managing the structure of this wine. Petite Sirah is a variety that can be big, rich and weighty in structure. This wine is rich in flavor but the tannins are surprisingly well integrated for being such a young wine at the time of our tasting.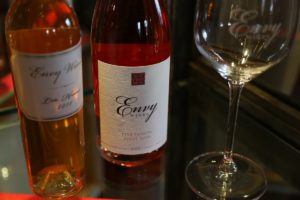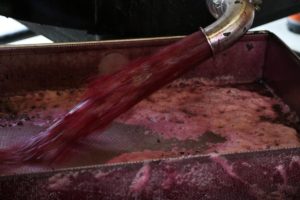 Envy also makes a late harvest dessert style wine. The most recent vintage featured Sémillon from neighboring Lake County and Sauvignon Blanc from their own estate vineyard. They are the only Napa Valley winery we know of that cane cuts the fruit before fermenting. They utilized this technique (several Australian wineries we know of also do this) on the Lake County Sémillon – letting the fruit hang on the cut canes for three weeks before fermenting. The result is pleasing – rich but not overly sweet – an ideal after dinner drink.
Also of note is Envy's popular "Bee Bee's blend which is made every year. This is named in honor of Nil's now deceased dog and is the only blend he makes for Envy Wines. The 2012 Envy "Bee Bee's blend shows pretty aromas of blueberry followed by dark fruit notes on the palate. It is well rounded with a delightful smooth finish.
NOTE: updated tasting notes for current release wines hopefully coming by the end of 2021 after we return from our 'Napa Valley' in Hungary trip.
—
Besides Envy's wines, a number of other labels are made on site. The reason for this is that much of the production facility is setup for custom crush where parts of the winery are rented out to producers who do not own their own physical winery. One label made here is Vine Haven which is Nil's "pet project" off and on again for the better part of the last 20 years. These wines are priced extremely reasonably.
One other note of interest is the historical looking house far to the west of the tasting room was used in the movie, Nine Months starring Hugh Grant.
Carter Cellars
A brand often associated with Envy Wines is Carter Cellars (their wines are made on site) – proprietor Mark Carter is Nil's partner in Envy Wines. These wines are vineyard designate – with some of the bottling sources from exactly the same rows each year. While Envy Wines can be tasted without needing an appointment, a tasting of the Carter Cellar wines generally requires an appointment. Carter Cellars focuses on premium Cabernet Sauvignon as well as a Merlot. Their first vintage was in 1998 and their wines have received excellent ratings over the years. We recommend the Coliseum block Cabernet Sauvignon. This wine is named after the way the rows of grapes are oriented in the shape of an ancient coliseum.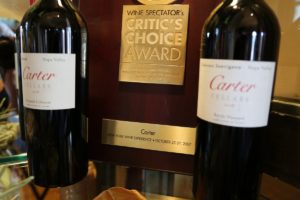 Mark also runs the romantic Carter House Inn in Eureka; the original Carter House is a beautiful Victorian mansion that he rebuilt in the early 1980's based on plans which detailed the original Carter House located in San Francisco (destroyed by the great 1906 earthquake and fire).
The well received Restaurant 301 is located at the Carter House. This restaurant has won the much coveted Wine Spectator Grand award for a number of years. While purchasing wines for this restaurant Mark was introduced to a number of Napa's top labels and vineyards during the 1980's and into the 1990's. One of those vintners he came to know was Nils Venge. When Mark decided to make wine commercially who better to have as his winemaker than Nils. Nils made Carter Cellars first vintage in 1998. We maintain a separate review of Carter Cellars on this website – see that review for more detailed information about their history and wines as well as photography from our visit.
The total production of Envy Wines every year is usually between 2,000 and 2,500 cases. For more information and or to join the Envy wine club, visit: www.envywines.com