Emmolo Wines was founded in 1994 by Cheryl Emmolo (her daughter Jenny Wagner now has taken over the operation of the Emmolo Wines). Cheryl's family has a long history in the Napa Valley wine industry with her grandfather establishing a prominent nursery near St. Helena which provided rootstock to area growers, starting in the 1920's. In fact he even built a stone winery (still standing today), but was never used due to bad timing with Prohibition. Cheryl's father has been a Napa Valley grape grower for many years and still provides grapes to a number of premium Napa wineries. She has always loved wine and wanted to provide a "wine legacy" to her children who are also involved with the winery.
Emmolo focuses on merely two wines – a Sauvignon Blanc and a Merlot. We started our tasting with the 2006 Sauvignon Blanc. The source vineyards include the Emmolo River Ranch property in Rutherford. This vineyard is trellised in an open leaf canopy style thus allowing maximum sunlight to reach the grapes. The grapes were not picked all at once, rather they were picked over a span of several weeks depending on ripeness. This wine is a light golden color and is all about the fruit. The aromas are full of citrus including lemon and lime with tangerine and a slight flinty or steel flavor on the palate. The mid palate is juicy and the finish is long.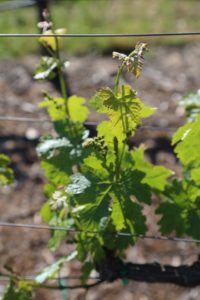 The next wine is one of the lightest wines you will ever see. It is a Rose of Syrah and has just a touch of pink or color to it. Part of this reason is the juice only spent 3 hours on the skins so it did not have a chance to pick up much color. The fruit for this wine came from Cheryl's fathers' vineyard whose grapes have been historically sold to other wineries so Emmolo is fortunate to have secured this fruit. Everything about this wine is subtle including the nose which has floral aromas and the palate which hints of raspberry and graphite. This is a crisp very dry wine.
Also of note is their 2005 Merlot which is a blend from two vineyards; one in Carneros and one from Atlas Peak. This is a big Merlot, dark purple in color with great blackberry, plum and cherry characteristics on the palate. It is well balanced between fruit, acidity and tannin structure. Emmolo does not sell direct to consumers, but they are well distributed within the USA and parts of Canada. Visit their site for details: www.emmolowines.com
Note: This review has been identified as needing a major update.