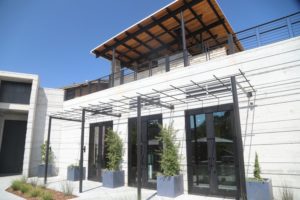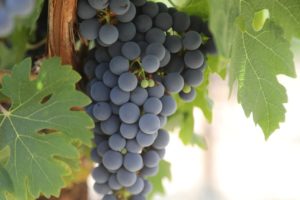 Elusa Winery. Almost unheard of in an industry that is already noted for taking its time, Elusa Winery began producing wines in 2010 and remarkably never sold any of the subsequent vintages until the summer of 2021. As a result, when the tasting room opened for visitors on September 1, 2021, they were in the very unique position of having an excellent library of wines that for all intents and purposes had never been available to wine consumers.
Elusa is a Wappo word meaning to care for or hold something precious and refers to making or growing things. The brand logo is a stitched image, an outline of part of a hand woven Wappo basket.
The first two vintages of Elusa were crafted by winemaker Kirk Venge. Starting with the 2012 vintage, winemaker Thomas Brown took the reins and has overseen the winemaking ever since. For Thomas, Calistoga has played an extremely important role in his winemaking career. He moved to Napa Valley in 1996 from his hometown of Sumter, South Carolina and took a job at All Seasons Bistro in Calistoga, a restaurant known for their California cuisine, wine selection and long time in business – but unfortunately permanently closed in 2020.
While there, Thomas met winemaker Ehren Jordan who was working for Larry Turley at the time of Turley Wine Cellars. Thomas took a job with Ehren in the cellar at Turley in 1997 and spent several years there before beginning his own career and starting to consult for various clients (some of whom were clients that Ehren was already working with). And Thomas and his wife Genevieve own and operate Rivers-Marie Winery in Calistoga.
Elusa Winery is located on the grounds of the Four Seasons Resort (which opened in the fall of 2021). This is the only resort located winery in all of Napa Valley. While a completely separate entity from the resort, their relationship with the Four Seasons is a partnership. The estate vineyard was replanted in 2018 and in 2020 and is 4.7 acres, entirely to Cabernet Sauvignon. The first wines made under the Elusa label (a Cabernet Sauvignon and a Cabernet Franc) were from vines from this vineyard before the replants. Visually the vineyard is intriguing in that it is planted between the villas and residences rather than being a completely separate site from the resort.
Ground was broken for the resort in 2014 and construction lasted 7 years until completion in late 2021. Thomas oversaw the design of the winery and had full input into the cellar including the small tank sizes (primarily 5 tons with a larger 17-ton tank also available).
Select Wines
The focus of the Elusa wines showcase Calistoga terroir including single vineyard designate bottlings as well as multiple vineyard site wines. Some of the Calistoga sites Elusa has or is working with include Kenefick Ranch, Lantz Vineyard, Luvisi Vineyard, Tofanelli Vineyard and Lindquist Vineyard. The winemaking team takes a minimalist approach, letting the fruit express itself fully while carefully complementing it with oak. These wines are built to age yet are surprisingly approachable in their youth.
The 2020 Elusa Sauvignon Blanc was sourced from the Panek Vineyard, located just north of St. Helena. Moving forward this wine will be from the Tofanelli Vineyard off of Dunaweal Lane in Calistoga. This wine is medium gold in color with aromas of honeydew, dried straw and a lemon zest. The texture is a beautiful characteristic – creamy, rounded and very supple across the palate. Offers flavors of green apple and citrus including pomelo. The palate is refreshing and is not tart but not overly tropical either. This wine was aged for 8 months in oak. The 2021 vintage was aged in both oak including one cigar barrel and also a single stainless-steel barrel.
The 2018 Elusa Kenefick Ranch Vineyard Cabernet Franc is deep ruby in color; offers aromatics of spicy plum and blackberry along with some floral overtones including lavender. The aromatics are also slightly savory with old cedar box, dried herbs, black olives, a meatiness and notes of crushed black pepper. Offers an intensity of fruit across the palate with primarily black fruit flavors including Santa Rosa plum and dark cherry. Superbly balanced in its youth, the texture is lovely with gravelly tannins that roll across the palate gently with no sharp edges whatsoever. Lingers with some of the savory characteristics that show on the bouquet including notes of dried tobacco leaf. We immediately thought of pairing this wine with BBQ ribs or tri-tip; think Busters BBQ in Calistoga. And incidentally this vineyard borders the eastern side of the Four Seasons Resort so the commute for the grapes when harvested is an exceptionally short one.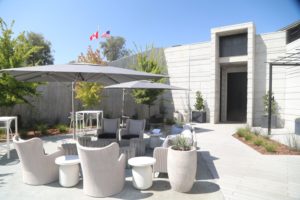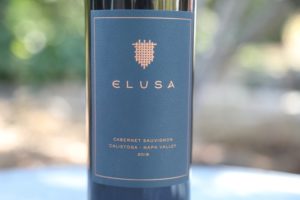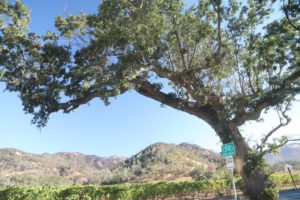 The 2018 Elusa Cabernet Sauvignon was sourced from three vineyard sites in Calistoga: Kenefick Ranch, Lantz Vineyard and Pozzan Vineyard. Offers plenty of fruit on the bouquet including of plum, ripe blackberry along with dried rose petals, red licorice and old cedar box. Also, a hint of dust – think of the smell late in summer, the ground is dry, and the first rain has just fallen, even if it's just a small amount. This wine is generous across the palate in flavor including cherry and currant. The finish is anchored by gravely and earthy tannins, along with darker spices which persist for some time. The brightness of fruit and accompanying acidity show very well.
The 2018 Elusa Kenefick Ranch Cabernet Sauvignon is dark ruby in the glass; the bouquet immediately offers dark fruits including plum, complemented with dried tobacco leaf and darker spices. As the wine evolves, it reveals a hint of chocolate and sweet cherry. It is very well balanced across the palate with a richness of fruit especially showing on the finish. Great acid. The tannins are earthy and anchor a savory finish with flavors of peppercorn and earth notes.
Elusa Winery produced a Petite Sirah from 2014 through 2016 although wine is no longer bottled from this variety. The 2014 Elusa Luvisi Vineyard Petite Sirah is dark purple and 'octopusy' inky dark as night color. The bouquet offers pretty aromatics showing very fresh and ripe notes of plum, blackberry and dried cherry (we tasted 7 years post vintage date). The fruit aromatics are the primary characteristic of the bouquet with oak being a complementary factor. The nose also shows some floral notes including violets. The palate offers both a simultaneous intensity of fruit and density of tannin structure. This is very much what you expect a Calistoga Petite Sirah to be – rich and robust. Lingers with dark fruits and dark spices including pepper and dried tobacco leaf. The tannins are long lasting and persistent.
The 2012 Elusa Vineyard Cabernet Sauvignon (produced from the vineyard on site) is dark ruby in color; it shows some bottle bouquet (we tasted 9 years post vintage) with aromas of dark cherry, sweaty leather and sweetness of fruit including of plum. The palate is still very much lively with flavors of red cherry, raspberry and currant. The tannins are firm, even a bit tight still, straight out of the bottle (no decanting) and long lasting. Lingers with dried tobacco leaf. Mouthwatering and very food friendly.
—
Wines with a silver label represent vineyard designate bottlings and wines with copper-colored labels represent wines grown in the Calistoga appellation. The Elusa wines are almost exclusively sold through on-premise visitation and through their three-tier membership offerings which include: Essential, Evolution and Experience. The wines are not sold online. Total production is around 3,000 cases per year. For more information, or to schedule a visit, see: www.elusawinery.com
Hospitality
All visits are by appointment. Three experiences are offered including the Exploration of Elusa focusing on current release wines, the Evolution of Elusa which focuses on Library wines and the Complete Elusa Experience which includes a guided tour of both the estate vineyard and winery followed by a tasting of current release and some older vintages.
A number of hospitality spaces are located on site including the Members Courtyard, an outdoor tasting area located in front of the winery and the Members Room, an elegantly decorated intimate space with a copper piece of art hanging from the ceiling created in part from the firing of a cannonball through the copper plates. And an intriguing piece of art hangs on one wall with cutouts in the shape of grape leaves taken from the pages of various wine publications.
A special wine room houses 20 private wine lockers, one assigned to each of the 20 private residences on site.
Winemaking

Hospitality

Four Seasons Resort Napa Valley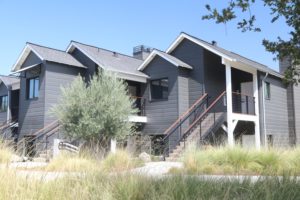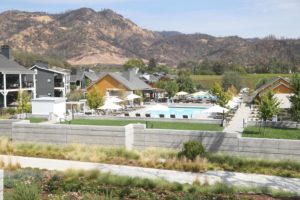 When one drives by this resort, one has no idea of its size as only a small portion of the resort is visible from the Silverado Trail. The property features 80 stand-alone villas and 20 residences (which were already sold out at the time of the resort's opening). Two pools are the center point of the resort part of the property – the Adults Pool and the Resort Pool (family friendly). The reception is elegantly decorated with a number of ceramic sombreros lining the wall behind the reception counter created by local artist NBC Pottery based in nearby Angwin. The coverings for the hanging chandeliers were made from buoys which used to float in the San Francisco Bay.
Two restaurants are on site: the primary restaurant is TRUSS Restaurant + Bar with its elegant interior including an open kitchen situated in the middle of the restaurant. One side serves breakfast and lunch, and the other side is reserved for dinner. An outdoor culinary kitchen with seating is used for culinary demonstrations and classes. Several raised beds near the entrance to the restaurant are for various herbs and vegetables. Parking is valet with cars parked in a single-story underground parking garage, located below the restaurant.
While the Elusa Wines are almost exclusively sold direct to consumer, their wines are available for purchase on the wine list at TRUSS. And Elusa Winery provides space in their barrel room for private dining experiences curated by the culinary team at TRUSS.
A second restaurant, Campo Poolside features a Oaxacan culinary theme.
One highlight of a stay here, is arguably a visit to the sizable Spa Talisa. This calming space features both a ladies and men's spa section along with a co-ed garden built around a sizable already existing rock that staff refer to as the 'gran roca'. The garden features a whirlpool with waters chilled in the summer and warmed in the winter. A mud lounge along with two showers is also located here, with complementary mud provided by the spa for guests who utilize their other services. And select products are both used and sold in the spa including LIV + GRACE SKINCARE and Seed to Skin.
An indoor fitness center with a sizable outdoor deck facing east is located on the northern part of the property along with several stand along buildings used for both private and corporate events. And unlike most spaces in Napa Valley, the Four Seasons is permitted to host weddings.
In the same theme as Cliff Lede Winery in Yountville, two flags greet visitors to the property – one American and one Canadian (representing the ownership base of the Four Seasons), although in late summer 2021, Bill Gate's private investment firm Cascade Investment LLC, purchased what is now a controlling interest in the company (Irvine, CA based Sunstone Hotel Investors).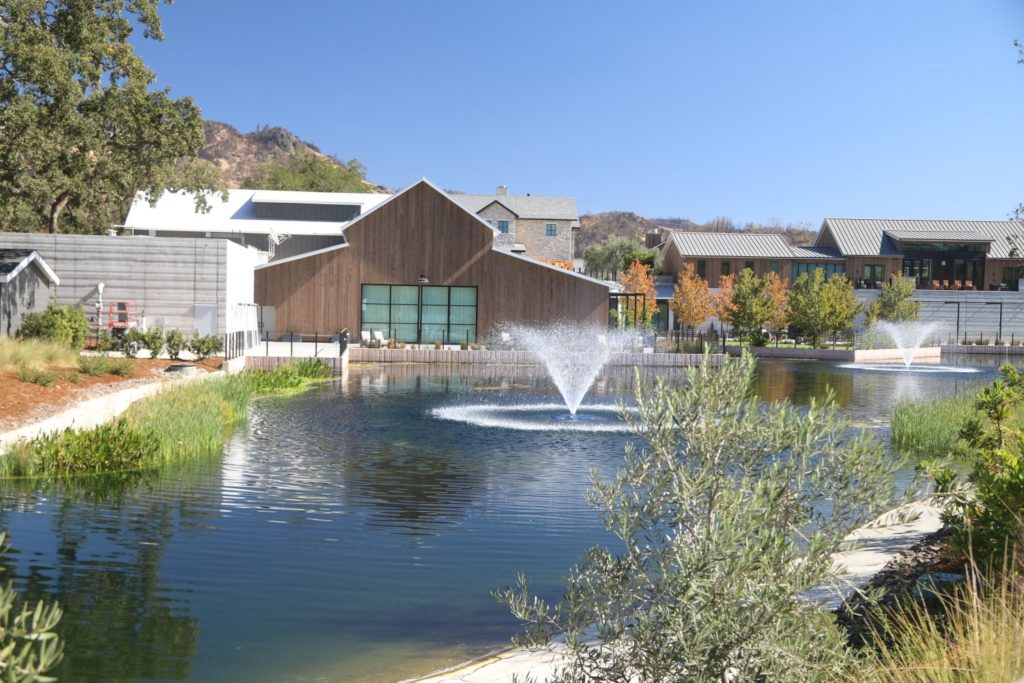 Previous Property History
This property was previously the home of Silver Rose Resort (from approximately 1993 through 2011). The site was owned and operated by the Dumont family. J Paul Dumont used to often vacation in Napa Valley and during one stay at the original Silver Rose Bed & Breakfast on site, he learned the owners wanted to sell. J Paul wanted a location to build a winery. Along with his wife Sally, he purchased the property, kept the original name and opened Silver Rose Winery in 2000.
This was a one-of-a-kind resort in Napa Valley – combining a winery with lodging (20 rooms). This resort was quite desirable during its heyday because of all the amenities offered on the property including a full-service spa. In the spirit of Napa Valley's thriving wine industry – their swimming pool was shaped like a wine bottle. After the opening of the nearby luxury resort property, Solage, Silver Rose finally closed its doors, initially the resort and then the winery and tasting room.
For a short while, the tasting room at Silver Rose Resort was used by B Cellars – before they built their winery and hospitality center on Oakville Cross Road. For a number of years after B Cellars moved out, the old B Cellars red truck stood in one corner of the property, easily seen from the Silverado Trail. Previous visitors to Silver Rose Resort will no longer recognize the property following the significant transformation over seven years. The one holdover from the prior resort to the Four Seasons is the impressive oak tree next to where visitors enter the outdoor winery hospitality space.