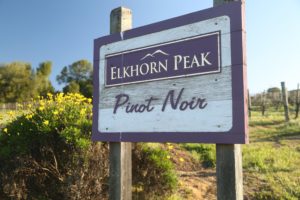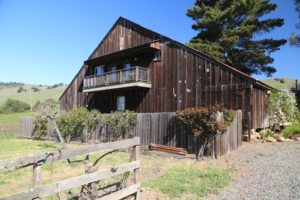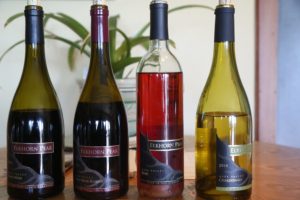 Elkhorn Peak Cellars is located in Jamieson Canyon, about a 20 minute drive from downtown Napa. This is one of Napa Valley's prime growing regions for Pinot Noir. The vineyard is located at an elevation about about 400 feet on a hillside below the actual 1,336-foot Elkhorn Peak. When clear, the views to the south are expansive – overlooking vineyards, the San Pablo Bay and even the towers of the Golden Gate Bridge far in the distance.
Vineyard manager and owner Ken Nerlove and his partners purchased 28 acres of land here in 1983; this area had never been planted to vines, rather it was previously used for cattle and sheep grazing. Ken initially planted only two acres, one each of Pinot Noir and Chardonnay; he wanted to be sure these varieties would do well in an unproven vineyard location with marginal soils. While the tops and upper slopes of the nearby hills are full of rock, their property is clay loam over a much harder clay sub stratum. The Chardonnay vines were removed in the 1990s after being infected by phylloxera and Chardonnay has never been replanted on site. Today the vineyard is entirely planted to 5 clones of Pinot Noir.
Ken also owns another piece of nearby land on the north side of the always busy Highway 12. The family calls this site, Vineyard 38, named after a 38′ Chevy that Ken used to own. This vineyard was planted to Pinot Noir for many years; these vines were removed and replanted to 8 acres of Cabernet Sauvignon and one acre of Cabernet Franc in 2019. Total acres under vine are 17. The family harvested their first Cabernet Sauvignon from this site in 2021 (made 200 cases) and also sells some of these grapes to other producers.
Winemaker and winery owner, Kent Rasmussen (Kent Rasmussen Winery) would often drive by this part of Napa; in the mid 1980s he noticed grapevines starting to take root in the hills (Ken's new vineyard). One day in 1987 Kent left a flyer with his contact information in Ken's mailbox. Ken then called Kent who came over to see the vines and this was the beginning of a winemaker/grower relationship that has lasted for more than 40 years.
Kent made the first vintage from the property in 1987; it was bottled under the label, Fagan Creek, named for the creek that runs through their property – and never commercially released. The first wine bottled commercially under Elkhorn Peak Cellars was their 1991 Chardonnay and a year later, a Pinot Noir. Kent used to oversee a number of custom crush clients at his winery but eventually decided to get out of that business entirely, except for one, Elkhorn Peak Cellars. He has made every vintage but has since stepped back and is now their consulting winemaker.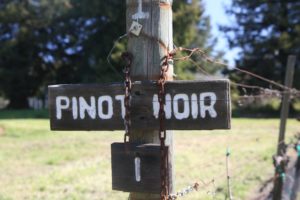 Today many acres of vines are planted in Jamieson Canyon, primarily from larger producers including Laird Family Estate and Raymond Winery. Vines were more recently planted to the north of their property, cresting right at the ridge line but not planted lower due to county slope ordinances. Elkhorn Cellars was originally a grape grower for many years (selling fruit to other wineries); today they use all grapes grown on the property for their own wines.
Being located closer to the San Pablo Bay means they have to contend with birds; each row is netted after the grapes go through veraison. Flocks of starlings in the area can certainly devastate a grape crop. The focus here is on quality not quantity; their vines naturally produce low yields with very small berries having a high skin to juice ratio. They do not drop any grapes throughout the growing season; typically, they harvest only about 2 tons per acre.
Their vineyards are farmed organically with a goal of regenerative farming. The core of regenerative farming is to build and maintain soil health. These practices including no tilling, implementing solutions that don't compact the soils, using organic compost, growing a diversity of cover crops, chemical-free weed management and possibly changing and raising trellising to accommodate sheep grazing on cover crops.
With more than 40 harvests under his belt, Ken has built up a wealth of viticulture knowledge including specific vineyard management practices which work best for his own vines. It is clear he is most at home when he is working among the vines. It is very educational listening to him convey his passion and knowledge about growing wine grapes – specifically about one of the more difficult grapes to grow, Pinot Noir.
In addition to growing grapes, Ken has been obsessed with antique pin ball machines, slot machines and other antiquities for more than 40 years. A 100+ year old wooden barn houses some of his collection. Ken's mother was an antiques dealer, and he grew up in a house surrounded by old treasures. Perhaps his mom's passion for antiques rubbed off on him.
This is truly a small family run business. Ken's daughter Elise is an integral part of Elkhorn Peak Cellars, helping manage the wine club and working alongside her father in the vineyard. Her energy and creativity have been an important part of the growth and direction of the business. Eventually she plans on taking over all of their winemaking. And Ken's wife Faith, is their bookkeeper.
Select Wines
Instead of growing Chardonnay on the property they purchase grapes from a grower in nearby Carneros. The 2018 Elkhorn Peak Cellars Chardonnay went through full malolactic fermentation and was aged for 12 months in neutral American oak barrels. This wine offers an intriguing bouquet with diverse aromatics including dried straw, hazelnut and popcorn butter. On the palate, one immediately notices its supple texture – a creamy characteristic if you will, which persists from start to finish. Flavors of red apple and some tropical essences show including pineapple; these are complemented with various baking spice notes. Long finish. This is not an oak influenced style of Chardonnay. Ken recommends serving this wine at cellar temperature (55 degrees Fahrenheit) rather than too chilled.
Elkhorn Peak produces one of the most unique rosé wines in all of Napa Valley. Similar to how several producers in the Basque region of Spain create wines (called Txakolina) by blending multiple varieties and even different vintages, Elkhorn Peak creates a non-vintage rosé from a blend of Chardonnay and Pinot Noir. Each variety is fermented separately and then blended early post fermentation, and then aged together in barrel before bottling. While this wine is bottled as a non-vintage it is always produced from recent vintages of each variety.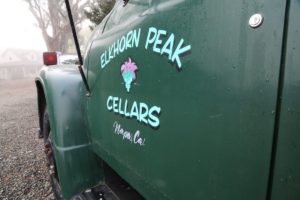 The Elkhorn Peak Cellars non-vintage rosé (release date 2019) is a blend of 80% Chardonnay and 20% Pinot Noir. Noticeably dark in the bottle this wine is ruby in color; it offers aromas of wild strawberry and a hint of caramel. Dry, with plenty of fruit and good concentration. Shows a simultaneous softness but also lively acidity. Features a brightness of fruit and acidity, especially on the finish and lingers with flavors of red cherry, an orange zest and raspberry.
Having built a reputation for Pinot Noir, Elkhorn Peak Cellars uses all 5 of their clones in each of their Pinot Noir wines (Dijon 114 & 115, Pommard, Swan and a yet to be fully identified clone they simply refer to as the R clone for Rasmussen (bud-wood came from Kent's vineyard in Carneros). One might think that each clone would ripen at different times, but this is not the case; consistently year to year the clones ripen together, conveniently eliminating the need to schedule multiple picks.
The 2016 Elkhorn Peak Cellars Pinot Noir is somewhat brooding on the bouquet with darker fruit aromatics along with an earthy nuance. Also notes of pepper and as the wine breathes, becomes slightly floral with aromas of dried rose petal. The bouquet becomes more elegant as it opens. Flavors of cherry cola, strawberry and blueberry with plenty of intensity of fruit across the palate. Lingers with dry and slightly dusty tannins. These are noticeable but well integrated into the finish.
Elkhorn Peak also produces a reserve Pinot Noir. This wine is crafted each year from a barrel selection (usually only 6 barrels) of what they feel give the wine a 'little more' as in more structure and more fruit. The 2016 Elkhorn Peak Cellars Reserve Pinot Noir spent 12 months in French oak of which 10% was new. Shows an appealing bouquet with darker cherry, hints of tobacco leaf and a lingering mint wintergreen nuance. Richly flavored, offers a lingering tartness of red cherry and currant. Good acidity. Features an earthy finish with noticeably more robust (but still integrated) tannins. Elkhorn Peak holds their Pinot Noir back before releasing often two to three years behind most wineries' current release bottling of this variety.
In 2018 Elise asked Ken if she could make a Pét Nat (short for Pétillant Natural) and bottle it for Elkhorn Peak but he wasn't convinced. Elise previously had experience with sparkling wines while working at the Gloria Ferrer in neighboring Sonoma County. So she made 100 bottles in her garage and gave both Ken and some of his friends samples. They really enjoyed this wine so in 2019 she made the first ever Elkhorn Peak Cellars Pét Nat, crafted entirely from estate grown Pinot Noir. Elkhorn Peak continues to produce this wine every year and also a cleverly named Caber-nat produced from estate Cabernet Sauvignon; each label is modeled after art from one of Ken's pinball or slot machines and the artwork changes every vintage. These wines are bottled during active fermentation, are aged sur-lies for a period of time and are then disgorged with no dosage. These wines are meant to be consumed young.
In 2021 for the first time ever Elkhorn Peak Cellars partnered with Anette's Chocolates in downtown Napa to produce truffles infused with the Elkhorn Peak Pinot Noir. These were distributed to wine club members, but hopefully the volume will increase in the future.
During our first visit to the property many years ago, we tried some slightly older Elkhorn Cellars Pinot Noir wines. We remember being impressed by how well they had aged; this variety is often mistakenly thought of as needing to be consumed immediately after release. But the Elkhorn Peak Cellars Pinot Noir's have the flavor, acid and structure to hold in the cellar for additional years.
Save the Family Farms

Elise and Ken are an instrumental part of the non-profit Save The Family Farms, an organization that has been pushing to change legislature around allowing small "micro wineries" to legally host tastings at their vineyards despite not having a physical winery. Elise has served as Vice-President. Their efforts, and others, paid off in early 2021 when the Napa County Board of Supervisors unanimously voted to develop a Micro-Winery Ordinance. However, that is not the end of the story. Due to California road and street standards, many of the wineries that qualify for the Micro-Winery Ordinance would need to get their driveways up to code which depending on the length of the driveaway could be prohibitively expensive. One solution to this problem, could a 'road exception'.
This ordinance allows growers to convert part of their property into an area for at least a partial winemaking facility (not all of the winemaking needs to be done there); examples are a shed or a garage. The costs of building a full winery (even a small one) can easily run into the millions of dollars. And this is important as Napa Valley is home to numerous small family-owned vineyards who prior to this ordinance had no legal path to host visitors for tastings.
—
Nearly all their wines are sold direct through their wine club and mailing list. As of our latest update to this review, select Elkhorn Peak wines are available at only one retail space in Napa Valley – V Wine Cellars in Yountville. Unlike many wine clubs, one can choose to customize which bottles one wants to receive in each shipment. Wine club members also receive The Pinot Noir Chronicles with their shipments, a newsletter highlighting the latest events, wines and and news at Elkhorn Peak. Total production fluctuates each year but is usually between 800 and 1,000 cases. Often library wines are available for sale through their website.
Elkhorn Peak offers private events including wine dinners, blending experiences or a wine and movie night, all hosted by Elise. The wines are provided while the hosts offers the venue, the guests, wine glasses and food and a minimum purchase commitment. For more information about these experiences or to order wine directly, visit: www.elkhornpeak.com