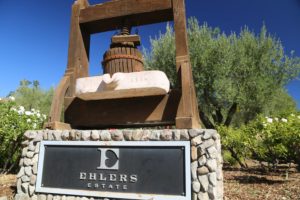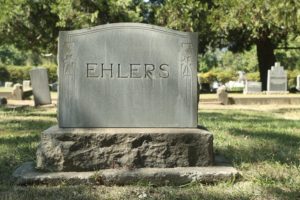 Ehlers Estate is located about 2 miles north of St. Helena on the east side of Highway 29 on Ehlers Lane. This location is in the heart of the north part of Napa Valley, is quite scenic and well removed from the often-busy wine strip of Highway 29, especially to the south of St. Helena. As a result of their historic setting, intimate tasting experiences and premium wines a stop here is highly recommended. In addition, the winery and grounds are extremely photogenic.
Drive down a long single lane road and park along the edge of the vines just below the tasting room entrance. As you walk in, note some of the displays lining the wall including the full wine barrels. The winery's original press dates from the early 1880s and is also on display.
The elegant tasting room is in the old stone ghost winery which has stood the test of time very well although additional structural support has been added over the years and as well as upstairs office space. If you look on the south facing side of the building – you can clearly see the dividing line (based on color) where a second floor was added. Inside the tasting room, casual and comfortable chair seating outnumber the bar seating…and that is a good thing (when it comes to having a more personalized and relaxing tasting experience).
The main winery room is located directly behind the tasting room/hospitality center. The number of tanks housed here corresponds to the number of unique blocks within their vineyard. An additional building houses their barrel aging program. Total production each year on the reds is usually around 8,000 cases. All their wines are fermented using the indigenous yeast existing on the grapes.
The original winery was founded in 1886 by Bernard Ehlers, a German immigrant who prior to moving to Napa Valley was a grocer in Sacramento (primarily selling supplies to gold miners going east into the Sierra Nevada foothills). He purchased the property in 1885 from Reverend Alfred Todhunter. While none of his original grapevines have survived the olive grove he planted are doing quite well. Incidentally, he and his family are buried in the St. Helena Public Cemetery in the town of St. Helena (to the south of the winery).
And in another piece of Napa winery history, the Ehler's estate property was at one point owned by heirs of the Pestoni family (Pestoni Family Winery) operated by Alfred Domingos. Alfred purchased the property from Ehlers widow Anna and operated the winery from 1923 (bootlegging during the rest of the Prohibition years) until 1959 – after Prohibition naming it the Old Mill Winery. We have seen an old label that Greg Pestoni forwarded to us, a California Zinfandel, one gallon with an appropriate image of the old wooden Bale Grist Mill on the label.
The old winery and surrounding vineyards were owned by Michael Casey (from 1968 to 2001 where he grew and sold grapes and had a real estate business. He also rented the cellar in the 1970s to other producers who would store their wines here including Conn Creek, Saintsbury and Vichon wineries – before their own wineries were built. This winery was also the original home to the former Napa Valley based Cartlidge & Brown Winery.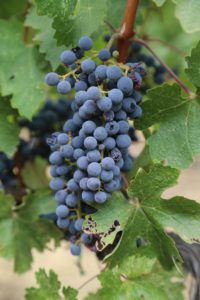 Jean and Sylviane Leducq (both since deceased, he in 2002 and she in 2013) owned and managed an international uniform and linen service company with roots dating back to Jean's grandfather Théophile Leducq who began his business, in the 1880s incidentally around the same time the Ehlers winery was built. Theophile owned a business on rue de Flandre in Paris but moved to Pantin (a neighborhood also in Paris, known as the Laundry District) because he needed a larger space.
In Pantin, Leducq called his operation Blanchisseries de Pantin and delivered clean linen by horse drawn carriages to businesses located in this part of the city. Rue Théophile Leducq in Pantin is named in his honor. Several buildings associated with ELIS are still located in this part of the city. After World War II, Jean was sent by his father to the town of Roeun to revitalize the operations which had been damaged during the war. His efforts were soon highly successful, buoyed by an initial order for clean laundry by the U.S. military.
Jean and Sylviane purchased 7 acres of land on Ehlers Lane in 1987. They produced wines bottled under several labels in these early years (1988 was the first vintage – including the Le Ducq and Sylviane brand. Over the years, a number of winemakers have worked here including Jacques Boissenot, Nils Venge, consulting winemaker Philippe Melka, Rudy Zuidema, Kevin Morrisey and Laura Diaz Munoz. The Leducq's produced their first Ehlers Estate wine, a Cabernet Sauvignon in 2000. A year later they purchased the winery from Casey and produced their first harvest within the old winery.
Today, Ehlers Estate is owned by the Leducq Foundation, through the Leducq Charitable Trust Jean and Sylviane established in 1996 in Paris with the proceeds of the sale of ELIS – Europe Linge Service, (their linen business) going to this trust. ELIS is headquartered in Saint-Cloud near Paris and is still operating with numerous branches in France; they also maintain many other locations around Europe and have a presence in Latin America. Their tagline is, "we empower your day".
This Leducq Foundation also operates Boston based, Broadview Ventures – an organization that focuses on emerging technology as it relates to cardiovascular and neurovascular disease.
Prince Michel Winery, Virginia
Jean and Sylviane also founded Prince Michel Vineyard and Winery in Virginia in 1982 (some of their early Napa wines were fermented at what was Havens Winery (now Joel Gott Winery) and were then shipped to Prince Michel and aged in Virginia and or were blended with Virginia grown grapes). Jean became familiar with Virginia through his first business venture in the United States, a commercial laundry operation called RUS that he acquired based near Culpeper Virginia. The Leduq's turned this winery into a formidable operation – growing their vineyard to about 500 acres with wines now distributed up and down the east coast. Jean passed away in 2002 and in 2005 Sylviane sold this winery to the current owner, Kristin Swanson Holzman (now Kristin Swanson Easter). Kristin's former career was as an interior designer focusing on yachts.
The winery is one of Virginia's largest wineries and today is a much-visited destination (especially on weekends). It is no wonder this has become a popular destination with a variety of products including a remarkable number of wines bottled under both the Prince Michel label and Rapidan River (a label also originally founded by the Leduq's), own-crafted beers bottled under Tap 29, a Brew Pub serving soups, sandwiches, tacos, pizzas and other small bites (check out their cool stools – repurposed from old beer kegs), wine slushies (peach is the most popular flavor), indoor and outdoor seating, often special events, usually with live bands – and a welcoming family friendly atmosphere. There really is something here for everyone!
The estate property hosts a variety of special events including corporate ones – and also weddings. Those who want to fully enjoy the Prince Michel Winery experience and not worry about driving after a full day of fun, should consider staying at one of their four luxury suites located on the property.
Once the paved parking lots fill up (and they do), guests will park on a strip of grass within a short walking distance of the main winery entrance. Guests often bring their own lawn chairs and picnic on the grounds. In addition to all their consumable products, Prince Michel also sells a wide variety of wine related items and other gifts in their wine shop. More so of interest to hard core wine enthusiasts – is their tiny 'wine museum' containing old equipment and even some coveted bottles from select First Growth wineries in France – with vintage dates going back many decades. Looking at some of these objects reminded us of being in the museum at 1881 Napa Valley (next to the Oakville Grocery).
Like Ehlers Estate, Prince Michel is also located off of Highway 29 – but a much different Highway 29 then in the Napa Valley! Located about a 90-minute drive from either Washington DC or Richmond, Virginia.
Kristen also owns Ivy Creek Farm, at one point owned by Seagram Corporation. This estate and vineyard have sold grapes to a number of wineries over the years.
—
Proceeds from the tasting fee and or sales of wine help support the Leducq Foundation's international cardiovascular research programs – the disease that ultimately kills Jean's father and grandfather. This is the only winery with a physical winery location in Napa Valley that we know of who has built their charity work directly into their winery operations. For consumers, this is a great way to contribute to a worthwhile cause while simultaneously enjoying excellent wines.
The estate is 42 acres of which 39 are planted to vineyards. The vines are all farmed organically (CCOF certified) and biodynamically. Biodynamic farming typically involves a number of farming practices including three primary ones; you build the soil naturally using special natural compost, philosophically farm, prune and harvest based on phases of the moon and planets, control pests and diseases without chemicals (cover crops) and use plants that attract beneficial insects. If you would like to find out more about this type of farming – ask one of the employees – they are more than happy to share additional information.
Ehlers Estate does not purchase or sell fruit – all wines produced are from their estate vineyards. In addition, unlike the majority of area wineries who outsource to vineyard management companies, for many years Ehlers Estate employed their own vineyard workers and were overseen by vineyard foreman Francisco Vega who lived on the property for more than 15 years. In more recent years, a vineyard management team was hired.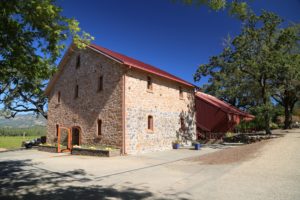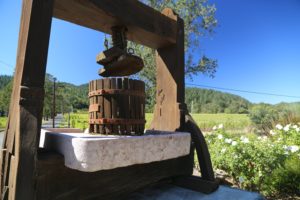 A unique employee vineyard management program is in place here – we have not seen this at any of the other Napa wineries we have visited. When you park you may notice a number of small license plates attached to the end of the grape rows – each with a person's name listed. Then winemaker and General Manager, Kevin Morrisey thought it would be a good idea to have employees learn about what happens in the vineyards and understand some reasons why certain vineyard management decisions are made. So, each employee manages 10 vines of their own and helps with thinning, shoot positioning, pruning and harvest.
Select Wines
The 2022 Ehlers Estate Rosé of Cabernet Sauvignon is copper/salmon colored in the glass. This wine smells like watermelons, raspberries, and strawberries all muddled together in one harmonious aromatic union. It is also minerally. The palate shows a pleasing balance with citrus flavors throughout including of mandarin, without being too citrusy. Its texture is lightly creamy. It offers flavors of strawberry and red cherry. The palate is fruity accompanied by a clean and bright finish. We are starting to see more rosé the past couple of years from Napa Valley Cabernet Sauvignon; this makes sense considering this is the most commonly grown red variety in the valley.
The 2015 Ehlers Estate Sauvignon Blanc was aged 6 months in barrel sur lie. It saw no oak. Initially it shows crisp aromatics on the bouquet including lemon, lime and some citrus blossom notes. As it opens it reveals notes of of melon and honeysuckle. The wine shows great acidity, some minerality nuances and is lively and refreshing on the palate. Very nice food wine.
The 2013 Ehlers Estate Cabernet Sauvignon is 100% varietal (somewhat rare to find in Napa Valley ) and spent 22 months in French oak of which 50% was new. We reviewed our notes from an older vintage and noted some similarities in this most current vintage. The bouquet shows a pleasing mix of dust, cigar smoke and fruit (red cherry, black currant) all elegantly and aromatically intertwined. It is soft on the entry and very well balanced. Well integrated slightly astringent tannins linger for some time – mouth wateringly so. This is a delicious wine that delivers layers of flavor.
As a tribute to their founding date, their premium Cabernet Sauvignon is simply called "1886". The 750ml bottle of this wine is very creatively packaged. Sylvia spotted this unique bottle shape and design in an apothecary in Paris and decided it would be a good bottle for their wine. It certainly stands out with its pewter packaging and platinum etching. The 2013 Ehlers Estate "1886" spent 16 months aging in new French oak and another 6 months aging in neutral oak. The blends do change each year; in 2013 it was 85% Cabernet Sauvignon, 8% Cabernet Franc, 5% Merlot and 2% Petite Verdot.
A part of the property that former winemaker Morrisey called "the sweet spot" is located right next to Highway 29 – on bench-land (the vines just north as you pull turn of the highway heading towards the winery). These vines are planted in rocky and well drained soils that have been washed down from the slopes of the Mayacamas mountains. Kevin has always been attracted to vines growing on various bench-lands throughout the valley ranging from Yountville, Rutherford to Oakville – select blocks from this part of the vineyard are used in each vintage.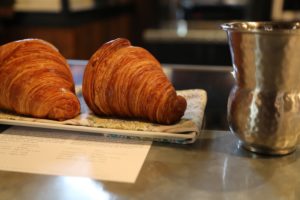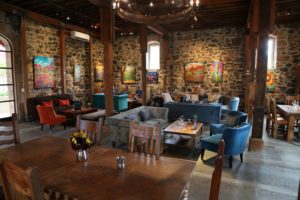 The bouquet is very appealing and aromatic – it is an elegant nose carefully focused on the fruit characteristics rather than being influenced by wine making or oak. Along with the fruit, hints of mocha and vanilla linger delicately. On the palate this wine strikes a nice balance between fruit, acidity and structure. Flavors of blackberry & raspberry show – leading to a long finish with somewhat chewy tannins.
The "1886" (2005 vintage) is extremely well balanced. The nose is elegant showing notes of black fruits and herbs with touches of vanilla. On the palate, it follows with flavors of raspberry and more cherry. This vintage has a pleasing mouth feel.
And the colorful and creative wine labels starting in 2018 are the work of Madrid, Spain based graphic artist, Marta Botas.
—
Picnic tables under the olive trees and a nearby Bocce Ball court are available. Ehlers offers a one of a kind 'Start Your Day' Tasting Experience daily at 930am. Croissants from Bouchon Bakery in Yountville are offered (ever seen the lines at Bouchon Bakery in Yountville?!) – no lines here – this is a very personalized experience. This has also been a popular tasting with visitors to the valley who are from times zones further east in the country and don't mind an 'early' morning tasting. Allow about 90 minutes to enjoy and discuss four wines, try a barrel sample and take a tour of the property.
Ehlers Estate offers two options for wine club shipments. For more information and to schedule an appointment, visit: www.ehlersestate.com
Winemaking

Vineyards

Olive Grove

Miscellaneous

Le Grand Café, Paris (founded by Jean Leducq's grandparents)
Visit and photos coming at some point.