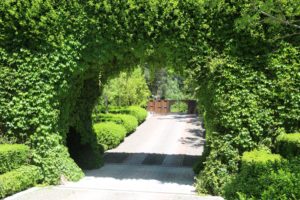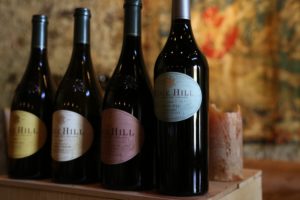 Edge Hill is one of Napa's Valley's most historical and treasured winery properties. The original 1500 acres was settled by General Erasmus Keyes after serving in the Civil War (rising to Brigadier General and leading Keyes's Brigade at the First Battle of Bull Run in 1861). He had a personal letter signed by Abraham Lincoln providing the deed to this particular property.
After the Civil War General Keyes moved to San Francisco and then up to Napa where he built a gravity flow stone winery next to the hillsides of the Mayacamas mountains (just southwest of the present-day town of St. Helena). The winery was built in 1867 – also the year of their first vintage.
Some early Napa Valley winery history is in order. Patchett Winery was the first winery built in the Napa Valley in the city of Napa in 1858 (founded by John Patchett who was in his 60's at the time – born in England in 1797). That winery is no longer in existence. The next three wineries in Napa Valley were under construction in 1861, Charles Krug, Crane Cellars & David Fulton – and of those, Crane Cellars is no longer in business (although Beckstoffer owned Dr. Crane still carries his namesake) and Charles Krug while still family owned, isn't under its original family ownership. And the original Schramsberg Winery was founded in 1862.
General Keyes ran the winery for a number of years and oversaw the estate until 1872 when he sold it to another general, General Richard Heath who then sold it to William Scheffler in 1879. William worked at two of Napa's most historical wineries Charles Krug (as a distiller) and at the nearby David Fulton Winery (for several years in the 1870s as their winemaker). In 1882 William built a brick and stone distillery on site (Distillery Number 209).
By 1907 production of wine ceased and eventually the property was partitioned off into smaller pieces and became a private estate with numerous owners over the ensuing decades. In 1952 the Martini family acquired Edge Hill (Louis P and Elizabeth Martini) – Louis's father Louis M Martini founded the iconic Martini Winery. The Martini's lived in the old Edge Hill winery building and used the distillery for an old 'barn' and garage. After Louis P died in 1998 Elizabeth wanted to live somewhere that required less upkeep so she sold the property to Leslie Rudd in 2000 (incidentally Martini Winery sold to Gallo family 2 years later).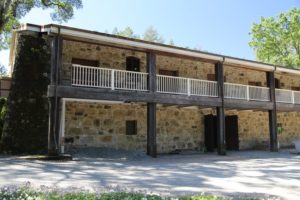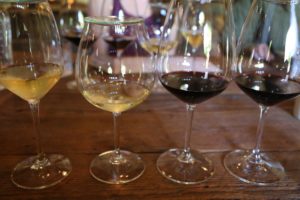 Leslie Rudd has a long history in the wine industry; his parents founded Standard Beverage Corporation in 1949 – this would go on to become the largest wine and spirits wholesaler in the state of Kansas. As a result, his involvement in the spirits and wine industry dates from an early age. His contributions to Napa Valley aren't always recognized (as a lot of his interactions and charity works were conducted well under the radar). His more visible properties in Napa Valley include Rudd Estate at the eastern terminus of Oakville Cross Road and Press Restaurant in St. Helena.
Rudd owned Oakville Grocery for many years located at the western end of Oakville Cross Road (California's oldest continuously operating deli) before selling this iconic store to Jean Charles Boisset in late 2018. He also owned Dean & Deluca for a number of years before selling to a Bangkok, Thailand based company, among numerous other business ventures (Dean & Deluca St. Helena closed permanently in 2019). Leslie passed away in May 2018.
True to Edge Hill's heritage, Rudd decided to plant a number of varietals including Zinfandel, Petite Sirah, Mourvèdre, Grenache, Carignane, and just a few vines of Alicante Bouschet. In the "old days" this was a common way of making wine – taking fruit from a vineyard that contains a number of red varietals and calling it your "mixed blacks".
And continuing its history of multiple owners, in early 2022 the Rudd family sold Edge Hill (the brand, the property and existing inventory) to Joel Gott of Gott Wines. The Gott family is strongly connected to Napa Valley including owning Gott's Roadside (the original Gotts in St Helena plus several other Gotts locations in Northern California. Joel's father, Cary is an accomplished winemaker, and his wife Sarah oversees winemaking for Gott Wines. The company produces around 1 million cases per year and owns select vineyards in California, Oregon & Washington.
The first Edge Hill vintage produced under Gott's ownership was from 2022 and was produced at Gotts Winery on Hoffman Lane (south of Yountville and the former Havens Winery property). During Rudd's ownership the restored Edge Hill Winery was mostly completed and was finished under Gott's ownership. The first vintage of Edge Hill under Gotts ownership made on the property was from 2023.
NOTE: Due to the ownership change and final work on the winery, we will make another visit to the property by 2024 (we still need to meet with Joel Gott) and will significantly update our notes here accordingly.
—
Our first visit to the estate was with Rudd's winemaker at the time Patrick Sullivan; we have since revisited the estate several times.
The vineyard is true to its history including the wide variety of varieties growing. When deciding what and how to plant the site, Leslie and winemaker David Ramey reached out Paul Draper of Ridge Vineyards. Paul mentioned the possibility of putting in a mixed blacks vineyard and even suggested which varietals to plant. They followed his advice; the vines are all head pruned centered with redwood stakes. The original vineyard was larger than the footprint of the replant in 2000 – the Martini's previously used this vineyard land as a horse pasture.
Today the vineyard is nearly 5.5 acres and appropriately like the name of the winery sits on the edge of the Mayacamas mountains just east of the town of St. Helena. The vineyard is slightly sloped with well drained loamy soils. The vines tend to be dry farmed – although in the case of a drought they may water (water on the property comes from springs higher up in the Mayacamas mountains and are stored in large tanks). The soils have very good water retention even through the summer.
And in an homage to the Martini family the vineyard is now named the Louis P. Martini Vineyard and a plaque next to the edge of the vineyard briefly summarizes Louis's contributions to Napa's wine industry.
The Rudd family hired prominent architect Howard Backen to restore the original 3-story gravity fed winery. This was the first significant gravity fed winery in Napa Valley and by 1880 it was one of several prominent wineries in the valley. Backen and his team expanded the footprint of the original winery including adding additional stone wall rooms (using stone quarried from the nearby hills) and building a creative 'cut and cover' cave which leads from the back of the winery to a small tank room. Like everything relating to this property, the renovations have been slow – taking extreme care to honor the heritage while at the same time adding a modern touch to the winery. The Edge Hill wines under Rudd's ownership were never produced on the Edge Hill property, rather they were made in 'The Toolbox' (the cellar) at Rudd Winery.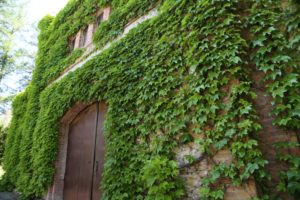 The old distillery underwent a three year renovation and retrofit in which every single brick and stone in the building was numbered, removed and then placed back in its original location. The interior feels cozy – almost like walking back in time. One's eye is immediately drawn to the 'wood stove' a giant metal drum that was rescued from the Napa River and creatively re-purposed into the buildings' only heating system (the interior of the stove is accessible via a unique pulley system). A side room contains souvenir bottles from parties hosted by Leslie – presumably memorable experiences based on all the old bottles from the 1940s through 1980s that line one of the stone walls.
Initially Leslie wanted to turn this building back into its former use but because of space limitations and local laws prohibiting using ingredients from outside of Napa County, he eventually purchased space on Pier 50 in San Francisco and opened Distillery No 209 (not open to the public). Their flagship gin is aged in used Cabernet Sauvignon barrels from the Rudd Estate.
While the contemporary Distillery No. 209 has already produced award winning gins since their inception in 2005 (reference their Double Gold Medal in 2016 at the highly regarded New York World Wine and Spirits Competition), Distillery No. 209 had a long history of producing high quality products. Their spirits earned a gold medal at the Universal Exposition of 1889 in Paris, France – this original medal is framed and hangs on a wall in the old distillery.
NOTE: after Leslie passed, his daughter Samantha Rudd sold Distillery No. 209 to Pat Roney and Vintage Wine Estates in November 2018.
Select Wines
Edge Hill wines are produced in extremely limited quantities; each wine typically is between 100 and 200 cases (total production each year is often around 700 cases). Their first Mixed Blacks vintage under the Rudd family ownership was from 2001 with sourced fruit and then entirely with estate fruit beginning in 2003. The Mixed Black wines to date are crafted most years but not every year. They are made when the quality of the fruit is to their exacting specifications.
2015 Edge Hill Mixed Whites is a collection of varietals rarely seen growing in the Napa Valley. Inspired by wine focused trips to Italy, Leslie instructed his vineyard management team to plant several Italian white varietals on the slopes of Rudd's Mt. Veeder vineyard including Ribolla Gialla (grown in Nothern Italy) and Greco di Tuffo (grown in Southern Italy) – along with Grenache Blanc (grown in the Rhône Valley and parts of Spain).
The 2015 Edge Hill Mixed Whites is dark yellow in the glass. Shows pretty floral notes on the bouquet including aromas of citrus blossom, honeydew melon and other tropical nuances. A perceptible mineral or graphite nuance shows on the palate. Clean, balanced and fairly crisp without being tart – shows flavors of red apple and citrus. Offers very nice texture. We could see pairing this wine with a variety of seafood – and or spicy Thai dishes.
Historically significant, the Edge Hill Bacigalupi Chardonnay is an extremely rare wine. It is sourced from a four-acre block of head-pruned Chardonnay vines located in the Bacigalupi Vineyard (Russian River Valley of neighboring Sonoma County). This original block was planted in 1964 and provided 40% of the fruit for Chateau Montelena's award winning 1973 Chardonnay entered in the Paris Tasting of 1976. This coveted block was contracted to the Rudd family from 1998 through 2017 – a period when they were the exclusive producers of wine from this block. Starting in 2018 the Bacigalupi family, for the first time in their history began producing Chardonnay under their own label (Renouveau) from this block.
The 2015 Edge Hill Bacigalupi Chardonnay was fermented and aged in both new French oak and neutral oak barrels. On the bouquet shows aromas of honeysuckle, pear and some dessert spice toasty notes from the barrel influence. Noticeable weight on the palate – a creaminess and an oiliness, almost briny in its structural feel. Balanced but big, one cannot help but think of its storied vineyard history while enjoying its rich flavors. Very clean finish with plenty of flavor including lingering notes of red apple and tangerine. Would love to see how this tastes again in 5, 10 and 15 years. We have tried numerous Chardonnays from Napa wineries over the years; this is clearly one of our favorites.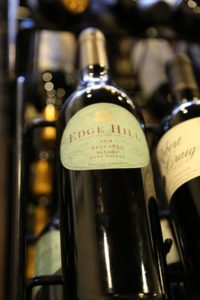 The Edge Hill Estate Abel 1833 Red Blend is a wine made from the Rudd's Mt. Veeder vineyard. Leslie purchased this 80-acre site in 2002 – today there are approximately 16 acres under vine. Rudd Farms is also located here and used to provide fresh produce and animal products to both Oakville Grocery and Press Restaurant. Named after the original homesteader of the property, Abel Mignon who settled this land in 1833 – a full 12 years before the city of Napa was even founded and remarkably only 10 years after the first western exploration of the Napa Valley was recorded.
This wine is typically released nearly 5 years after its harvest date – to help integrate and soften its often-robust structure. Unfortunately, the property sustained severe damage during the fires of 2017 and Rudd Farms is no longer operating.
The 2013 Edge Hill Estate Abel 1833 Red Blend is a Merlot based wine – very dark in the glass it shows black fruit aromatics – a sweetness, almost a black cherry like liqueur along with hints of chocolate, mocha, cinnamon and clove. Slightly savory. Tastes younger than it is – perhaps due to the particular vintage – reveals a nice density of fruit on the palate with earthy, slightly chewy tannins that linger for some time. Not overly grippy on the finish.
2015 Edge Hill Mixed Blacks is from the vineyard on site – this vintage is dominated by Zinfandel and Petite Sirah along with lesser amounts of Mourvèdre, Grenache and Carignane. The Zinfandel and Petite Sirah were fermented and aged separately – the other varietals were co-fermented. This wine is quite dark in the glass; it immediately shows a powerful and a generous bouquet with ripe blackberry and boysenberry, crushed black pepper, cassis and other darker dessert spices. A thread of Zinfandel sweetness (slightly jammy) is present throughout the bouquet. We love the mouth feel on this wine – chalky fairly polished tannins (grainy but not gritty) complement the long finish.
The 2005 Edge Hill vintage Port-style wine was sourced from several vineyards both in Napa and Mendocino County. This wine is a unique blend of 58% Zinfandel, 34% Carignane and 24% Syrah. The big bouquet shows black fruit and baking spices including nice notes of cinnamon. The palate is fruit forward, juicy and very rich. This is a wine with plenty of depth and a remarkably long finish.
—
Because of their extremely limited production Edge Hill wines are typically not distributed (the exception being their Chardonnay which is very selectively distributed in California, Texas, Florida and Illinois) – locally this wine can be found at Press Restaurant in St. Helena.
Visits are for serious wine enthusiasts and collectors. The Edge Hill property also produces estate olive oil and honey. For more information and to join their mailing list, visit: www.edgehill.com
Winery + Property

Distillery 209, San Francisco (Now owned by Vintage Wine Estates)