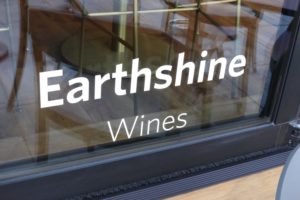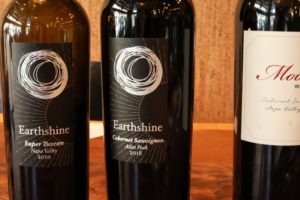 Earthshine Wines. Proprietor Shawna Miller's introduction to wine was somewhat by accident. She did not grow up in a family involved in winemaking but from an early age was interested in fine cuisine. While on a trip to California to visit friends in Chico on a whim, she stopped to do some wine tasting in Napa Valley. During her visit, a winery even asked her if she wanted to work for them.
Intrigued by what she had experienced during her first visit, Shawna later returned to Napa Valley and worked her first harvest at Sterling Vineyards, spent some time, "harvest hopping' as she calls it, in New Zealand and later in the Margaret River in Western Australia. However, she always returned to Napa Valley. After working as an enologist at Rombauer she was offered a harvest position at Luna Vineyards where she gained invaluable experience working with their consulting winemaker at the time, Philippe Melka. Soon she was invited to become the head winemaker at Luna where she worked until 2021.
Her time at Luna was spent crafting wines but also was a space where she had the freedom to experiment with both varieties and winemaking.
As Shawna admits, the birth of Earthshine would never have happened without the sale of Luna Vineyards and the surrounding property. After the property was sold and the Luna brand dissolved, several of Luna's consumers asked her if she would continue to make wines. They offered to become her customers if she started doing so.
Her wines show a wide variety ranging from a sparkling wine to robust Napa Valley mountain grown Cabernet Sauvignon. The first vintage of Earthshine was 2017. Total production is around 500 cases annually; she wants to keep the brand small and manageable.
The word earthshine refers to the glow created by the sun reflecting off of the earth as seen on the darker part of a crescent moon. There is a bit of wordplay going on here as well as in regard to Moone's last name and also a tribute to Luna Vineyards (meaning moon in Spanish or Italian). One of Shawna's friends, an artist whose primary work is with stained glass, created the label.
Select Wines
The 2017 Earthshine Blanc de Noir 100% varietal Pinot Noir sparkling wine is pale gold in the glass; its aromatics are quickly engaging, showing apple, kiwi and some yeast notes. Its texture is slightly creamy, complemented nicely by a bright and zesty finish featuring flavors of gooseberry and lime. This was made Méthode champenoise from grapes grown on the Napa side of Carneros.
Luna Vineyards developed a strong following for Sangiovese over the years and Shawna features this variety prominently in two of her wines including a 100% varietal bottling.
The 2019 Earthshine Sangiovese is from the Game Farm Vineyard next to the Silverado Trail (across from Rector Dam). Luna had been working with this vineyard since the 1990s and Shawna was extremely familiar with the site. After Luna Vineyards dissolved, she approached the Game Farm Vineyard owner about purchasing fruit from his Sangiovese block and he agreed. This wine is medium ruby in color; the bouquet is spicy and savory both with notes of pepper, an earthy component and old cedar. One can feel the 'darkness' of the spices on the finish. This wine offers flavors of cherry and raspberry. It is juicy and also savory on the palate; it lingers with flavors of old cedar and well-integrated and finely dispersed tannins with a texture that Shawna calls similar to cocoa powder. Features energetic acidity from start to finish. We immediately thought of pairing this wine with some Italian food, probably pasta on some winter night in the mountains while hanging out on a cozy sofa in front of a roaring fire. This wine is extremely limited and typically sells out to their wine club members.
The 2019 Earthshine Super Tuscan (yes that name is allowed to be on wine labels in the U.S.) is a blend of 50% Sangiovese, 30% Cabernet Sauvignon from Atlas Peak and 20% Merlot from Howell Mountain. Immediately offers bright fruit on the bouquet with notes of cherry along with espresso, mocha, sage and some dried herb influence. The palate is expressive of both fruit and darker spices including hints of pepper on the finish. The tannins are medium bodied, darker and linger with a slightly dry grip. Pizza or pasta pairing? We think so.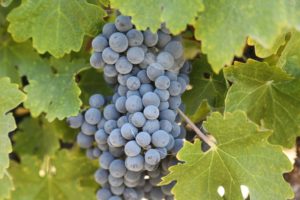 The 2017 One Thousand Vines Cabernet Sauvignon is from a small very rocky vineyard in the hills near Silverado Resort and Spa, slightly below the boundary for the Atlas Peak sub-appellation. This wine is dark ruby in color; the bouquet is richly layered with aromas of blackberry, dark licorice, dark cherry and deeper into the aromatics, hints of tobacco smoke. The finish is slightly savory with earthy tannins complemented by bright higher toned red fruits and old cedar. The tannins show some density but are rounded in texture; there are no harsh edges here. Shawna ferments this wine in larger puncheons (one of the ways she manages the hillside tannins) and then the wine is aged in oak barrels.
This property for the One Thousand Vines bottling used to be owned by former Beringer Winery CEO and President Mike Moone who also co-founded Luna Vineyards. He planted vines in 2010, primarily to Cabernet Sauvignon but also with a small amount of Cabernet Franc and Petite Verdot. He produced his first wine from the property in 2012 and eventually sold the land after the devastating fires in 2017. The current owners are Mark & Kim Scott. Shawna was already crafting the One Thousand Vines wine for Mike and when he moved from Napa Valley to La Quinta in Southern California, Shawna took over the brand and continues to make wines from this property.
The 2017 Earthshine Cabernet Sauvignon is 100% varietal from a vineyard site on Atlas Peak, close to Stagecoach Vineyard. This wine is dark ruby in color with aromas of blackberry, dark cherry and blueberry. More aromas show as the wine opens with notes of lavender, old cedar, dried herbs and sage. This is a big mountain wine with layers of red and dark fruits; it is juicy and mouthwatering with a long fruit filled finish anchored by chewy robust tannins. It also lingers with some notes of dried tobacco leaf and a light dustiness.
Mia Carta Napa Valley
Earthshine Wines is part of a small collective of boutique Napa Valley based wineries represented at Mia Carta Wine Lounge in downtown Napa. One of Luna's former employees who began working at Mia Carta initially encouraged Shawna to showcase her wines here. This space is located at 1209 1st Street next to Rebel Vintners near the intersection of 1st and Coombs Streets. It had a soft opening to the public on May 22, 2021, and officially opened on June 17, 2021.
In addition to Earthshine Wines, this space houses several premium boutique Napa Valley producers including Arthouse Wines, Essere Franco, Ilsley Vineyards, Marston Family, Rarecat and Redmon Wines. Sharon Harris, proprietor of Rarecat learned about the space early on, and then invited several of her friends to join including Redmon Wines and Ilsley Vineyards.
A significant amount of thought and effort went into the renovation of this space. A couple of items inside quickly catch one's eye including the Italian Piaggio "Ape del Vino" or in English, referred to as the Wine Bee. It was purchased in Italy, restored and then shipped over, however unfortunately it was stuck for quite some time at the port of Galveston in Texas before it cleared customs and reached Napa Valley. It is fully functional and is operated by a two-stroke Vespa engine. The back opens up to reveal wine kegs with spigots on the side of the vehicle, making this ideal to take to various wine tasting events. And the 145 piece 'puzzle' of walnut wood built against the back wall is in the three-dimensional shape of a street grid of downtown Napa – complete with an outline of Napa River and a red marking to indicate Mia Carta's location on the map.
Recycled cork from cork manufacturer, Amorim Cork America lines the east wall of the space. If one casually glances at this wall, one will think it's one entire piece of cork, but each piece is a quarter offset, so the lines are hard to see between each of the pieces. With Norm's background as President & Co-founder of Calgary based ZeroSound Systems, his knowledge and expertise were used during the renovation of the interior space. Acoustic tiles are placed on top of the tin stamped metal ceilings; if one looks carefully one can almost see the tiny holes punched in each of these tin squares, which are part of the design to help mitigate noise. The bar and some of the tabletops are constructed from Richlite, a recycled paper/resin composite.
Visitors taste either inside or outside weather permitting (heat lamps are built into the outdoor overhang), choosing flights from any of the vintners or by the glass or by the bottle. This part of the building used to be recessed and set back more from First Street but during the renovation it was expanded, providing more interior space. And a private tasting room is located in the rear of the space.
For those into wine, it is easy to spend an afternoon in this part of downtown Napa – numerous tasting rooms are within several blocks of Mia Carta. Private tastings with Shawna are available by request. For more information about Earthshine wines, to join their mailing list or to purchase wine, visit: www.earthshinewines.com