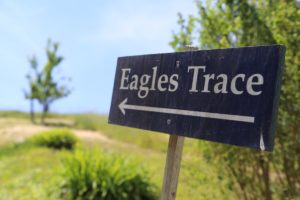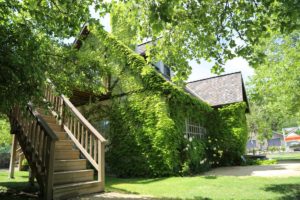 Eagles Trace was founded by longtime Conn Valley residents Gus & Phyllis Anderson (who we met with). Gus passed away in late 2016 at age 86. Gus enjoyed a successful career as founder and winemaker for Anderson's Conn Valley until his retirement at age 72. Most 72 year old's are quite comfortable with retirement at this age, but not Gus. After a year of retirement he had the wine making itch so strong that he started Eagles Trace, at the time a completely new winery located next to Anderson's Conn Valley. This new winery allowed him to implement some very creative wine making practices – techniques that he never had a chance to implement during his first wine making career.
This is a premium winery for many reasons. First, great attention is paid to the actual viticulture and grape growing on the property. You can make great wine out of great grapes, but you cannot make great wine out of bad grapes. You may have heard that wine making starts in the vineyards. Gus has his own version of this statement; he calls wine making "a sense of place". He had the soils analyzed in depth and planted the grapes on specific rootstock tailored toward the individual soil types. Grapes are picked when they are ready, which means only parts of the vineyards are harvested at certain times. Their grapes have been picked as late as mid November.
Breezes from the nearby Lake Hennessy arise in the afternoon and this cooling contributes to the slow maturation of grapes. The grapes are picked in the the cold of the early morning where the temperatures are usually in the 40's and then immediately brought into the cave which has a temperature of around 60. This is advantageous because the grapes slowly reach fermentation over the next 4 to 5 days (allowing the flavors to really develop in the juice) as the yeast used starts to kick in at the higher cave temperature. Most of the wine here is held back 4 to 5 years before being released. This provides extended proper aging before even reaching the market which not all wineries have the luxury of doing.
Eagles Trace is located merely 3 miles from the Napa Valley floor but the drive is very windy and once you reach the property it feels like you are miles away from the main part of Napa Valley. This is because it has a feel of being an isolated location; it is very quiet and you are surrounded by the vineyards and hills. A visit here includes a short walk (weather permitting) to the cave for some barrel samples and then a tasting at the owner's home.
Note that the Anderson Family also run Anderson's Conn Valley here (in a different cave) as well as MGTA and Ghosthorse Vineyards.
Eagles Trace concentrates on high end Cabernet Sauvignon, Merlot, Pinot Noir and their Latitude 38 Blend (again the name of this label is a reflection on the "sense of place" as this vineyard sits at Latitude 38 degrees, 30 minutes north. Their Pinot Noir is among the most complex rich Pinots we have tasted in the Napa Valley. The Latitude 38 is a Bordeaux blend of Cabernet Sauvigon, Merlot and Cabernet Franc. This is a dark ruby colored wine that has the elegance of a French Style wine and the richness of ripe California fruit. It is extremely well balanced. Visit: www.eaglestrace.com
NOTE: this review has been identified as needing a major update. Gus passed away in 2016 and they may no longer be making wines – we will keep a close eye on this review and will archive if no new vintages are released in the next year or two.