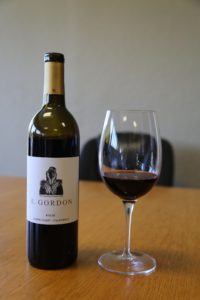 E. Gordon Wines. Owner and wine maker Eric Gordon was an 'air-force kid' as he says, having grown up in the Caribbean – spending his formative years in the Dominican Republic – often taking weekend trips to Puerto Rico. Later he attended college at the University of South Florida, graduating with a BS Biology degree with a focus on Zoology. It was a trip to visit his grandfather in Santa Rosa, California that introduced him to fine wine. Prior to this trip he had no appreciation for quality wines – having only tasted cheaper wine. His grandfather maintained a healthy cellar and during that visit, Eric was introduced to a number of wineries in both Sonoma and Napa Counties.
Rather than returning to what was his career at the time in Florida (a medical laboratory technologist) – he moved to wine country. It was a big career change at the time – he sold all all his belongings – packed whatever he had left in his car and drove to California. His medical lab background certainly helped when he started looking for work at various wine labs. His first job at a winery was at Dry Creek Vineyard. With a degree in Biology, he had a strong background in chemistry – but furthered his education by taking various wine related chemistry classes at Napa Valley College. Over the years he has worked with some of the best in the business including Kirk and Nils Venge, Philippe Melka and Marco DiGiulio.
In 2001 he began his own label, Punk Dog Wines – focusing on affordable wines meant to be enjoyed and consumed at the time of purchase typically made from non-traditional red varietal blends. And this is a label that Eric uses to experiment with various types of wines and styles.
In 2006 he located a space in the industrial park just south of Napa College – now called the Crusher District which is home to many small artisan producers. It was the former home of Delectus Winery and before them, was part of a number of buildings in this park that were used by William Hill Winery. Eric has since doubled the size of the space needed – he makes both Punk Dog and E. Gordon Cellars here – along with several custom crush clients who make their wines here.
Eric offers a number of related services for custom crush clients including one that is somewhat unusual in the area. He has one of the few counter-pressure bottling lines in Napa and can produce wines by the Charmat Method – fermenting sparkling wines in tanks rather than in bottle.
All the wines are limited production with a focus to date on grapes from both Sonoma and Napa. His first E. Gordon Napa wine will be a 2014 Cabernet Sauvignon sourced from Rutherford. This was still in barrel at the time of our latest visit.
Select Wines
The 2013 E. Gordon Cellars Pinot Noir was sourced from vineyards in the Petaluma Gap and the Russian River of neighboring Sonoma County. Pinot Noir is usually one of our most easily identifiable wines – simply from the aromatics. Eric calls it the "Pinot Funk" a set of aromatics that this variety often inherently exhibits. This wine shows some nice spice on the bouquet – white pepper along with earth notes and raspberry. The fruit shows better after this wine has had some time in the glass. It is a layered, nonlinear Pinot Noir with nice complexities and depth of flavor. Shows like velvet front through the mid palate with some hint of tannins on the finish.
The Kolbe is a non-vintage wine (oldest vintage in this wine dates from 2010 and most recent, 2013) and was sourced from various locations on the North Coast. A non-vintage wine from a Napa producer is a rare wine indeed. With his background in biology and time spent working in Alaska as fisheries biologist, and attraction to some of the early sketches of wildlife (including from John James Audubon) Eric has created several labels under his E. Gordon Wines that feature pencil sketches. Kolbe is the common name of the vulture depicted on the label.
Over the years Eric has observed a number of very artistic labels on wine bottles. The idea behind his labels is to visually present more of a science feel on his own wine labels – yet at the same time these pencil sketches of wildlife are certainly artistic. It is the play between both science and art that fascinates Eric while making wine.
The Kolbe is a blend of Grenache, Syrah, Zinfandel, and Petite Sirah and was created as an affordable wine, easy drinking by itself but also ideal for pairing with various meats, especially BBQ ribs (Eric's recommended pairing). The bouquet is lively showing dark cherry aromas with a sweet note of both fruit complemented by baking spice. There is a floral component as well, perhaps dried rose petal with subtle aromas of lingering vanilla. On the palate it is well balanced with a perceived sweet note of fruit initially (perhaps from the Petite Sirah and Zinfandel). Moderately structured tannins linger.
—
In mid 2016, Eric opened a tasting room adjoining his actual winery. Eric used to run a Napa wine lounge in downtown Napa called Stave so is no stranger to the hospitality side of the wine business. Several producers make their wine here and over time some other producers will be represented on the tasting menu. These are all artisan 'under the radar' producers, with limited production wines available at a reasonable price point. The tasting room will feature art, music and special events.
Current production is about 1,500 cases. For more information or to purchase wine, visit www.egordonwines.com