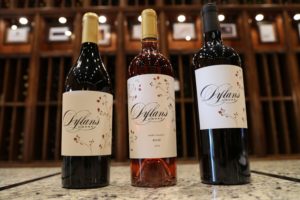 Dylan's Ghost is a boutique producer owned by long time wine industry veteran Joseph Carr. Compared to other brands Joseph started, Josh Cellars (several million cases) and Joseph Carr Wines), Dylan's Ghost at the time of this review was only a production of about 800 cases a year. The wines are almost entirely sold direct to consumer via a mailing list (and used to be poured at the tasting room at Oakville Wine Company – where we first met with Joseph). And Joseph also founded the tiny brand, Morgan Wright.
Joseph did not grow up with a family background in wine; rather he started working at restaurants during college to support paying his tuition and artistic endeavors. He grew up in a town in upstate New York known for processing lumber and recalls the dramatic differences in that industry versus working at a French restaurant where he had to where a tuxedo to work every day. The restaurant scene lured him into wine – by age 23 he had earned his Level 2 Master Sommelier certificate. For Joseph, there was no turning back from the world of wine.
He went on to work for premium hotels – helping create their wine lists. Then he was hired for sales and marketing and winery development strategies for wineries in Europe. He spent several years living in Europe and working with wineries in Italy, France and Spain. His career eventually took him to Mildara Blass USA, a part of the Australian owned Foster's Corporation where he served as President of that wine division.
Joseph started commuting from his home in Cape Cod Massachusetts to the Napa Valley years ago – today he is usually in the valley once a month. He started Joseph Carr Cellars in 2002 with the help of local winemaker Ted Edwards (long time winemaker at Freemark Abbey). Joseph Carr makes Cabernet Sauvignon, Merlot and Chardonnay with the focus of their grapes sources coming from the Napa Valley. These wines are also produced in Napa; this brand has grown significantly over the years (currently at 60,000 cases). During our travels, we have personally seen it on a number of fine wine lists at restaurants throughout the Caribbean. Joseph remembers personally selling this wine early on – he recalls the adjustment coming from managing large wine brands in the corporate world to selling Joseph Carr Wines out of the back of his pickup truck.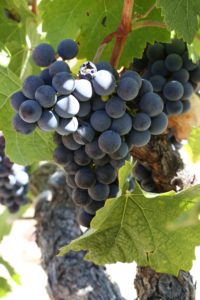 Joseph admits he can't stay in a 'box' for to long – eventually he left the corporate life but not the wine business. He has had two feet in the wine world for years, today is no different. He has been involved with numerous larger wineries but now he is focusing on Dylan's Ghost – a boutique producer with wines made in the 150-500 case amounts.
He met his winemaker, Aaron Pott by chance at a wine conference. He noticed Aaron immediately, for what Aaron was wearing during the conference dramatically stood out compared to the suits and ties and more formal wear of the other attendees. Aaron was sporting a Scottish kilt. They hung out for three days and discussed everything but wine with talk ranging from literary greats to the standouts of the European football scene.
After the conference they remained in contact. In 2010 Joseph describes a call he received at midnight from Aaron – more like an opportunity if you will. Aaron had secured some fine fruit from a prominent source but was unable to name the source and he wanted to know if Joseph wanted to buy the grapes; Aaron offered to make the wine. This was the auspicious beginning of Dylan's Ghost.
The wine name is a tribute to noted Welsh poet and writer Dylan Thomas, a gifted and creative writer who also displayed a darker side to his work. While the name highlights Thomas and his literary prowess it also ties into the artistic talents that it takes to make great wine.
The Dylan's Ghost wines have tended to become more Rhone focused as the years progress. Moving forward, their Cabernet Sauvignon and Malbec will be removed from the Dylan's Ghost brand and these will be made under a new brand called Minister's Point.
Select Wines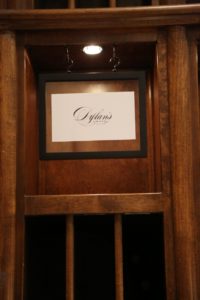 The 2015 Rosé of Cabernet France is dark salmon color in the glass. Aromatically it is pleasing with bright aromatics that include a mix of muddled strawberries, raspberry and the smell of dusty rock. There is a mineral component on the palate, almost a steeliness with a sweetness of fruit that hits on the front of the palate (there is no residual sugar in this wine). It is a rich wine of this style; the evidence is on the weighty palate. Lingering flavors of fruit and an earthy quality show on the pleasing finish.
The 2011 Hells Hollow Napa Valley Cabernet Sauvignon was sourced from a prestigious vineyard in the Vaca Mountain range above Oakville. It is a dark wine in the glass; it shows big aromatics (darker berries) leading to a palate that is rounded, rich yet balanced. The finish is very lively showing red cherry and red currant notes. This is a well-balanced wine between acidity, fruit and structure and is a good example of an excellent wine from what is generally accepted as a challenging vintage in Napa.
The 2012 Stag's Leap Ranch Proprietary blend is inky dark black in the glass. Joseph describes it as "tasting like it smells" and informally refers to it as "the beast". Knowing the vineyard source and seeing how dark the wine is – once can immediately surmise Petite Sirah plays a large role in the blend. And that is the case. The nose shows sweet aromatics including aromas of dark fruit with various baking spices. On the palate it is dense, deep and layered including flavors of black fig and blackberry. The wine shows wonderful texture of tannins that linger for some time complemented by an an earthy /dusty characteristic.