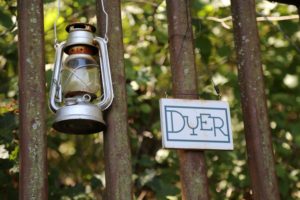 Dyer Vineyard is one of Napa Valley's smaller producers as their entire vineyard is merely 2.3 acres. This winery is run by husband-and-wife team of Bill & Dawnine Dyer. Neither Bill nor Dawnine grew up in wine making families; they both met each other in college prior to becoming winemakers. Bill's undergraduate degree is in Philosophy. Bill can recall his interest in wine dating back to a single bottle. While he was living in a cabin in the Santa Cruz mountains a neighbor brought a bottle of wine over to share with him. It was a 1964 Ridge Vineyard Zinfandel. Bill recalls "the taste of that wine certainly got my attention".
After that experience Bill began to be interested in wine and took a job in the cellar at Bargetto, a historic winery located in Soquel (oldest continuous-operation winery in the Santa Cruz Mountains). At that time Bill encouraged Dawnine to take some science courses while in college and she also took a job at Bargetto Winery – in the lab. Both came to Napa Valley to pursue work in the wine industry; Bill started at Charles Krug in their cellar and Dawnine at Robert Mondavi in their lab working with winemaker Zelma Long.
Bill knew he didn't want to do cellar work indefinitely, so he answered an ad in the paper placed by long time Napa winemaker Ric Foreman (winemaker at Sterling Vineyards at the time). Turns out Ric ended up not needing to fill a position, so Bill was not hired at that point. Several months went by, Ric's cellar crew had been fired and he called Bill asking if he would come on for the 1977 harvest with the understanding that if the harvest work went well, he would look at a full-time job for Bill.
Bill was soon hired and after a transition in winery ownership and wine making staff, he was being groomed to become Sterling Vineyard's winemaker – with the caveat he would need to go back to school and get a formal education in wine making. Bill did that with two years at Napa Valley College and another two years at UC Davis, ultimately graduating with a master's degree in oenology. He was instrumental in developing Sterling's single varietal wines, including a Diamond Mountain Cabernet Sauvignon. Bill became familiar with Diamond Mountain during his time at Sterling – they still own a sizeable property on the mountain.
Dawnine graduated from the University of Santa Cruz with a degree in biology; she began her career in Napa Valley at Robert Mondavi Winery in 1974, merely 8 years after this iconic winery started. Then beginning in 1976 she worked for the next 24 years helping make sparkling wines at Domain Chandon; when she began working here, Domain Chandon was getting their operations started in Napa Valley. She was also part of founding Chandon in Australia's Yarra Valley. Her contributions to Napa Valley have been great, both from a winemaking perspective but also leading several prominent organizations including serving as President of the Napa Valley Vintners and of the Napa Valley Wine Technical Group.
Today both are still very involved in the local wine industry with several consulting projects and a partnership in another winery in addition to focusing on Dyer.
In the early 1990s Bill and Dawnine were interested in building a home in Napa; their realtor located a small property on the lower reaches of Diamond Mountain. Their initial intent was to get the home built but after looking at the soils and recognizing the fact one of their neighbors is Diamond Creek Vineyards, priorities changed quickly, and the vineyard was soon planted. They initially designed their vineyard to represent the five primary Bordeaux red varietals but realized this micro terroir wasn't suitable for Merlot. Today approximately 78% of their vineyard is planted to Cabernet Sauvignon, 17% to Cabernet Franc and 5% to Petite Verdot.
The vineyard is located at an elevation of between 600 and 800 feet; it is extremely rocky with grey gravelly soils; the yields are fairly low. Despite such a small vineyard there are slight soil variations from one end to the other with the lower reaches showing a slightly orange color to the soil. The vineyard is at a base of a steep hillside with other steep hillsides nearby. Bill estimates that their soil is a result of a slippage where part of the mountain effectively moved downward and produced a gentler slope. And when they went to 'rip' the vineyard – they discovered huge rocks below the gravel including some the size of a Volkswagen.
The vines are now well established with deep root systems. Today they are nearly dry farmed; during drought years they only watered once per year.
Based on their cropping and pruning decisions, the vines produce a fairly consistent number of grapes each vintage. Along with Diamond Creek Vineyards nearby wineries include the former Von Strasser and Reverie sites.
Bill enjoys the hands-on size of Dyer – the vineyard is a size that is very manageable, and they have complete control of vineyard management decisions and winemaking. And quality is paramount; case in point being their 2011 vintage. This was a challenging year in Napa Valley; they actually fermented the grapes and aged them two years in barrel (like they normally do) but after two years the quality was not up to their standards, so they did not bottle this wine.
Dyer's first vintage was in 1996 with merely 75 cases. Current vintages typically are 300 to 400 cases which means distribution is extremely limited; the best way to secure wine is to join their mailing list so you are notified about upcoming releases. They specialize in one type of wine each year, their estate Bordeaux styled field blend which is predominately Cabernet Sauvignon with Cabernet Franc and Petite Verdot rounding out the blend. These varieties are all grown together and are farmed based on ripening times so that at harvest each variety ripens about the same time as the others.
This is important for their wine making – they co-ferment and age each of these three varietals together. Diamond Mountain is known for producing wines of muscle with robust tannins. Tannin management is important in their style both in the vineyard and in the winery. They pick at night and cold soak the grapes for several days – looking for good extraction without the influence of alcohol – preferring this extraction of color and flavor before fermentation rather than after. They are also careful with oak – preferring to use 30 to 40% new French oak which compliments the wine rather than dominating it.
Select Wines

Each of the wines we tried drinks well by itself in their youth; they are also built to age and meant to be paired with food. In more recent years Bill and Dawnine tasted through a vertical of their wines from 1996 through 2012; they noticed the older wines were still holding up remarkably well.
The 2019 Dyer Cabernet Sauvignon is a blend of 86% Cabernet Sauvignon, 9% Cabernet Franc and 5% Petit Verdot. This wine is deep ruby in color; the nose is quite shy initially, slowly revealing delicate aromas. It needs time to breathe and open and when it does it offers scents of violets and rose petals followed by notes of caramel and toffee. Eventually it fully opens to sweet notes of raspberry. This wine has a lot of life on the palate, its bright, energetic, fresh and still showing very youthful only 4 years post vintage at the time of our tasting. In addition to both red and darker fruits it offers notes of tobacco spices, black pepper, dried herbs and tannins of a moderate grip. Very food friendly.
The 2013 Dyer Cabernet Sauvignon is a blend of 79% Cabernet Sauvignon, 19% Cabernet Franc, and 5% Petit Verdot. This wine shows a pleasing youthfulness and liveliness both on the bouquet and palate. Cigar smoke, cedar box notes, briary nuances – blackberry, dried figs and perhaps a bit of plum support an elegant riper style bouquet. This wine offers a pleasing density of fruit and richness on the mid palate. Bill attributes the "lift" that the Cabernet Franc brings to this wine which is evident both in fruit and aroma. The tannins feel nice on the palate – they are fine grained, dusty and chalky.
The 2010 Dyer Cabernet Sauvignon is a blend of 76% Cabernet Sauvignon. 19% Cabernet Franc and 5% Petit Verdot. This wine shows a completely different bouquet than the 2013. This wine reveals an herbal note on the nose – perhaps initially a bit of eucalyptus but as it opens becomes more Jalapeno pepper and black olive like. It also reveals a cigar smoke/dustiness shows along with darker fruit (blackberry) – aromatically this wine is quite elegant. Red fruit shows on the palate including red cherry with a tinge of vanilla. The tannins are well managed and integrate nicely with the fruit. They are dustier than chalky in nature.
The 2005 Dyer Cabernet Sauvignon is a blend of 83% Cabernet Sauvignon, 11% Cabernet Franc and 6% Petit Verdot. This bottling offers some brickish red notes on the edges in the glass; there is a pleasing sweetness of aroma on the bouquet with baking spices including vanilla and browned sugar. Fruit aromas include raspberry and red currant. This is a balanced wine that has aged very well so far. Structurally there is still plenty of both fruit and the tannins. The tannins are somewhat dry and linger for quite some time.
The 2004 Dyer Cabernet Sauvignon is a blend of 78% Cabernet Sauvignon, 16% Cabernet Franc and 6% Petit Verdot. This is a refined elegant wine that is extremely well balanced. This wine can be consumed young yet without all the seriousness and structure of mountain tannins. The bouquet offers pleasant aromas of dried rose petal and other primarily red fruits, followed by a union of blackberry and cherry flavors on the palate. The finish is lengthy and refined.
—
Of interesting note is their label; in 1998, two years after their first vintage Bill and Dawnine were traveling with several other area winemakers in Tibet as part of a trip focused on art. They had bottled their 1996 vintage, but the bottles were still in shiners, and they had not yet decided upon a label. They were traveling with an art curator from an Asian Art Museum, and he was introducing them to a number of monasteries in the region.
He took them to an extremely remote monastery (where the monks still practice sky burials). Those in the group were admiring the beautiful views of the jagged Himalayas that surrounded this particular monastery. While admiring the views they noticed a fresco hanging on the wall featuring mountain scenery. They inquired as to why the monastery would need this painting when the views in real life were so simply stunning. The reply was "it is a special painting; it is of Diamond Mountain – a spiritual mountain of Nirvana". The timing could not have been better as a tie into their vineyard's appellation name and need for a label image. They quickly took a photograph of this painting.
Upon returning to Napa Valley, they reached out to Dawnine's brother-in-law, an illustrator and he created a stylized rendition of this painting which has served as their label ever since the first vintage.
For more information, to purchase wine and to join their mailing list visit: www.dyerwine.com