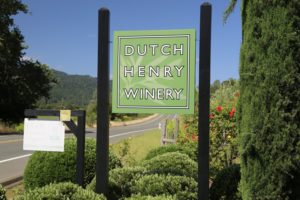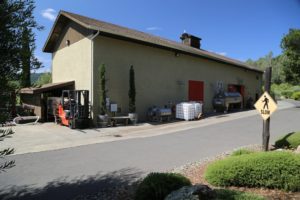 Dutch Henry Winery is small family owned winery, originally located in the northern part of the valley just off of the Silverado Trail. Peaceful and relaxing are two words that quickly came to mind when describing a visit to their original property. Founders Less and Maggie Chafen were looking for a weekend escape from San Francisco and initially purchased a vineyard in Calistoga in 1986. The Chafen's founded the winery in 1992 on site of what was a pond and forest land prior to their purchase. This is a premium vineyard neighborhood – the iconic Three Palms Vineyard can easily be seen from next to the winery located on the other side Silverado Trail. Other neighbors included Switchback Ridge and a little further away, Hourglass.
NOTE: this review needs a *major* update. In 2021 Dutch Henry Winery sold their estate property, cave and vineyard to two brothers who will most likely start their own brand housed on this property. The winery was completely destroyed in the Glass Fire in 2020.
We heard that they kept their house and a very small part of the property. The latest update we have about Dutch Henry Winery is they will continue to produce wines under the Dutch Henry Winery label. We also heard that perhaps they are only still producing olive oil and have ceased all wine production. If at some point the Dutch Henry wines are no longer being made, we will archive this review. Note that all photos still showing in this review are from the winery that burned down.
Less is a San Francisco Bay Area radiologist who works for Alta Bates Medical Group, specializing in nuclear medicine and breast imaging technology. Maggie has owned Dottie Doolittle in San Francisco for more than 40 years – a boutique children's clothing store carrying a variety of both boys and girls clothing from American and European designers as well as cute toys and other gifts. This sizable store is located in the fancy Laurel Heights neighborhood a few blocks from the Presidio. Parking is metered curbside.
Less and Maggie's son Scott Chafen oversees the operations and has been Dutch Henry's only winemaker since their inaugural vintage in 1992. Unlike many winemakers who took the traditional route with a viticulture or enology degree, most often from the University of California, Davis, Scott learned winemaking by doing. His degree is from Occidental College (in Los Angeles) with a B.A. in Philosophy and a minor in both Studio Art and Comparative Literature. Not exactly training to become a winemaker but the beauty of this business is one can certainly learn on the job. Prior to becoming Dutch Henry's winemaker, he took a wine making internship in France and later worked at Vincent Arroyo Winery in Calistoga.
Scott's wife Jennifer is a doctor; the story of how they met is an intriguing one. Jennifer was studying for her masters in health Policy at Stanford University when needing to take a break – she came to Napa Valley for some wine tasting. One of the wineries she stopped by was Dutch Henry where she initially met Scott at the tasting room.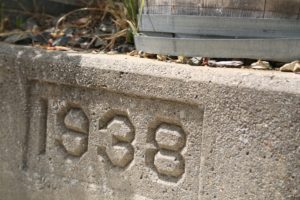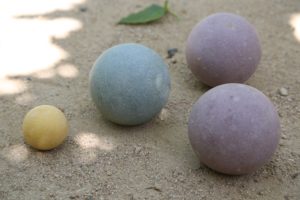 Over the years the Chafen's purchased several vineyards in the Napa Valley including in St. Helena (which they have since sold). For some time, they owned two Napa vineyards – a tiny 1.8 acre of Syrah vines located on the 11-acre winery property (since sold) and another 2 acres of Cabernet Sauvignon in Rutherford next to the intersection of the Silverado Trail and Sage Canyon Road/Highway 128. Their total production typically varies each year often between 1,500 and 2000 cases. Because their vineyard properties are limited in size, they source a number of grapes for their wines both from Napa and neighboring counties. Their Rutherford vineyard is farmed CCOF (California Certified Organic Farmers).
The winery was named after "Dutch Henry", a mercury prospector who lived in the hills behind the winery mining the rich pockets of mercury ore. A private road of the same name and the Dutch Henry Canyon are both located nearby. One of the uses for Mercury is to extract gold from quartz. For some 40 years between the 1860's and early 20th century, Napa County was once one of the most prominent quicksilver regions in the state. Quicksilver from Napa County was an integral part of California's gold mining heritage – as quicksilver transported from Napa County to the Sierra Nevada gold fields was used for extracting gold and silver from the ore bearing rock.
The original Silverado Trail used to run through the property; before the 2020 Glass Fire destroyed the winery, curious visitors used to be able walk to the end of their parking lot and spot an old stone bridge dating from 1938 when the Silverado Trail used passed through what is the footprint of their driveway. The famous stagecoach robber Black Bart supposedly used this road for his some of his hold ups.
Their philosophy of wine making is that most importantly wine making begins in the vineyards. Their wines tend to have extended oak aging, often using oak from France, Hungary and the USA. And their wines see additional aging in bottle before being released. As a result, current releases are often a year or two or more behind traditional current releases at most area wineries. Based on the oak profiles they use, and time spent in barrel – their wines often have a sweet aromatic thread running through the bouquet. The wines are approachable upon release, are balanced and are food friendly.
Select Wines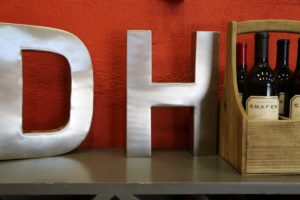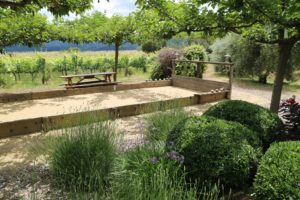 If you are looking for older vintages be sure to inquire online as often they have some older wines available for sale. Their wine selection includes Chardonnay & Pinot Noir and several red wines including Argos, a proprietary blend and their estate grown Cabernet Sauvignon & Syrah.
An interesting blend is the Three Red Heads named in honor of Scott and Jennifer's children – all red heads. The 2012 Dutch Henry Three Red Heads is 50% Petite Sirah with equal percentages of Syrah and Zinfandel rounding out the blend. This wine shows a sweet bouquet with aromas of brown and caramelized sugars, ripe blackberry and dark chocolate. No harsh edges on the palate, the tannins show more in the front of the palate rather than the back. Offers flavors of cherry anchored with good acidity.
The 2010 Dutch Henry St. Helena Cabernet Sauvignon is an intriguing bouquet with notes of hazelnut, dry dust, old paper, black olive, dark chocolate along with dark fruit. This wine shows a density on the palate with pleasing texture and a long finish with somewhat chewy tannins. Based on its flavor, acid and structure 8 years after vintage (at the time of our tasting) this wine still has plenty of life ahead of it.
One of their most popular wines is the Argos named after Odysseus' dog in Homer's Odyssey. This is always a Bordeaux-style blend with percentages of the varietals in the blend differing from year to year including sometimes the dominant varietal. The 2012 Dutch Henry Argos reveals pretty aromatics including a spicy raspberry, a smokiness and a cherry liqueur quality. Very flavorful across the palate with notes of red berries and hints of chocolate; the finish ends with slightly dry and dusty but very well-integrated tannins.
—
The property is scenic with a number of fruit frees and vegetable gardens. Some 300 olive trees grow on site which they harvest along with the olives growing on their Rutherford property. Like most wineries in Napa Valley who make olive oil they do not have an olive mill on site, but rather outsource this to a mill in a neighboring county. Their olive oil is award winning several times – including having won a gold medal from the California Olive Oil Council Extra Virgin Olive Oil Competition in 2018.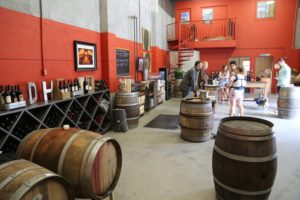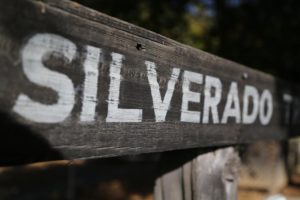 Dutch Henry is one of the coveted and rare Napa wineries who have a permit to allow guests to picnic on site (combined with either a bottle of wine purchase or a tasting). Legally like other wineries they cannot serve wine outside, but guests can walk into the tasting room and bring their glass of wine outside. Picinic tables are located on several parts of the property including in the shade of the oaks next to the hills in front of the tasting room. However, the coveted tables are located alongside their bocce ball court among the olive trees next to several rows of grapevines.
Dutch Henry is very dog friendly – several small winery dogs (most likely a breed of terroir) are usually lounging around in the shade near the winery.
The small tasting room featured a casual, relaxed and welcoming vibe – a feel that perhaps Napa used to be known for decades ago. The tasting was over a simple portable counter with a number of wine barrels located nearby. Guests often would meet Scott who was usually on the property.
Looking for a romantic place to stay situated right among the vineyards that most people will never find during a visit to Napa? For many years, Dutch Henry maintained a 3-bedroom private cottage on site with no minimum stays (discounts were given for current wine club members). Also of note is the cave located just behind the winery facility (completed in 2008). The cave is about 4,500 square feet and features a number of short tunnels including one where private wine and food events are held. This cave survived the 2020 Glass Fire.
Unlike most wineries in the valley, Dutch Henry does not use distributors – rather all their wine was sold direct through their tasting room and currently online. Before the winery burned, visits were by walk-in (becoming more and more rare these days in Napa). However, those interested in a tour and visit to the cave needed to make an appointment ahead of time. For more information and or to join their wine club, visit: www.dutchhenry.com
View video by Cellar Angels