Duhig Wine. This 13.5-acre family-owned and managed farm, purchased by Harvest and John Duhig in 2008, is located in Coombsville, a short drive from downtown Napa. The site is planted to 3 acres of Cabernet Sauvignon divided into two separate blocks of clone 341 and clone 15, both planted on 110R rootstock with plans to eventually plant several more acres of vines. And 14 short rows of Sauvignon Blanc are also planted on a lower section of one of the blocks for friends and family. The rootstock was planted in 2012 and grafted in 2013. Their first vintage was in 2016. The property has seen a variety of uses over the years including for growing hay, raising cattle and orchards. It was even used as a base for a well drilling company. Records shows that several wine grape varieties were growing on site around the turn of the century including Burger. An old wooden barn which the Duhigs carefully renovated dates from around 1900.
The Duhig family is deeply rooted into the fabric of Napa Valley's early farming community. Both her husband John's maternal and paternal sides of the family were among early immigrants to Napa Valley having first arrived in the late 1840s. His great, great grandfather fled Ireland during the 'potato famine' (a period of time that lasted from 1845 to 1852). The family initially settled near Martha's Vineyard in Massachusetts before making the long trek out to California via the Isthmus of Panama, crossing both by boat and foot, long before the Panama Canal was built.
They made their way up to San Francisco and records show John's great, great grandfather James Duhig opened some sort of shop for a short time in the still very young city. He was introduced to Napa Valley by taking a 'Hay Boat" day trip ride from San Francisco up the Napa River. He saw the rolling hills of Carneros and inquired as to its ownership and was told by the ships' crew it was part of General Vallejo's land grant. Eventually he and his wife Isabelle contacted and purchased 400 acres of land from General Vallejo and his wife Francisca Benicia Carrillo and settled in Carneros where records show he raised Zinfandel grapes and apricots. According to an article from the Napa County Reporter dating March 9, 1883, Duhig's property was home to the first ever meeting of the Napa Valley Coursing Club featuring a hunt by local dogs of provided rabbits.
The family ultimately owned some 450 acres in Carneros before selling this land in 1915. The family farm and home were near the corner of Las Amigas Road and Duhig Road (still carries the family name). For those interested in reading more about this family, their early history in Carneros including plenty of information about farming the region, reference Huichica, a book by John's grandfather Stewart Duhig (also known as the Duke).
Harvest was born and raised in Napa Valley (her mother was of Choctaw heritage). As often happens in one's youth, one leaves the valley for a period of time for some perspective; for her it was to Maui for three months in 1997. After walking out of the ocean onto the beach one day, she had an epiphany, "my name is Harvest, I grew up in the Napa Valley, I love growing things". She soon returned to Napa and began taking wine related classes at Napa Valley College.
Then she began studying at UC Davis and ultimately earned her degree in both viticulture and enology. After graduating, she worked at a small local winery learning both about operations in the cellar and in the vineyard. She recalls it was addicting and wanted more of this type of work. In 2002, looking to find a home for some Cabernet Sauvignon from the Oak Knoll District, she picked up a phone book and began calling wineries, starting with the letter A. There were no takers until she reached C and Caymus. After calling the winery she spoke directly to proprietor Chuck Wagner who invited her out for a visit. After spending about 40 minutes with Chuck and answering his viticulture questions, Chuck decided not to take the grapes but instead offered her a job. She accepted and is currently the Grower Relations and Mountain Cabernet Winemaker for Caymus Vineyards.
—
Harvest often asks a very important question, "what does it mean to be from somewhere." For her it is a spiritual tie to the land, a connection to the historical farming families in Napa Valley, a community centered approach and the importance of continuing their agricultural heritage and instilling these values in her own family.
In addition to wine grapes, the Duhigs raise a variety of crops on their small family farm ranging from fruit trees including peaches, apples, pomegranates and figs among others. And a variety of vegetables planted in their 'donation garden' – with hundreds of pounds donated to the Napa Food Bank every year.
John started Duhig Construction in 2004 and continues to oversee the company as its president.
Harvest loves being in the vineyard, and it shows. She carefully laid out the vineyard choosing a row angle 30% off of true north so the vines are angled across the slope rather than running parallel to the slope. During our visit, Harvest pointed out shadows on the ground, cast by the vines. It is important to note that 6 feet between rows eliminates shadows falling on the vines. A dappled shadow profile is desirable with just the right amount of canopy cover versus exposure to the sun. Sunburnt grapes are not an issue and other than the end row vines, very little second crop is produced. All wings are cut off, usually right around veraison. These are tightly spaced, yet balanced vines with just the right amount of vigor based on the site.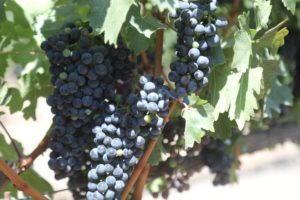 The soils are diatomaceous (decomposed diatoms from previous marine influence), are low in nutrients and volcanic in origin with only a few inches of what Harvest calls the 'Coombsville gravel' on the surface. The white and very light diatomaceous earth lies immediately underneath. It looks like bedrock but is very soft and chalk-like and is filled with cracks that roots can grow into. And sometimes it contains fossils – during our visit to the vineyard she pointed out a fossilized leaf imprint.
She speaks about the tannin acid complex and the moment maturity is ideally reached in the vineyard, comparing ripening grapes to a leather baseball mitt. When new, the mitt is stiff and rigid, similar to wine grapes as they begin to ripen post veraison. But over time, just like a well-worn mitt becomes, the grapes become softer, more relaxed with a dimpled look from slight dehydration. She has the luxury to only pick blocks when fully mature and some years she will harvest several times looking for flavor maturity, seed lignification, acid balance and tannin ripeness.
Select Wines
The 2017 Duhig Cabernet Sauvignon was harvested two days before the Napa and Sonoma fires began in early October. The wine is medium to dark ruby in color; there is a noticeable brightness of fruit that is immediately evident on the bouquet. Offers aromas of ripe cherry, boysenberry and Santa Rosa plum along with notes of dark licorice, cassis, mocha and brown chocolate. The wine is seamless from start to finish with a supple and somewhat creamy texture of finely integrated slightly chalk-like tannins which is complemented nicely with an intensity of fruit. Plush texture. A hallmark of Duhig wines are their superb balance, including this vintage. Only 125 cases were produced.
The 2018 Duhig Cabernet Sauvignon was not quite yet released at the time of our tasting. This wine is dark ruby in color with distinctive aromatics different from the other two vintages we tried. Offers a sweetness of both fruit and desert spices including sweet cherry, plum, molasses, caramel and brown sugar. The desert spice aromatics continue to persist as the wine opens in the glass. It is nicely layered across the palate, with ripe gentle tannins which linger softly along with a hint of dessert spice on the finish, including clove. Also shows a very slight toasted cedar note. 240 cases produced.
The 2019 Duhig Cabernet Sauvignon (from barrel) offers slightly darker notes than some of the previous vintages including aromas of black olive, plum and ripe cherry. A sweetness of fruit aromatics clearly shows. Very well layered, this wine features a density of tannins (albeit it was quite young at the time of our tasting and was from the barrel) showing more structure than previous vintages. Presents flavors of plum and blackberry on the palate and lingers with a bright mouthwatering finish.
These are extremely limited production wines, typically ranging from about 125 to 250 cases per year. Each vintage is 100% varietal and Harvest treats every vintage differently – consistently tasting the wines over time until she feels they are ready to release. As a result, the wines often spend up to a year in bottle before they are released.
—
Locally, select vintages can sometimes be found at Gary's and Press in St. Helena with some tiny distribution through Binny's Beverage Depot in Illinois. For more information about this special producer or to purchase wine, please visit: www.duhigwine.com