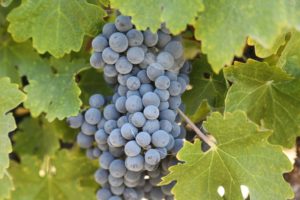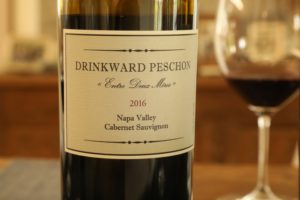 Drinkward Peschon. The roots of Drinkward Peschon date back to when its founders Lisa Drinkward and Françoise Peschon met through their children who were attending Montessori School in St. Helena. Both Lisa and Françoise helped coordinate a charity auction for the school. Francoise remembers meeting Lisa for the first time through their work at the auction and asking her where she lived. It turned out that both women lived only two homes away from each other in St. Helena. Prior to even meeting, Francoise recalls being intrigued by Lisa and her husband Les Behrens (of Behrens & Hitchcock Winery on Spring Mountain, now Behrens Family Winery) as a flatbed was often parked at their home stacked with plastic t-bins, barrels and at one point a still (Lisa and Les used to produce hand sanitizer for their own use).
The inception for Drinkward Peschon was when Les suggested to Lisa that perhaps she and Françoise partner on creating their own wine brand. At this point in her career Lisa was helping Les out with various vineyard work but did not have a full-time job. Besides wine, her passions are gardening (she is a Master Gardener) and cuisine. She and Les founded and operated Folie Douce Restaurant in Arcata from 1991 through 1997, and after they moved to Napa Valley, she worked for a short while as a recipe tester at the former Terra Restaurant for chef Hiro Sone. She would create dishes from various recipes and then present them to chef for possible inclusion on the menu.
Françoise was born in the back of a Volvo along El Camino Real, as she puts it, and was raised in San Carlos (San Francisco Bay Area). She spent her summers in Luxembourg and the rest of the year in California. She studied enology at the University of California, Davis and later apprenticed at Château Haut-Brion in Bordeaux, France. She has built a successful 30+ year career in Napa Valley helping make wine for other notables including Accendo Cellars, Cornell, Vine Hill Ranch. In 2019 she was named winemaker of the year by the San Francisco Chronicle.
She and Lisa harvested only a few tons in 2000 from Kenefick Ranch in Calistoga. Both women recall dropping off picking bins to this vineyard that year; they scraped up their truck a bit on the Pope Street Bridge and pulled into the 76 station at the west end of Pope Street to check out the damage. They immediately spotted Robert Redford who was picking up some supplies in the tiny convenience store associated with this particular gas station.
Les suggested their make the wine at Behrens Winery and they have done so ever since, although their 2019 vintage was destroyed when Behrens Family Winery burned in the Glass Fire (and they did not produce a 2020 vintage due to smoke taint).
In 2000, the two women made wine but had not yet decided on a name for the brand or thought much about market exposure. Through making a very limited amount of Grappa at Araujo Estate in Calistoga (now Eisele Vineyard) Françoise met master distiller Lance Winters (owner and president of Alameda based St. George Spirits). When hearing Françoise was beginning a yet to be named wine, Lance suggested the name, "between two mothers" since both Françoise and Lisa are moms. And it sounds quite fanciful when it's translated to French, "Entre-Deux-Mères" – which also ties in nicely with Napa Valley's close affiliation to Bordeaux in terms of varieties, winemakers and education. In addition, one of the sub regions of Bordeaux is called Entre-Deux-Mers, located between two rivers, the Garonne and Dordogne.
And the name for the brand was chosen by using each of the women's last names, with a name like Drinkward, Françoise and Lisa realized that it simply had to be on a bottle of wine. Keeping the theme of mothers, "love your mother" is written on every cork.
Select Wines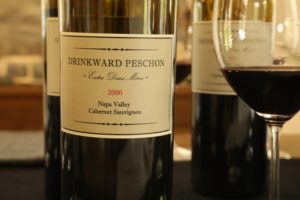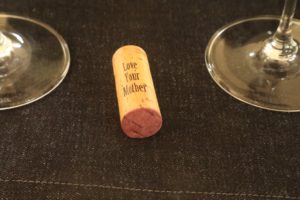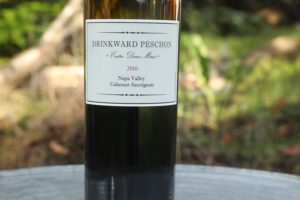 While vineyard sources have changed over the years, the focus of Drinkward-Peschon has always been on producing premium, affordable and food friendly wines. These are bottlings which show some restraint, are balanced in their youth but have the characteristics to last several decades. Their character is rooted in complexity along with bright acidities and lovely texture showcasing integrated tannins. The first vintage of Drinkward Peschon was in 2000; only one wine is produced each year.
The 2000 Drinkward Peschon. The fruit for this vintage came from the Fortuna Vineyard located on the east side of Oakville on bench land soils. We tasted this wine 21 years post vintage date and was one of only four coveted bottles that Françoise still had in her personal cellar. Shows medium to dark ruby in the glass with a slightly brickish color rim. The sweetness of fruit is evident showing notes of dried fruits, old leather and some aromas of licorice. The texture is supple from start to finish; the palate lingers with notes of raspberry and red licorice.
The 2005 Drinkward Peschon is 82% Cabernet Sauvignon, 8% Cabernet Franc, 6% Merlot and 4% Petit Verdot. This wine has kept its color quite well over the years; offers darker fruit aromatics including of blackberry, dark licorice and a sweet mulberry preserve. Also shows cardamom, clove, mocha and hints of other dessert spices. In addition, more subtle hints of tea leaf show in the background of the aromatics. The bouquet is elegant. With its age, the tannins are smooth and supple and chalk-like in their textural feel. They roll across the palate nicely; there are absolutely no harsh edges here.
The 2010 Drinkward Peschon is a blend of fruit from two vineyards, Blossom Creek (in Calistoga) and Criscione (located off of North Fork Crystal Springs Road, not far from Merus Vineyard). This wine is dark ruby in color; offers distinctive and beautiful dark aromatics which initially show a meaty almost iron note and continue to evolve to plum, blackberry, ripe tobacco, cassis and darker chocolate. On the palate, the density of tannins, layers of flavor and mouthwatering acidity create a complete and compelling wine – and certainly a balanced one. The tannins are slightly dusty and persist with a moderate grip of some length. The finish is juicy and mouthwatering. There is still plenty of life ahead of this bottling. We tasted it 11 years post vintage date; this wine seems younger than it actually is.
In 2015 the original label which depicted two women perched and deftly balanced on a unicycle while juggling was transitioned to one depicting an egg above an empty nest – reflecting a point in their life in which their children had moved out. The 2015 Drinkward Peschon is noticeably dark garnet in color; the bouquet shows aromas of ripe cherry, blackberry and mulberry. The nose is slightly briary/brambly, elegant and riper in its aromatic presentation. Shows an intensity of fruit across the palate including of ripe plum. The tannins are dense and broadly distributed but are finer grained. Good acid.
The 2016 Drinkward Peschon is dark ruby with purplish tinges on the rim; offers ripe and engaging aromas of boysenberry, blackberry, spicy plum skin, cassis and old cigar box. Richly flavored but without intense tannins, its symmetry is a pleasing characteristic and runs the length of the palate. Juicy, and mouthwatering the flavors are primarily darker fruits including both blackberry and blueberry. The mouthwatering finish show flavors of dark cherry and currant completed by slightly gravelly and dusty tannins of a medium grip. Lingers with some notes of dried tobacco leaf.
The 2017 Drinkward Peschon is dark ruby in color; the bouquet is elegant and forward, with sweet aromas of Santa Rosa Plum and dark cherry. As this wine evolves in the glass additional aromas show of rose petal and rose stems. The aromatics are riveting. Richly layered across the palate with primarily darker fruit flavors. The tannins are still somewhat tightly woven but not coarse in feel. Lingers with a freshness and a beautiful brightness. Juicy and mouthwatering.
The 2018 Drinkward Peschon Napa Valley Cabernet Sauvignon. The bouquet is well-layered with aromas of dust, tobacco and a floral nuance including violets. Also offers subtle hints of leather and white pepper on the bouquet. It is slightly savory. Juicy and mouthwatering across the palate this is a very youthful showing with bright fruit including blackberry and plum. The tannins are still tightly bound, energetic and gravelly in their textural feel with a persistent penetrating grip. Still needs some age to mature, but this wine is definitely built to last.
—
The wines are very selectively distributed albeit with decent exposure in Napa Valley including at ACME in St. Helena, Backroom Wines and Prima Vina in Napa and Cal Wine Mart in Calistoga. Select distribution is also in parts of Los Angeles, a tiny bit on the east coast of the U.S. and in Switzerland and Japan. For more information or to purchase current release wines, visit: www.drinkwardpeschon.com